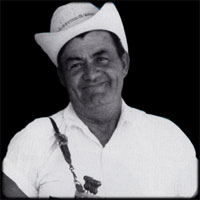 Chanteur Cajun US né le 13 juin 1927 à Guyedan (Louisiane). Nathan Abshire commença a enregistrer vers 1935. Il peut être considéré comme l'accordéoniste le plus talentueux du pays bayou. Il a enregistré pour les labels OT, Khoury et Kajun Records et était accompagné par les Pinegrove Boys. Nathan était installé à Basile (Louisiane) où il exerçait la profession de ferrailleur. Il est décédé le 13 mai 1981 à Basile (Louisiane).

Nathan Abshire helped bring the blues and honky tonk to Cajun music and repopularized the accordion with his recordings during the 1950s and '60s, but still never managed to make a living from his music. Born in Gueyden, LA, on June 23, 1913, Abshire began playing professionally in the 1920s, and he first recorded in the early '30s with Happy Fats & His Rayne-Bo Ramblers. Abshire went to work at the Basile, LA, town dump around that time, and he held the job for most of his working life.
His fortunes began looking bright by 1936, however, when the Rayne-Bo Ramblers began backing him on sides for Bluebird. After serving in World War II, Abshire cut "Pine Grove Blues" — his most famous single and later his signature song — for D.T. Records. He recorded for Khoury/Lyric, Swallow, and Kajun during the 1950s and '60s, meanwhile playing local dances and appearing on sessions by the Balfa Brothers.
A renewal of interest in Cajun and folk music during the '70s gave Abshire a chance to play several festivals and colleges and star in the 1975 PBS-TV Cajun documentary, Good Times Are Killing Me. The title proved prophetic, however, as Abshire fought alcoholism during his last years. Several sessions for Folkways and La Louisienne followed in the late '70s, but he died on May 13, 1981.
http://www.cajunculture.com/People/AbshireN.htm
Talents : Vocal, Fiddle, Accordeon
Style musical : Zydeco, Traditional Cajun, Louisiana Blues, Swamp Blues

http://www.youtube.com/watch?v=UjWZ9OyYdj4
Années en activité :
| | | | | | | | | | |
| --- | --- | --- | --- | --- | --- | --- | --- | --- | --- |
| 1910 | 20 | 30 | 40 | 50 | 60 | 70 | 80 | 90 | 2000 |
DISCOGRAPHY
Singles
| | | |
| --- | --- | --- |
| 1955 | SP KHOURY 647 (US) | Lulu Boogie / Casablanca Waltz |
| 1956 ? | SP HR 103 (US) | Chète Te Mon / ? |
| 1956 ? | SP OT 102 (US) | Pinegrove Blues / ? |
| 1956 ? | SP OT 111 (US) | Hat Howay's Waltz / Pinegrove Boogie |
| 1957 ? | SP CAJUN CLASSICS 647 (US) | Hoola Hoop Two Step / Lonely Heart Blues |
| 197? | SP SWALLOW 10166 (US) | Tramp Su La Rue / Sur Le Courtableau |
| 197? | SP SWALLOW 10170 (US) | Offshore Blues / Phil's Waltz |
| 19?? | SP SWALLOW 10173 (US) | Lemonade Song / I Don't Hurt Anymore |
| 197? | SP SWALLOW 10175 (US) | Pinegrove Blues / A Musician's Life |
| 197? | SP SWALLOW 10190 (US) | If You Don't Love Me / Let Me Hold Your Hand |
| 197? | SP SWALLOW 10193 (US) | Service Blues / Shamrock |
| 197? | SP SWALLOW 10198 (US) | La Noce A Joséphine / Partie A Grand Basile |
| 197? | SP SWALLOW 10206 (US) | La Valse De Bayou Teche / Games People Play |
| 197? | SP SWALLOW 104 (US) | My Dream Came True / Don't Say No |
Albums
© Rocky Productions 30/01/2005