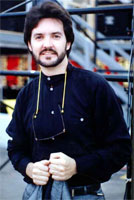 Chanteur Country US né le 22 Octobre 1958 à Sweetwater (Tennessee).

Singer/songwriter Butch Baker made his singing debut in his father's church when he was only 19 months old. He was born in Sweetwater, TN, and spent much of his childhood singing, influenced by Ray Charles, Elvis Presley, the Everly Brothers, Don Gibson and Red Foley, as well as gospel music. Following his graduation from Tennessee Military Institute at age 16, he became a drama major at the University of Tennessee. It was here that he eventually decided to pursue a music career. He moved to Nashville in 1979; to raise the bus fare for the trip he sold his beloved guitar.
Once in Music City, he worked by day as a menswear salesman. At night he would frequently sit in with assorted bands and frequently played the Nashville Palace, where he was eventually hired for a nine-week gig. He founded SRB to be his back-up band. His success led him to record demos for such premiere songwriters as Jerry Foster and Bill Rice. This in turn led him to become a staff writer for Acuff-Rose, where he became a protégé of Wesley Rose.
He signed to Mercury in 1984 and made his single debut with "Torture." His subsequent singles "Burn Georgia Burn" and "Thinking About Leaving" (both 1984) were minor hits, as were 1986's "That's What Her Memory Is For" and "Your Loving Side." He scored three more minor hits by 1988. Baker made a guest appearance along with several other up-and-coming singers on Hank Williams, Jr.'s song "Young Country," which appeared on his Born to Boogie album. Baker continued recording, but didn't make it to the Top 40 until 1990 when he and Daniele Alexander duoed on her song "It Wasn't You, It Wasn't Me." That year, he released his Harold Shedd-produced debut album We Will. He was later released from the label, and continued writing songs and appearing regularly on TNN's Morning Video show.
https://en.wikipedia.org/wiki/Butch_Baker
https://www.facebook.com/Butch-Baker-614181208670637/
Talents : Vocals, Songwriter, Guitar
Style musical : Contemporary Country

https://youtu.be/UnVNTMhi2Pc
Years in activity :
| | | | | | | | | | | | |
| --- | --- | --- | --- | --- | --- | --- | --- | --- | --- | --- | --- |
| 1910 | 20 | 30 | 40 | 50 | 60 | 70 | 80 | 90 | 2000 | 10 | 20 |
DISCOGRAPHY
Singles
03/1984
SP MERCURY 818 759-7 (US)

Torture / ?

07/1984
SP MERCURY 880 020-7 (US)
Burn, Georgia, Burn / Bury My Heart In The Smoky Mountains
10/1984
SP MERCURY 880 256-7 (US)
Thinking 'Bout Leaving / Bury My Heart In The Smoky Mountains
03/1985
SP MERCURY 880 653-7 (US)
The Lady Loves Her Job / ?
07/1986
SP MERCURY 884 857-7 (US)
That's What Her Memory Is For / After Losing You
10/1986
SP MERCURY 888 133-7 (US)
Your Loving Side / After Losing You
04/1987
SP MERCURY 888 543-7 (US)
Don't It Make You Wanna Go Home / Your Loving Side
10/1987
SP MERCURY 888 926-7 (US)
I'll Fall In Love Again / After Losing You
06/1988
SP MERCURY 870 486-7 (US)

Party People /

After Losing You
07/1989
SP MERCURY 874 746-7 (US)
Our Little Corner / Party People
10/1989
SP MERCURY 876 226-7 (US)
Wonderful Tonight / Party People
11/1990
SP MERCURY 878 256-7 (US)
Daniele ALEXANDER & BUTCH BAKER - It Wasn't You, It Wasn't Me / Fairytale Fool
Album
10/1989
CD MERCURY 834777-2 (US)
WE WILL -

Our Little Corner / You Wrote The Book On Love / We Will / Wonderful Tonight / Playing With Her Sweet Thing / Working Class / Good-Bye Only Comes In Blue / Party People / How Long Should You Miss Someone? / Calm After The Storm
© Rocky Productions 20/10/2013