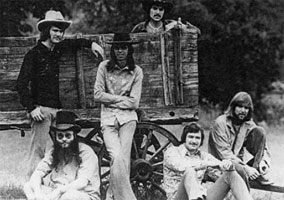 Groupe Country Rock US formé en 1971 par Wayne Moss, Mac Gayden, Kenney Buttrey & John Harris. Et les nouveaux membres : Russ Hicks, Kenny Malone, Bobby Thompson, Dave Doran, Si Edwards, Buddy Skipper, Terry Bearmore, Jim Colvard, Warren Hartman, Russ Hicks, John Moss, Barry Chance et Mike McBride.

Guitarist Wayne Moss remained the one constant member of Barefoot Jerry on the band's recordings for Capitol, Warner Bros., and Monument during the '70s. Moss had played in several rock and R&B groups before he joined Brenda Lee's backing band in the early '60s. Session work in Nashville brought him a credit on Bob Dylan's Blonde on Blonde in 1966, and he also played with the Escorts during the late '60s before forming Area Code 615 with several other Dylan alumni. The group recorded a self-titled album in 1970 and A Trip in the Country the following year, but musical commitments prevented them from touring. Area Code 615 played its only live show in 1970 at the Fillmore West, and broke up soon after. Moss was back in action by 1971, though, forming Barefoot Jerry with two members of Area Code 615 — vocalist/guitarist Mac Gayden and drummer Kenny Buttrey — plus keyboard player John Harris.
The group signed to Capitol and released Southern Delight in 1971. By the time of the following year's self-titled LP for Warner Bros., Russ Hicks and Kenny Malone had replaced Gayden and Buttrey. Another label change (to Monument) and additional lineup replacements (Si Edwards on drums, Dave Doran on bass, Fred Newell on Vocals) characterized 1974's Watchin' TV, which featured Moss' friend Charlie McCoy. Barefoot Jerry returned the favor on McCoy's country hits "Boogie Woogie" and "Summit Ridge Drive." The following year, after Barefoot Jerry recorded You Can't Get Off With Your Shoes On, Monument re-released both the Capitol and Warner Bros. albums on a double-LP set titled Grocery.
Moss assembled yet another group for Barefoot Jerry's 1976 update, Keys to the Country. His band included bassist Terry Bearmore, guitarist Jim Colvard, Warren Hartman on various keyboards, and Charlie McCoy, who again made a guest appearance. The same members (sans McCoy) returned for a final album in 1977, Barefootin'. Wayne Moss has continued to play and produce, especially for his friend McCoy.
https://en.wikipedia.org/wiki/Barefoot_Jerry
Talents : Original Members : Wayne Moss : Guitar (the one constant musician) - Mac Gayden : Guitar, Vocals, Keyboards - Kenney Buttrey : Drums - John Harris : Keyboards - Other Members : Russ Hicks : Guitar - Kenny Malone : Drums - Bobby Thompson : Bass - Dave Doran : Bass, Guitar, Vocals - Si Edwards : Drums - Buddy Skipper : Horns, Vocals, Percussion - Terry Bearmore : Bass, Guitar, Harmonica - Jim Colvard : Guitar - Warren Hartman : Keyboards, Horns - Russ Hicks : Steel Guitar, Horns - John Moss : Horns - Barry Chance : Keyboards - Mike McBride : Bass
Style musical : Country Rock, Southern Rock

http://www.youtube.com/watch?v=MsDbjVTJo4o
Years in activity :
| | | | | | | | | | | | |
| --- | --- | --- | --- | --- | --- | --- | --- | --- | --- | --- | --- |
| 1910 | 20 | 30 | 40 | 50 | 60 | 70 | 80 | 90 | 2000 | 10 | 20 |
DISCOGRAPHY
Singles
| | | |
| --- | --- | --- |
| 1974 | SP MONUMENT 8607 (US) | Faded Love / Watching TV |
| 1974 | SP MONUMENT 8611 (US) | BAREFOOT JERRY & Charlie MCCOY - A.K.A. T.D.'s Boogie Woogie / Keep On Harpin' |
| 1974 | SP MONUMENT 8623 (US) | Two Mile Pike / If There Were Only Time For Love |
| 1975 | SP MONUMENT 8645 (US) | You Can't Get Off With Your Shoes On / Cades Cove |
| 1975 | SP MONUMENT 8664 (US) | West Side Of Mississippi / Sinkin' In The Sea |
| 1976 | SP MONUMENT 45204 (US) | Battle Of New Orleans / I Want To Live |
| 1977 | SP MONUMENT 452220 (US) | Barefootin' / Diana |
Albums
1971
LP 12" CAPITOL ST-786 (US)
SOUTHERN DELIGHT - Hospitality Song / I'm Proud To Be A Redneck / Smokies / Quit While You're A Head / Blood Is Not The Answer / Come To Me Tonight / Finishing Touches / The Minstrel Is Free At Last / Nobody Knows / That's OK, He'll Be Your Brother Someday
1972
LP 12" WARNER BROS. BS 2641 (US)
BAREFOOT JERRY - Castle Rock / One Woman / In God We Trust / Message / Friends / Snuff Queen / Little Maggie / Warm / Fish 'N Tits / Ain't It Nice In Here / Ebenezer
1974
LP 12" MONUMENT KZ 32926 (US)
WATCHIN' T.V. - Funny Lookin' Eyes / Pig Snoots And Nehi Red / Hay Queen / Two Mile Pike / Faded Love / There Must Be A Better Way / If There Were Only Time For Love / Violets And Daffodils / Mother Nature's Way Of Saying High
1975
LP 12" MONUMENT MG 6631 (US)

YOU CAN'T GET OFF WITH YOUR SHOES ON -

Ali Babba / Boogie Woogie / Slowin' Down / You Can't Get Off With Your Shoes On / West Side Of Mississippi / The Measure Of Your Worth / Lucille / Hero Frodo / Sinkin' In The Sea / Cades Cove
1976
2 LP 12" MONUMENT PZG-33909 (US)
BAREFOOT JERRY'S GROCERY :

DISC 1 : Hospitality Song / I'm Proud To Be A Redneck / Smokies / Quit While You're A Head / Blood Is Not The Answer / Come To Me Tonight / Finishing Touches / The Minstrel Is Free At Last / Nobody Knows / That's OK, He'll Be Your Brother Someday
DISC 2 : Castle Rock / One Woman / In God We Trust / Message / Friends / Snuff Queen / Little Maggie / Warm / Fish 'N Tits / Ain't It Nice In Here / Ebenezer

1976
LP 12" MONUMENT PZ 34252 (US)
KEYS TO THE COUNTRY - The Battle Of New Orleans / Summit Ridge Drive / Woes Of The Road / Wilma Lou / Appalachian Fever / You Can't Say It All / Tonite's The Nite I Do / Georgia On My Mind / Uncle Pen / My God (Is Alright With Me)
1977
LP 12" MONUMENT MG-7610 (US)
BAREFOOTIN' - Barefootin' / I Ain't Gettin' No Touchin' / Keep On Funkin' / Sentimental Man / Dixie Dancer / Hiroshima Hole / Diana / Tokin' Ticket / Headin' For The Hills
1979
LP 12" CRIMINAL TAKE 2 (US)
WATCHIN' T.V. - Funny Lookin' Eyes / Pig Snoots And Nehi Red / Hay Queen / Two Mile Pike / Faded Love / There Must Be A Better Way / If There Were Only Time For Love / Violets And Daffodils / Mother Nature's Way Of Saying High
01/1997
CD SEE FOR MILES 466 (UK)
WATCHIN' T.V. /

YOU CAN'T GET OFF -

Funny Lookin' Eyes / Pig Snoots And Nehi Red / Hay Queen / Two Mile Pike / Faded Love / There Must Be A Better Way / If There Were Only Time For Love / Violets And Daffodils / Mother Nature's Way Of Saying High / Ali Babba / Boogie Woogie / Slowin' Down / You Can't Get Off With Your Shoes On / West Side Of Mississippi / The Measure Of Your Worth / Lucille / Hero Frodo / Sinkin' In The Sea / Cades Cove
01/1997
CD SEE FOR MILES 464 (UK)
KEYS TO THE COUNTRY / BAREFOOTIN' - The Battle Of New Orleans / Summit Ridge Drive / Woes Of The Road / Wilma Lou / Appalachian Fever / You Can't Say It All / Tonite's The Nite I Do / Georgia On My Mind / Uncle Pen / My God (Is Alright With Me) / Barefootin' / I Ain't Gettin' No Touchin' / Keep On Funkin' / Sentimental Man / Dixie Dancer / Hiroshima Hole / Diana / Tokin' Ticket / Headin' For The Hills
07/1997
CD SEE FOR MILES 485 (UK)
SOUTHERN DELIGHT / BAREFOOT JERRY - Hospitality Song / I'm Proud To Be A Redneck / Smokies / Quit While You're A Head / Blood Is Not The Answer / Come To Me Tonight / Finishing Touches / The Minstrel Is Free At Last / Nobody Knows / That's OK, He'll Be Your Brother Someday / Castle Rock / One Woman / In God We Trust / Message / Friends / Snuff Queen / Little Maggie / Warm / Fish 'N Tits / Ain't It Nice In Here / Ebenezer
© Rocky Productions 4/02/2011