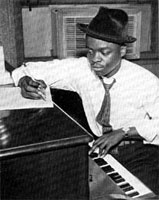 Pianiste, chanteur et compositeur Rock 'n' Roll et Rhythm 'n' Blues US né le 16 Février 1931 à Brooklyn (New York). Auteur de chansons telles que Fever, Great Balls of Fire ou Don't Be Cruel, il est le seul artiste noir à avoir collaboré avec Elvis Presley.
Fan de musique country, il remporte un concours de chant à l'Apollo Theater d'Harlem, temple du rhythm & blues. Encouragé par Doc Pomus, il enregistre quelques titres, dont Daddy Rolling Stone en 1953, qui sera repris plus tard par les Who. En 1956, sous le pseudonyme de John Davenport, il écrit Fever avec Eddie Cooley pour le chanteur Little Willie John qui vend plus d'un million de disques. Reprise deux ans plus tard par Peggy Lee, cette chanson deviendra un classique.
Le 2 juillet 1956, Elvis Presley enregistre sa chanson Don't Be Cruel. Ce morceau se classe pendant sept semaines en tête des meilleures ventes de disques américaines. C'est le début d'une longue et fructueuse collaboration. Blackwell lui écrit une série de tubes, dont All Shook Up, et Return To Sender. Il travaille également pour Jerry Lee Lewis, Dee Clark, Jimmy Jones, etc... Ses compositions ont la particularité de combiner habilement les influences Country et Rhythm 'n' Blues. Il ne se contente pas d'écrire et de composer les textes et les musiques, il enregistre aussi toutes ses chansons sous la forme de démos où il chante et s'accompagne au piano et livre un produit fini à ses « clients ». La légende veut d'ailleurs que lui et Elvis ne se soient jamais rencontrés.
Dans le courant des années 1960, Blackwell est délaissé au profit de la jeune génération. Il cesse d'écrire pour les autres et reprend sa carrière d'interprète, sans grand succès. Il sort en 1977 un album avec ses plus grand tubes, These Are My Songs !, chez Atlantic Records.
Otis Blackwell est décèdé à 70 ans d'une crise cardiaque, le 6 Mai 2002 à Nashville (Tennessee). Malgré le rôle considérable qu'il a joué dans l'histoire du Rock 'n' Roll, il reste l'éternel oublié de toutes les récompenses dans ce domaine.

Few 1950's Rock 'n' Roll tunesmiths were as prolifically talented as Otis Blackwell. His immortal compositions include Little Willie John's "Fever," Elvis Presley's "Don't Be Cruel" and "All Shook Up," Jerry Lee Lewis' "Great Balls of Fire" and "Breathless," and Jimmy Jones' "Handy Man" (just for starters).
Though he often collaborated with various partners on the thriving '50s New York R&B scene (Winfield Scott, Eddie Cooley, and Jack Hammer, to name three), Blackwell's songwriting style is as identifiable as that of Willie Dixon or Jerry Leiber & Mike Stoller. He helped formulate the musical vocabulary of rock & roll when the genre was barely breathing on its own.
Befitting a true innovator, Blackwell's early influences were a tad out of the ordinary. As a lad growing up in Brooklyn, he dug the Westerns that his favorite nearby cinema screened. At that point, Tex Ritter was Otis Blackwell's main man. Smooth blues singers Chuck Willis and Larry Darnell also made an impression. By 1952, Blackwell parlayed a victory at an Apollo Theater talent show into a recording deal with veteran producer Joe Davis for RCA, switching to Davis' own Jay-Dee logo the next year. He was fairly prolific at Jay-Dee, enjoying success with the throbbing "Daddy Rollin' Stone" (later covered by the Who). From 1955 on, though, Blackwell concentrated primarily on songwriting (Jay-Dee, Atlantic, Date, Cub, and MGM later issued scattered Blackwell singles).
"Fever," co-written by Cooley, was Blackwell's first winner (he used the pen name of John Davenport, since he was still contractually obligated to Jay-Dee). Blackwell never met Elvis in person, but his material traveled a direct pipeline to the rock icon; "Return to Sender," "One Broken Heart for Sale," and "Easy Question" also came from his pen. Dee Clark ("Just Keep It Up" and "Hey Little Girl"), Thurston Harris, Wade Flemons, Clyde McPhatter, Brook Benton, Ben E. King, the Drifters, Bobby Darin, Ral Donner, Gene Vincent, and plenty more of rock's primordial royalty benefited from Blackwell's compositional largesse before the British Invasion forever altered the Brill Building scene.
In 1976, Blackwell returned to recording with a Herb Abramson-produced set for Inner City comprised of his own renditions of the songs that made him famous. A 1991 stroke paralyzed the legendary song scribe, but his influence remained so enduring that it inspired Brace Yourself!, an all-star 1994 tribute album that included contributions by Dave Edmunds, Joe Ely, Deborah Harry, Chrissie Hynde, Kris Kristofferson, Graham Parker, and bluesman Joe Louis Walker. He died on May 6, 2002 in his Nashville home.
https://en.wikipedia.org/wiki/Otis_Blackwell
Talents : Piano, Vocals, Songwriter
Style musical : Early Rhythm 'n' Blues, Rock 'n' Roll, Urban Blues, East Coast Blues, Regional Blues
Years in activity :
| | | | | | | | | | | | |
| --- | --- | --- | --- | --- | --- | --- | --- | --- | --- | --- | --- |
| 1910 | 20 | 30 | 40 | 50 | 60 | 70 | 80 | 90 | 2000 | 10 | 20 |
DISCOGRAPHY
78 t. & Singles
| | | |
| --- | --- | --- |
| 1952 | 78 t. RCA-VICTOR 20-5069 | Wake Up, Fool / Please Help Me Find My Home |
| 1952 | 78 t. RCA-VICTOR 20-5225 | Fool That I Be / Number 000 |
| 1953 | SP JAY-DEE 784 (US) | Daddy Rolling Stone / Tears! Tears! Tears! |
| 1954 | SP JAY-DEE 787 (US) | You're My Love / Bartender Fill It Up Again |
| 1954 | SP JAY-DEE 791 (US) | On That Power Line / Don't You Know How I Love You |
| 1954 | SP JAY-DEE 792 (US) | I'm Standing At The Doorway / Nobody Met The Train |
| 1954 | SP JAY-DEE 794 (US) | My Josephine / Ain't Got No Time |
| 1954 | SP GROOVE 0034 | Oh, What A Babe / Here I Am |
| 1955 | SP JAY-DEE 798 (US) | Go Away Mr. Blues / I'm Comin' Back Baby |
| 1955 | SP JAY-DEE 802 (US) | You Move Me Baby / My Poor Broken Heart |
| 1955 | SP JAY-DEE 808 (US) | Oh What A Wonderful Time / Let The Daddy Hold You |
| 1957 | SP DAVIS 455-45 (US) | Daddy Rolling Stone / Tears! Tears! Tears! |
| 05/1957 | SP GALE 102 (US) | It's Love And It's Real / Don't Take My Word (Take My Heart) |
| 1957 | SP ATLANTIC 1165 (US) | Make Ready For Love / When Youre Around |
| 1957 | SP ATLANTIC 1178 (US) | What A Coindence / Turtle Dove |
| 1958 | SP DATE 1006 (US) | Don't Run Away / Handle With Care |
| 1958 | SP LONDON HLE 8616 (UK) | Make Ready For Love / When You're Around |
| 1961 | SP CUB 9092 (US) | Jeannie's Wedding / I'd Rather Kiss You Than Eat |
| 1962 | SP CUB 9107 (US) | Sister Twister / Ga Ga |
| 1962 | SP MGM K13090 (US) | Kiss Away / Grandaddy Of Them All |
| 1970 | SP EPIC 5-10654 (US) | It's All Over Me / Just Keep It Up |
| 1979 | SP FEVER FO-101 A (US) | The No.1 KingOof Rock 'n' Roll / I Love It |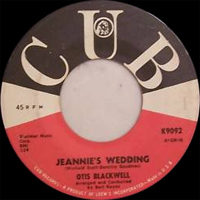 Unissued Track
Albums
1956
LP 12" DAVIS 109 (US)
SINGIN' THE BLUES - Daddy Rollin' Stone / Tears Tears Tears / On That Power Line / Don't Know How I Loved You / Go Away Mr. Blues / Ain't Got No Time / You Move Me Baby / My Poor Broken Heart / Let The Daddy Hold You / You're My Love / I'm Standing At The Doorway To Your Heart / I'm Comin' Back Baby / My Josephine / I'm Travelin' On
1977
LP 12" INNER CITY 1032 (US)
THESE ARE MY SONGS! - All Shook Up / Fever / Back Trail / Daddy Rollin' Stone / Great Balls Of Fire / Don't Be Cruel / Searchin' / Let's Talk About Us / Hey Little Girl / Breathless / Handy Man / Return To Sender
1991
CD FLYRIGHT 26 (UK)
OTIS BLACKWELL 1953-55 - Daddy Rollin' Stone / Tears Tears Tears / On That Power Line / Don't Know How I Loved You / Go Away Mr. Blues / Ain't Got No Time / You Move Me Baby / My Poor Broken Heart / Let The Daddy Hold You / You're My Love / I'm Standing At The Doorway To Your Heart / I'm Comin' Back Baby / My Josephine / I'm Travelin' On / Nobody Met The Train / Bartender Fill It Up Again / Oh! What A Wonderful Time
1981
LP 12" FLYRIGHT FLY LP 575 (UK)
SINGIN' THE BLUES - Daddy Rollin' Stone / Tears Tears Tears / On That Power Line / Don't Know How I Loved You / Go Away Mr. Blues / Ain't Got No Time / You Move Me Baby / My Poor Broken Heart / Let The Daddy Hold You / You're My Love / I'm Standing At The Doorway To Your Heart / I'm Comin' Back Baby / My Josephine / I'm Travelin' On
1995
CD SHANACHIE 9204 (US)
ALL SHOOK UP - All Shook Up / Fever / Back Trail / Daddy Rollin' Stone / Great Balls Of Fire / Don't Be Cruel / Searchin' / Let's Talk About Us / Hey Little Girl / Breathless / Handy Man / Return To Sender / Hello Bottle / One Broken Heart For Sale / Sleep Is Just Around The Corner / Clinging To A Dream
05/2000
CD ABM 1362 (US)
SEARCHIN' - All Shook Up / Fever / Back Trail / Daddy Rollin' Stone / Great Balls Of Fire / Don't Be Cruel / Searchin' / Let's Talk About Us / Hey Little Girl / Breathless / Handy Man / Return To Sender
02/2003
CD EMPIRE MUSIC GROUP INC. 39069 (US)
THEY CALLED IT ROCK N' ROLL - Fever / Fever

[alternate version] /

Don't Be Cruel / Studio Chatter / Great Balls Of Fire / All Shook Up / Shadow Of Your Memory / Shadow Of Your Memory

[alternate version] /

Handy Man / Studio Chatter / Return To Sender / The Whole World's On Fire / The Devil Has Won / Studio Chatter / Just Keep It Up / Breathless / Extra Added Attraction / Great Balls Of Fire

[alternate version] /

Paralyzed [demo for Elvis PRESLEY] / Heartbreak Hill [demo for Fats DOMINO]
11/2003
CD ACROBAT 168 (US)
OTIS BLACKWELL SINGS HIS GREATEST HITS - All Shook Up / Fever / Back Trail / Daddy Rollin' Stone / Great Balls Of Fire / Don't Be Cruel / Let's Talk About Us / Hey Little Girl / Breathless / Handy Man / Return To Sender
07/2005
CD CLASSICS 5140 (F)
THE CHRONOLOGICAL - 1952-1954 - Wake Up Fool / Fool That I Be / Number 000 / Please Help Me Find My Way Home / Tears, Tears, Tears / Daddy Rolling Stone / On That Powerline / Don't Know How I Loved You / You're My Love / Go Away Mr. Blues / Bartender Fill It Up Again / I'm Travelin' On / My Josephine / Ain't Got No Time / I'm Coming Back Baby / Nobody Met The Train / I'm Standing At The Doorway To Your Heart / I Face This World Alone / O-O-O-Oh! / Oh! What A Babe / Here I Am
12/2005
CD BRANDON MUSIC 002 (US)
LEGENDARY LEGEND - MASTERS & DEMOS - Fever / Fever / Dont Be Cruel / Voices Chattering / Great Balls Of Fire / All Shook Up / Paralyzed / Shadow Of Your Memory / Shadow Of Your Memory / Handyman / Voices Chattering / Return To Sender / The Whole Worlds On Fire / The Devil Has Won / Voices Chattering / Just Keep It Up / Heartbreak Hill / Breathless / Extra Added Attraction / Great Balls Of Fire
200?
CD BLUE CITY BCCD 814 (US)
DADDY ROLLIN' STONE - Daddy Rollin' Stone / Wake Up Fool / Please Help Me Find My Way Home / Go Away, Mr. Blues / Here I Am / Don't Know How I Love You / Let The Daddy Hold You / Number 000 / Fool That I Be / Ain't Got No Time / On That Power Line / I'm Coming Back Baby / I'm Standing At The Doorway To Your Heart / My Josephine / Tears, Tears, Tears / Bartender, Fill It Up Again / It's Love, It's Real / You're My Love / I'm Travelin' On / Oh What A Babe / Oh What A Wonderful Time / Don't Take My Word / My Poor Broken Heart / Nobody Met The Train / You Move Me Baby / What A Coincidence / Make Ready For Love / Turtle Dove / When Your Around / Don't Run Away
200?
CD FLORIDITA FRCD06 (?)
WHEN YOU'RE AROUND - All Shook Up / Clingin' To A Dream / Don't Run Away / When You're Around / Teddy Bear / Handle With Care / Kiss Away / Paralysed / Jeannie's Wedding / Grandaddy Of Them All / One Broken Heart For Sale / Sleep Is Just Around The Corner / I'd Rather Kiss You Than Eat / Make Ready For Love / Music And Fire / Heartbreak Hill / What A Coincidence / It's Love, It's Real / Don't Take My Word / Turtle Dove / Ga Ga / Sister Twister
© Rocky Productions 31/03/2011