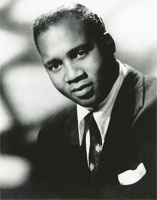 Chanteur Rhythm 'n' Blues US né le 5 Avril 1932 à Wilminton (Caroline du Nord). Billy Bland a débuté en 1954 au sein des Bees. Il est décédé le 22 Mars 2017 à New York City.

Billy Bland had a one-shot hit in 1960 with "Let the Little Girl Dance" (number seven), a pop-R&B- early soul mixture very much in the same mold as records from the period by Jackie Wilson, right down to the Latinate "Lonely Teardrops" rhythm. Some of his other singles were in the same style, but Bland (not to be confused with the unrelated Bobby Bland) was actually a pretty versatile vocalist, also purveying R&B, Bo Diddley-styled rock & roll, urban blues, and dance-craze early-'60s rock. He recorded often for Old Town from the mid-'50s through 1963, but though his range was wide, his quality was not. He was a competent journeyman no matter what his genre, never finding another song with the pop hooks of "Let the Little Girl Dance." Or writing one: though he didn't pen "Let the Little Girl Dance," he wrote much of his own material.
Bland began singing shortly after moving to New York in the late '40s, and made his first records for Imperial in New Orleans in the mid-'50s, as a member of the Bees. They did an early version of Dave Bartholomew's naughty "My Ding-a-Ling" (eventually a hit for Chuck Berry), although when the Bees did it, it was titled "Toy Bell." (It can now be found on the box set Crescent City Soul: The Sound of New Orleans 1947-1974). Bland went solo in 1955, however, beginning his lengthy association with the New York-based Old Town label. "Let the Little Girl Dance" was almost an accident: it was being recorded by Titus Turner, and Bland showed him how to do it in the studio. Unknown to Bland, his demonstration was recorded by Henry Glover, and became the hit, with guitar ace Mickey Baker playing on the session.
Bland tried to vary the "Let the Little Girl Dance" pop-R&B sound on various singles, and also ride the bandwagons of other rock trends, with no success, and made his final Old Town disc in 1963. As of the late '80s, he was running a soul food restaurant in Harlem.
He passed away on March 22, 2017 in New York City.
https://en.wikipedia.org/wiki/Billy_Bland
Talents : Vocals
Style musical : Doo Wop, Rock 'n' Roll, Rhythm 'n' Blues, Soul
Years in activity :
| | | | | | | | | | | | |
| --- | --- | --- | --- | --- | --- | --- | --- | --- | --- | --- | --- |
| 1910 | 20 | 30 | 40 | 50 | 60 | 70 | 80 | 90 | 2000 | 10 | 20 |
DISCOGRAPHY
78 t., Singles & EP
09/1954
78 t. IMPERIAL 5314 (US)
.
The BEES - Toy Bell

/ Snatchin' Back

09/1954
SP IMPERIAL X5314 (US)
.
The BEES - Toy Bell

/ Snatchin' Back

12/1954
78 t. IMPERIAL 5320 (US)
.
The BEES - I Want To Be Loved / Get Away Baby
12/1954
SP IMPERIAL X5320 (US)
.
The BEES - I Want To Be Loved / Get Away Baby
01/1956
78 t. & SP OLD TOWN 1016 (US)
.
Chicken In The Basket / The Fat Man
06/1956
78 t. & SP OLD TOWN O.T. 1022 (US)
.
Chicken Hop / Oh You For Me
1958
78 t. & SP OLD TOWN 1036 (US)
.
I Had A Dream / If I Could Be Your Man
03/1958
SP TIP TOP 708 (US)
.
Chicken In The Basket / Chicken Hop
05/1959
SP OLD TOWN 1067 (US)
.

Grandmaw Gave A Party / Whats That

07/1959
SP WARNER BROS. WB 5083 (US)
.
Shimmy Shake / Four Wheels
01/1960
SP OLD TOWN 1076 (US)
.
Let The Little Girl Dance / Sweet Thing
06/1960
SP OLD TOWN 1082 (US)
.
You Were Born To Be Loved / Pardon Me
09/1960
SP OLD TOWN 1088 (US)
.
Make Believe Lover / Harmonys
11/1960
SP OLD TOWN 1093 (US)
.
Everything That Shines Ain't Gold / Keep Talkin' That Sweet Talk
1960
EP RICORDI 45 S 092 (F)
Let The Little Girl Dance / Sweet Thing / Hip And Hep / Chicken In The Basket
1960
EP Cupol CEP 263 (SWE)

Let The Little Girl Dance - Let The Little Girl Dance / Chicken Hop / Sweet Thing / Chicken In The Basket

02/1961
SP OLD TOWN 1098 (US)
.
Steady King / I Cross My Heart
06/1961
SP OLD TOWN 1105 (US)
.
My Heart's On Fire / Can't Stop Here
10/1961
SP OLD TOWN 1109 (US)
.
Uncle Bud / Do The Bug With Me
01/1962
SP OLD TOWN 1114 (US)
.
Busy Little Boy / All I Want To Do Is Dream
08/1962
SP OLD TOWN 1124 (US)
.
Mama Stole The Chicken / I Spent My Life Loving You
10/1962
SP OLD TOWN 1128 (US)
.

Darling Won't You Think Of Me / How Many Hearts

07/1963
SP OLD TOWN 1143 (US)
.
Doing The Mule / Farmer In The Dell
10/1963
SP OLD TOWN 1151 (US)
.
A Little Touch Of Your Love / Little Boy Blue
1965
SP ST. LAWRENCE 1005 (US)
.
She's Already Married / My Divorce
1966
SP ST. LAWRENCE 1018 (US)
.

I'm Sorry About That / Booga-Loo And Silly Dog

1969
SP Good Old Gold 010 (US)
.

We Belong Together (ROBERT & JOHNNY) / Let The Little Girl Dance (Billy BLAND)

06/1971
SP COTILLION

OT-44115 (US)

.
Let The Little Girl Dance

/ Chicken Hop

1972 .
SP ATLANTIC OLDIES OS 13114 (US)
.

Let The Little Girl Dance (Billy BLAND) / Remember Then (EARLS)

1976
SP HI-OLDIES 460 (US)
.

Let The Little Girl Dance / Sweet Thing

1977
SP Janus JG-721 (US)
.
So Fine (FIESTAS) / Let The Little Girl Dance (Billy BLAND)
1977
SP JANUS 6.12 144 (GER)

Oldies But Goldies - Let The Little Girl Dance (Billy BLAND) / Stay (Maurice Williams & The Zodiacs)

1979
SP LIGHTNING LIG 9019 (UK) (picture disc)

Remember Then

(EARLS) /

Let The Little Girl Dance (Billy BLAND)

1981 ?
SP COLLECTABLES C 1039 (US)
.
Let The Little Girl Dance (Billy BLAND) / The Angels Sang (SOLITAIRES)
1985 ?
SP ERIC 286 (US)
.

Let The Little Girl Dance (Billy BLAND) / Remember Then (EARLS)
Albums
| | | | |
| --- | --- | --- | --- |
| 1982 | LP 12" Curcio GSR - 70 (I) | | La Grande Storia Del Rock - 70 - Billy Bland / Dee Clark - Billy BLAND : Sweet Thing / I Spent My Life Loving You / Busy Little Boy / Steady Kind / I Cross My Heart / Mamma Killed The Chicken / Let The Little Girl Dance / You Took My Love For Granted / Dee Clark : Raindrops / Cupid / Cindy / Nature Boy / Hold On / Portrait Of My Love / Always Together |
| 1987 | LP 12" ACE CH 222 (UK) | | BLUES, CHICKENS, FRIENDS & RELATIONS - The Fat Man / Chicken In The Basket / Oh You For Me / I Had A Dream / If I Could Be Your Man / What's That / Grandmaw Give A Party / Uncle Bud / Little Boy Blue / Chicken Hop (2) / My Heart's On Fire / Flo / Open The Door / Mama Stole The Chicken / The Bug |
| 03/1994 | CD ACE CDCHD 370 (UK) | | LET THE LITTLE GIRL DANCE - Let The Little Girl Dance / Chicken Hop / Grandma Gave A Party / Fat Man / Pardon Me / I Had A Dream / Chicken In The Basket / You Were Born To Be Loved / Harmony / Can't Stop Her From Dancing / Momma Stole The Chicken / Flo - Open The Door / What's That / Oh, You For Me / If I Could Be Your Man / Everything That Shines Ain't Gold / Make Believe Lover / My Heart Is On Fire / Steady Kind / Uncle Bud / Keep Talkin' That Sweet Talk / You Took My Love For Granted / Little Boy Blue / I Cross My Heart / I Spend My Life Loving You / All I Want To Do Is Cry / How Many Hearts / Do The Bug With Me / Let The Little Girl Dance |
| 01/2000 | CD COLLECTABLES 6066 (US) | | LET THE LITTLE GIRL DANCE - Let The Little Girl Dance / Can't Stop Her From Dancing / Fat Man / Harmony / Oh, You For Me / You Were Born To Be Loved / Chicken Hop / Pardon Me / I Had A Dream / Mama Stole The Chicken / If I Could Be Your Man / Little Boy Blue / What's That / Chicken In The Basket / Flo-Open The Door / Grandma Gave A Party / Make Believe Lover / Uncle Bud / I Cross My Heart / Do The Bug With Me / Sweet Thing / Keep Talkin' That Sweet Talk / All I Want To Do Is Cry / I Spend My Life Loving You |
| 10/2021 | CD Jasmine JASMCD3161 (UK) | | Let The Little Girl Dance Old Town And Imperial Singles 1954-1962 - Toy Bell / Snatchin' Back / I Want To Be Loved / Get Away Baby / Chicken In Basket / The Fat Man / Oh, You For Me / Chicken Hop / If I Could Be Your Man / I Had A Dream / Grandmaw Gave A Party / Whats That / Let The Little Girl Dance / Sweet Thing / You Were Born To Be Loved / Pardon Me / Make Believe Lover / Harmony / Everything That Shines Ain't Gold / Keep Talkin' That Sweet Talk / Steady Kind / I Cross My Heart / My Heart's On Fire / Can't Stop Her From Dancing / Uncle Bud / Do The Bug With Me / Busy Little Boy / All I Want To Do Is Cry / I Spend My Life Loving You / Mamma Stole The Chicken / Darling Won't You Think Of Me / How Many Hearts |
© Rocky Productions 21/04/2022