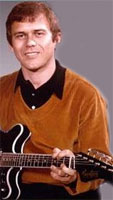 Chef d'orchestre, chanteur et guitariste US né le 26 Octobre 1936 à Long Beach (Californie). Installé en Arizona dès 1938 et leader des "Arizona Hayriders", Al Casey fut découvert par Lee Hazlewood. Il accompagna plusieurs chanteurs de la région de Phenix, dont Jimmy Spellman, Jimmy Johnson et surtout Sanford Clark à partir de 1955, contribuant à son succès. Musicien complet, il tiendra également le guitare et le piano aux cotés de Duane Eddy. Premier disque solo en 1956 chez MCI Records. En tant que vocaliste, il enregistra quelques titres chez MCI (56), DOT (56-57), Liberty (57-59), United Artists (59), Highland (59), Blue Horizon (60?), et Stacy Records (62-64). Il fut un artiste régulier à l'Arizona Hayride de Phoenix (Arizona) en 1956. Al Casey est décédé le 17 Septembre 2006.

Longtime session guitarist Al Casey is most noted for the records he made with producer Lee Hazlewood, with artists like Duane Eddy and Sanford Clark. He also has made numerous records on his own, reaching his commercial peak in the early 1960s, when a few of his instrumental (or mostly instrumental) surf and R&B-rock singles made the Top Hundred. In the 1960s and 1970s he worked often as a session player in Los Angeles, and was still putting out records under his own name in the 1990s.
Casey was still in his teens when he started working with Hazlewood in Phoenix, introducing Lee to Sanford Clark, whose hit "The Fool" was produced by Hazlewood. Casey's band backed Clark on the singer's records, as well as other discs cut by Hazlewood. Casey was in Eddy's band, the Rebels, in which he played the piano, although he's more known for his guitar playing. Casey also wrote one of Eddy's earliest hits, "Ramrod," as well as cowriting another Eddy hit, "Forty Miles of Bad Road," with Duane.
In the early 1960s Casey was dividing his time between sessions in L.A. and Phoenix, and working with his own group, the Al Casey Combo. Somewhat surprisingly, considering his twangy background with Eddy and the surf recordings in his near future, his first successes were with bluesy instrumental rock singles with a jazzy organ groove (played by Casey himself). "Cookin'" made #92 on the pop chart, while a similar follow-up, "Jivin' Around," did a little better, getting to #71 pop and #22 in the R&B listings. In 1963, however, he and Hazlewood rode the surf craze and cut an entire surf LP, much of which featured Hazlewood compositions, and all of which had respectably tough reverberant guitar by Casey. A single from the album, "Surfin' Hootenanny" (with almost incidental female Vocals by the K-C-Ettes, aka the Blossoms), became Casey's biggest hit, making #48; top L.A. session dudes Leon Russell (organ) and Hal Blaine (drums) were present on many or all of the tracks.
Casey's solo career petered out when the small independent label he recorded for, Stacy, closed shop around the beginning of 1964. Casey found a lot of work, though, as a session man, on recordings by artists including the Beach Boys, Eddy Arnold, and Frank Sinatra. He also ran a music store in Hollywood in the late 1960s, and played as a member of the band on Dean Martin's television show. In the mid-'90s he made a solo recording for Bear Family, Sidewinder.
https://en.wikipedia.org/wiki/Al_Casey_(rock_guitarist)
Talents : Guitar, Vocals
Style musical : Rockabilly, Rock 'n' Roll, Instrumental Rock, Surf
Years in activity :
| | | | | | | | | | | | |
| --- | --- | --- | --- | --- | --- | --- | --- | --- | --- | --- | --- |
| 1910 | 20 | 30 | 40 | 50 | 60 | 70 | 80 | 90 | 2000 | 10 | 20 |
DISCOGRAPHY
Singles
07/1956
78 t. VIV 8-3000 (US)
.
Cat Daddy (Jimmy JOHNSON with Al CASEY & The

Arizona Hayriders

/ Al CASEY : Guitar - Larry

Vanlandingham : D

rums) / How About Me? Pretty Baby (Jimmy JOHNSON with Al CASEY & The ARIZONA HAYRIDERS / Guitar : Al CASEY)
07/1956
SP VIV 45-3000 (US)
.
Cat Daddy (Jimmy JOHNSON with Al CASEY & The

Arizona Hayriders

/ Al CASEY : Guitar - Larry

Vanlandingham : D

rums) / How About Me? Pretty Baby (Jimmy JOHNSON with Al CASEY & The ARIZONA HAYRIDERS / Guitar : Al CASEY)
10/1956
SP MCI 45-1004 (US)
.
The Pink Panther / If I Told You
12/1956
SP DOT 45-15524 (US)
.
A Fool's Blues (instr.) / Juice (instr.)
04/1957
SP DOT 45-15563 (US)
.
Guitar Man / Come What May
12/1957
78 t. RPM 502 (US)
.
Don COLE - Al CASEY, Guitar - Snake Eyed Mama / Kiss Of Love
12/1957
SP RPM 45x502 (US)
Don COLE - Al CASEY, Guitar - Snake Eyed Mama / Kiss Of Love
12/1957
SP LIBERTY F-55117 (US)
.
Willa Mae / She Gotta Shake
02/1959
SP UNITED ARTISTS UA 158X (US)
.
The Stinger (instr.) / Keep Talking (instr.)
10/1959
SP HIGHLAND 1001 (US)
.
Al CASEY & The BATS - Teen-Age Blues / Adventures Of Frankentein
11/1959
SP HIGHLAND 1002 (US)
.
(Got The) Teen-Age Blues (Al CASEY & The BATS) / Give'n (Al CASEY & CORKEY & The BATS)
11/1959
SP HIGHLAND 1004 (US)
.
Al CASEY & The BATS - The Stinger (instr.) / Night Beat (instr.)
1960
SP CHALLENGE 59086 (US)
.
Cocoanut Grove / Alley Cat
1961
SP BLUE HORIZON 925X (US)
.
Hotfoot (instr.) / Cookin' (instr.)
02/1962
SP STACY 925 (US)
.
Al CASEY COMBO - Hotfoot (inst.) / Cookin' (instr.)
07/1962
SP STACY 936 (US)
.
Jivin' Around (instr.) / Doin' The Shotish
09/1962
SP STACY UA 494 (US)
.
Al CASEY COMBO - Jivin' Around (instr.) / Doin' The Shotish (instr.)
09/1962
SP UNITED ARTISTS 494 (US)
.
Jivin' Around (instr.) / Doin' The Shotish (instr.)
11/1962
SP STACY 950 (US)
.
Al CASEY COMBO - Laughin' (instr.) / Chicken Feathers (instr.)
03/1963
SP STACY 956 (US)
.
Doin' It (instr.) / Monte Carlo (instr.)
05/1963
SP STACY 961 (US)
.
Al CASEY COMBO - Full House (instr.) Indian Love Call (instr.)
06/1963
SP STACY 962 (US)
.
Al CASEY with The K-C-ETTES - Surfin' Hootenanny / Easy Pickin' (instr.)
09/1963
SP STACY 964 (US)
.
Al CASEY with The K-C-ETTES - Surfin' Blues (instr.) / Guitars, Guitars, Guitars
12/1963
SP CBS 1304 (GER)

Guitars, Guitars, Guitars / The Hearse

01/1964
SP STACY 971 (US)
.
Al CASEY COMBO - What Are We Gonna Do In '64 / Cookin' (instr.)
1964
EP PHILIPS 434 818 (F)
Al CASEY COMBO - Surfin' Hootenanny / Easy Pickin' ! / Doin' It / Monte Carlo
196?
SP RAMCO 3705 (US)
.
Cookin' / Hot Foot
1970
SP RANWOOD 871 (US)
..
Holly Holy / High Noon
1970
SP RANWOOD 882 (US)
.
Orange Blossom Special / San Antonio Rose
2013
SP SLEAZY SR52 (S)

Duane Eddy & His Rockabillies featuring Al Casey - The Ford Single - Ramrod / Caravan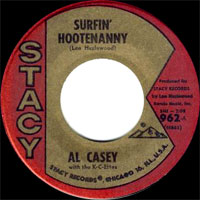 Unissued Tracks
| | | |
| --- | --- | --- |
| 1959 | Unissued track - (Bear Family CD 16579 (#9)) | Blues #1 (instr.) |
| 1959 | Unissued track - (Bear Family CD 16579 (#12)) | Forty Miles Of Bad Road (instr.) |
| 1959 | Unissued track - (Bear Family CD 16579 (#8)) | No Title #1 (instr.) |
| 1959 | Unissued track - (Bear Family CD 16579 (#7)) | Tuff (instr.) |
| 1960 | Unissued track - (Bear Family CD 16579 (#15)) | Laura (instr.) |
| 1960 | Unissued track - (Bear Family CD 16579 (#14)) | Tenderly (instr.) |
| 1961 | Unissued track - (Bear Family CD 16579 (#16)) | Green Dolphin Street (instr.) |
| 19?? | Unissued track - (Sundazed LP 5026 (#14)) | El Aguila [alt. vers.] (instr.) |
| 19?? | Unissued track - (Sundazed LP 5026 (#13)) | The Hearse [alt. vers.] (instr.) |
| 19?? | Unissued track - (Sundazed LP 5026 (#15)) | Surfs You Right [alt. vers.] (instr.) |
Need Info
| | | |
| --- | --- | --- |
| 19?? | Need info - (Ace CD 612 (#19)) | The Hucklebuck (instr.) |
| 19?? | Need info - (Ace CD 612 (#23)) | Theme From "Huckeberry Hound" (instr.) |
Albums
1963
LP 12" STACY STM-100 (mono) / STMS-100 (stereo) (US)
SURFIN' HOOTENANNY - Surfin' Hootenanny / El Aguila / Thunder Beach / Baja / Surfin' Blues Pt.1 / Lonely Surfer / Guitars Guitars / The Hearse / Ramrod / Caravan / Surfin' Blues Pt.2 / Surfs You Right
1970
LP 12" RANWOOD RLP-8002 (US)
THE EXOTIC GUITARS - I Will Wait For You / Spanish Eyes / My Happiness / Heartaches / Wonderland By Night / Yellow Bird / C'Est Si Bon / Blueberry Hill / Alley Cat / Strangers On The Shore / Melody Of Love
08/1995
CD BEAR FAMILY BCD 15889 (GER)
SIDEWINDER - Undecided (with David GRISMAN) / You Came A Long Way From St. Louis (with Lee HAZLEWOOD) /Sidewinder / Ashokan Farewell / Endless Sleep (with Jody REYNOLDS) / Limehouse Blues (with David GRISMAN) / Saguara Sunrise / Route #1 (with Glen CAMPBELL) / Plectrum Banjo Medley / The Fool (with Lee HAZLEWOOD)
11/1995
CD ACE CDCHD 612 (UK)
JIVIN' AROUND - ORIGINAL STACY RECORDINGS - Surfin' Hootenanny / El Aguila / Thunder Beach / Baja / Surfin' Blues Part 1 / Lonely Surfer / Guitars, Guitars, Guitars / The Hearse / Ramrod / Caravan / Surfin' BluesPart 2 / Surfs You Right / Cookin' / Hotfoot / Indian Love Call / Jivin' Around / Doin' The Shotish / Doin' It / The Hucklebuck / Full House / Laughin' / Monte Carlo / Theme From Huckleberry Hound / Chicken Feathers / Easy Pickin' / What Are We Gonna Do In '64 ?
04/2001
CD BEAR FAMILY BCD 16579 (GER)
A MAN FOR ALL SESSIONS - Ramrod / Caravan / If I Told You / Juice / Guitar Man / Willa Mae / Tuff / No Title #1 / Blues #1 /Al CASEY & CORKEY & the BATS : Give'n Up / Al CASEY & the BATS : Teen-Age Blues / Forty Miles Of Bad Road / The Stinger / Tenderly / Laura / Green Dolphin Street / Al CASEY COMBO : Cookin' / Jivin' Around / Doin' It / Al CASEY with the K-C-ETTES : Surfin' Hootenanny / Guitars, Guitars, Guitars / Art JONES (Al CASEY) : Nola / Waltz Mignon / Al CASEY & Jimmy JOHNSON : Cat Daddy / Sanford CLARK with Al CASEY : The Fool / Loy CLINGMAN with Al CASEY : It's Nothing To Me / Jimmy SPELLMAN with Al CASEY : Doggonit / Don COLE with Al CASEY : Snake Eyed Mama / Jody REYNOLDS with Al CASEY : Endless Sleep / Lonesome Long John ROLLER with Al CASEY : Long John's Flagpole Rock / Johnny LANCE with Al CASEY : The Big Tragedy / Swinging Shepherd Blues
05/2004
CD SUNDAZED 6115 (US)
COOKIN' - THE SMOOTH GUITAR AND ORGAN SOUNDS OF AL CASEY - Guitar Man / Juice / A Fool's Blues / Cookin' / Hot Foot / Indian Love Call / Jivin' Around / Doin' The Shotish / Doin' It / The Hucklebuck / Full House / Laughin' / Monte Carlo / Theme From Huckleberry Hound / Chicken Feathers / What Are We Gonna Do In '64
2004
CD J/G 290 (US)
HITLIST - These Boots Are Made For Walkin' / Everybody's Talkin' / Strangers In The Night / The Fool / Sloop John B / That's Life / The 59th Street Bridge Song (Feelin' Groovy) / By The Time I Get To Phoenix / Endless Sleep / Somethin' Stupid / Never My Love / Ramrod
05/2007
CD RAMCO CD 713 (US
THE RETURN OF THE GREEN GRETSCH - Temptation / Calmez Hotel / Fair And Cloudy / A Mellow Riff / Remember The Minuet / Hokus Pokus / Melancholy Serenade / September Song / T.O.M. The Old Man / Stingeree / Nuages / Uptown Blues / Ziggie's Blues / In The Garden / Amazing Grace / Thundercloud / Swamp Water / Allen Case / Drivin' / Jezebel / The Caterpillar Crawl
03/2011
2 CD EL TORO ETCD 1036 (S)
I'M A GUITAR MAN :

CD 1 : The Fool / Lonesome For A Letter / A Fool's Blues / Juice / If I Told You (Wouldn't KnowIt All By Myself) / The Pink Panther / A Cheat / Usta Be My Baby / Guitar Man / Come What May / Willa Mae / She Gotta Shake / Ooo Baby / 9 lb. Hammer / Caravan / The Adventures Of Frank N Stein / Ramrod / (Got The) Teen-Age Blues / Sassy / Give'n Up / The Stinger / Keep Talking / Tight Capris / Thunder / Tarantula / Endless Sleep / New Kind Of Fool
CD 2 : Cat Daddy / It's You, You, You / A Cross-Eyed Alley Cat / Plumb Crazy / Snake Eyed Mama / A Tramp / The Boppin' Martian (Gibo Miban Gibo) / The Bug / How About Me? Pretty Baby / I'm Gone, Mama / Planetary Run / Hay Mama / Rocky-Rolly-Lover Boy / Every Minute Of The Day / Beulah Lee / Modern Romance / Hey Little Mama / (She Wantsa) Lover Man / I've Got A Dollar / Saturday Nite Party Time / Rattlesnake Daddy / Daisy Mae / Doggonit / Don't Care / Sweet Lovin' Honey / Long John's Flagpole Rock / Time Wounds All Heels / Lovemakin' / Ain't Nobody Here But Us Chickens / Fire Of Love / The Pink Panther / Plaything
© Rocky Productions 31/01/2023