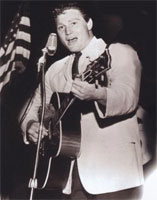 Chanteur Rock 'n' Roll US né Bruce McMeans, le 28 Novembre à 1940 à Jacksonville (Texas).

Bruce Channel's "Hey Baby" — a classic one-shot, number-one hit from 1962 — is one of the many records proving that, during a period in which rock has sometimes been characterized as near death, the form was continuing to evolve in unexpected and delightful ways. An irresistible mid-tempo shuffle from the first few bars of homespun harmonica (played by Delbert McClinton), it was a seemingly effortless blend of rock, blues, country, and Cajun beats, featuring Channel's lazy, drawling Vocals and an instantly catchy tune. It was perhaps too much of a natural; Channel could never recapture the organic spontaneity of the track, failing to re-enter the Top 40 despite many attempts.
The Texan had written "Hey Baby" around 1959 with his friend Margaret Cobb, and had already been performing the tune for a couple of years before recording it amidst a series of demos for Fort Worth producer Major Bill Smith. First released locally on Smith's label, it was picked up for national distribution by Smash. Channel would continue to write most of his own material (sometimes in collaboration with Cobb) for a series of moderately enjoyable follow-ups that echoed the riffs of "Hey Baby" too closely.
McClinton played his immediately identifiable harmonica on several of these, and made his own contribution to rock history in 1962, when he was touring as a member of Channel's band in Britain. On one of their shows, they were supported by a then-unknown Liverpool group, the Beatles, who had yet to cut their first record. John Lennon was smitten by McClinton's style of playing, and picked up some pointers that he put to use on the Beatles' very first single, "Love Me Do"; in fact, McClinton's influence can be easily detected in Lennon's harmonica playing on many early Beatles tracks from 1962 and 1963.
Channel did get another Top 20 hit in Britain in 1968, "Keep On," which was written by Wayne Carson Thompson (famous for penning the Box Tops' "The Letter"). Nothing else clicked in a big way on either side of the ocean, and by the late '70s he was working in Nashville as a songwriter.
Talents : Vocals, Guitar
Style musical : Rock 'n' Roll

http://www.youtube.com/watch?v=srNqe243y74
Years in activity :
| | | | | | | | | | | | |
| --- | --- | --- | --- | --- | --- | --- | --- | --- | --- | --- | --- |
| 1910 | 20 | 30 | 40 | 50 | 60 | 70 | 80 | 90 | 2000 | 10 | 20 |
DISCOGRAPHY
Singles & EP
04/1959
SP TEEN AGER TA-601 (US)
.
Run, Romance, Run / Don't Leave Me
01/1960
SP KING 45-5294 (US)
.
Slow Down Baby / Will I Ever Love Again
03/1960
SP KING 45-5331 (US)
.
Boy! This Stuff Kills Me / Now Or Never
03/1962
SP KING 45-5620 (US)
.
Bruce CHANNEL & His BAND - Now Or Never / Will I Ever Love Again
03/1962
SP MANCO ML1035 (US)
.
Run, Romance Run / Don't Leave Me
1962
SP LECAM 953 (US)
.
Hey ! Baby ! / Dream Girl
1962
SP SMASH S-1731 (US)
.
Hey ! Baby ! / Dream Girl
1962
SP LECAM 963 (US)
.
If Only I Had Known / Number One Man
04/1962
SP SMASH S-1752 (US)
.
If Only I Had Known / Number One Man
1962
SP LECAM 973 (US)
.
Come On Baby / Mine Exclusively
1962
SP SMASH S-1769 (US)
.
Come On Baby / Mine Exclusively
1962
SP LECAM 983 (US)
.
Stand Tough / Somewhere In This Town
1962
SP SMASH S-1780 (US)
.
Stand Tough / Somewhere In This Town
1962
SP LECAM 993 (US)
.
Oh Baby / Let's Hurt Together
1962
SP SMASH S-1792 (US)
.
Oh Baby / Let's Hurt Together
1962

| | |
| --- | --- |
| | Hey ! Baby ! / Dream Girl / Dream Baby (Along Must I Dream) / Sorry Baby |

1962
SP PHILIPS 320 150 (F)
.
Hey ! Baby ! / Dream Girl
1962
EP PHILIPS 434 533 (F)
Number One Man / If Only I Had Know / Come On Baby / Mine Exclusively
1963
SP SMASH S-1819 (US)
.
So Tough / Night People
1963
SP SMASH S-1826 (US)
No Other Baby / Night People
1963
SP SMASH S-1838 (US)
The Dipsy Doodle / Send Her Home
1964
SP MEL-O-DY 112 (US)
.
That's Awhat's Happenin' / Satisfied Mind
1964
SP MEL-O-DY M-114 (US)
.
You Make Me Happy / You Never Looked Better
1964
SP SHAH 304 (US)
.
Court Of Love / Stand Tough
1964
SP LECAM 122 (US)
.
Going Back To Louisiana / Forget Me Not
1964
SP LECAM 125 (US)
.
My Baby / Blue Monday
196?
SP SOFT 101 (US)
.
Kiss And Run / Don't Let Go
196?
SP BROWNFIELD BF-1038 (US)
.
Don't Go /?
1967
SP MALA M12011 (US)
.

Water The Family Tree / California

1967
SP MALA 579 (US)
.
Mr. Bus Driver / It's Me
1967
SP STATESIDE FSS 528 (F)
Mr. Bus Driver / It's Me
1968
SP MALA 592 (US)
.
Keep On / Barbara Allen
1968
SP MALA 12027 (US)
.

Nobody / Try Me

1968
SP STATESIDE FSS 557 (US)
Keep On / Barbara Allen
1968
SP BELL BLD 505 (F)
Try Me / Water The Family Tree
1968
SP STATESIDE SSL 410 (S) (promo)
Nobody / Try Me
1968
SP SOUL SR 3 (F)
Hey Baby 1968 / Onley In Name
1969
SP CHARAY 33 (US)
.
Hey Baby / One Letter At A Time
1969
SP MALA 12041 (US)
.

Web / Mrs.P

1973
SP JAMIE 1412 (US)
.
Going Back To Louisiana /Times
197?
SP LE CAM 1001 (US)
.
So Tough / Night People
197?
SP LE CAM 520 (US)
.
Louisiana Fiddle Man / Hey Sweet Baby
197?
SP LE CAM 7277 (US)
.
King Is Free / ?
1976
SP NAP 6634/35 (US)
.

High Heal Sneekers / Sunshine

1977
SP LE CAM LC-1117 (US)
.
A Presley Medley (with BILL, LARRY & GENE) / A Man Without A Woman
1979
SP ELEKTRA E 46587 (US)
.
One More Last Chance / That's The Truth Ruth
1981
SP SUPREME NR 107 (B)
Hey! Baby / Hey! Paula
1981
SP COLLECTABLES 1294 (US)
.

Hey Baby / Big Daddy Of The Bayou

1989 ?
SP RIPETE R45-260 (US)
Last Kiss (J. Frank WILSON & The CAVALIERS) / Hey ! Baby ! (Bruce CHANNEL)
Need Infos
| | | |
| --- | --- | --- |
| 19?? | Need Info - (Collectables CD 5554 (#12)) | Someone To Love You |
| 19?? | Need Info - (Collectables CD 5553 (#1)) | Somewhere There's Someone |
Albums
| | | | |
| --- | --- | --- | --- |
| 1962 | LP 12" SMASH MGS-27008 (mono) / SRS-67008 (stereo) (US) | | HEY! BABY - Hey! Baby / Breakin' Up Is Hard To Do / Baby It's You / Chantilly Lace / Ain't Got No Home / Sorry Baby / Dream Baby (How Long Must I Dream) / Since I Met You Baby / Love Me / If Only I Had Known / Dream Girl / Baby (You've Got What It Takes) |
| 1968 | LP 12" SONET ZZ 1604 (NL) | | GOIN' BACK TO LOUISIANA - Goin' Back To Lousiana / C.C. Rider / You Make Me Happy / Mine Exclusively / Only In Name / Come On Baby / Hey Baby '68 / Baby Heartbreak / The Times / I'll Follow You / Miss Me Baby / Tipped Out |
| 1978 | LP 12" ZEUS ? (US) | | INDIAN SUMMER |
| 1990 | CD TEENAGER 601 (US) | | HEY! BABY - Hey! Baby / Run, Romance, Run / Sorry Baby / Breakin' Up Is Hard To Do / Baby It's You / Since I Met You Baby / Baby You / Number One Man / Goin' Back To Louisiana / Now Or Never / I'll Follow You / Kiss Me Baby / Keep On / No Other Day / C.C. Rider / You Make Me Happy / Mine Exclusively / Blue Monday / My Baby |
| 02/1995 | CD ICEHOUSE 9406 (US) | | STAND UP - Stand Up / Oughta Be A Law / Hootchie Chile / Find A Little Grace / Going Down / Black Widow's Room / Friends / Keep On Rolling / Lucinda / My Babe |
| 04/1995 | CD COLLECTABLES COL-CD-5623 (US) | | HEY! BABY - Hey! Baby / Breakin' Up Is Hard To Do / Baby It's You / Chantilly Lace / Ain't Got No Home / Sorry Baby / Dream Baby (How Long Must I Dream) / Since I Met You Baby / Love Me / If Only I Had Known / Dream Girl / Baby (You've Got What It Takes) / Bonus : Number One Man / Mine Exclusively |
| 09/2001 | CD REPERTOIRE 4963 (GER) | | KEEP ON - Keep On / Trouble With Sam / Nobody / California / Water The Family Tree / Instant Reaction / Mr Bus Driver / Try Me / On A Rainy Day / My Cup Runneth Over / Barbara Allen / Strange / It's Me / Hey Baby 68 / Come On Baby / Drivin / Oo Momma |
| 01/2005 | CD MARGINAL MAR 064 (UK) | | HEY ! BABY - THE ULTIMATE COLLECTION OF... BRUCE CHANNEL - That's What Happening / Satisfied Mind / You Make Me Happy / You Never Looked Better / Forget Me Not / Presley Medley / Hey Baby / Breakin' Up Is Hard To Do / Baby It's You / Chantilly Lace / Ain't Got No Home / Sorry Baby / Dream Baby / Since I Met You Baby / If Only I Had Known / Dream Girl / Baby You've Got What It Takes / Love Me / Run Romance Run / Going Back To Louisiana / Kiss Me Baby / CC Rider / My Baby / Now Or Never / Number One Man / Mine Exclusively / Stand Tough / Night People / Keep On / Mr Bus Driver / No Other Baby / Blue Monday |
© Rocky Productions 30/09/2017