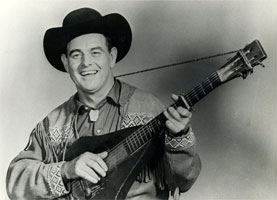 Chanteur Country US né James Corbett Morris, le 20 Juin 1907 à Mountain View (Arkansas). Jimmie Driftwood est décédé le 12 Juillet 1998.

Jimmie Driftwood was almost an anachronism in the years he was at his commercial peak, from 1957 through 1961. A schoolteacher by training, he originally started writing songs as a way of helping his students learn about history, and subsequently composed (or collected and re-composed) over 5,000 songs, many of them dealing with some element of America's past and its history, telling old folk tales, or preserving some aspect of the daily lives of the people who sang them. Only one modern figure in folk music remotely approaches his contribution to American song and the popular understanding of its roots, and that is Lee Hays of the Weavers -- Driftwood was never the activist that Hays was, however, being more concerned with teaching than political causes and, thus, never engendered either the blacklisting or the subsequent canonization by the Left that Hays received. And Hays, for all of his leftist sympathies, was never invited to sing before Soviet Premier Nikita Khrushchev on the occasion of the first visit of any Soviet leader to the United Nations, as Driftwood was.
In September of 1959, in the midst of the rock & roll era and the burgeoning boom in folk music, Driftwood had half a dozen of his songs somewhere on the American charts, pop or country. The best known of these was "The Battle of New Orleans," which managed to top both the country and pop charts in a version recorded by Johnny Horton, but also charting in September of 1959 were "Tennessee Stud," as recorded by country giant Eddy Arnold, Hawkshaw Hawkins' version of "Soldier's Joy," Johnny and Jack's "Sailor Man," Horton's recording of "Sal's Got a Sugar Lip," and Homer & Jethro's parody "The Battle of Kookamonga." Moreso than Hays, Pete Seeger, or Woody Guthrie, Driftwood helped pull together elements of folk, pop, and country music and gave the mass public some sense of the history of all of it in the bargain.
James Corbett Morris' father was a singer who was well-known locally and who had been recorded by several folk song collectors in the early decades of the 20th century. He learned traditional folk songs from his mother and grandmother, while his father and grandfather taught him old-style fiddle tunes. And he grew up seemingly knowing every folk tale that there was to learn from the Ozarks, from whites and Native Americans (of whom there were many, including his future wife, who was one-quarter Cherokee) alike. It was his grandfather on his father's side, a fiddle maker, who built him the unique guitar that he used throughout his career, the neck made from a fence rail, the sides from an ox yoke, and the head and bottom from the headboard of a bed.
He began writing poetry at an early age, encouraged by a teacher. After graduating high school, he attended John Brown College and later qualified as a teacher, eventually earning a proper education degree from Arkansas Teachers College. During the late '20s and early '30s, when he was still trying to earn some college credits, he headed west to Arizona, driving in an old Model A Ford that made it as far as Texas and hitchhiking the rest of the way. There wasn't much work to be found there in the midst of the Great Depression, but then an opportunity arose through a singing contest sponsored by a local radio station -- he had his guitar with him and had written a song called "Arizona."
He won the contest, which got him a spot on the station in the early morning hours, if he could find a sponsor. He eventually found one, in the guise of the grocery store chain that was willing to hire him as a worker and back his show. He was later taken in by an older couple who had heard him through the contest and not only gave him a place to live, but brought his mother -- who, as it turned out, was dying from secondhand smoke from his father's cigarette habit -- out to Arizona. She died in Arizona, and eventually his father died of cancer as well, by which time Driftwood was back in Arkansas teaching.
It was while teaching history in elementary school that he discovered the positive influence of music in presenting the panorama of American history. He wrote "The Battle of New Orleans," drawing his melody from the traditional fiddle tune "The Eighth of January," in order to help his students distinguish between the events of the Revolutionary War, the Civil War, and the War of 1812. All of the songs and stories that he'd heard during his childhood now stood him in good stead, as he was able to draw on a multitude of tales and traditional melodies, as well as devise his own traditional-sounding melodies, to deliver up songs as needed for his students or anyone else who would listen.
Driftwood married a former student of his, Cleda Azalea Johnson, in 1936, and the couple moved into a home that they built together, where they later raised their family. For the next 20 years, his life was concerned almost exclusively with teaching and his family, and during that time he wrote thousands of songs, almost all having to do with some aspects of American history.
By the 1940s, he had his college degree and proper teaching credentials and was becoming a well-known local figure. That might have been as far as the music took James Corbett Morris, as he was still known, but for several cultural changes that were taking place far from his home. The late '40s had seen the beginnings of a revival of interest in folk music, with the success of the Almanac Singers and their successors, the Weavers, who transformed an activist songwriting process into popular success. Although their careers were interrupted by a political backlash against their activist roots, the 1950s saw a spread of interest in folk music and the roots and stories behind it to the college campuses, newly swelling with the ranks of middle-class students.
By the mid-'50s, Driftwood suddenly found himself being sought after by scholars and folk song collectors, and he also began receiving invitations to speak at colleges and universities throughout the South and beyond. In 1957, a friend of Driftwood's, Hugh Ashley, told a friend of his, Don Warden, a steel guitar player in Porter Wagoner's band who had just started up a new publishing company and was looking for material, about a schoolteacher who'd written a huge number of songs that seemed to be pretty catchy, at least among the local school children.
At that time, he was still legally James Morris. The name Jimmie Driftwood was the outcome of a joke played on his grandmother when he was born -- his grandfather had handed his wife a bundle that was supposed to be Jimmie, but proved to be a piece of wood, to which his grandmother exclaimed, "It's just a piece of driftwood." Morris liked the "Driftwood" name and picked it up and used it, both publicly and legally, from the late '50s onward. Warden signed Driftwood up as a songwriter after hearing him run through 100 songs, of which "The Battle of New Orleans" was the last. The folk boom was in full swing, and he was signed soon after to RCA Victor, which was looking for folksingers. Driftwood's first recording session was held on October 27, 1957, the same month he signed with the label, and the first song he cut -- to his own guitar accompaniment with backing from Chet Atkins on guitar and Bob L. Moore on bass -- was "The Battle of New Orleans." There were 11 songs cut that day, all of which ended up on his first album, the rather awkwardly titled Newly Discovered Early American Folk Songs, issued in the summer of 1958. That album sold in small but respectable numbers, and received good reviews, but there was no hit single from it, principally because "The Battle of New Orleans" didn't get much airplay, a result of the use of the words "hell" and "damn" in the lyrics.
A second set of sessions was scheduled for November of 1958, but in the meantime, Warden's work as Driftwood's publisher was about to pay off in a totally unexpected way. Wagoner had toured with Horton late in 1958, and in the course of their work together, Warden had pitched "The Battle of New Orleans" to Horton by way of his manager, Tillman Franks. Horton immediately wanted to record the song, and after a few cuts that reduced its length -- and an appearance on the Louisiana Hayride, where Driftwood sang "The Battle of New Orleans" -- Horton cut the song on January 27, 1959, in Nashville.
Released early the following spring, Horton's single eventually rose to the number one spot on the country charts, which it held for ten weeks out of a 21-week run. Better yet, it crossed over onto the pop charts for a 21-week stay in that much bigger arena, holding the top spot there for six weeks out of that time. Horton helped the song's cause and its exposure by performing it live on The Ed Sullivan Show in June of that year.
Suddenly, everybody wanted to record Driftwood's songs, even as his own second album, The Wilderness Road, was being released. That record, in the wake of the exposure from Horton's single, sold considerably better than his first. By mid-1959, Driftwood's success was confirmed with dozens of recordings of his songs either out or in the works, and then there came the moment in September of that year when six of those records were on the Billboard chart simultaneously. "The Battle of New Orleans" earned him a Grammy Award, and The Wilderness Road not only sold well but yielded an additional Grammy, followed three years later by another award for Billy Yank and Johnny Reb.
The unusual nature of his success at first confused Driftwood, who originally thought of the publishing contract as a vehicle by which to get his songs heard, that he might succeed as a recording artist. His records did sell, but never in numbers resembling Horton's recording of "The Battle of New Orleans," which easily became a gold record and sold in huge numbers around the world -- it can safely be considered the model upon which not only direct successors such as Horton's "Sink the Bismarck" were built, but also the impetus behind the willingness of labels like Columbia Records to record such more topical-historical songs as Pete Le Farge's "Ballad of Ira Hayes," in both its original form and the version by Johnny Cash, and even extending to England, where American-born skiffle/country star Johnny Duncan recorded "The Legend of Gunga Din."
He expected lots of money from RCA, and there was some, to be sure. But the checks he got from Warden's publishing company were enormous, in the five-figure range, which, by the standards of Timbo, AR, in 1959, was about as much money as anyone had ever seen. It set Driftwood and his wife and family up comfortably for years to come, and allowed them to buy all of the land they wanted for themselves.
"The Battle of New Orleans" was recut by Driftwood in a slightly more commercial arrangement, and in stereo, and it had a short run of its own on the country charts in mid-1959, its sales only a pale shadow of Horton's record, which was still riding the charts. Driftwood was still a star, however, and in April of that year performed at Carnegie Hall in New York, made the folk festivals in Berkeley and Newport, received an honorary doctorate in American folklore from Peabody College in Nashville, TN, sang before the United Nations for Soviet leader Nikita Khrushchev's visit, appeared on network television game shows (To Tell the Truth, etc.), and got regular spots on the Grand Ol' Opry, the Louisiana Hayride, and the Ozark Jubilee.
Amid all of this activity, Driftwood was forced to end his teaching career, which didn't sit well with him. He continued to educate audiences, most notably those consisting of other teachers, about the power of songs as a teaching tool, and was an invited lecturer before many national teachers meetings and organizations throughout the early '60s.
Finally, in the early '60s, Driftwood found a cause closer to home that he could devote himself to, the Arkansas Folk Festival, which eventually attracted 100,000 people every year to hear the musicians that performed there. That led to the formation of the Rackansack Folklore Society, which led to the building of the Ozark Folk Center in the early '70s. His next endeavor was the Jimmie Driftwood Barn, which became a major performing showcase for players from the Rackansack Folklore Society. Driftwood's other concerns included environmental issues, among them the preservation of the Blanchard Caverns in Arkansas, and the Buffalo River. He served as head of the Arkansas Parks and Tourism Commission and was named to the Advisory Committee of the Kennedy Center for the Performing Arts in Washington, D.C., and worked as a musicologist for the National Geographic Society. During the 1960s and 1970s, in the course of this work, he appeared before audiences at hundreds of colleges and universities.
Driftwood's recording career ended in 1961, but his six albums for RCA remain a compelling country-folk legacy. Artists from Bob Dylan to Bruce Springsteen can trace some elements of their repertory and success to his unique brand of songwriting, and even '80s roots-rock outfits like the Del Lords have performed his songs with the kind of fervor that most acts usually reserve for songs by Dylan and Guthrie. Driftwood died on July 12, 1998, in Fayetteville Arkansas; he was 91.
https://en.wikipedia.org/wiki/Jimmy_Driftwood
Talents : Guitar, Mouth Bow, Fiddle, Banjo
Style musical : Traditional Country, Folk

https://youtu.be/y1BiPbxX1YU
BATTLE OF NEW ORLEANS (1959)

SAL'S GOT A SUGAR LIP (1959)

TENNESSEE STUD (1959)

RUN JOHNNY RUN (1959)
Years in activity :
| | | | | | | | | | | | |
| --- | --- | --- | --- | --- | --- | --- | --- | --- | --- | --- | --- |
| 1910 | 20 | 30 | 40 | 50 | 60 | 70 | 80 | 90 | 2000 | 10 | 20 |
DISCOGRAPHY
Singles & EP
1952
SP CARDINAL 5000 (US)
.
Grapevine News / Precious Peace Of Mine
04/1959
SP RCA VICTOR 47-7534 (US)
.
Battle Of New Orleans / Damyankee Lad
1959
SP RCA VICTOR 47-7571 (US)
.
Sal's Got A Sugar Lip

/

The Answer To The Battle Of New Orleans
08/1959
SP RCA VICTOR 47-7603 (US)
.
John Paul Jones / The Bear Flew Over The Ocean
1959
EP RCA VICTOR EPA-4345 (US)
SOLDIER´S JOY - Soldier's Joy / Razorback Steak / Tennessee Stud

/ Arkansas Traveler

12/1960
EP RCA VICTOR RCX 191 (UK)
COUNTRY GUITAR - VOLUME 13 - Unfortunate Man / Fair Rosamond's Bower / Old Joe Clark / I'm Too Young To Marry / Zelma Lee
12/1960
EP RCA VICTOR RCX 193 (UK)
TALL TALES IN SONG VOL. 1 - Big John Davey / The Shanty In The Holler / The Battle Of San Juan Hill / St. Brendon's Isle (The World's Largest Fish)
03/1961
EP RCA VICTOR RCX 195 (UK)
TALL TALES IN SONG VOL. 2 - Tucumcari / The Song Of Creation / Big River Man / He Had A Long Chain On
04/1961
EP RCA VICTOR RCX 198 (UK)
TALL TALES IN SONG VOL. 3 - Fidi Diddle Um A-Dazey / On Top Of Pike's Peak / Big Hoss / Banjer Pickin' Man
1961
EP RCA VICTOR EPA 9022 (GER)

The Westward Movement - The Pony Express / The Wilderness Road / Mooshatanio / I'm Leaving On The Wagon Train

09/1963
SP MONUMENT 45-825 (US)
.
Lonesome Ape / What Is The Color Of The Soul Of Man?
1966
SP RCA VICTOR 447-0585 (US)
.
Jimmy DRIFTWOOD - Battle Of New Orleans

/ Answer To Battle Of New Orleans

1977
SP QUEST INTERNATIONAL 0021 (US)
.
The Night Old Dixie Rose Again / Where Has The River Gone
| | |
| --- | --- |
| | |
Albums
06/1958
LP 12" RCA VICTOR LPM-1635 (US)

JIMMIE DRIFTWOOD SINGS NEWLY DISCOVERED EARLY AMERICA FOLK SONGS - Battle Of New Orleans / Rattlesnake Song / Fair Rosamond's Bower / Country Boy / Soldier's Boy / Zelma Lee / Sailor Man / Unfortunate Man / Old Joe Clark / I'm Too Young To Marry / Pretty Mary

06/1959
LP 12" RCA VICTOR LPM-1994 (mono) / LPS-1994 (stereo) (US)
WILDERNESS ROAD - Maid Of Argenta / Tennessee Stud / Arkansas Traveler / Bunker Hill / Run Johnny Run / Four Little Girls In Boston / First Covered Wagon / Peter Francisco / Slack Your Rope / Damyankee Lad / Razorback Steak / Songs Of The Cowboys
05/1960
LP 12" RCA VICTOR LPM-2171 (mono) / LSP-2171 (stereo) (US)
WESTWARD MOVEMENT - Land Where The Blue Grass Grows / Widders Of Bowling Green / Mooshatanic / Sweet Betsy From Pike / Wilderness Road / Song Of The Pioneer / Shot The Buffalo / Get Along Boys / Jordan Am A Hard Road To Travel / Marshal Of Silvery City / Pony Express / I'm Leavin' On The Wagon Train
11/1960
LP 12" RCA VICTOR LPM-2228 (mono) / LSP-2228 (stereo) (US)
TALL TALES IN SONG - Big John Davy / Fi Di Diddle Um A Dazey / On Top Of Pikes Peak / Big Hoss / Tucumcari / Song Of Creation / Big River Man / Banjer Pickin' Man / Shanty In The Holler / Battle Of San Juan Hill / St Brendon's Isle / He Had A Long Chain On
03/1961
LP 12" RCA VICTOR LPM-2316 (mono) / LSP-2316 (stereo) (US)
SONGS OF BILLY YANK AND JOHNNY REB - Won't You Come Along And Go / Billy Yank And Johnny Reb / How Do You Like The Army / On Top Of Shiloh's Hill / I'm A Poor Rebel Soldier / Giant Of Thunderhead / Rock Of Chickamauga / My Black Bird Has Gone / Oh Florie / When I Swim The Golden River / Git Along Little Yearlings / Goodbye Reb You'll Come
04/1962
LP 12" RCA VICTOR LPM-2443 (mono) / LSP-2443 (stereo) (US)
DRIFTWOOD AT SEA - SEA SHANTIES - Shanghied / Santy Anny O / Row Bullies Row / Land Of The Amazon / What Could I Do / Driftwood At Sea / In A Cotton Shirt And A Pair Of Dungarees / Davy Jones (Song Of A Dead Soldier) / Sailor Sailor Marry Me / Diver Boy / Ship That Never Returned / Sailing Away On The Ocean
09/1963
LP 12" MONUMENT MLP-8006 (mono) / SLP-18006 (stereo) (US)
VOICE OF THE PEOPLE - What Is The Color Of The Soul Of A Man / Voice Of The People / Lonesome Ape / Standing On The Left Hand Side Of God / Battle Hymn Of Peace / My Church / Mixed-Up Family / I Remember Her Still / Straighten Out My Laig / (My Mammy's Miss America) My Daddy's Uncle Sam / Equality / My Get Up And Go Just Got Up And Went
1964
LP 12" MONUMENT MLP-8019 (mono) / SLP-18019 (stereo) (US)
DOWN IN ARKANSAS - Ozark Bill / Horse Trader's Song / That's The Way They Do In Arkansas / Timbercutter's Song / On The Banks Of The Buffalo / Beautiful White River / In The Ouchita Mountains / Bows And Arrows / In A Mountain Village / Ballad Of Jim Berry
06/1966
LP 12" MONUMENT MLP-8043 (mono) / SLP-18043 (stereo) (US)
THE BEST OF JIMMIE DRIFTWOOD - Battle Of New Orleans / Rattlesnake Song / Sailor Man / Shanty In The Hollow / Unfortunate Man / Long Chain / Tennessee Stud / Soldier's Joy / Giant Of The Thunderhead / Mooshatanio / Old Joe Clark / Wilderness Road
1974
LP 12" RIMROCK RLP-496 (US)
A LESSON IN FOLK MUSIC - Leafola / Bow Medley / Raindrops / Put My Little Shoes Away / Sailor Man / I'm Gonna Go Huntin' (For The Buffalo) / Old Cotton Eyed Joe - Show Me Woman / Old Bill Jones / Arkansas Traveler / My Little Betsy Brown / White River Bend / Lass Of Rock Royal / Kitty Wells / Sailor's Lullaby / Grandpa Guitar Medley / Everytime I Hear The Rain A Fallin (In That Little Cabin In The Hill)
1978
LP 12" RACKENSACK N1 78-825 (US)
BEAUTIFUL BUFFALO RIVER - Beautiful Buffalo River / Swing High Swing Low / When I Take My Vacation In The Hills / Beautiful Ozarks / On The Banks Of Beautiful Buffalo / Lover's River / You Got To Quit Kicking My Dog Around / Lip Fever / Where Is The River Gone / Mooshatanio / Steamboat Mountain / Bagpipe On The Fiddle / You Can't Keep From Lovin' The Buffalo
1978
LP 12" RACKENSACK N1 78-836 (US)
I HEAR YOUR PEOPLE SINGING - Blanchard Cave / Ozark Symphony / Down On The Rocky Bayou / Sylamore Hills / Possom Hunters / Tragedy On The M And N / My Little Bettsy Brown / Kickapoo Trail / Hold Me Tight Arkansas / Beautiful White River Valley / Rackensack I Love You
1978
2 LP 12" RACKENSACK RLP-500/1 (US)
RACKENSACK CONCERT AT THE JIMMIE DRIFTWOOD BARN - Introduction / Arkansas Traveler / Water Is Wide / Bunker Hill / Shores Of Havana / Down By The Station / Loch Lomand / Brown Girl / Red Wing / Soldier's Joy / Farmer's Curst Wife / Lord Bateman / Go Tell Aunt Rhody / Letter From Home / Sailor On The Deep Blue Sea / Jimmy Crack Corn / Devil Among The Tailors / Buffalo Gals / Liberty / Silver Dagger / Harmonica Playing / When God Comes To Gather His Jewels / Hand Me Down My Walking Cane / Go Marching Along / Silver Bells / Away Over In The Promised Land / Three Little Babes / Columbus Jig / Uncle Eph / My Bonnie Lassie / Bagpipe In The Fiddle
1991
CD COWGIRLBOY LP-5052 (GER)
AMERICAN HISTORY IN SONG - Pony Express / First Covered Wagon / Fi Di Diddle Um A-Dazey / Bunker Hill / On Top Of Shiloh's Hill / I'm A Poor Rebel Soldier / He Had A Long Chain On / Battle Of New Orleans / John Paul Jones / Banjer Pickin' Man / Bear Flew Over The Ocean / Mooshatanio / Tucumcari / Sal's Got A Sugarlip / Answer To The Battle Of New Orleans (Road To Chalamette)
06/1994
3 CD BEAR FAMILY BCD-15465 (GER)
AMERICANA :

CD 1 : The Battle Of New Orleans / Unfortunate Man / Fair Rosamond's Bower / Soldier's Joy / Country Boy / I'm Too Young To Marry / Pretty Mary / Sailor Man / Zelma Lee / Rattlesnake Song / Old Joe Clark / Tennessee Stud / Razorback Steak / First Covered Wagon / The Maid Of Argenta / Bunker Hill / Song Of The Cowboys / Peter Francisco / Four Little Girls In Boston / Slack Your Rope / Run, Johnny, Run / Arkansas Traveler / Damyankee Lad / Chalamette / The Battle Of New Orleans
CD 2 : The Land Where The Bluegrass Grows / The Widders Of Bowling Green / Get Along Boys / Sweet Betsy From Pike / Shoot The Buffalo / Song Of The Pioneer / I'm Leavin' On The Wagon Train / Jordan Am A Hard Road To Travel / The Marshall Of Silver City / The Wilderness Road / The Pony Express / Mooshatanio / The Shanty In The Holler / Big River Man / Big John Davy / On Top Of Pikes Peak / Fidi Diddle Um A-Dazey / The Song Of Creation / The Battle Of San Juan Hill / Banjer Pickin' Man / Tucumcari / St. Brendon's Isle / He Had A Long Chain On / Big Hoss / Sal's Got A Sugarlip / Mooshatanio / Ox Driving Song / General Custer / What Was Your Name In The States / Billy The Kid / Jesse James
CD 3 : Billy Yank And Johnny Reb / Won't You Come Along And Go / Rock Of Chickamauga / How Do You Like The Army / Git Along Little Yearlings / Oh Florie / I'm A Poor Rebel Soldier / My Black Bird Has Gone / Goodbye Reb, Y' All Come / On Top Of Shiloh's Hill / When I Swim The Golden River / The Giant Of The Thunderhead / Shanghied / Santy Anny-O / Row Bullies Row / The Land Of The Amazon / What Could I Do? / Driftwood At Sea / In A Cotton Shirt And A Pair Of Dungarees / Davy Jones (Song Of A Dead Soldier) / Sailor, Sailor, Marry Me / The Diver Boy / The Ship That Never Returned / Sailing Away On The Ocean / John Paul Jones / The Bear Flew Over The Ocean

03/2007
CD OMNI OMNI-104 (AUS)
VOICE OF THE PEOPLE MUSIC - What Is The Color Of The Soul Of A Man? / The Voice Of The People / The Lonesome Ape / Standing On The Left Hand Side Of God / Battle Hymn Od Peace / My Church / Mixed-Up Family / I Remember Her Still / Straighten Out My Laig / My Mammy's Miss America My Daddy's Uncle Sam / Equality / My Get Up And Go Just Got Up And Went / Down In Arkansas / Timbercutter's Song / Courtin' Song / Ozark Bill / On The Banks Of The Buffalo / Beautiful White River Valley / In the Ouchita Mountains / The Horsetrader's Song / Bows And Arrows / Arrows And Bows / That's The Way They Do It Arkansas / In A Mountain Village / The Battle Of New Orleans / Unfortunate Man / Long Chain / Tennessee Stud / Wilderness Road
2013
CD OMNI OMNI - 174 (AUS)

Jimmie Driftwood Sings Newly Discovered Early American Folk Songs - Sings Newly Discovered Early American Folk Songs (1958) : Battle Of New Orleans / Unfortunate Man / Fair Rosamond's Bower / Soldier's Joy / Country Boy / I'm Too Young To Marry / Pretty Mary / Sailor Man / Zelma Lee / Rattlesnake Song / Old Joe Clark / The Wilderness Road (1959) : Tennessee Stud / Razorback Steak / First Covered Wagon / The Maid Of Argenta / Bunker Hill / Song Of The Cowboys / Peter Francisco / Four Little Girls In Boston / Slack Your Rope / Run Johnny Run / Arkansas Traveler / Damnyankee Lad / Extra Tracks : The Land Where The Blue Grass Grows / The Widders Of Bowling Green / Mooshatanio / Jordan Am A Hard Road To Travel / I'm Leavin' On The Wagon Train / The Song Of Creation / He Had A Long Chain On / The Bear Flew Over The Ocean

2014
4 CD REAL GONE RGMCD115 (UK)

Six Classic Albums Plus Bonus Singles :

CD 1 :

Jimmie Driftwood Sings Newly Discovered Early American Folk Songs

:

Battle Of New Orleans / Unfortunate Man / Fair Rosamond's Bower / Soldier's Joy / Country Boy / I'm Too Young To Marry / Pretty Mary / Sailor Man / Zelma Lee / Rattlesnake Song / Old Joe Clark /

The Wilderness Road And Jimmie Driftwood

:

Tennessee Stud / Razorback Steak / First Covered Wagon / The Maid Of Argenta / Bunker Hill / Song Of The Cowboys / Peter Francisco
CD 2 :

Four Little Girls In Boston / Slack Your Rope / Run Johnny Run / Arkansas Traveler / Damnyankee Lad /

The Westward Movement

:

The Land Where The Blue Grass Grows / The Widders Of Bowling Green / Mooshatanio / Sweet Betsy From Pike / The Wilderness Road / Song Of The Pioneer / Shoot The Buffalo / Get Along Boys / Jordan Am A Hard Road To Travel / The Marshal Of Silver City / The Pony Express (I've Got To Carry The Mail) / I'm Leavin' On The Wagon Train /

Single 1953 :

Grapevine News / Precious Peace Of Mine

CD 3 :

Tall Tales In Song

:

Big John Davy / Fi Di Diddle Um A-Dazey / On Top Of Pikes Peak / Big Hoss / Tucumcari / The Song Of Creation / Big River Man / Banjer Pickin' Man / The Shanty In The Holler / The Battle Of San Juan Hill / St. Brendon's Isle / He Had A Long Chain On /

Songs Of Billy Yank And Johnny Reb

:

Won't You Come Along And Go / Billy Yank And Johnny Reb / How Do You Like The Army / On Top Of Siloh's Hill / I'm A Pore Rebel Soldier / The Giant On The Thunderhead / Rock Of Chickamauga / My Black Bird Has Gone
CD 4 :

Oh Florie / When I Swim The Golden River / Git Along Little Yearlings / Goodbye Reb, You'All Come /

Driftwood At Sea

:

Driftwood At Sea / Davy Jones / Shanghaied / The Land Of The Amazon / The Diver Boy / In A Cotton Shirt And A Pair Of Dungarees / Sailing Away On The Ocean / Sailing Away On The Ocean / What Could I Do? / Row Bullies Row / Sailor, Sailor, Marry Me / The Ship That Never Returned / Santy Anny-O /

Singles 1957 :

Sal's Got A Sugar Lip / John Paul Jones / The Bear Flew Over The Ocean / The Battle Of New Orleans
© Rocky Productions 23/01/2021