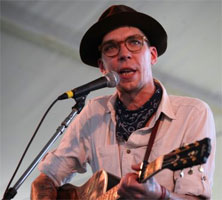 Chanteur Country / Folk US né le 4 Janvier 1982 à Nashville (Tennessee), Justin Townes Earle est le fils de Steve Earle. Il est décédé le 20 Août 2020 à Nashville (Tennessee).

The son of maverick Texas songwriter Steve Earle (and carrying the middle name of his dad's mentor, Townes Van Zandt), Justin Townes Earle shares just a hint of his father's Vocals style in his voice, and like the elder Earle, he writes his own songs, but aside from the fact that both Earles fall to the country side of the Mason-Dixon Line, there are probably far more differences in their musical approaches than there are similarities. The younger Earle grew up in Nashville and took up music early, playing in the bluegrass/ragtime combo the Swindlers and the hard-rocking Distributors; he also toured (playing guitar and keyboards) with his father's road band the Dukes, picking up a few of the elder Earle's old bad habits in the process, but like his father, he eventually kicked his drug habit and put his life in order. Developing his own writing and playing style, a hybrid mixing folk and blues with strong early country leanings, Earle self-released the six-song EP Yuma in 2007. The release attracted the attention of Chicago's Bloodshot Records, who signed Earle and put out a full-length project, The Good Life, produced by R.S. Field and recorded at House of David Studios, in 2008. He followed it with Midnight Movies in 2009 and Harlem River Blues in 2010.
While touring in support of Harlem River Blues, Earle was involved in an altercation with a club owner after a show in Indianapolis, Indiana, which led to a brief stay in jail and a return to rehab for alcohol issues. Since then, Earle has reportedly been clean and sober, and continued to record and tour steadily. In 2012, Earle released the album Nothing's Gonna Change the Way You Feel About Me Now, and dipped his toes into production, working behind the board on Unfinished Business, an album by pioneering rockabilly singer Wanda Jackson. After Earle's contract with Bloodshot had run its course, he signed a deal with Communion Records, a U.K. label owned in part by Ben Lovett of Mumford & Sons, but the deal soon turned into a war of words between Earle and the label's A&R staff, with Earle frequently posting angry messages on Twitter about his dealings with the company. In 2014, Earle finally re-emerged with a new album, Single Mothers, which was released by the American independent label Vagrant Records. Single Mothers was recorded in tandem with a companion album, Absent Fathers, but rather than release them together, Earle decided the two sets of songs would be more powerful as separate works, and Absent Fathersarrived in January 2015. In 2017, Earle released the album Kids in the Street, his first for the respected independent label New West Records. He supported the release with a concert tour in tandem with the celebrated Canadian group the Sadies, who served as his opening act as well as his backing band. 2019's The Saint of Lost Causes was an especially atmospheric work dominated by stories of desperate characters and a nation where injustice was sadly common.
Justin Townes Earle died on August 20, 2020 in Nashville, Tennessee.
http://www.justintownesearle.com/
https://en.wikipedia.org/wiki/Justin_Townes_Earle
Talents : Vocals, Guitar
Style musical : Folk, Roots Rock, Traditional Country, Americana, Alternative Country

http://youtu.be/tDWpFtj5Ibs
Years in activity :
| | | | | | | | | | | | |
| --- | --- | --- | --- | --- | --- | --- | --- | --- | --- | --- | --- |
| 1910 | 20 | 30 | 40 | 50 | 60 | 70 | 80 | 90 | 2000 | 10 | 20 |
DISCOGRAPHY
Singles & EP
| | | | |
| --- | --- | --- | --- |
| 02/2007 | CD ? (US) | | YUMA - The Ghost Of Virginia / You Can't Leave / Yuma / I Don't Care / Let The Waters Rise / A Desolate Angels Blues |
| 05/2011 | SP BLOODSHOT BS 184 (US) | | Move Over Mama |
| 11/2011 | SP BLOODSHOT ? (US) | | Slippin' And Slidin / Louisiana 1927 |
| 03/2012 | SP BLOODSHOT 197 (US) | . | Nothing's Gonna Change The Way You Feel About Me Now |
Albums
03/2008
CD BLOODSHOT 151 (US)
THE GOOD LIFE - Hard Livin' / The Good Life / Who Am I To Say / Lone Pine Hill / South Georgia Sugar Babe / What Do You Do When You're Lonesome / Turn Out My Lights / Lonesome And You / Ain't Glad I'm Leaving / Far Away In Another Town
03/2009
CD BLOODSHOT 20160 (US)

MIDNIGHT AT THE MOVIES -

Midnight At The Movies / What I Mean To You / They Killed John Henry / Mama's Eyes / Dirty Rag / Can't Hardly Wait / Black Eyed Suzy / Poor Fool / Halfway To Jackson / Someday I'll Be Forgiven For This / Walk Out / Here We Go Again
09/2010
CD BLOODSHOT BS178 (US)
HARLEM RIVER BLUES - Harlem River Blues / One More Night In Brooklyn / Move Over Mama / Workin' For The MTA / Wanderin' / Slippin' And Slidin' / Christchurch Woman / Learning To Cry / Ain't Waitin' / Rogers Park / Harlem River Blues Reprise
03/2012
CD BLOODSHOT BLD-CD-193 (US)
NOTHING'S GONNA CHANGE THE WAY YOU FEEL ABOUT ME NOW - Am I That Lonely Tonight? / Look The Other Way / Nothing's Gonna Change The Way You Feel About Me Now / Baby's Got A Bad Idea / Maria / Down On The Lower East Side / Won't Be The Last Time / Memphis In The Rain / Unfortunately, Anna / Movin' On
09/2014
CD Loose Music VJCD 218 (US)

Single Mothers -

Worried Bout The Weather / Single Mothers / My Baby Drives / Today And A Lonely Night / Picture In A Drawer / Wanna Be A Stranger / White Gardenias / Time Shows Fools / It's Cold In This House / Burning Pictures
01/2015
CD Loose Music VJCD 199 (US)

Absent Fathers -

Farther From Me / Why / Least I Got The Blues / Call Ya Momma / Day And Night / Round The Bend / When The One You Love Loses Faith / Slow Monday / Someone Will Pay / Looking For A Place To Land
05/2017
CD New West 607396638925 (US)

Kids in the Street - Champagne Corolla / Maybe A Moment / What's She Crying For / 15-25 / Kids In The Street / Faded Valentine / What's Goin' Wrong / Short Hair Woman / Same Old Stagolee / If I Was The Devil / Trouble Is / There Go A Fool

05/2019
CD New West NW 6454CD (US)

The Saint of Lost Causes - Saint Of Lost Causes / Ain't Got No Money / Mornings In Memphis / Don't Drink The Water / Frightened By The Sound / Flint City Shake It / Over Alameda / Pacific Northwestern / Blues / Appalachian Nightmare / Say Baby / Ahi Esta Mi Nina / Talking To Myself
© Rocky Productions 25/05/2019