Chanteur Country US né Robert Moncrief à Anniston (Alabama).

US Country singer born Robert Edward Moncrief, 18 January 1926, Anniston, Alabama. Bobby Edwards had one of those moments that every singer or songwriter lives for when he wrote "You're the Reason" in 1961, a # 11 pop and # 4 country hit.
The son of a preacher, Edwards first recorded for Pappy Daily at 'D' Records in 1958, under the name Bobby Moncrief. In 1959 he revived Tex Ritter's "Jealous Heart" on Bluebonnet ; the record was reissued on the Manco label in 1962. Then Edwards went out west, working shows on his own in southern California before song- writer Terry Fell placed him on Crest Records, and helped produce and arrange "You're the Reason". Though Bobby wrote all of the song, his manager (Fred Henley), his financier and Terry Fell all got a quarter share. Cover versions by Joe South and Hank Locklin hurt Edwards' sales a little.
On "You're the Reason", Edwards is backed by the Four Young Men, a Vocals group that recorded a series of non-hits for Crest, Dore and Delta between 1961 and 1963. Eddie Cochran is alleged to play guitar on some of their Crest sides.
Like a vulture, Capitol Records snatched Edwards away from Crest and released a carbon copy of his big hit in the shape of "What's the Reason" (yes, the same song that Fats Domino recorded). Peaking at # 71, it was Edwards last pop hit, though he did have another country hit with "Don't Pretend" (# 23) in 1963.
But Edwards had high hopes when Capitol signed him. He swears that Capitol bought him a house in the Nashville suburb of Hendersonville, and tried to make him the kingpin of their eastern roster. He appeared on the Grand Old Opry and toured often with Cowboy Copas. Also, he returned to the song that had been his debut on 'D' Records, "Here's My Heart". At the end of the Capitol deal, Edwards moved on to Musicor and Chart Records. He stayed in the Nashville area, then returned home to Alabama as a gospel singer, before retiring to the Nashville suburb of Smyrna.
Talents : Singer, Guitar
Style musical : Traditional Country, Honky Tonk
I'M A LONG GONE DADDY (1960)

YOU'RE THE REASON (1961)

I'M A FOOL FOR LOVING YOU (1961)

HERE'S MY HEART (1962)

DON'T PRETEND (1963)
Years in activity :
| | | | | | | | | | |
| --- | --- | --- | --- | --- | --- | --- | --- | --- | --- |
| 1910 | 20 | 30 | 40 | 50 | 60 | 70 | 80 | 90 | 2000 |
DISCOGRAPHY
Singles
| | | |
| --- | --- | --- |
| 09/1958 | SP D 1014 (US) | Bobby MONCRIEF - Don't Hold Me To A Vow / Here Is My Heart |
| 1958 | SP BLUEBONNET ? (US) | I've Lost Everything But The Memories / Jealous Heart |
| 10/1959 | SP BLUEBONNET BL710 (US) | Bobby EDWARDS with The TEXAS TRAILBLAZERS - Stranger To Me / Crying Because |
| 1960 | SP OZARK OM-45-1241 (US) | I'm A Long Gone Daddy / Trouble And Blues |
| 02/1961 | SP CREST 45-1075 (US) | Bobby EDWARDS with The FOUR YOUG MEN - You're The Reason / I'm A Fool For Loving You |
| 12/1961 | SP CAPITOL 4674 (US) | What's The Reason / Walk Away Slowly |
| 1961 | SP ASCOT 2104 (US) | Groovy / Tomorrow |
| 01/1962 | SP UNITED ARTISTS UA-402 (US) | Groovy / Tomorrow |
| 04/1962 | SP CAPITOL 4726 (US) | Singing The Blues / What'll I Do Without You |
| 07/1962 | SP CAPITOL 4789 (US) | Someone New / Here's My Heart |
| 11/1962 | SP CAPITOL 4874 (US) | Way I Am / Remember Who Brought You |
| 06/1963 | SP CAPITOL 5006 (US) | Help Me / Don't Pretend |
| 10/1964 | SP MUSICOR MU-1046 (US) | Nine Chances Out Of Ten / Left Over Dreams |
| 06/1965 | SP MUSICOR MU-1101 (US) | Little Less Heartache / Within Your Arms |
| 1966 | SP POLARIS 301 (US) | The Older I Get / Walk On Back |
| 01/1968 | SP CHART 59-1020 (US) | I'm Sorry To See Me Go / Once A Fool (Always A Fool) |
| 07/1968 | SP CHART 59-1045 (US) | Each Time You Cross My Mind / Just Ain't My Day |
| 12/1968 | SP CHART 59-1064 (US) | Part Time Sweetheart / Walker Town |
| 05/1969 | SP CHART CH-5016 (US) | Bring My Baby Home / Loving You Is Killing Me |
| 04/1970 | SP CHART CH-5061 (US) | You're The Reason / Don't Pretend |
| 11/1989 | SP CURB CRB-10571 (US) | Listen To The Radio / On God's Green Earth |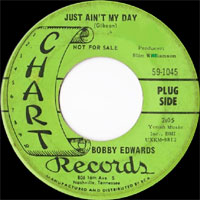 Album
| | | | |
| --- | --- | --- | --- |
| 1970 | LP 12" CHART CHS-1033 (US) | | YOU'RE THE REASON - You're The Reason / Just Ain't My Day / Each Time You Cross My Mind / Loving You Is Killing Me / It's A Sin / Once A Fool / Walker Town / Part Time Sweetheart / Don't Pretend / Bring My Baby Home / I'm Sorry To See Me Go |
© Rocky Productions 28/06/2013