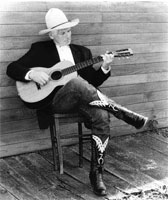 Chanteur Country US né Donald Edwards, le 20 Mars 1939 ŕ Boonton (New Jersey).

Singer/songwriter Don Edwards has dedicated his musical career to recapturing and preserving the spirit of the Old West by recording old and new cowboy songs. Almost alone in his enthusiasm when he took up the cowboy genre, Edwards by the 1990s reigned as the pre-eminent specialist in a field that had attracted many other musicians. Edwards was born and raised in Boonton, a New Jersey farming community. Inspired by the books of cowboy author Will James (such as The Lone Cowboy), he took up the guitar at age ten. He learned his first Western songs from the films of cowboy crooners Gene Autry and Tex Ritter, later discovering Jimmie Rodgers. At age 16, Edwards left home to work in the oil fields and ranches of Texas and New Mexico in order to experience the Western life and landscape firsthand.
Edwards made his professional debut in 1961 after he was hired as a singer, actor, and stuntman at the newly opened amusement park Six Flags Over Texas. He worked there for five years before moving to Nashville to seek a recording contract. Although the folk revival was in full swing, no one was much interested in Western music at the time. Edwards eventually recorded an album combining classic Western numbers with some of his own compositions on the independent Stop label. Some of the songs were played on the radio, but they never hit the charts, and Edwards returned to Texas and settled in the Fort Worth area.
In 1980, Larry Scott, a Los Angeles DJ, helped Edwards record the Happy Cowboy album, which featured backup musicians from Gene Autry's band and the Sons of the Pioneers. Edwards released the album on his own Sevenshoux label. A visit to the Cowboy Poetry Gathering in Elko, NV, in the early '80s inspired him to create a 24-song tribute to Jack Thorp, the cowboy musician who first began collecting traditional cowboy songs, on a cassette packaged with a book entitled Songs of the Cowboy. He then released a second book/cassette anthology, Guitars and Saddle Songs, and in 1990 released the album Desert Nights and Cowtown Blues.
In 1992 Edwards signed with the new Warner Western label helmed by Michael Martin Murphey and released Songs of the Trail, a spare album of traditional songs that gave the dry, melancholy, sometimes-violent narratives of the cowboy a startling immediacy. Edwards gained exposure from his major-label association and became a fixture at clubs and events with any kind of Western theme throughout Texas and the Southwest. He followed up Songs of the Trail with Goin' Back to Texas (1993), an album containing new Western songs by some of the best writers in Nashville. After West of Yesterday (1996), Edwards moved to the folk-oriented Shanachie label and continued to dip into his vast song bag of traditional Western material with the double CD Saddle Songs: Vols. 1 & 2 of 1997.
Subsequent Shanachie releases saw Edwards branching out musically even as he stuck with Western songs. My Hero, Gene Autry: A Tribute (1998) was recorded at a live appearance honoring Autry on his 90th birthday, and two years later Edwards resurfaced with Prairie Portrait, a project recorded with cowboy poet Waddie Mitchell and the Fort Worth Symphony Orchestra. Kin to the Wind, a tribute to Marty Robbins, was issued in early 2001. The 2002 project High Lonesome Cowboy teamed Edwards with folk-bluegrass singer Peter Rowan and several other acoustic-music luminaries, putting a new twist on Edwards' cowboy material. A final Shanachie project, the double-disc Last of the Troubadours: Saddle Songs, Vol. 2, appeared in 2004, followed by Moonlight and Skies on Western Jubilee in 2006.
http://www.donedwardsmusic.com/
https://en.wikipedia.org/wiki/Don_Edwards_(cowboy_singer)
Talents : Vocals, Songwriter, Guitar
Style musical : Singing Cowboy

http://youtu.be/guXhfg4-Q-A
Years in activity :
| | | | | | | | | | | | |
| --- | --- | --- | --- | --- | --- | --- | --- | --- | --- | --- | --- |
| 1910 | 20 | 30 | 40 | 50 | 60 | 70 | 80 | 90 | 2000 | 10 | 20 |
DISCOGRAPHY
Single
Albums
1977
LP 12" TEXAS SKYLINE CLP 13528 (US)

LIVE AT THE WHITE ELEPHANT -

Medley T For Texas - Waiting For A Train / Blue Eyes Cryin' In The Rain / Say You'll Stay Untill Tomorrow / The Best Part Of Living / Bitter They Are / A Love So Easily Taken / Gonna Find Me A Bluebird / Lord If I Make It To Heaven / Cowboy's / I Am I Say
1980
LP 12" TEXAS SKYLINE TSR-LP-822 (US)

AMERICA'S SINGING COWBOY -

You Don't Have To Be From Texas But It Helps / I've Never Been Afraid Of Losing You / Cattle Call / Cowboy Blues / Candlelight And Wine / Cotton Eyed Joe / Texas Proud / God Must Have Really Loved Texas / Tears On My Pillow / American Trilogy
1980
LP 12" SEVENSHOUX LPDE-100 (US)
HAPPY COWBOY - Happy Cowboy / Dusty Skies / Strwaberry Roan / Blue Shadows On The Trail / Texas Plains / Ghost Riders In The Sky / Lilies Grow High / Cattle Call / Red River Valley / Texas Crapshooter
1990
CD SEVENSHOUX BR-103 (US)
DESERT NIGHTS AND COWTOWN BLUES - My Adobe Hacienda / Mexicali Rose / Travelin' Light / Doggone Cowboy / Desert Night / Cowtown Blues / Among My Souvenirs / Cowboy Love Song / Navajo Trail / Minstrel Of The Range / Cowboy's Song / Man Walks Among Us
1991
CD SEVENSHOUX STLD-104 (US)

CHANT OF THE WANDERER -

Chant Of The Wanderer / Gal From Abilene / Ages And Ages Ago / The Girl I Left Behind Me / Lolita / Saddle Tramp / You Don't Know What Lonesome Is / The Night Herder / Cowboy Blues / The Long Road West / A Song Of The Range / You're The Only Star In My Blue Heaven / Ragged But Right / Night Time On The Desert / The Habit
05/1992
CD WARNER WESTERN 26933-2 (US)
SONGS OF THE TRAIL - I'd Like To Be In Texas When They Roundup In The Spring / Old Cowboy's Dream / Cattle Call / Cowboy's Song / Diamond Joe / Deep Water Ice And Snow / Diamond Joe (reprise) / Down By The Brazos / Little Joe The Wrangler / Master's Call / Colorado Trail / Springtime In The Rockies / Old Cowboy's Dream (reprise) / I'd Like To Be In Texas When They Roundup In The Spring (reprise) / Campfire Has Gone Out
08/1993
CD WARNER WESTERN 45323-2 (US)
GOIN' BACK TO TEXAS - Goin' Back To Texas / Coyotes / Old Cow Man / Prairie Lullabye / Ranchers Song / Lonely Cowboy / Line Shack Blues / Doney Gal / Will James / Say Goodbye To Montana / Texas Sand
1994
CD WARNER WESTERN 45783-2 (US)
THE BARD AND THE BALLADEER - LIVE FROM COWNTOWN - Waddie MITCHELL - DON EDWARDS - Commutin' - Ridin' / Pert' Near Perkins / Zebra Dunn / Bad Half Hour - Annie Laurie / Tyin' Knots In The Devil's Tail / Master's Call / Coyotes / Hard Times Blues / Yuppies In The Sky / Bronco Twister's Prayer - Amazing Grace / Say Goodbye To Montana / Cattle Call / Desert Pete / Home On The Range
04/1996
CD WARNER WESTERN 46187-2 (US)
WEST OF YESTERDAY - Habit / Bad Half Hour - Annie Laurie / Gypsy Davey / Rose Of Ol' Pawnee / Run Along Little Bogies / Jim I Wore A Tie Today / I Wanted To Die In The Desert / Freedom Song / At The End Of A Long Lonely Day / Blue Bonnet Lane / West Of Yesterday / Texas Plains
09/1997
2 CD SHANACHIE CD-6025 (US)
SADDLE SONGS :

CD 1 : Ballad Of Jack Thorp / Old Chisholm Trail / Whoopie Ti Yi Yo / Pecos River Queen / Cowboy Jack / Chopo / Zebra Dun / Patonio / Sam Bass / Streets Of Laredo / Night Herding Song / Little Joe The Wrangler / Little Joe The Wrangler's Sister Nell / Railroad Corral / Pecos Stream / What's Become Of The Punchers
CD 2 : Minstrel Of The Range / Long Road West / Miss Aledo / Ridin' / Longside The Santa Fe Trail / Wanderin' Cowboy / Strawberry Roan / Glory Trail / I'd Like To Be In Texas / Doney Gal / Stompede - Masters Call / After The Roundup / Rounded Up In Glory / Philosophical Cowboy / The Old Cow Man

05/1998
CD WARNER WESTERN 46892 (US)
THE BEST OF DON EDWARDS - Habit / Cowboy's Song / Freedom Song / Diamond Joe / Cowboy Life / Prairie Lullabye / Master's Call / Goin' Back To Texas / Coyotes / Will James / Lone Star Trail / Colorado Trail
05/1998
CD SHANACHIE CD-6032 (US)
MY HERO GENE AUTRY - Back In The Saddle Again / Way Out West In Texas / That Silver Haired Daddy Of Mine / Ridin' Down The Canyon / Dear Old Western Skies / My Hero Gene Autry / It's My Lazy Day / Twilight On The Trail / Cowboy Blues / Mexicali Rose / Have I Told You Lately That I Love You / There's A Rainbow On The Rio Colorado / South Of The Border / Let The Rest Of The World Go By / Back In The Saddle Again
11/1999
CD GARRETT DEUTZ GME-1010 (US)
A PAIR TO DRAW TO - REX ALLEN & DON EDWARDS - It's My Lazy Day / This Ain't The Same Old Range / Cowpoke / Sunset Trail / Blue Canadian Rockies / There's A Bridle Hanging On The Wall / Doggone Cowboy / Summer Nights Rain / There's Nobody Home On The Range Anymore / Old Home Town / Empty Saddles
01/2000
CD SHANACHIE CD-6046 (US)
A PRAIRIE PORTRAIT - Texas Trilogy (Yellow Rose Of Texas) / Roundup In The Spring / Sage And Cedar 1 / Home On The Range / Commutin' / Annie Laurie - Bad Half Hour / Irish Tune From County Derry (Danny Boy) / Santa Rosa Serenade / Throwback / West Of Yesterday / (Ghost) Riders In The Sky / Horses Dogs And Cowboys / Cowboy Love Song / Sage And Cedar 2 / Shenandoah / Around The Campfire From A Prairie
01/2001
CD SHANACHIE CD-6051 (US)
KIN TO THE WIND - Saddle Tramp / Begging To You / San Angelo / I'm Kin To The Wind / Singing The Blues / Old Red / Man Walks Among Us / I'll Step Aside / Is There Anything Left I Can Say / I'll Go On Alone / Ghost Train / Best Part Of Living
09/2002
CD SHANACHIE CD-6058 (US)
HIGH LONESOME COWBOY - Peter ROWAN & Don EDWARDS - Take Me Back To The Range / The Old Chisholm Trail / Ramblin' Cowboy / Reno Blues / The Old Grey Mare Came Tearing Our Of The Wilderness / Trail To Mexico / The Night Guard / Buddies In The Saddle / Goodbye Old Paint / Midnight On The Stormy Deep / I'm Going To Leave Texas Now
09/2004
2 CD SHANACHIE CD-6062 (US)
LAST OF THE TROUBADOURS :

CD 1 : Gone To Texas / Habit / For Them That Lean To Lonesome / Colorado Trail / Night Rider's Lament / By The Silvery Rio Grande / Diamond Joe / Old Cowboy / Barbara Allen / Make Me A Cowboy Again For A Day / Sierry Petes / Mormon Cowboy / Fort Worth Jail / Red River Valley / Green Grow The Laurel / When The Works All Done This Fall
CD 1 : Saddle Tramp / Lonely Wanderer / Following The Cow Trail / Chant Of The Night Songs / West Of The Round Corral / Windy Bill / Cowhand's Last Ride / Cowboy's Home Sweet Home / Utah Carroll / Root Hog Or Die / Rancher Feeds Us All / I Wanted To Die In The Desert / Dying Cowboy Of Rimrock Ranch / Campfire Has Gone Out / Cowboy's Meditation / Here's Lookin' At You

03/2006
CD DUALTONE 80302-01214-2 (US)

MOONLIGHT AND SKIES -

My Blue Heaven / St. Louis Blues / Land Of My Boyhood Dreams / Boots And Saddle / That's How The Yodel Was Born / Moonlight And Skies / Ragged But Right / The Long Trail / Coyotes / Dusty Skies / Goodbye Old Pal / Can't Shake The Sands Of Texas From My Shoes / The Dying Cowboy Of Rimrock Ranch
01/2009
CD WESTERN JUBILEE RECORDINGS CO. 35 (US)

HEAVEN ON HORSEBACK -

Master's Call / I Saw The Light / Amazing Grace / Great Speckled Bird / Drift Along Lonely Cowboy / A Cowboy's Prayer - Dim Narrow Trail / Make Me No Grave / Why Me / Pilgrim's Progress / Cowboy's Prayer / Wayfaring Stranger / Rounded Up In Glory / Angels Can Do No More / Strange Things / Happening In the Land
01/2010
CD WESTERN JUBILEE RECORDINGS CO. 43 (US)

AMERICAN - I Am A Pilgrim / Dixie - America The Beautiful / The Union Mare & The Confederate Grey / The Freedom Song / The Hell-Bound Train / Hard Times / My Own Native Land / There's A Star Spangled Banner Waving Somewhere / The Last Cowboy Song / The Devil's Hatband / The Campfire Has Gone Out / This Land Is Your Land
© Rocky Productions 30/06/2013