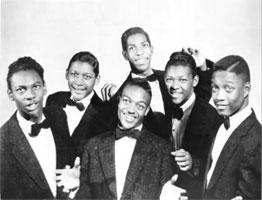 Groupe Doo Wop US formé en 1952 à Chicago (Illinois) et composé de Pirkle Lee Moses Jr., Louis Bradley, Jewel Jones, James Maddox , Robert Glasper & Richard Nickens. Les Eld Dorados se sont séparés en 1958.

One of the leading R&B Vocals groups on Vee Jay, the El Dorados had a relatively short career with their first lineup, during which they scored a massive crossover hit, 1955's "At My Front Door" (number 17 on the pop charts and number one R&B, where it remained for 18 weeks). They managed only one other charting record -- 1956's "I'll Be Forever Loving You" -- before their initial breakup in 1959. Subsequent lineups and name changes (and alterations) brought no further success, but they continued performing well into the '80s.
The original group featured five members -- Pirkle Lee Moses Jr., Louis Bradley, Jewel Jones, James Maddox, and Robert Glasper -- when they formed in the Englewood section of Chicago's south side in 1952 while still attending Englewood High School (the same school that the Moroccos attended). They were calling themselves the Five Stars. Johnny Moore, their high school custodian, liked the group so much and thought they showed so much promise, that he became their manager.
In 1954, just after graduation, Moses and Glasper took advantage of the Air Force's 90-day active duty program, but while Moses returned, Glasper remained with the Air Force. By then, Arthur Bassett (tenor) had temporarily replaced Moses, and Richard Nickens came in for Glasper. The Five Stars were now six, and a name change was inevitable. They were about to become the Cardinals (apparently, they had no knowledge of Atlantic's New York-based group) when the craze for naming your group after a popular car model hit, and since they couldn't call themselves the Cadillacs, the settled for Cadillacs' luxurious two-door model, the El Dorado, for inspiration. the El Dorados came to the attention of local Chicago WWCA disc jockey Al Benson, who witnessed first-hand how their gorgeous blend of harmonies and talent made for an exciting new group that he could support. They had already won first prize at a local talent show at the Club De Lisa. Benson arranged for the group to audition at a contest hosted by Vee Jay Records at the Park City Skating Rink. Amateur groups were challenged to compete against Vee Jay's Spaniels. the El Dorados rose to the challenge, winning the contest and a recording contract with the label.
the El Dorados' first single, a bluesy ballad called "My Loving Baby," was issued in September 1954, and was a popular regional seller. Their next effort had the group backing up Hazel McCollum on "Annie's Answer," which was Vee Jay's contribution to the ongoing "Annie" saga begun by Hank Ballard and the Midnighters. Perhaps tiring of all the Annie nonsense, Arthur Bassett ankled the El Dorados (he also joined the Air Force), and the sextet slimmed down to a quintet. During the third week of September 1955, Vee Jay released the group's "At My Front Door," which stormed the Billboard R&B charts on September 24th and the Top 100 on October 15th. The song featured Al Duricati's pounding drum rhythm and a rousing sax solo. The so-called "baby talk" pre-finale by Moses Jr. made the record soar even further, and the lyrics about that "crazy little mama" became as legendary as the Annie saga. By the end of the year it had climbed to number 17 on the pop charts and number one R&B, where it remained for 18 weeks. (Pat Boone later did a cover version that charted at number seven pop).
Their follow-up, "I'll Be Forever Lovin' You" (originally recorded by the Rip Chords but never released), was issued during the second week of December. It was a rocker that exuded jazz, pop, and R&B overtones, but although it made it to number eight R&B in February 1956, it never charted on the pop lists. Soon after the release of the follow-up, Nickens left and the El Dorados soldiered on as a quartet. A few additional singles performed well in certain U.S. cities, but didn't measure up to their prior hit status. Their next single, "Tears on My Pillow" (a different song from Little Anthony and the Imperials' hit record), was the last by all of the original El Dorados; soon after its release, the group and Pirkle Moses Jr. separated over a disagreement on new management.
Moses Jr. soon joined another Vee Jay act, the Kool Gents, who had been left without a singer when their frontman, Dee Clark, departed for a solo career. John McCall (tenor), Douglas Brown (second tenor), Teddy Long (second tenor and baritone), and Johnny Carter (bass) of the Kool Gents joined with Moses Jr., to become the New El Dorados. They released two singles in 1958 for Vee Jay, but when neither sold, they eventually left Vee Jay in a money dispute and subsequently disbanded altogether.
During this same time, the remaining El Dorados -- Jones, Bradley, and Maddox -- joined up with new lead singer Marvin Smith. Smith had moved with his family to the west side of Chicago in the late '40s, where he attended Crane High and sang on street corners and in church choirs, before joining the group as their new lead vocalist. To avoid legal problems with Vee Jay, the group's name was changed to Those Four El Dorados for 1958's "A Lonely Boy," Academy Records of Chicago. Jewel Jones' name on the label was spelled J-u-e-l-l (each member's name was listed). Those Four El Dorados' later traveled to the West Coast, and connected with a former NBA basketball star Don Barksdale, who had formed his Rhythm Record Company in Oakland, CA. The group changed monikers again, this time calling themselves the Tempos, but the group faltered again, and returned to Chicago, splitting up in 1961.
Marvin Smith went on to join the Artistics on Okeh and Brunswick Records as the lead for such R&B charters as "I'm Gonna Miss You" (number 55 Top 100, number nine R&B, 1966) and "Girl I Need You" (number 69 Top 100, number 26 R&B, 1967). Johnny Carter, meanwhile, tried to keep the name alive by forming yet another new New El Dorados in late 1959, with John McCall, Danny Edwards, and Eugene Huff (formerly of the Valquins). This group lasted until 1965. Carter tried again in 1971, hooking up with Huff, Spence Goulsby, Jr., and Lee Toussaint on lead for two sides on Paula, but that group was gone by the early '80s. Moses Jr. recorded with an unknown group as the Squires in 1963 on Boss ("It's Time") and then did a solo effort titled The Docks. In 1965, Moses Jr., Melvin Morrow, and George Prager (the latter two late of the Moroccos) came together as the Major Minors. In 1969, this group once again became the El Dorados, doing a single for Torrid Records. Pirkle Moses Jr. then quit for almost a decade but returned with yet another El Dorados-lineup with tenor Norman Palm (from the Pastels on United), second tenor Billy Henderson, George Prayer (baritone), and Anthony Charles (bass). Around 1985 Henderson left and Anthony Charles passed away. Eugene Huff (of Carter's El Dorados) and Larry Johnson (Moroccos) took their places and the group recorded a ballad for Delano Records in 1987. In effect, that last El Dorados recording group contained members formerly in four Chicago-area groups: the Palms, the Moroccos, the Kool Gents, and the El Dorados. On December 26, 2000, the original El Dorados lead vocalist Pirkle Lee Moses, Jr. passed away.
Talents : Pirkle Lee Moses Jr. : Lead - Louis Bradley : Tenor - Jewel Jones : Second Tenor & Baritone - James Maddox : Baritone & Bass - Robert Glasper : Bass - Richard Nickens : Bass
Style musical : Doo Wop

http://youtu.be/_UIHyVHQKI4
Years in activity :
| | | | | | | | | | |
| --- | --- | --- | --- | --- | --- | --- | --- | --- | --- |
| 1910 | 20 | 30 | 40 | 50 | 60 | 70 | 80 | 90 | 2000 |
78 t. & Singles
1954
78 t. VEE JAY VJ-115 (US)
.
My Loving Baby / Baby I Need You
1954
SP VEE JAY VJ-115 (US)
.
My Loving Baby / Baby I Need You
1954
78 t. VEE JAY VJ-118 (US)
.
EL DORADOS with Hazel McCOLLUM - Annie's Answer / Living With Vivian
1954
SP VEE JAY VJ-118 (US)
.
EL DORADOS with Hazel McCOLLUM - Annie's Answer / Living With Vivian
1954
78 t. VEE JAY VJ-127 (US)
.
One More Chance / Little Miss Love
1954
SP VEE JAY VJ-127 (US)
.
One More Chance / Little Miss Love
1955
78 t. VEE JAY VJ-147 (US)
.
At My Front Door / What's Buggin' You Baby
1955
SP VEE JAY VJ-147 (US)
.
At My Front Door / What's Buggin' You Baby
1955
78 t. VEE JAY VJ-165 (US)
.
I Began To Realize / I'll Be Forever Loving You
1955
SP VEE JAY VJ-165 (US)
.
I Began To Realize / I'll Be Forever Loving You
1955
78 t. VEE JAY VJ-180 (US)
.
Now That You've Gone / Rock 'n' Roll's For Me
1955
SP VEE JAY VJ-180 (US)
.
Now That You've Gone / Rock 'n' Roll's For Me
1956
78 t. VEE JAY VJ-197 (US)
.
A Fallen Tear / Chop Ling Soon
1956
SP VEE JAY VJ-197 (US)
.
A Fallen Tear / Chop Ling Soon
1956
78 t. VEE JAY VJ-211 (US)
.
Bim Bam Boom / There In The Night
1956
SP VEE JAY VJ-211 (US)
.
Bim Bam Boom / There In The Night
1957
78 t. VEE JAY VJ-250 (US)
.
Tears On My Pillow / A Rose For My Darling
1957
SP VEE JAY VJ-250 (US)
.
Tears On My Pillow / A Rose For My Darling
1957
78 t. VEE JAY VJ-263 (US)
.
Three Reasons Why / Boom Diddie Boom
1957
SP VEE JAY VJ-263 (US)
.
Three Reasons Why / Boom Diddie Boom
1958
78 t. VEE JAY VJ-302 (US)
.
Lights Are Low / Oh What A Girl
1958
SP VEE JAY VJ-302 (US)
.
Lights Are Low / Oh What A Girl
1958
SP ACADEMY 8138 (US)
.
FOUR EL DORADOS - A Lonely Boy / Go! Little Susie
1963
SP Oldies 45 OL 22 (US)
.
Crazy Little Mama (At My Front Door) (

El Dorados

& Magnificents) / Goodnite, Sweetheart, Goodnite (Spaniels)
1964
SP OLDIES 45 OL 91 (US)
.

Little Miss Love (EL DORADOS) / Seven Little Girls Sitting In The Back Seat (

Paul EVANS & The CURLS)
1970
SP TORRID 100 (US)
.
In Over My Head / You Make My Heart Sing
1971
SP PAULA 347 (US)
.

Looking In From The Outside /

Since You Came Into My Life

1972
SP CALUMET 1703 (F)

Loose Booty (Part 1) / Loose Booty (Part 2)

197?
SP TRIP TR-56 (US)
Baby, It's You (Spaniels) / I'll Be Forever Loving You (ELDORADOES)
198?
SP LOST NITE 263 (US)
.
One More Chance / Little Miss Love
198?
SP LOST NITE 270 (US)
.
At My Front Door / What's Buggin You Baby
19??
SP LOST NITE 278 (US)
.
Now That You've Gone / Rock 'n Roll's For Me
198?
SP LOST NITE 285 (US)
.
I'll Be Forever Loving You / I Began To Realize
1981
SP LOST NITE 293 (US)
.
Bim Bam Boom / There In The Night
1981
SP LOST NITE 300 (US)
.
A Fallen Tear / Chop Ling Soon
1981
SP LOST NITE 308 (US)
.
A Rose For My Darling / Tears On My Pillow
Albums
1960
LP 12" VEE JAY VJLP-1001 (US)
CRAZY LITTLE MAMA - The ELDORADOS' - GUEST ARTIST : THE MAGNIFICENTS - At My Front Door / Now That You've Gone / Rock 'n' Rolls For Me / A Fallen Tear / Up On The Mountain (MAGNIFICENTS) /There In The Night / I'll Be Forever Loving You / My Loving Baby / Annie's Answer / I Began To Realize / Caddy Bo (MAGNIFICENTS) / Baby I Need You
1981
LP 10" LOST NITE LLP-20 (US)
THE EL DORADOS - Crazy Little Mama /A Rose For My Darling / There In The Night / I'll Be Forever Loving You / A Fallen Tear / Tears On My Pillow
07/1981
LP 12" CHARLY CRB 1022 (UK)
BIM BAM BOOM -

At My Front Door / Boom Diddie Boom / Little Miss Love / My Loving Baby / Chop Ling Soon / Lights Are Low / Baby I Need You / Bim Bam Boom / Rock 'n' Roll's For Me / Trouble Trouble / "Annie's Answer" / Fallen Tear / Oh What A Girl / I Began To Realise / I'll Be Forever Loving You / She Don't Run Around

1984
LP 12" SOLID SMOKE SS-8025 (US)
THEIR GREATEST RECORDINGS - LOW MILEAGE - HIGH OCTANE - A Fallen Tear / My Loving Baby / At My Front Door / There In The Night / Love Of My Own / Bim Bam Boom / Now That You've Gone / I Began To Realize / A Rose For My Darling / I'll Be Forever Loving You / It's No Wonder / One More Chance / Rock 'n Roll's For Me / Lord Knows I Tried / 3 Reasons Why
11/1993
CD VEE JAY 702 (US)
BIM BAM BOOM - At My Front Door (Crazy Little Mama) / Boom Diddie Boom / Little Miss Love / My Loving Baby / Chop Ling Soon / Lights Are Low / Baby I Need You / Bim Bam Boom / Rock & Roll's For Me / Trouble Trouble / Annie's Answer / Fallen Tear / Oh What A Girl / I Began To Realise / I'll Be Forever Loving You / She Don't Run Around
04/1995
CD ST. GEORGE 7702 (US)
CHICAGO STREET CORNER BLUES & RHYTHM - Blues In A Letter / 219 Train / My Gal Is Gone / Whoo-Wee Baby / Weeping Willow Blues / My Lovin' Partner / White Cliffs Of Dover / I Was Wrong / Gloria / Ooh Rockin' Daddy / Framed / Mozelle / Let It Roll / Mother's Son / So Lonely Baby / Eye Sight To The Blind / W-P-L-J / Worrried Life Blues / How Do Earthly Men Know
07/1999
CD CHARLY 197 (UK)
ROCK 'N' ROLLS FOR ME - Bim Bam Boom / At My Front Door (Crazy Little Mama) / Rock & Roll's For Me / She Don't Run Around / Trouble Trouble / Boom Diddie Boom / Chop Ling Soon / Little Miss Love / I'll Be Forever Loving You / Oh What A Girl / Baby I Need You / Annie's Answer / Tears On My Pillow / Fallen Tear / Language Of Love / My Loving Baby / Love Of My Own / Lord Knows I Tried / Now That You've Gone / One More Chance / Lights Are Low / I Began To Realise / Rose For My Darlilng / It's No Wonder / Always My Love / There In The Night / Why Must I / Three Reasons Why
10/2000
CD COLLECTABLES 7245 (US)
AT MY FRONT DOOR... CRAZY LITTLE MAMA - THE VERY BEST OF THE EL DORADOS - At My Front Door (Crazy Little Mama) / A Fallen Tear / Tears On My Pillow / Lord Knows I Tried / I'll Be Forever Loving You / Baby I Need You / She Don't Run Around / A Love Of My Own / Boom Diddle Boom / I Began To Realize / Little Miss Love / A Rose For My Darling / My Lovin' Baby / What's Buggin' You Baby / Now That You've Gone / Rock 'n' Roll's For Me / Lights Are Low / Annie's Answer / Three Reasons Why / Chop Ling Soon / There In The Night / Trouble Trouble / One More Chance / It's No Wonder / Bim Bam Boom
© Rocky Productions 3/07/2013