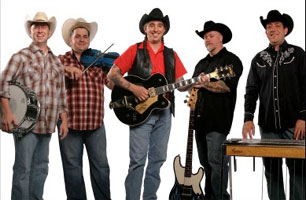 Groupe Country US de Dallas (Texas) comprenant Matt Hillyer, Steve Berg, Jordan W. Hendrix, Mark Reznicek et Danny Crelin

From such legendary lone star groups as Bob Wills & the Texas Playboys, Willie Nelson & the Family, and Asleep at the Wheel to even that little band from La Grange, ZZ Top, Texas has been a breeding ground for some of country music's most acclaimed bands over the past half century. Each group has taken a Texas musical formula, made it their own, and played to millions across the world.
So in a land where country music & Bob Wills will always be king, a little country band from the Big D, seasoned over the last ten years, has arisen and proven themselves as one of the most influential artists in a state far from short on talent.
Effortlessly infusing their straight-from-the-Texas-honky-tonk brand of country music with their take-no-shit, up yours-to-music-row outlook, the band has thrilled crowds all over with their renegade style of country music that is just as popular in tattooed punk rock & hipster circles as it with the Texas baby boomers, outlaw bikers, and college crowds.
Cut from the same cloth as Dallas legends Reverend Horton Heat, rockabilly king Ronnie Dawson, & Texas blues icons, the Brothers Vaughan, lead singer / lead guitarist Matt Hillyer has logged almost two decades touring the nation's rock clubs & punk festivals, while back home in Texas headlining a Friday night at such legendary honky-tonk's as the world's largest, Billy Bob's Texas in the Fort Worth Stockyards.
With an early passion & guitar picking ability drawn to Texas rockabilly, it was fronting the popular 90's punk/ rockabilly outfit Lone Star Trio that Matt met fellow Trio bassist Steve Berg, a friendship & duo that has spanned over 15 years, 10 albums, and eventually led to their forming of Eleven Hundred Springs in 1998.
As the partnership between front-man Hillyer and bassist Steve Berg has evolved over the band's ten-year career, the two have been joined by platinum rock drummer Mark Reznicek (of 90's post-grunge outfit the Toadies ) , 3rd generation Texas fiddler Jordan W. Hendrix, and Texas pedal steel gunslinger Danny Crelin, creating a style of country music that has their Texas contemporaries in awe, hometown fans buzzing and has found them at the forefront of a new generation of alt-country insurgents.
With 2008 marking the band's ten year anniversary, the members of Eleven Hundred Springs are making the best music of their career. 2008 will also bring about the release of their highly anticipated new album, "Eleven Hundred Springs' Country Jam".
The 12 track disc produced by 2003 Grammy winner Lloyd Maines ( Uncle Tupelo, Robert Earl Keen, Wilco ) will include 9 new songs penned & arranged by lead singer Matt Hillyer & features special guest appearances by Nick Curran of the Austin-based punk rock group Deguello, as well as California's reigning queen of country music, Heather Myles.
EHS's last album, 2004's "Bandwagon", was their first UMG distributed release for upstart indie Palo Duro Records. Engineered & co-produced with 2005 Grammy winner Stuart Sikes ( Loretta Lynn, White Stripes ), the album went straight to 1 on XM & Americana charts and featured some of the year's most played songs on Texas country radio, as tracked by Best in Texas magazine.
The band toured over 170 days a year in 2007, playing shows to thousands of people across the Lone Star State and opening for such Texas giants as Willie Nelson, ZZ Top, & fellow friend and Fort Worth neighbor Pat Green. With their live show acclaimed by fans on the internet & media alike as one of the best in Texas and the band continuing to pack honkytonks across the nation, all one needs to ask is: Are you sure Hank done it this way?
Talents : Matt Hillyer : Singer & Lead Guitar - Steve Berg : Bass Guitar - Jordan W. Hendrix : Fiddle - Mark Reznicek : Drums - Danny Crelin : Pedal Steel Guitar

Style musical : Traditional Country, Rockabilly

http://youtu.be/Yay03jzGpqk
Years in activity :
| | | | | | | | | | | |
| --- | --- | --- | --- | --- | --- | --- | --- | --- | --- | --- |
| 1910 | 20 | 30 | 40 | 50 | 60 | 70 | 80 | 90 | 2000 | 10 |
DISCOGRAPHY
EP
| | | | |
| --- | --- | --- | --- |
| 06/2003 | CD ORCHARD 802620 (US) | | BROKEN DREAMS - Depend On You / Just Me And You / Broken Dreams / We Don't Need To Belong / Illegar Smile |
Albums
09/2001
CD EHS 3547 (US)

A STRAIGHTER LINE -

Sad And Lonesome Song / Long Haired Tattooed Hippie Freaks / Thundered Will Do Just Fine / It Don't Mean A Thing To You / Bird On A Wire / Good Times, Hard Livin' / Hey Jukebox / See You In The Next Life / The Ballad Of Anna Stone / A Straighter Line
07/2004
CD PALO DURO 1101 (US)
BANDWAGON - Northside Blues / If I Was A Candle / The Only Thing She Left Me Was The Blues / Long Haired Tattooed Hippie Freaks / Thunderbird Will Do Just Fine / Gina From San Jose / Can't Win For Losing / Hank Williams Wouldn't Make It Now In Nashville Tennessee / Swerving / Brand New Pair Of Shoes / A Straighter Line / Why You Been Gone So Long (with Ronnie DAWSON) / See You In The Next Life / The Rock Island Line
05/2008
CD PALO DURO 1103 (US)
COUNTRY JAM - Texas Afternoon / Every Time I Get Close To You / Nobody Told You About The Love / Whose Heart Are You Breaking Tonight / I Never Crossed Your Mind / Don't Stop The Music / V-8 Ford Boogie / I'll Be Here For You / Fallin' Off The Wagon / Ten To Life / You Can't Hide From Your Heart / Rocket 88
02/2010
CD SMITH ENTERTAINMENT 7135 (US)
THIS CRAZY LIFE -

This Crazy Life / Great American Trainwreck / There's A Place For You / Show Me The Money (Or I'll Show You The Door) / The OG Blues / Honky Tonk Angels (Don't Happen Overnight) / I'm In A Mellow Mood / High On The Town / Some Things Don't Go Together / Get Through The Day / I'll Get On To Getting Over You Tomorrow / Straight To Bed

02/2011
CD SMITH ENTERTAINMENT 7147 (US)
EIGHT THE HARD WAY - This Ain't The First Time (But It's The Worst Time) / Heartstrings / Stuff You Can't Refuse / Nobody Loves You Like Me / No Place Else To Go / Not What I Thought You Would Say / Hardcore Honkytonk / We Can Work This Out / For Better Or Worse / We're From Texas
© Rocky Productions 4/07/2013