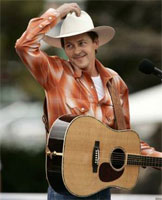 Chanteur Country US né Gary Tyrone England, le 5 Décembre 1963 à Oklahoma City (Oklahoma).

Ty England may have struck out on a solo career in 1995 to some success, but to most new country fans he was most recognizable as Garth Brooks' touring guitarist during the height of Brooks' stardom. Raised in Oklahoma, England began playing guitar as a child, teaching himself the instrument on his grandfather's guitar. Over the course of his childhood and adolescence, he delved deeply into country, learning the work of classic singers like Roy Acuff and Hank Williams, as well as contemporary stylists like Don Williams and Keith Whitley. While he was in high school, England sang with a number of bands in addition to the school choir. Following graduation, he attended college at Oklahoma State. During the night, he sang at a campus coffeeshop. One night, he met a fellow student by the name of Garth Brooks. The two became roommates and began playing music together. Eventually, England's grades began to slip, so his parents took him out of school and got him a job back at home. Working at night, he finished his marketing degree, but instead of pursuing that degree, he had a job as an auto plant representative.
As he was working at the auto plant, he received a call from Brooks, who had just signed a record contract in Nashville. England immediately moved to Nashville and became Brooks' guitarist, backup vocalist, and on-stage comedic foil. After six years, he sought out his own record contract with the assistance of Garth Fundis, a record producer for RCA. Fundis helped England sign a solo deal with RCA and the guitarist released his eponymous debut album in the summer of 1995. The first single from the record, "Should've Asked Her Faster," peaked at number three, while the second single, "Smoke in Her Eyes," became a lesser hit. He followed with Two Ways to Fall in 1996, resurfacing four years later with Highways & Dance Halls. Alive and Well appeared in 2007.
https://en.wikipedia.org/wiki/Ty_England
Talents : Vocals, Songwriter, Guitar
Style musical : Contemporary Country

https://youtu.be/50-GKHvN2Ek
Years in activity :
| | | | | | | | | | | | |
| --- | --- | --- | --- | --- | --- | --- | --- | --- | --- | --- | --- |
| 1910 | 20 | 30 | 40 | 50 | 60 | 70 | 80 | 90 | 2000 | 10 | 20 |
DISCOGRAPHY
Singles
| | | | |
| --- | --- | --- | --- |
| 05/1995 | SP RCA 64280-7 (US) | . | Should've Asked Her Faster / Swing Like That |
| 10/1995 | SP RCA 64405-7 (US) | . | Smoke In Her Eyes / Redneck Son |
| 02/1996 | SP RCA 64496-7 (US) | . | Redneck Son / It's Lonesome Everywhere |
| 07/1996 | SP RCA 65598-7 (US) | . | Irrestible You / You'll Find Somebody New |
| 12/1996 | SP RCA 65676-7 (US) | . | All Of The Above / Sure |
| 1997 | SP COLLECTABLES COL-4757 (US) | | Should've Asked Her Faster (Ty ENGLAND) / Now I Know (Lari WHITE) |
| 1999 | CD CAPITOL ? (US) | | I Drove Her To Dallas |
Albums
08/1995
CD RCA 07863-66522-2 (US)
TY ENGLAND - Redneck Son / Smoke In Her Eyes / Should've Asked Her / Her Only Bad Habit Is Me / You'll Find Somebody New / Swing Like That / New Faces In The Fields / Blues Ain't News To Me / It's Lonesome Everywhere / Is That You
09/1996
CD RCA 07863-66930-2 (US)
TWO WAYS TO FALL - It Starts With L / Two Ways To Fall / I'll Take Today / Never Say Never / Last Dance / Kick Back / Irresistible You / Backslider's Prayer / All Of The Above / Sure
11/1999
CD CAPITOL 7243-5-21657-2-8

(US)
HIGHWAYS AND DANCE HALLS - TYLER ENGLAND - My Baby No Esta Aqui No More / She's Gonna Miss Me When He's Gone / She Don't Care About Me / I Drove Her To Dallas / Blame It On Mexico / Forever / Too Many Highways / Collect From Wichita / I'd Rather Have Nothing / I Knew I Loved You / Travelin' Soldier / Should've Asked Her Faster
02/2007
CD TRIPLE T 7316 (US)

ALIVE AND WELL -

Love Is Stonger / The Perfect Girl / Texans Hold'em / Club Paradise / Nothing But Love / Redneck Anthem / Stick To Your Guns / The NRA Song / It Must Be Colorado / Livin' The Dream
© Rocky Productions 1/09/2007