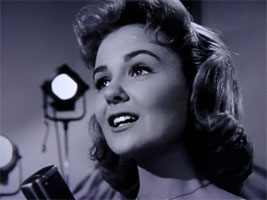 Actrice, chanteuse et productrice américaine née le 19 janvier 1944 à Santa Monica, Californie (États-Unis).

Shelley Fabares is one -- and maybe the best -- of a handful of young actresses/singers who emerged from the end of the 1950s through the mid-'60s, in an attempt to extend television stardom into action on the pop charts. Most didn't last, and none made the impact of their rivals, the singers who tried acting (Connie Francis, Sandy Stewart, Lulu, etc.), but Fabares did score a huge hit with "Johnny Angel."
Shelley Fabares was born on January 19, 1944 in California, to a family that already had a background performing (her aunt is Nanette Fabray, the actress best remembered for movies such as The Band Wagon), and she began working as a dancer and model while still a child. By the mid-'50s, she had appeared in such movies as Never Say Goodbye and Summer Love. In 1958, Fabares won the role of Mary Stone in the ABC television series The Donna Reed Show -- the show was a hit, and over the next five years, in tandem with former Mouseketeer Paul Petersen, who played her brother Jeff on the show, Fabares was one of the most visible and popular young performers on television, and the quintessential TV "daughter."
The series was produced by Columbia Pictures Television, and the two young performers were asked to try working with the studio's label, Colpix Records. Although the demos failed to impress the label's executives, Donna Reed Show producer Tony Owen (Reed's husband) insisted that they try and make a proper record, and even financed the recording session himself with producer Stu Phillips (The Monkees, Battlestar Galactica) at the helm.
Fabares' debut release, "Johnny Angel," reached number one on the charts in early 1962, and is regarded today as a quintessential "girl group" record. None of her subsequent records ever came close to that exalted level, but Fabares recorded for the next three years, in between acting assignments that included movies with Elvis Presley (Girl Happy, Spinout, Clambake), releasing three modestly successful singles ("Johnny Loves Me," "The Things We Did Last Summer," "Ronnie, Call Me When You Get a Chance") and a pair of albums (Shelley, The Things We Did Last Summer). To Fabares, who never conceived of a singing career for herself and wasn't entirely comfortable in that role, these recordings were all a lark, but they constituted little more than a footnote to her early career.
Despite her indifference to recording, Fabares' first husband was producer Lou Adler. She didn't remain in the music business, and even her acting career had stalled at the end of the '60s. During the '70s, she resumed her career as an adult performer, appearing as a regular on series such as Forever Fornwood and One Day At A Time. She later married actor Mike Farrell (M*A*S*H) and has since emerged as a major television star again, as Craig T. Nelson's wife in the hit series Coach. She and Farrell have also been very visible as activists, raising money and the public's consciousness on behalf of numerous causes, most notably Alzheimer's disease.
Talents : Actress, Vocals, Producer
Style musical : Contemporary Country

https://youtu.be/Wt7UYKepRLU
JOHNNY ANGEL (1961)

BREAKING UP IS HARD TO DO (1962)

VACATION (1962)
Years in activity :
| | | | | | | | | | | |
| --- | --- | --- | --- | --- | --- | --- | --- | --- | --- | --- |
| 1910 | 20 | 30 | 40 | 50 | 60 | 70 | 80 | 90 | 2000 | 10 |
DISCOGRAPHY
Singles
1960
SP COLPIX 140 (US)
It Keeps Right On Hurtin' / Where's It Gonna Get Me
1961
SP COLPIX CP 620 (US)

Paul PETERSEN & Shelley FABARES‎ - She Can't Find Her Keys / Very Unlikely

1961
SP COLPIX CP 621 (US)

Johnny Angel / Where's It Gonna Get Me?

1962
SP COLPIX CP 631 (US)
Shelley FABARES‎ & Paul PETERSEN - What Did They Do Before Rock And Roll / Very Unlikely
1962
SP COLPIX CP 636 (US)

Johnny Loves Me / I'm Growing Up

1962
SP COLPIX CP 654 (US)
Breaking Up Is Hard To Do / The Things We Did Last Summer
1962
SP COLPIX CP 667 (US)

Telephone (Won't You Ring) / Big Star

1963
SP COLPIX CP 682 (US)

Ronnie, Call Me When You Get A Chance / I Left A Note To Say Goodbye

1963
SP COLPIX CP 705 (US)
Welcome Home / Billy Boy
1964
SP COLPIX CP 721 (US)
Football Season's Over / He Don't Love Me
197?
SP ERIC 115 (US)
Johnny Angel

/ Johnny Loves Me
Albums
1962
LP 12" COLPIX CP 426 (US)
SHELLEY! - Love Letters / Picnic / Johnny Angel / True Love / Boy Of My Own / Where's It Gonna Get Me? / It's Been A Long, Long Time / Funny Face / I'm Growing Up / Hi Lilli - Hi Lo / Very Unlikely
1962
LP 12" COLPIX CP 431 (US)

THE THINGS WE DID LAST SUMMER - The Things We Did Last Summer / Vacation / Breaking Up Is Hard To Do / Roses Are Red / Johnny Loves Me / Sealed With A Kiss / Locomotion / It Keeps Right On A-Hurtin' / Johnny Get Angry / See You In September / I'm Growing Up / Palisades Park

11/1994
CD RHINO 71651 (US)
THE BEST OF SHELLEY FABARES -

Johnny Angel / What Did They Do Before Rock & Roll / Johnny Loves Me / I'm Growing Up / Welcome Home / Big Star / The Things We Did Last Summer / I Left A Note To Say Goodbye / Telephone (Won't You Ring) / Billy Boy / Ronnie, Call Me When You Get A Chance / How Lovely To Be A Woman / Bye Bye Birdie / Football Season's Over / He Don't Love Me / I Know You'll Be There / Lost Summer Love / Pretty Please

09/2000
CD COLLECTABLES 6223 (US)
SHELLEY! - THE THINGS WE DID LAST SUMMER - Love Letters / Picnic / Johnny Angel / True Love / Boy Of My Own / Where's It Gonna Get Me? / It's Been A Long, Long Time / Funny Face / I'm Growing Up / Hi Lilli - Hi Lo / Very Unlikely / The Things We Did Last Summer / Vacation / Breaking Up Is Hard To Do / Roses Are Red / Johnny Loves Me / Sealed With A Kiss / Locomotion / It Keeps Right On A-Hurtin' / Johnny Get Angry / See You In September / I'm Growing Up / Palisades Park
07/2005
CD COLLECTABLES 9931 (US)
JOHNNY ANGEL -

Johnny Angel / Bye Bye Birdie / Johnny Loves Me / I'm Growing Up / Ronnie Call Me When You Get A Chance / I Left A Note To Say Goodbye / Welcome Home / Telephone (Won't You Ring) /

Football Season's Over / Billy Boy
07/2009
CD COLLECTABLES COLCD 1382 (US)

SHELLEY FABARES MEETS PAUL PETERSON - Johnny Angel / Bye Bye Birdie / Johnny Loves Me / I'm Growing Up / Ronnie Call Me When You Get A Chance / My Dad / Hey There Beautiful / Keep Your Love Locked / She Can't Find Her Keys / Lollipops And Roses
© Rocky Productions 19/07/2012