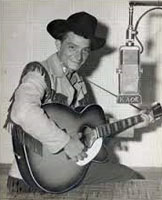 Chanteur Rockabilly US né Alfous Glenn Ferrier, le 19 Août 1935 à Montgomery (Louisiane). Al Ferrier et ses frères Warren (fi) et Bryan (gt), ont formé les "Boppin' Billies" et ont enregistré dès mars 1956 un premier single chez Goldband Records de Lake Charles (Louisiane). Jusqu'en 1957, Al Ferrier et ses frères graveront d'étonnantes faces Hillbilly, Hillbilly Boogie et Rockabilly sur Goldband. Ils passent ensuite chez Zynn, Rocko et à nouveau chez Goldband au début des années soixante-dix. Al Ferrier, toujours en activité, n'a jamais connu la notoriété que méritait son immense talent.

US Rockabilly singer born Alfous Glenn Ferrier, 19 August 1935, Montgomery, Louisiana. Al Ferrier has been hailed as the "King of Louisiana Rockabilly". Born into a large musical family (seven brothers, three sisters), Ferrier grew up listening to country music. Jimmie Rodgers and Grandpa Jones were among his favourites, and later especially Hank Williams, whose influence is audible in Al's very intense singing. At 13, he quit school to work in a logging camp with his brothers. By then, he had already been playing guitar for five years. Two older brothers, Brian and Warren, were both musicians. Brian was an exceptionally talented guitarist, who had played briefly with Hank Thompson's band. As soon as Al was old enough, the three Ferriers formed a country trio, Al Ferrier & the Boppin' Billies, with Al on Vocals and rhythm guitar, Brian on electric lead guitar and Warren on fiddle and double bass. They played dances around South Louisiana. Local Cajun star Jimmy Newman introduced the Ferriers to Eddie Shuler, a TV repair man who had built a primitive recording studio to the rear of his repair shop in Lake Charles. It was here that Ferrier made his first recordings for the Goldband label, in March 1955. Shuler gave them Clarence Garlow's recently recorded "No No Baby" (Folk Star 1199) for their first record. The R&B song was transformed to raw swampy rockabilly with a wonderful chugging rhythm from Al and Brian's guitars. For reasons best known to himself, Eddie Shuler waited a full year before releasing "No No Baby", coupled with "I'll Never Do Any Wrong", a straight country song (Goldband 1031). In the meantime Ferrier had already done four more sessions, two in November 1955, one in January 1956 and one in February 1956.
"No No Baby" sold well locally and was followed by a second single in mid- 1956, "My Baby Done Gone Away"/"It's Too Late Now", again coupling a rockabilly number with a more traditional hillbilly song. This time there weren't too many takers and Shuler did not release any further Al Ferrier singles in the 1950s, though he had some great tracks in the can, like "Let's Go Boppin' Tonight", which is now considered a rockabilly classic. It seems that Shuler may have originally planned to issue it because the single that was finally released in 1970 (with "Let's Go Boopin' Tonight" on the label!) assigned an earlier unused catalogue number, 1072. Disappointed by Shuler's lack of promotion, Ferrier jumped at the chance to record for J.D. (Jay) Miller, at his better equipped studio in Crowley. "Let's Go Boppin' Tonight" was rerecorded in a more polished version, which came out on Excello 2105 in early 1957 under the title "Hey Baby". Some of the lyrics had been changed and Miller's name replaced Shuler's as the co-writer (with Al). By this time Warren Ferrier had left the band to follow religious pursuits, but Brian and Al both play guitar on the Excello single, together with Miller's usual studio crew, including Katie Webster on piano and Warren Storm on percussion. The flip of "Hey Baby", "I'm the Man" displayed an obvious Johnny Cash influence. Ferrier stayed with Jay Miller for the remainder of the 1950s, with further recordings being released on Miller's own labels (Rocko, Zynn), in a more main- stream rock n roll style.
After many years of gigging, including four appearances on the Louisiana Hayride, Al retired professionally in the early 1960s, but still played in a family setting. But not long thereafter Eddie Shuler, realizing that his back catalogue had become very collectible, began dipping into his unreleased masters, with the result that quite a few "new" Goldband singles by Al hit the market, including the original "Let's Go Boppin' Tonight". In many cases, these 1950s recordings had been overdubbed with an electric bass and a piano. After Shuler had succeeded in tracking Al down, he resigned Ferrier to a Goldband contract and brought him back into the studio for new recordings, which were mixed with unissued 1950s tracks for release on many singles and two LP's.
The European rockabilly revival of the 1970s also inspired J.D. Miller to call on Al and in October 1975, he recorded him and his "New Boppin' Billies" at his studio for the LP "From 1955 to 1975 - The Back Sound Of Rockabilly" (Showtime LP 1000), which included previously unissued 1950s material as well. Miller also signed a licensing deal with the British Flyright label, resulting in two LP releases of 1950s recordings. Unfortunately, Brian Ferrier, to whose talent Al was heavily indebted, died in October 1981, aged only 49.
From 1980 onwards, Al has performed many times at the New Orleans Jazz and Heritage Festival. His European popularity brought him to Holland in 1987, where he performed at the Rockhouse Rock 'n' Roll Meeting in Zwolle and cut a new album for Rockhouse Records, called "Dixie". This was soon followed by an LP for Floyd Soileau's Jin label. In the 1990s, Al decided to turn his back on secular music and started performing and recording gospel music, still for Goldband. Commercial success has continued to elude Ferrier, but his recorded legacy is authentic and important.
Talents : Vocals, Guitar
Style musical : Rockabilly, Rock 'n' Roll, Swamp Blues, Traditional Country
Years in activity :
| | | | | | | | | | | | |
| --- | --- | --- | --- | --- | --- | --- | --- | --- | --- | --- | --- |
| 1910 | 20 | 30 | 40 | 50 | 60 | 70 | 80 | 90 | 2000 | 10 | 20 |
DISCOGRAPHY
Singles
| | | |
| --- | --- | --- |
| 04/1956 | SP GOLDBAND 45-G-1031 (US) | Al FERRIER with The BOPPIN' BILLIES - No No Baby / I'll Never Do Any Wrong |
| 07/1956 | SP GOLDBAND G-1035 (US) | Al FERRIER & His BOPPIN' BILLIES - My Baby Done Gone Away / It's Too Late Now |
| 03/1957 | SP EXCELLO 45-2105 (US) | I'm The Man / Hey Baby |
| 08/1958 | SP GOLDBAND 1072 (US) | Al FERRIER & His BOPPIN' BILLIES - Let's Go Boppin' Tonight / What Is That Thing Called Love ? |
| 03/1959 | SP ROCKO 45-502 (US) | Kiss Me Baby / I Thought I Found Love |
| 04/1959 | SP ZYNN 510 (US) | Al FERRIER & The VAMPS - Chisholm Trail Rock / Gunsmoke |
| 196? | SP ZYNN 1013 (US) | Blues Stop Knocking (At My Door) / She Left Me |
| 1969 | SP GOLDBAND 1212 (US) | Honey Baby / Why Doubt My Love ? |
| 1969 | SP GOLDBAND 1218 (US) | Al FERRIER with The BOPPIN' BILLIES - I'll Try One More Time / I'm Just A Mender |
| 1969 | SP GOLDBAND 1220 (US) | Al FERRIER with The BOPPIN' BILLIES - 78 To Birmingham / I'll Sin Until I Die |
| 1970 | SP GOLDBAND 1228 (US) | Al FERRIER with The BOPPIN' BILLIES - Last Chance / Take Two Steps |
| 1970 | SP GOLDBAND 1230 (US) | Al FERRIER & His BOPPIN' BILLIES - Told Her Nobody / Touch Of Mary's Hand |
| 1970 | SP GOLDBAND 1236 (US) | Yard Dog / If I Need You |
| 1971 | SP GOLDBAND 1240 (US) | Al FERRIER + The COUNTRY NOTES - Seventy-Six Dollars A Week / Hungry Eyes |
| 1971 | SP GOLDBAND 1240 (US) | Rockabilly Blues / Sad Songs Help Me Through The Night |
| 1972 | SP RPI 163 (US) | 163 St. Peter's Call / All You Need Is A Man |
| 1974 ? | SP MASTER TRAK 3013 (US) | I'm Not Drinking More / Don't Play Blue Eyes |
| 1974 ? | SP MASTER TRAK 3055 (US) | I'm A Rock-A-Billy Man / Hey Little Girl |
| 1975 | SP SHOWTIME 1006 (US) | I'll Take You For A Ride / It's My Fault |
| 1975 | SP SHOWTIME 1013 (US) | Be Boppin' Daddy / You're Humburggin' Me |
| 1976 | SP SHOWTIME 1015 (US) | Lonesome Trucker / Watching The Might Lights Burn |
| 1976 | SP SHOWTIME 1036 (US) | Hey Baby / Honey |
| 1980 | SP GOLDBAND 1295 (US) | Al FERRIER with The BRUMLEY BROTHERS BAND - Hello Josephine / I'll Try One More Time |
| 1982 | SP GOLDBAND 1306 (US) | Al FERRIER with The BRUMLEY BROTHERS- Every Dog Has A Day / No Greater Love |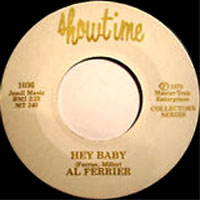 Unissued Tracks
Need Info
Albums
1970
LP 12" GOLDBAND GRLP 7769 (US)
THE BIRTH OF ROCKABILLY - No No Baby / I'll Never Do Any Wrong / My Baby Done Gone Away / It's Too Late Now / Let's Go Boppin' Tonight / What Is That Thing Called Love / Honey Baby / Told Her No No Baby / Yesterday We Were Married / When My Blue Moon Turns To Gold Again / Flip Flop & Fly / Sixteen Candles / Drip Drop / Honey Baby
1976
LP 12 SHOWTIME 1000 (US)
FROM 1955 TO 1975 - THE BACK SOUND OF ROCKABILLY : I'm The Man / You're Something Else / Kiss Me Baby / I Got A Good Woman / You're Humbiggin' Me / I'm Gonna Steal All The Love / This Life I Live / Be Boppin' Baby / Indian Rock And Roll / Blues Stop Knockin'
1977
LP 12 FLYRIGHT FLY LP 525 (US)
BOPPIN' TONIGHT - AL FERRIER AND WARREN STORM - THE LEGENDARY JAY MILLER SESSIONS - VOL. 6 - Blues Stop Knocking (Al FERRIER) / She Left Me (Al FERRIER) / Hey Baby (Al FERRIER) / Honey Baby (Al FERRIER) / Love Me Baby (Al FERRIER) / You Win Again (Al FERRIER) / Oh Oh Baby (Warren STORM) / So Long, So Long (Warren STORM) / Why You Treat Me This Way (Warren STORM) / Mama, Mama, Mama (Warren STORM) / Birmingham Jail (Warren STORM) / I'm A Little Boy (Warren STORM)
1981
LP 12 LFCR 10 023 (bootleg) (US)
AL FERRIER & THE SHOWTIMERS AT THE NATCHITOCHES FOLK FESTIVAL - JULY 18, 1981 - Hello Josephine / Whole Lotta Shakin' Goin' On / I'll Try One More Time / Haunted House / A Touch Of Mary's Hand / Release Me / No No Baby / Lonely Week-Ends / You Win Again / You're Humbuggin' Me / This Life I Live / Don't Play Blue Eyes / Only Sad Songs / Rockabilly Blues
1984
LP 12" GOLDBAND GCL 107 (UK)
BOP STOP ROCK IN THE HOLE IN THE WALL - What Is That Thing Called Love / Honey Baby / My Baby Done Gone Away / No No Baby / Why Doubt My Love / My Baby Done Gone Away / Too Late Now / + BILL & CARROLL / + Ray VICT & His BOP ROCKERS / + Popeye BROUSSARD
1987
LP 12" ROCKHOUSE 8708 (NL)
DIXIE - Don't You Know Little Baby / Gone Gone Gone / Rock-A-Billy Blues / Do Me What You Done Last Night / No Greater Love / Hole In The Wall / Your My Buttercup / Dixie/Do The Rock-Abilly / Dont Let The Bad Times / …
1993
CD BIG TONE BT 5715 (US)
AL FERRIER & HIS BOPPIN' BILLIES - Let's Go Boppin' Tonight/ Thought I Found Love / What Is That Thing Called Love / Honey Baby / My Baby Done Gone Away / No No Baby / Why Doubt My Love / What Is That Thing Called Love / Honey Baby / My Baby Done Gone Away / I'm The Man / Blues Stop Knocking At My Door / She Left Me / Honey Baby / Love Me Baby / Indian Rock And Roll / You Win Again / Hey Baby / Send Her Back / Blues Stop Knocking At My Door / She Left Me / Hey Baby / Love Me Baby / You Win Again / Kiss Me Baby / Too Late Now / Yesterday We Were Married / I'll Never Do Any Wrong / I'll Never Do Any Wrong / I'm The Man
01/1996
CD GOLDBAND 7817 (US)
LEGENDARY AL FERRIER WITH LOUISIANA SWAMP CATS-

One Heart Alone / If Your Phone Ain't Ringing (That's Me Not Calling You) / When the Blues Come Again / My Kind Of Woman / Keep The Other Guy / Nothin' Shakin' (But The Leaves On The Trees) / Couple In The Car (Next To Mine) / At The Sound Of The Tone (I'll Get Back To You) / Why Does The Rain Fall (Because I'm In Love With You) / Magic Of Your Love / Morning After Blues / I'm The Happiest Fool I Know

2010
CD EL TORO ETCD 1032 (S)
I'M THE MAN -

No No Baby / I'll Never Do Any Wrong / My Baby Done Gone Away / It's To Late Now / I'm The Man / Hey! Baby / Let's Go Bopping Tonight / What Is That Thing Called Love? / Kiss Me Baby / I Thought I Found Love / Chisholm Trail Rock / Gunsmoke / Blues Stop Knockin' (At My Door) / Honey Baby [fast take] / Too Late Now / No No Baby [fast take] / My Baby Done Gone Away [first take] / Indian Rock And Roll / Send Her Back / Hey! Baby [alternative take #1] / Honey Baby [slow take #1] / I'm The Man / She Left Me / Blues Stop Knockin' (At My Door) [alternative take #1] / Why Doubt My Love / Yesterday We Were Married / Honey Baby [slow take #2] / She Left Me / Blues Stop Knockin' (At My Door) [alternative take #2] / Hey! Baby [alternative take #2] / Honey Baby [slow take #3] /

You Win Again
© Rocky Productions 16/11/2012