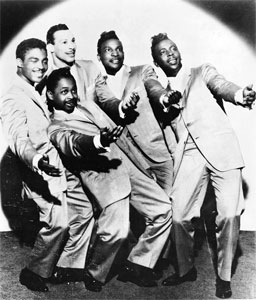 Groupe Doo Wop US de Newark (New Jersey), composé de Tommy Bullock, Eddie Morris, Sam Ingalls, Preston Lane et George Bullock.

The Fiestas' career spanned nearly 20 years, and they came along at a time when soul music was gaining prominence in the vocal group scene. Their biggest hit was 1959's "So Fine," which reached number three on the R&B charts before crossing over to number 11 on the Hot 100. The Fiestas -- lead vocalist Tommy Bullock, Eddie Morris, Sam Ingalis, and Preston Lane -- were originally from Newark, NJ. They were signed to Old Town by owner Hy Weiss in 1959 after he heard the group singing "So Fine" in the bathroom next to his office (which was run out of the cloak room of the Triboro Theatre on 125th Street and Third Avenue in Harlem). The single shot onto the charts immediately.
Weiss followed suit with the group's next single, "Last Night I Dreamed," which failed to connect. He continued trying, however, issuing soulful R&B sides that were similar to what artists like Sam Cooke and Jackie Wilson had been doing. Of these, favorites include "You Could Be My Girlfriend," a cover of Arthur Alexander's "Anna," and its flipside, "Think Smart," which is now a much-coveted Northern Soul rarity. A ballad from 1962, "Broken Heart," scored number 18 on the R&B charts, but failed to chart on the pop lists.
The Fiestas eventually moved over to Strand (a New York label that started as a full-priced label but soon began specializing in budget issues) and then to Vigor, recorded through the '60s and into the mid-'70s, but never again enjoyed any hits.
http://doo-wop.blogg.org/fiestas-c26502810
https://en.wikipedia.org/wiki/The_Fiestas
Talents : Tommy Bullock : Lead - Eddie Morris : First Tenor - Sam Ingalls : Baritone - Preston Lane : Bass
Style musical : Doo Wop, Rhythm 'n' Blues
Years in activity :
| | | | | | | | | | | |
| --- | --- | --- | --- | --- | --- | --- | --- | --- | --- | --- |
| 1910 | 20 | 30 | 40 | 50 | 60 | 70 | 80 | 90 | 2000 | 10 |
DISCOGRAPHY
78 t. & Singles
11/1958
78 t. & SP OLD TOWN 1062 (US)
07/1959
SP OLD TOWN 1069 (US)

I'm Your Slave / Our Anniversary

10/1959
SP OLD TOWN 1074 (US)

Good News / That Was Me

06/1960
SP OLD TOWN 1080 (US)

It Don't Make Sense / Dollar Bill

10/1960
SP OLD TOWN 1090 (US)

So Nice / You Could Be My Girl Friend

06/1961
SP OLD TOWN 1104 (US)

Mr. Dillon, Mr. Dillon / Look At That Girl

06/1961
SP STRAND 25046 (US)

Julie / Come On Everybody

11/1961
SP OLD TOWN 1111 (US)

She's Mine / The Hobo's Prayer

1962
SP OLD TOWN 1116 (US)

Tommy Andre (Tommy Bullock) - I Wonder Why / I'm Wondering

07/1962
SP OLD TOWN 1122 (US)

Broken Heart / The Railroad Song

10/1962
SP OLD TOWN 1127 (US)

I Feel Good All Over / Look At That Girl

03/1963
SP OLD TOWN 1134 (US)

The Gypsy Said / Mama Put The Law Down

05/1963
SP OLD TOWN 1140 (US)

The Party's Over / Try It One More Time

08/1963
SP OLD TOWN 1148 (US)

Foolish Dreamer / Rock A By Baby (Don't Cry No More)

08/1964
SP OLD TOWN 1166 (US)

All That's Good / Rock-A By-Baby

03/1965
SP OLD TOWN 1178 (US)

Anna / Think Smart

11/1965
SP OLD TOWN 1187 (US)

Love Is Strange / Love Is Good To Me

12/1965
SP OLD TOWN 1189 (US)

Ain't She Sweet / I Gotta Have Your Lovin'

07/1970
SP RCA VICTOR 74-0364 (US)

The Fabulous Fiestas - Keep It In The Family (If It Don't Fit, Don't Force It) / One Hurt Deserves Another

06/1971
SP COTILLION OT-44117 (US)
1972 ?
SP Atlantic Oldies Series OS 13115 (US)

We Belong Together (Robert & Johnny) / So Fine (FIESTAS)

1974
SP VIGOR VI 172 (US)

So Fine / Darling You've Changed

06/1975
SP RESPECT TAA-2509 (US)

I Can't Shake Your Love (Can't Shake You Loose) / Sometimes Storm

1977
SP Chimneyville 10216 (US)

Tina, The Disco Queen / I'm No Better Than You

1977
SP 12" 33 t. T.K. Disco

‎

– 30
The

Fiestas

with The

Chimneyville Express

- Tina, The Disco Queen (vocal) / Tina, The Disco Queen (instr.)
1977
SP Chimneyville 10221 (US)

I'm Gonna Hate Myself / Is That Long Enough For You?

1977
SP Janus JG-721 (US)

So Fine (FIESTAS) / Let The Little Girl Dance (Billy BLAND)

1985 ?
SP ERIC 287 (US)

So Fine (FIESTAS) / Dear One (Larry FINNEGAN)

1986 ?
SP RIPETE R45-180 (US)

So Fine (FIESTAS) / What's Your Name (Don & Juan)

????
SP COLLECTABLES COL-1037 (US)
????
SP SUSAN SR-811 (US)

Love Me, Love The Life I Lead (DRIFTERS) / Broken Heart (FIESTAS)
Unissued Tracks
| | | |
| --- | --- | --- |
| 1959 | OLD TOWN unissued | Come On And Love Me |
| 1959 | OLD TOWN unissued | Things We Can't Forget |
| ???? | Unissued | The Lawman |
Albums
1983
LP 12" Curcio

‎

GSR 90 (I)

La Grande Storia Del Rock - 90 - THE FIESTAS - Rock A Bye Baby / Foolish Dreamer / So Fine / Try It One More Time / Broken Heart / The Railroad Song / The Gypsy Said / Mama Put The Law Down / Last Night I Dreamed / It Don´t Make Sense / The Party´s Over

1986
LP 12" Ace

‎

CH 173 (UK)

The Oh So Fine Fiestas - So Fine / Dollar Bill / That Was Me / Mr. Dillon, Mr. Dillon / Come On And Love Me / Mexico (CHIMES) / Last Night I Dreamed / The Lawman / Our Anniversary / The Railroad Song / Try It One More Time / Mama Put The Law Down / Fine As Wine / You Can Be My Girlfriend / Anna / I'm Your Slave

1993
CD Ace

‎

CDCHD 382 (UK)

The Oh So Fine Fiestas - So Fine / Last Night I Dreamed / Things We Can't Forget / Our Anniversary / I'm Your Slave / Come On And Love Me / Good News / That Was Me / Dollar Bill / It Don't Make Sense / You Could Be My Girlfriend / So Nice / Look At That Girl / Mr Dillon, Mr Dillon / The Hobo's Prayer / The Lawman / Broken Heart / The Railroad Song / I Feel Good All Over / The Gypsy Said / The Party's Over / Try It One More Time / Foolish Dreamer / Rock-A-By Baby Don't Cry No More / All That's Good / Anna / Think Smart / Love Is Good To Me / I Gotta Have Your Lovin'

01/2000
CD COLLECTABLES COL-CD-6067 (US)

The Very Best Of The Fiestas - SO FINE - So Fine / Our Anniversary / Good News / Last Night I Dreamed / That Was Me / Come On And Love Me / Foolish Dreamer / You Could Be My Girlfriend / All That's Good / The Hobo's Prayer / Things We Can't Forget / So Nice / I'm Your Slave / Look At That Girl / Dollar Bill / Mr. Dillon, Mr. Dillon / It Don't Make Sense / The Lawman / I Feel Good All Over / Anna / I Gotta Have Your Lovin' / Try It One More Time / The Gypsy Said / Think Smart / The Party's Over
© Rocky Productions 9/12/2020