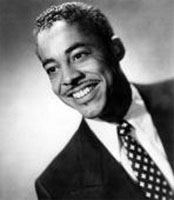 Chef d'orchestre et arrangeur, né le 16 Août 1922 à Cleveland (Ohio). Ernie Freeman est décédé le 16 Mai 1981 à Beverly Hills (Californie).

One of so many interesting behind-the-scenes figures of early rock & roll, pianist and arranger Ernie Freeman played on numerous early rock and R&B sessions in the '50s. He worked on dates for the L.A. indies Specialty, Modern, and Aladdin, as well as white artists such as Duane Eddy, Johnny Burnette, the Crickets, Bobby Vee, and Buddy Knox; his most memorable session appearance was probably on the Platters' "The Great Pretender," to which he contributed the stuttering piano riffs. Freeman also put out many instrumental records of his own, mostly for Imperial, and usually in a generic rocked-up jump R&B sort of style. "Jivin' Around" and "Lost Dreams" were R&B hits for him in 1956, but he got his sole crossover pop smash with a cover of Bill Justis' "Raunchy" in 1957, which made number four.
It was a strange situation: Justis' original hit number two, and a pop-oriented cover by Billy Vaughan also made number ten, leading to an incredible happenstance in December 1957 whereby three versions of "Raunchy" were in the Top Ten at the same time. Freeman's cover copied Justis' fairly closely, and wasn't quite as good; it's almost always Justis' original that is played on oldies radio today. Freeman was unable to make the Top 40 again, although he had minor hits with "Indian Love Call," "Theme from 'The Dark at the Top of the Stairs," and a cover of Chubby Checker's "The Twist"; he also recorded in the easy-listening style under the pseudonym Sir Chauncey, sneaking into the bottom of the Top 100 with "Beautiful Obsession." His own career petered out by the mid-'60s, but he worked with Frank Sinatra, Dean Martin, and Sammy Davis Jr. at Reprise, and as late as 1970 was doing some string arrangements on Simon and Garfunkel's Bridge Over Troubled Water album.
https://en.wikipedia.org/wiki/Ernie_Freeman
Talents : Arranger, Piano, Strings
Style musical : Rock 'n' Roll, Instrumental Rock, Brown-Eyed Soul
Years in activity :
| | | | | | | | | | | | |
| --- | --- | --- | --- | --- | --- | --- | --- | --- | --- | --- | --- |
| 1910 | 20 | 30 | 40 | 50 | 60 | 70 | 80 | 90 | 2000 | 10 | 20 |
DISCOGRAPHY
Singles
| | | | |
| --- | --- | --- | --- |
| 1955 | SP CASH 1017 (US) | . | Jivin' Around (part 1) / Jivin' Around (part 2) |
| 1955 | SP CASH 1019 (US) | . | Our Love / The Shuck |
| 1955 | EP DOOTONE EPD-209 (US) | | Ernie FREEMAN & Lorenzo HOLDEN TRIO - JAZZ ORGAN SOUND - Groovy Boogie / Just Blues / Backstage / Earth Angel |
| 02/1956 | SP IMPERIAL X5381 (US) | . | Lost Dreams / Rockin' Around |
| 05/1956 | SP IMPERIAL X5391 (US) | . | Funny Face / Rainy Day |
| 08/1956 | SP IMPERIAL X5403 (US) | . | Spring Fever / Walking The Beat |
| 11/1956 | SP IMPERIAL X5419 (US) | . | A Touch Of The Blues / Return To Me |
| 03/1957 | SP IMPERIAL X5430 (US) | . | Night Life / Without A Love |
| 06/1957 | SP IMPERIAL X5444 (US) | . | River Boat / Swing It |
| 08/1957 | SP IMPERIAL X5461 (US) | . | Dumplin's / Beautiful Weekend |
| 10/1957 | SP IMPERIAL X5474 (US) | . | Puddin' / Raunchy |
| 01/1958 | SP IMPERIAL X5486 (US) | . | Leaps And Bounds / The Tuttle |
| 02/1958 | SP IMPERIAL X5499 (US) | . | Theme From Igor / Shape Up |
| 04/1958 | SP IMPERIAL X5518 (US) | . | Indian Love Call / Summer Serenade |
| 06/1958 | SP IMPERIAL X5527 (US) | . | After Sunset / Rose Marie |
| 09/1958 | SP IMPERIAL X5541 (US) | . | Jamboree / Junior Jive |
| 11/1958 | SP IMPERIAL X5551 (US) | . | Blues After Hours / School Room Rock |
| 1959 | SP IMPERIAL X5574 (US) | . | Honey / Marshmellows, Popcorn & Soda Pop |
| 1959 | SP IMPERIAL X5612 (US) | . | A Summer Love / Always With You |
| 09/1959 | SP IMPERIAL X5621 (US) | . | One More Time Around / Lost Dreams |
| 12/1959 | SP IMPERIAL X5633 (US) | . | Big River / Night Sounds |
| 1960 | SP IMPERIAL X5641 (US) | . | Beautiful Weekend / Dumplin's |
| 03/1960 | SP IMPERIAL X5656 (US) | . | Rockin' Red Wing / Dark Eyes |
| 07/1960 | SP IMPERIAL X5677 (US) | . | Autumn And Eve / Prayers |
| 09/1960 | SP IMPERIAL X5693 (US) | . | Come On Home / Theme From "The Dark At The Top Of The Stairs" |
| 12/1960 | SP IMPERIAL X5716 (US) | . | Hawaiian Eye / Hearbreak Hotel |
| 02/1961 | SP IMPERIAL X5732 (US) | . | Swamp Meeting / That's All |
| 1961 | SP IMPERIAL X5752 (US) | . | Return To Peyton Place / Warsaw Concerto |
| 08/1961 | SP IMPERIAL X5769 (US) | . | The Swingin' Preacher / Conquest |
| 11/1961 | SP IMPERIAL X5793 (US) | . | Shine On Harvest Moon / The Twist |
| 1962 | SP IMPERIAL X5815 (US) | . | Didn't Want To Do It / What Am I Living For |
| 1962 | SP IMPERIAL X5841 (US) | . | I Hear You Knocking / Stripper |
| 11/1962 | SP LIBERTY 55515 (US) | . | Half As Much / I'm Sorry For You My Friend |
| 12/1964 | SP AVA C-176 (US) | . | Raunchy '65 / Jivin' Around |
| 02/1972 | SP OAK OR-104 (US) | . | The Overture / The Overture |
| 1973 | SP United Artists Silver Spotlight Series XW084 (US) | . | Raunchy / Indian Love Call |
Albums
| | | | |
| --- | --- | --- | --- |
| 1956 | LP 12" IMPERIAL LP-9022 (US) | | ERNIE FREEMAN PLAYS IRVING BERLIN - Alexander's Ragtime Band / How Deep Is The Ocean / Heat Wave / Say It Isn't So / Always / Blue Skies / Reaching For The Moon / I've Got My Love To Keep Me Warm / All Alone / Song Is Ended / Now It Can Told |
| 02/1957 | LP 12" IMPERIAL LP-9030 (US) | | JIVIN' 'O' 'ROUND - Jivin' Around/Return To Me / Rockin' Around / Lost Dreams / Spring Fever / Walking The Beat / Rainy Beat / Rainy Day / Funny Face / Touch Of The Blues / Flyin' High / Bluesy Me |
| 09/1958 | LP 12" IMPERIAL LP-9057 (US) | | ERNIE FREEMAN PLAYS - DREAMING WITH FREEMAN - Indian Love Call / Summer Serenade / After Sunset / Celebration / Estrellita / I'll See You In My Dreams / Bells Of St. Mary's / Sleepy Lagoon / Glory Of Love / Street Of Dreams / Poinciana / September Song |
| 1960 | LP 12" IMPERIAL LP-9133 (US) | | THE DARK AT THE TOP OF THE STAIRS - Come On Home / The Dark At The Top Of The Stairs / The Twist / My Heart Has A Mind Of Its Own / Night Theme / Volare / O Sole Mio (It's Now Or Never) / Only The Lonely / Walking To New Orleans / Save The Last Dance For Me / Devil Or Angel / Itsy Bitsy Teeny-Weeny Yellow Polka Dot Bikini |
| 1961 | LP 12" IMPERIAL LP-9148 (US) | | RAUNCHY - The World Is Waiting For The Sunrise / Swamp Meeting / That's All / Love And Devotion / Down Town / Come On Home / C.C. Rider, Parts 1 & 2 / Raunchy / Up Town / My Foolish Heart / Play Mr. Freeman |
| 1961 | LP 12" IMPERIAL LP-9157 (US) | | TWISTIN' TIME - The Twist / Save The Last Dance For Me / Dumplins / Conquest / Volare / Live It Up / Beautiful Weekend / River Boat / Night Sounds / Diane / Marshmallows Popcorn And Soda Pop / Honey Dripper |
| 1962 | LP 12" IMPERIAL LP-9193 (US) | | THE STRIPPER - The Stripper / Shine On Harvest Moon / I've Got A Woman / Jambalaya / What Am I Living For / I Didn't Want To Do It / For Strippers Only / Night Train / My Babe / Travelin' Mood / Down By The Old Mill Stream / I'm Gonna Move To The Outskirts Of Town |
| 1962 | LP 12" LIBERTY LRP-3264 (mono) / LST-7264 (stereo) (US) | | SOULFUL SOUNDS OF COUNTRY CLASSICS - I'm Movin' On / I Walk The Line / Just A Little Lovin' Fool Such As I / Half As Much / Any Time / I Don't Hurt Anymore / My Special Angel / It Makes No Difference Now / I Fall To Pieces / I'm Sorry For You My Friend / Window Up Above |
| 1963 | LP 12" LIBERTY LRP-3283 (mono) / LST-7283 (stereo) (US) | | LIMBO DANCE PARTY - Limbo Rock / Raunchy Limbo / Out On A Limbo / Tweedlee Dee / Limbo For Lovers / Now Low Can You Limbo / Memories Are Made Of This / Marianne / Matilda |
| 1963 | LP 12" LIBERTY LRP-3331 (mono) / LST-7331 (stereo) (US) | | COMIN' HOME BABY - Ernie FREEMAN COMBO - Comin' Home Baby / Stone Rocker / Drown In My Own Tears / 'Gater Bite / Fever / Rockhouse / Mountain Greenery / Jivin' Around / The Walk / Gravy Waltz / Cool Play |
| 10/1967 | LP 12" DUNHILL D 50026 (mono) / DS 50026 (stereo) (US) | | HITMAKER - Strangers In The Night / This Is My Song / Everybody Loves Somebody / Send Me The Pillow You Dream On / The World We Knew / 100 Pounds Of Clay / With This Ring / Softly As I Leave You/More / Red Roses For A Blue Lady / A Beautiful Obsession / That's Life |
| 09/1997 | CD ACE 659 (UK) | | RAUNCHY - Ernie FREEMAN COMBO - Raunchy / Puddin' / Dumplin's / Lost Dreams / Walking The Beat / Riverboat / Swing It / The Tuttle / Leaps And Bounds / Shape Up / Theme From Igor / Indian Love Call / After Sunset / Jamboree / Junior Jive / School Room Rock / Blues After Hours / Live It Up / Marshmellows, Popcorn & Soda Pop / Night Sounds / Swamp Meeting / The Twist / A Touch Of The Blues / Jivin' Around, Pt. 1 / Jivin' Around, Pt. 2 |
© Rocky Productions 25/11/2013