| | |
| --- | --- |
| | |
| | |

Duo Country US formé en 1959 par Sam (né Sam Norris Allred, le 5 Mai 1938 à Austin (Texas)) et Son (né Raymond Dewayne Smith, le 17 Septembre 1946 à Betram (Texas)).

As you might expect from their name, the Geezinslaws were a musical comedy outfit who based their recording career on barroom-friendly parodies of popular country songs. They were originally known as the Geezinslaw Brothers, but actually consisted of singer/mandolin player Sammy Allred and singer/guitarist Raymond "Son" Smith, who attended high school together in Austin, TX. They began performing locally, and in 1961 caught their big break when they were invited to appear on Arthur Godfrey's hit variety show. That helped lead to a record deal with Columbia, which issued their first album, The Kooky World of the Geezinslaw Brothers, in 1963; by this time, they'd relocated to New York permanently. They subsequently moved over to Capitol and recorded four albums for the label between 1966-1969, scoring minor hit singles with songs like "Chubby (Please Take Your Love to Town)" and "You Wouldn't Put the Shuck on Me." They continued to appear on TV variety shows, including those of Johnny Carson, Ed Sullivan, and Jackie Gleason, and became regulars on Ralph Emery's radio program Pop Goes the Country.
the Geezinslaw Brothers all but disappeared during the '70s, but suddenly returned -- with their name shortened to the Geezinslaws -- in 1986, when they appeared on the Emery-hosted Nashville Now TV show. They returned to recording in 1989 with The Geezinslaws, released on the Step One label, which mixed song parodies with more straight-ahead country. 1990's World Tour followed a similar pattern, and 1992's Feelin' Good, Gittin' Up, Gittin' Down gave them their first chart single in over two decades with "Help, I"m White and I Can't Get Down." They toured a bit more frequently during the early '90s, and issued a full-on comedy record in 1994 with I Wish I Had a Job to Shove. Another effort, Blah...Blah...Blah, followed in 1997, and remains the duo's final album to date.
https://en.wikipedia.org/wiki/The_Geezinslaw_Brothers
Talents : Sam : Comedy, Vocals, Mandolin - Son : Comedy, Vocals, Guitar
Style musical : Country Comedy

https://youtu.be/BE34ma0hdpE
| | |
| --- | --- |
| My Dirty, Lowdown, Rotten Cotton-Pickin' Little Darlin' (1967) (Geezinslaw Brothers) | |
Years in activity :
| | | | | | | | | | | | |
| --- | --- | --- | --- | --- | --- | --- | --- | --- | --- | --- | --- |
| 1910 | 20 | 30 | 40 | 50 | 60 | 70 | 80 | 90 | 2000 | 10 | 20 |
DISCOGRAPHY
Singles
1962
SP TEEPEE ? (US)
.

GEEZINSLAW BROTHERS -

A Lullaby Of Mother Goose / The Bicycle Wreck
07/1963
SP COLUMBIA 4-42829 (US)

GEEZINSLAW BROTHERS -

Cool It In Outer Space / My Old Buddy
09/1966
SP CAPITOL 5722 (US)
.

GEEZINSLAW BROTHERS -

You Wouldn't Put The Shuck On Me / Snook Is The Only Town For Me
1966
EP BARCLAY 071 151 (F)

GEEZINSLAW BROTHERS -

Four Kinks Of Lonely

01/1967
SP CAPITOL 5848 (US)
.

GEEZINSLAW BROTHERS -

My Old Buddy / Big Harlan Taylor
05/1967
SP CAPITOL 5918 (US)
.

GEEZINSLAW BROTHERS -

Change Of Wife / Brooklyn Bridge
09/1967
SP CAPITOL 2002 (US)
.

GEEZINSLAW BROTHERS -

Chubby (Please Take Your Love To Town) / Place To Hide Away
01/1968
SP CAPITOL 2086 (US)
.
GEEZINSLAW BROTHERS - I Couldn't Spell Yuuk / We Slit The Blanket
05/1968
SP CAPITOL 2184 (US)
.
GEEZINSLAW BROTHERS - Boney And Claude / Sugar
11/1968
SP CAPITOL 2356 (US)
.
GEEZINSLAW BROTHERS - Don't Blow Your Horn / My Bluebird Flew Away
04/1989
SP STEP ONE SOR-401 (US)
GEEZINSLAWS - Yabba Dabba Do / Nobody Doesn't Love Lucy
09/1992
SP STEP ONE SOR-442 (US)
.
GEEZINSLAWS - Help! I'm White And I Can't Get Down / You Belong To Me
11/1992
SP STEP ONE SOR-451 (US)
.
GEEZINSLAWS - Copenhagen / Someone Sweet To Love
11/1992
SP STEP ONE SOR-453 (US)
.
GEEZINSLAWS - Merry Christmas Baby / Lighten Up It's Christmas
1993
SP STEP ONE JBC-108

(US)

.
GEEZINSLAWS - Copenhagen / Help, I'm White And I Can't Get Down
11/1993
SP STEP ONE SOR-471 (US)
.
GEEZINSLAWS - I Wish I Had A Job To Shove / Self Made Man
11/1993
SP STEP ONE SOR-471 (US) (promo)
.
GEEZINSLAWS - I Wish I Had A Job To Shove / I Wish I Had A Job To Shove [dance mix]
11/1994
SP STEP ONE SOR-491 (US)
.
GEEZINSLAWS - Monkey Man / ?
1995
SP STEP ONE SOR-498 (US)
GEEZINSLAWS - Because Of Country Music (I've Gone Crazy)

/ ?
12/2005
SP GEEZINSLAW ? (US)
GEEZINSLAWS - Lighten Up, It's Christmas / Santa Claus Is Back in Town
| | |
| --- | --- |
| | |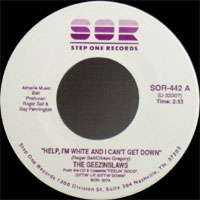 Albums
1963
LP 12" COLUMBIA

CL-2100 (mono) / CS-8900 (stereo) (US)

THE KOOKY WORLD OF THE GEEZINSLAW BROTHERS -

Cotton Fields / Sally Was A Good Old Girl / He's Been Working On The Banjo / Billy Sol Estes / Till There Was You (From The Musical Production "The Music Man") / They're Rioting In Africa / The Bicycle Wreck / Unchained Melody / Glory, Glory, New York Mets / Puff (The Magic Dragon) (Parody) / Pvt. John Q. / Night And Day / Sweet Sweet Home / Charming Betsy
10/1966
LP 12" CAPITOL

T-250 (mono) / ST-2570 (stereo) (US)

CAN YOU BELIEVE...THE GEEZINSLAW BROTHERS ! - Snook Is The Only Town For Me / The Best Guitar Picker / I'm A Sucker For A GirlLlike That / Hard-Headed Me / They Called Him Country / Take Me Back To The Good Old Days / You Wouldn't Put The Shuck On Me / Talking Guitar Blues / Four Kinds Of Lonely / Buy, Buy, Buy / Women Do Funny Things To Me / May The Bird Of Paradise Fly Up Your Nose
06/1967
LP 12" CAPITOL

T-2771 (mono) / ST-2771 (stereo) (US)

MY DIRTY, LOWDOWN, ROTTEN, COTTON-PICKIN' LITTLE DARLIN' -

THE GEEZINSLAW BROTHERS -

S.W.A.K. / Don't Blow Your Horn / I Wouldn't Do It / Brooklyn Bridge / Peel Me A Nanner / Someone Sweet To Love / My Dirty, Lowdown, Rotten Cotton-Pickin' Little Darlin' / Change Of Wife / I'm A People / Beautiful Banjo / Ride, Ride, Ride / If You Want Me To
02/1968
LP 12" CAPITOL

T-2885 (mono) / ST-2885 (stereo) (US)

GEEZINSLAW BROTHERS &

CHUBBY -

Chubby (Please Take Your Love To Town) / The Doodlin' Song / Tender-Hearted Me / Unmitigated Gall / Big Harlan Taylor / If They Could See The Self Come Out In Me / We Split The Blanket / I Couldn't Spell Yuuk / How Come I Stutter / The Great Snowman / My Old Buddy
01/1969
LP 12" CAPITOL

ST-130 (US)

THE GEEZINSLAWS ARE ALIVE (AND WELL?) -

Sally Was A Good Old Girl / Ballad Of Joe Bean / The Bicycle Wreck / On The Street Where You Live / I Couldn't Spell Yuuk
1979
LP 12" LONE STAR L-4606 (US)

IF YOU THINK I'M CRAZY NOW -

THE GEEZINSLAW BROTHERS - If You Think I'm Crazy Now / All American Redneck / The Diet Song / When I'm Under The Table (I'll Be Over You) / The Bible Against The Bottle / High Plains Jamboree / The Last Thing I Needed (The First Thing This Morning) / That's What She's Done / I Gotta Take A Drink (Another Pretty Country Song) / Life Can Have Meaning
1989
CD STEP ONE SOR-0052 (US)
THE GEEZINSLAWS - The King Is Gone (So Are You) / Is That Your Girlfriend / Cheatin' / Ever-Changin' Woman / Daddy Don't Live In Heaven / Over The Rainbow / Swervin' in My Lane / Dinosaur / Fryin' Pan (Never Leave My Wife At Home) / Warning On The Label / Hank Williams Led A Happy Life
06/1990
CD STEP ONE SOR-0056 (US)
WORLD TOUR - THE GEEZINSLAWS - I Kissed The Bus / Unchained Melody / Afraid You'd Come Back / Victim Of Life's Circumstances / Mental Revenge / Life Can Have Meaning / Night And Day / My Pocket's Got A Hole In It / Weeds Out Live The Roses / If You Don't Believe I Love You / Lonely Hart
09/1992
CD STEP ONE SOR-0074 (US)

FEELIN' GOOD, GETTIN' UP, GETTIN' DOWN -

THE GEEZINSLAWS - Help, I'm White And I Can't Get Down - Son's Love / Copenhagen / You Belong To Me - Little Baptist Humor / Let's Think About Living - Moonlight & Condiments / The Diet Song / I Kissed The Bus - Does This Make Sense? / Someone Sweet To Love - Was It Something I Thought? / Peel Me A 'Nanner - Psychic Ventriloquism / Bluebird - 46%=1/3
04/1994
CD STEP ONE SOR-0082 (US)

I WISH I HAD A JOB TO SHOVE -

THE GEEZINSLAWS - Introduction / Because Of Country Music (I've Gone Crazy) / No Place Like Austin / I Wish I Had A Job To Shove / Tastes Like Chicken / I Love You Period / Acknowledgements & Intro. / Play It Backwards / Running A Little Late / Paint Me On Velvet / Son's High Finance / Monkey Man / The Lone Ranger & Tonto / I Feel Like Hank Williams Tonight / What Is A Wanna Sack Store? / A Self-Made Man / Son's B-B Gun / You Wouldn't Put The Shuck On Me
1997
CD STEP ONE SOR-0105 (US)

BLAH...BLAH...BLAH -

THE GEEZINSLAWS - Five Dollar Fine For Whining / Old Blevins / Bad Rock & Roll / I Still Write Your Name In The Snow / Red Letter Day For The Blues / People Who Read People (God Bless John Wayne) / Take It To The Limit / Wedding Bells / Things Have Gone To Pieces / Over The Rainbow
1998
CD GEEZINSLAW ? (US)
THE SON SESSIONS - SON GEEZINSLAW - If No News Is Good News / The Richest Fool Alive / I Never Go Around Mirrors / I Should Have Called / Just One More / Haunted Jukebox / Pride Goes Before A Fall / You Could Know As Much About A Stranger / The Selfishness Of Man / Another Pretty Country Song / Song For The Life
02/2005
CD GEEZINSLAW GEEZ CD 2004-01 (US)
THE ECLECTIC HORESMEN - The GEEZINSLAWS with WIllie NELSON & Kelly WILLIS & Kinky FRIEDMAN) - Put Another Log On The Fire / Big Harlan Taylor / Stairway To Heaven / I Gave Her My Ring / Doo Wacka Doo / My Way / It's In The Freezer / Thank You Miss Audrey (For Breaking Hanks Heart) / Copenhagen / Jesus Was A Capricorn / Marilyn & Joe / Twirl / Here Comes That Rainbow Again / If No News Is Good News
© Rocky Productions 2/01/2014