Groupe Country US composé de Hank Newman (né Henry J. Newman, le 3 Avril 1905 à Cochran (Georgie), décédé en Juillet 1978), Slim Newman (né Marion Alonzo Newman, le 18 Juin 1910 à Cochran (Georgie), décédé le 1er Octobre 1982), Bob Newman (né Robert Newman, le 16 Octobre 1915 à Cochran (Georgie), décédé le 8 Octobre 1979), Winnie Waters (né en 1919) et Harold "Hal" Snyder. Les Georgia Crackers sont aussi connus sous le nom des Newman Brothers.

A close harmony singing group sometimes also referred to as the Newman Brothers. It originally comprised Hank (b. Henry J. Newman, 3 April 1905, d. July 1978, Cochran, Georgia, USA; guitar/string bass/Vocals), Slim (b. Marion Alonzo Newman, 18 June 1910, d. 1 October 1982, Cochran, Georgia, USA; guitar/Vocals) and Bob (b. Robert Newman, 16 October 1915, d. 8 October 1979, Cochran, Georgia, USA; songwriter/string bass/guitar/Vocals). Hank worked first as a solo singer on WCOC Meridian, Mississippi, before joining KWKH Shreveport. After being joined by brother Slim and singing mainly popular ballads, they toured and worked on radio in several places, including WRDW Augusta and WTAM Cleveland, where they replaced Gid Tanner, when he decided to return to Georgia. In 1931, they settled in Columbus, Ohio, where they found sponsors for their daily programme on WAIU. (The station later changed to WHKC and eventually WTVN). Their popularity soon saw them appearing on several other stations in different States including WROW Atlanta, WBT Charlotte, WWVA Wheeling, and Reading, Pennsylvania. In 1934, at Charlotte, they recorded for VOCALION Records, the records being released as Hank And Slim. In 1935, Bob, who also wrote many of their songs, began playing bass with his brothers. Soon after other musicians saw the act become a band. Some others to play, during the late 30s, with the brothers include fiddlers Shorty Long, Clarence 'Curly' Herdman (1918-1968) and Winnie Waters, guitarist Jerry Langston and Hawaiian and Spanish guitarist Harold Snyder. Dressed in cowboy clothes, playing mainly in a western swing style and singing in the style of the Sons Of The Pioneers, they became known as the Georgia Crackers. In 1940, the band comprised the three Newmans, Waters and Snyder and were featured on WHKC Columbus and the Mutual Network radio. In 1941, they disbanded when Slim and Bob were drafted for military service. Hank moved to California, where he became the manager of film actor Smiley Burnette (He also played a small part in Red River Valley).
After the war, the brothers and Johnny Spies (accordion) re-formed the band. In the late 40s, they spent time in California, where they appeared as a band in several of Charles Starrett's (Durango Kid) B-Westerns. Their films included The Fighting Frontiersman (1946), South Of The Chisholm Trail (1947), Desert Vigilante (1949) and Old Trail. They also presented a regular evening show on KXLA Pasadena. They recorded for RCA Victor Records in 1947 and 1949 and Slim also recorded four solo sides for Black And White Records with a group billed as Cactus Andy And The Texas Dandies (actually Tex Williams' band). Between 1950 and 1958, they were joined by Allan Myers (lead guitar), and were resident in Columbus, where, sometimes including singer Janie Swetman, they broadcast a daily programme on WHKC that was carried by the Mutual And National Broadcast Networks. They also established, The G Bar C Ranch, a country music park near Columbus, where they presented shows. They toured in the State and recorded numerous transcription disks, which enabled them to meet their radio commitments during the time they were touring. In the late 50s, Bob, also made more than 20 solo recordings for King. (Some were re-issued on Hangover Boogie, a 1984 release by the German Bear Family Records label).
He continued to write songs but, in 1958, his health deteriorated and he relocated to the warmer climate of Arizona, where he worked as a disc jockey on and later became programme controller of KHAT Phoenix. (Bob died in 1979). In 1958, they made their final recordings for Robin, and after Bob's departure, they disbanded. In the late 60s, they briefly reunited to record an album for Hank's G Bar C label, which sold locally. In the early 70s, the brothers re-formed to make special reunion shows including appearing with Ernest Tubb. Hank and Slim remained in Columbus until their deaths, after which their wives continued to run the restaurant at 2882 Johnstown Road in Columbus that they had opened in 1954. The restaurant became a place of special interest for country music fans. It should also be mentioned that the Georgia Crackers were one of the few southern country acts to play most of their successful years in the north.
http://www.hillbilly-music.com/groups/story/index.php?groupid=12013
https://en.wikipedia.org/wiki/Georgia_cracker
Talents : Hank : Vocals, Guitar, String Bass - Slim : Vocals, Guitar - Bob : Vocals, Songwriter, String Bass, Guitar
Style musical : Old Time
Years in activity :
| | | | | | | | | | | | |
| --- | --- | --- | --- | --- | --- | --- | --- | --- | --- | --- | --- |
| 1910 | 20 | 30 | 40 | 50 | 60 | 70 | 80 | 90 | 2000 | 10 | 20 |
DISCOGRAPHY
78 t., Single & EP
1927
78 t. OKEH 45098 (US)
.

Coon From Tennessee / Diamond Joe

1927
78 t. OKEH 45095 (US)
.

The All Go Hungry Hash House / The Georgia Hobo

1927
78 t. OKEH 45111 (US)
.

Riley The Furniture Man / The Georgia Black Bottom

1927
78 t. OKEH 45137 (US)
.

Where The Morning Glories Grow / The Great Ship Went Down

1927
78 t. OKEH 45192 (US)
.

I've Got A Gal In Baltimore / Stockade Blues

1929
78 t. OKEH 45486 (US)
.

Keno, The Rent Man / How Long ?

1946
78 t. Mastertone 75-9/10 (US)
.
Lumberjack's Call / Chained To A Memory
1946 ?
78 t. RANCHO R-701 (US)
.

Smiley

Burnette

& Georgia Crackers -

Smart Alec Crow / Courtin' Cricket / Thievin' Burro / Grand Daddy Frog
1946 ?
78 t. RANCHO R-702 (US)
.

Smiley Burnette & Georgia Crackers - Hitch Hikin' Indian / Prairie Dog Lament / Blue Bottle Fly / Bang, Bang, Bang

1948
78 t. RCA VICTOR 20-2701 (US)
.

Look Before You Leap /

Yo-Lady-Pre-Do-Pu
1948
78 t. RCA VICTOR 20-2854 (US)
.

Dollar Down / Rats In My Closet

1948
78 t. RCA VICTOR 20-3021 (US)
.

Hi Nellie / Horses, Women And Wine

1948
78 t. RCA VICTOR 20-3175 (US)
.

A Broken Doll /

That's The Way It's Gonna Be
1949
SP RCA VICTOR 48-0033 (US)
.

A Broken Doll /

That's The Way It's Gonna Be
1949
78 t. RCA VICTOR 21-0058 (US)
.
Gone Down Drain / In One Ear And Out
1952
SP RED ROBIN 501 (US)
.

Hank & Slim's Georgia Crackers - I Love My Neighbour / I Dreamed About Mom

1954
SP X 4X-0045 (US)
.

Dalton Boys - Just Like Me / Roll, Rattler, Roll

1959
EP SAGE 45-EP-316 (US)

Hangover Boogie / Sunday Down In Tennesee / Take Me In Your Arms / Chapparell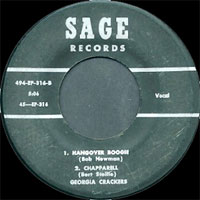 Album
1972
LP 12" JEWEL

LPS-530

(US)

THE GEORGIA CRACKERS -

Chapperell / Cool Water / If I Coud Hear My Mother Pray Again / I Don't Know How To Make It Alone / A Broken Doll / Sunday Down In Tennessee / Take Me In -Your Arms And Hold Me / I'm A Fool To Care / Hi, Nellie / Gay Ranchero / Tumbling Tumbleweeds / Little Angel With A Dirty Face / That's The Way It's Going To Be
© Rocky Productions 4/01/2014