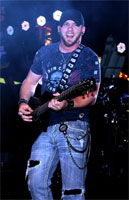 Chanteur Country US nť le 20 Janvier 1985 ŗ Jefferson (Georgie).

Although itís tempting to call Brantley Gilbert a country artist -- he certainly embraces the outlaw country side of things -- in many ways his music is closer to the heartland sentiments of artists like John Mellencamp, Bruce Springsteen, and perhaps most apt, Steve Earle. Gilbert was born in the small town of Jefferson, Georgia, just outside of Athens. He grew up hearing country music, but he also heard a lot of Athens rock bands like R.E.M. and the B-52's, and the swaggering Southern rock of bands like Lynyrd Skynyrd; at his best, Gilbert blends all of these various strains together in his music. It was a near-fatal car accident when he was 19 years old that spurred him to give music his all, and he started writing songs in earnest, playing mostly solo acoustic gigs before forming a band that could bring his vision of a hard-stomping country/rock/soul show to fruition. Moving to Nashville, he signed with Warner Chappell Publishing (his songs have been recorded by the likes of Jason Aldean and Colt Ford) and began working toward completing an album. Modern Day Prodigal Son finally appeared in 2009 from Average Joe's, which also released the follow-up, Halfway to Heaven, in 2010. Gilbert signed with Big Machine's Valory Music imprint in 2011 and the label reissued Halfway to Heaven. With Valory's support, the album took off: "Country Must Be Country Wide" and "You Don't Know Her Like I Do" both topped the U.S. Country Charts on their way to being certified platinum. Two other singles were pulled from the record in 2012 -- "Kick it in the Sticks" and "More Than Miles," both peaking in the Country Top 20s -- and then in 2013, Gilbert began working on a new studio project with producer Dann Huff.
"Bottoms Up," the first single issued from these sessions, turned into Gilbert's biggest hit to date in early 2014, reaching number one on the charts on its way to selling over a million copies. Its success whetted the appetite for Just as I Am, which saw release in May 2014. Just as I Am went to number one on the Billboard country chart and number two on the Top 200, eventually getting certified platinum thanks to the hit singles "Small Town Throwdown," "One Hell of an Amen," and "Stone Cold Sober." In the summer of 2016 he released "The Weekend," the first taste from his third major-label album, The Devil Don't Sleep. After "The Weekend" made it into the Billboard country Top 20, The Devil Don't Sleep followed in January of 2017. In early 2019, Gilbert paired with Lindsay Ell for the Top 40 Hot Country Songs single "What Happens in a Small Town." The track paved the way for the singer's fifth album, Fire & Brimstone.
https://en.wikipedia.org/wiki/Brantley_Gilbert
Talents : Vocals, Guitar, Songwriter, Record Producer
Style musical : Contemporary Country, Country Pop

http://youtu.be/1gke_KBZV68
Years in activity :
| | | | | | | | | | | | |
| --- | --- | --- | --- | --- | --- | --- | --- | --- | --- | --- | --- |
| 1910 | 20 | 30 | 40 | 50 | 60 | 70 | 80 | 90 | 2000 | 10 | 20 |
DISCOGRAPHY
Albums
10/2009
CD Average Joe's 00213 (US)

A Modern Day Prodigal Son - Freshman Year / What's Left Of A Small Town / G.R.I.T.S. / Whenever We're Alone / The Best Of Me / My Kinda Party / A Modern Day Prodigal Son / Live It Up / Friday Night / Indiana's Angel / Rock This Town / Picture On The Dashboard / Play Me That Song

03/2010
CD Average Joe's 00215 (US)
Halfway to Heaven - Hell On Wheels / Bending The Rules And Breaking The Law / Back In The Day / My Kind Of Crazy / Kick It In The Sticks / Halfway To Heaven / Saving Amy / Country Must Be Country Wide / Take It Outside / Them Boys / Fall Into Me / Dirt Road Anthem (revisited) (Brantley G

ilbert

feat: Colt F

ord

)
09/2011
CD Valory VMCBG 0150A (US)
Halfway to Heaven - DELUXE - Hell On Wheels / Bending The Rules And Breaking The Law / Back In The Day / My Kind Of Crazy / Kick It In The Sticks / Halfway To Heaven / Saving Amy / Country Must Be Country Wide / Take It Outside / Them Boys / Fall Into Me / Dirt Road Anthem (revisited) (Brantley G

ilbert

feat: Colt F

ord

) / More Than Miles / You Don't Know Her Like I Do / Hell On An Angel / Country Must Be Country Wide [music video] / Kick It In The Sticks [music video] / Brantley Gilbert "Up Close" [video]
05/2014
CD Valory VMCBG 0200 A (US)

Just as I Am -

If You Want A Bad Boy / 17 Again / Bottoms Up / That Was Us / I'm Gone / My Baby's Guns n' Roses / Lights Of My Hometown / One Hell Of An Amen / Small Town Throwdown (Brantley

Gilbert

feat: Justin M

oore

/ Thomas

Rhett

) / Let It Ride / My Faith In You
03/2015
CD Big Machine 4726558 (US)

Read Me My Rights -

Hell On Wheels / Kick It In The Sticks / Country Must Be Country Wide / Take It Outside / Dirt Road Anthem (feat. Colt

Ford

) (revisited) / If You Want A Bad Boy / Bottoms Up / My Baby's Guns n' Roses / Lights Of My Hometown / One Hell Of An Amen / Read Me My Rights / G.R.I.T.S.
01/2017
2 CD Valory 0300 (US)

The Devil Don't Sleep :

CD 1 : Rockiní Chairs / The Ones That Like Me / The Weekend / You Could Be That Girl / Smokiní Gun / Bro Code / Itís About To Get Dirty / Tried To Tell Ya / In My Head / Way Back / Baby Be Crazy / Outlaw In Me / Bullet In A Bonfire / The Devil Donít Sleep / Weíre Gonna Ride Again / Three Feet Of Water
CD 2 : At Least We Thought It Was [demo] / Iíve Been There Before [demo] / Against The World [demo] / Closer Than Weíve Ever Been [demo] / You Promised [demo] / Read Me My Rights [live at Red Rocks] / Hell On Wheels [live at Red Rocks] / Grown Ass Man [live at Red Rocks] / Outlaw Women [live at Red Rocks] / Kick It In The Sticks [live at Red Rocks]

10/2019
CD Valory 3004601 (US)

Fire & Brimstone - Fireít Up / Not Like Us / Welcome To Hazeville / What Happens In A Small Town / She Ainít Home / Lost Soulís Prayer / Tough Town / Fire & Brimstone / Laid Back Ride / Bad Boy / New Money / Breaks Down / Man Of Steel / Never Gonna Be Alone / Man That Hung The Moon
© Rocky Productions 5/10/2019