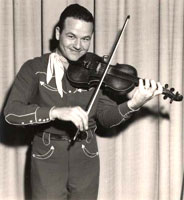 Fiddle US né John Paul Gimble, le 30 Mai 1926 à Tyler (Texas), Johnny Gimble a débuté dès l'age de 12 ans, se produisant localement en compagnie de ses frères. En 1940, ils forment les "Rose City Swingters" et obtiennent un Show sur la radio KGKB de Tyler et en 1944, Johnny fait parti de l'orchestre de Jimmie Davis. Après avoir roulé sa bosse dans différents orchestres, il se fixe en 1968 à Nashville, devenant un session-man réputé, participant à de nombreux enregistrements.
Johnny Gimble est décédé le 9 Mai 2015 à Dripping Springs (Texas).

One of the most impressive fiddle players in country music's history, Johnny Gimble confounded most of his rivals by using a five-string fiddle. He gained most of his early success with Bob Wills' Texas Playboys, but Gimble has also recorded over ten albums of his own and picked up awards as Instrumentalist of the Year (CMA) and Best Fiddle Player (ACM).
John Paul Gimble was born on May 30, 1926, in Tyler, TX. At the age of 12, he played in a band with his four brothers, and in the early '30s formed the Rose City Swingsters with brothers Gene and Jerry. The band played on local radio, but Gimble soon moved to Louisiana to play with Jimmie Davis. In the late '40s he joined Wills, playing fiddle and electric mandolin with the Texas Playboys. From 1951-1953, Gimble led his own group, which played as house band at Wills' club. He then returned to the Playboys, but the decline of Western swing in the late '50s and early '60s forced him out of the business.
Gimble worked as a barber and a hospital worker during the '60s, but returned to record with Wills in 1969. The experience primed him for heavy session work during the early '70s, including Merle Haggard's 1970 Wills tribute album and Wills' final appearance on LP, For the Last Time (1974). That same year, he recorded the first of his many solo albums, Fiddlin' Around.
Gimble gained the first of his five Best Instrumentalist and eight Best Fiddle Player awards in the late '70s, and performed with Willie Nelson's touring band from 1979-1981. Gimble finally hit the charts in 1983 with his Texas swing group and the added attraction of Ray Price on Vocals. The single "One Fiddle, Two Fiddle" was taken from the Clint Eastwood film Honkytonk Man, and it reached number 70. The B-side, Wills' famous standard "San Antonio Rose," also charted. The sideman credits also continued to add up, and in 1993, Gimble was nominated for a Grammy award in the Best Country Instrumental Performance category, for his work on Mark O'Connor's fiddler tribute album, Heroes. Also, Gimble is often seen playing on Austin City Limits and Garrison Keillor's TV programs.
Johnny Gimble died May 9, 2015 in Dripping Springs (Texas).
https://en.wikipedia.org/wiki/Johnny_Gimble
Talents : Fiddle, Mandolin, Violin
Style musical : Bluegrass, Western Swing, Traditional Country, Country Gospel
Years in activity :
| | | | | | | | | | | | |
| --- | --- | --- | --- | --- | --- | --- | --- | --- | --- | --- | --- |
| 1910 | 20 | 30 | 40 | 50 | 60 | 70 | 80 | 90 | 2000 | 10 | 20 |
DISCOGRAPHY
Singles
1948
78 t. LASSO 104 (US)
.

BUCK ROBERTS AND THE RHYTHMAIRS - Don't You Darken My Door Anymore (Vocals Johnny GIMBLE & TRIO) / Shiner Waltz (instr.)

05/1976
SP COLUMBIA 3-10348 (US) (promo)
.
Under The "X" In Texas (stereo) / Under The "X" In Texas (mono)
1979
SP Tejas 1 (US)
.

Hey Mr. Cowboy / Twilight Waltz

08/1980
SP COLUMBIA 1-11351 (US)
.
On The Road Again (Willie NELSON) / Jumpin' Cotton Eyed Joe (Johnny GIMBLE)
1980
SP CMH CMH-1526 (US)
.

Don't Be Ashamed Of Your Age / Fort Worth Hambone Blues

10/1981
SP CBS A 1632 (UK)
On The Road Again (Willie NELSON) / Jumpin' Cotton Eyed Joe (Johnny GIMBLE)
10/1982
SP WARNER BROS. / VIVA 7-29875 (US)
.

Texas Moonbeam Waltz / Turn The Pencil Over (Porter WAGONER)

10/1982
SP WARNER BROS. 7-29875 (US)
.

Turn The Pencil Over (Porter WAGONER) / Texas Moonbeam Waltz (Johnny GIMBLE & The Texas Swing Band)

12/1982
SP WARNER BROS. / VIVA 7-29830 (US)
.
Ray

Price

with Johnny

Gimble

& The

Texas Swing Band

- San Antonio Rose / One Fiddle Two Fiddle
1983
SP WARNER BROS. / VIVA 7-29847 (US)
.
Shotgun Rag / Honky-Tonk Man (Marty ROBBINS)
1985
SP MERIT M45-2500 (US)
.

Cotton-Eyed Joe / Texas Schottische

19??
SP CHAPARRAL C 306 (US)
.
The Devil Went Down To Georgia / ?
| | |
| --- | --- |
| | |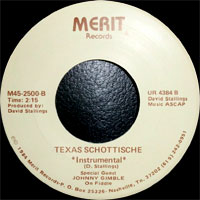 Albums
1974
LP 12" CAPITOL ST-11301 (US)
FIDDLIN' AROUND - Fiddlin' Around / Lonesome Song / Beaumont Rag / Gardenia Waltz / Don't Let The Deal Go Down / Estrellita / Cowhouse Campout / Thanks Bob (Wills Medley) / San Antonio Rose / Faded Love / A Maiden's Prayer / Gimble's Fifth (String, That Is) / What A Friend We Have In Jesus
1976
LP 12" COLUMBIA KC-34284 (US)
JOHNNY GIMBLES'S TEXAS DANCE PARTY - Lone Star Rag / I'll Keep On Loving You / La Zinda Waltz / Texas Fiddle Man / Texas Skip / Under The "X" In Texas / Blues For Joe Tee / Bosque Bandit / Slow 'n' Easy / End Of The Line
1979
LP 12" FLYING FISH FF-097 (US)

The Nashville Superpickers Live From Austin City Limits - Nashville Superpickers - Rollin' In My Sweet Baby's Arms / Fiddlin' Around / Canadian Sunset / Wabash Cannonball / Killer Joe / Mansion On The Hill / Long Tall Texan / New Road Under My Wheels / Sweet Dreams / Shadow Of Your Smile / What A Friend We Have In Jesus / Orange Blossom Special

1979
LP 12" Tejas ST 001 (US)

My Kinda Music - Playboy Beat / Bill Tucker / Texas Little Foot / Bright Eyes / Jumpin' Cotton Eyed Joe / Hey Mr. Cowboy / Twilight Waltz / Pretty Palomino / Waltzin' The Blues / Double Eagle Paul Jones

1980
2 LP 12" CMH CMH-9020 (US)

Still Swingin' - Johnny GIMBLE & The Texas Swing Pioneers :

DISC 1 : Washington And Lee Swing / Truck Driver's Blues / Jesse Polka / I'm Confessin' That I Love You / Please Don't Talk About Me When I'm Gone / Fort Worth Hambone Blues / Rosetta / Chinatown, My Chinatown / My Mary / Sweet Georgia Brown
DISC 2 : Sweet Jennie Lee / Some Of These Days / The Bells Of St. Mary's / An Old Water Mill / Song Of The Wanderer / I'm Checkin' Out / Right Or Wrong / Just Because / Jammin' With J.R. / Shine / Don't Be Ashamed Of Your Age

1980
LP 12" DELTA DLP-1003 (US)

The "B.S." Song - The B.S. Band - Cotton Eyed Joe / Cotton-Eyed Joe (with B.S.) / San Antonio Rose / Steel Guitar Rag / Together Again / Night Life / Faded Love - Maiden's Prayer Medley / Cotton-Eyed Joe (without B.S.) / Today I Started Loving You Again / Sugarfoot Rag / Westphalia Waltz / I'm So Lonesome I Could Cry / Take These Chains / Legend In My Time

1980
LP 12" DELTA DLP-1116 (US)

More Texas Dance Hall Favorites - Fraulein / Release Me / Orange Blossom Special / Cotton-Eye Joe / Last Cheater's Waltz / Luckenbach, Texas / Mathilda / Rose Colored Glasses / Wildwood Flower / Blue Eyes Crying In The Rain / Lucille / Four In The Morning

1980
LP 12" DELTA DLP-1122 (US)

Honky Tonk Hurtin' Songs - Night Life / Last Date / Crazy / Funny How Time Slips Away / Hello Walls / Don't It Make My Brown Eyes Blue / Oh Lonesome Me / I'm So Lonesome I Could Cry / Wild Side Of Life / She Thinks I Still Care / Statue Of A Fool / I Can't Help It If I'm Still In Love With You

1980
LP 12" DELTA DLP-1126 (US)

I Saw The Light - I Saw The Light / What A Friend We Have In Jesus / Softly And Tenderly Jesus Is Calling / Precious Memories / Just As I Am / Rock Of Ages / I'll Fly Away / Sweet By And By / Old Rugged Cross / Amazing Grace / How Great Thou Art

1981
2 LP 12" CMH CMH-9027 (US)

The Texas Fiddle Collection :

DISC 1 : Sallie Gooden / Black And White Rag / Silver Bell / Goodnight Waltz / Under The Double Eagle / Crafton Blues / Darling Nellie Gray / Fat Boy Rag / Down Yonder / Ragtime Annie / On The Alamo / Barefoot Fiddler / Twilight Waltz / Twinkle, Little Star
DISC 2 : Red Wing / Flower Of Mexico / Carroll County Blues / Draggin' The Bow / Dreamy Eyes Waltz / Lime Rock / Rainy Day Monday Blues / Alabama Jubilee / Tuxedo Junction / Beaumont Rag / Big 'Taters In Sandy Land / Texas Jole Blon' / Rubber Dolly / Breakdown On The Freeway

1982
LP 12" DELTA DLP -1128 (US)

Swingin' The Standards - In The Mood / Don't Get Around Much Anymore / J. B.'s Boogie / Tuxedo Junction / String Of Pearls / Chattanooga Choo Choo / Perdido / Sentimental Journey / Take The "A" Train / Little Brown Jug

1983
LP 12" DELTA DLP-1136 (US)

Dancin' Texas Style - Cotton-Eyed Joe / Texas Schottische / San Antonio Rose / Orange Blossom Special / Westphalia Waltz / Lone Star Polka / Jole' Blon / Last Date / I'm So Lonesome I Could Cry / Together Again / Take These Chains / It's Four In The Morning / Release Me / Luckenbach Texas / Night Life

1986
LP 12" Word 701-001033-1 (US)

Glorybound! - Jesus Loves Me / Just A Closer Walk / Softly And Tenderly / He Keeps Me Singing / Amazing Grace / Precious Memories / It Is No Secret / I'd Rather Have Jesus / Glorybound Medley / In The Sweet By And By / When We All Get To Heaven / I'll Fly Away / Jesus Loves Me (Reprise)

1987
2 LP 12" CMH CMH-9038 (US)
JOHNNY GIMBLE'S TEXAS HONKY TONK HITS :

DISC 1 : Fort Worth Hambone Blues / Waltz Across Texas / Smoke! Smoke! Smoke! (That Cigarette) / It Wasn't God Who Made Honky-Tonk Angels / Bubbles In My Beer / Just An Average Day / San Antonio Rose / I'm The One Who Loves You (Remember Me) / Sadie Was A Lady / Last Letter / Who Stole The Jukebox (From Lucy's Perfume Parlor) / I

love you so much it hurts

DISC 2 : Right Or Wrong / Just Because / Yesterday's Girl / Divorce Me C. O. D. / My Mary / Don't Make Love To Mary (With Mabel On Your Mind) / Rose Of Reynosa / Drivin' Nails In My Coffin / Where Honky-Tonk Angels Spread Their Wings / Take Me Back To Tulsa / Steel Guitar Rag / Truck Driver's Blues

1988
CD MCA MCAD-42021 (US)
STILL FIDDLIN' AROUND - Fiddlin' Around / Nellie Gray / Mandolopin' / Blue Again / Quick Step Annie / Have A Nice Day / New Grey Bonnet / Rural Ruffin' / Gardenia Waltz / Pretty Palomino
1998
CD Tejas 002 (US)
UNDER THE "X" IN TEXAS - Johnny GIMBLE & TEXAS SWING - Under The "X" In Texas / Faded Love / Hill Country Sunset / Bull Whip / Somewhere South Of S.A. / All Night Long / You're Why / One More Pretty Waltz / Cowboy Just The Same / Texas Highways / Orange Blossom Special
2000
CD ? (US)
HE KEEPS ME SWINGIN' - Jesus Loves Me / Just A Closer Walk With Thee / Softly And Tenderly / He Keeps Me Singing / Amazing Grace / Precious Memories / It Is No Secret / I'd Rather Have Jesus /What A Friend We Have In Jesus / Glory Bound Medley : Sweet By And By - When We All Get To Heaven - I'll Fly Away / Jesus Loves Me (reprise)
2002
CD Tejas ? (US)
JUST FOT FUN - Johnny GIMBLE & The TEXAS SWING - Barefoot Fiddler / Daddy Blues / Red Wing / 5'2" / Juniors Shadow / Stardust / Limehouse Blues / Roses In Summer Rain / Exactly Like You / Down Yonder / Poor Butterfly / Back Up & Push / Milk Cow Blues / Beaumont Rag / San Antonio Rose
200?
CD Tejas ? (US)
A CASE OF GIMBLES - One Time Charlie's Railroad Blues / Blue Skies / My Baby Just Cares For Me / Trouble In Mind / Emily / Was / Headin' For The Barn / Waltzin' The Blues / I'll Keep On Lovin' You / Old Fashioned Love / Our Love Is Here To Stay / Old Fashioned Feeling / Be Mine / Love Me Or Leave Me / Relaxin'
02/2010
CD CMH CD-9095 (US)

Celebrating With Friends - Johnny Gimble Reflects / Fiddlin' Around / Somewhere South Of San Antone / Sweet Georgia Brown / Gardenia Waltz / Lady Be Good / I Needed You / If I Had You / Rural Riffin' / Under The X In Texas / Hey Mr. Cowboy / Mandelopin' / Do What You Did, When You Did / Owed To Johnny Gimble (featuring Garrison KEILLOR)
© Rocky Productions 14/05/2015