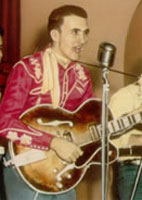 Chanteur Country US né le 27 Juillet 1928 à Moultrie (Georgie). Curtis Gordon débuta à l'orée des fifties chez RCA Records avec d'étonnantes pièces Hillbilly Boogie, puis à partir de 1956 de splendides Rockabillies dans le courant de Memphis chez Mercury Records. Il fut un chanteur régulier au Dixie Barn Dance (WKAB, Mobile, Alabama) en 1953. Curtis est décédé le 2 Mai 2004.

One of the most enduring and beloved rockabilly artists of the '50s, Curtis Gordon has never gotten the recognition he deserves as a true crossover artist between country, Western swing, and rockabilly. A devotee of both Ernest Tubb and Bob Wills as a boy, it's possible to hear echoes of Tubb's "Walkin' the Floor Over You" in his best sides, including "Play the Music Louder," "Caffeine and Nicotine," and "Baby, Please Come Home," indeed, the steel player in his '50s band, Freddie Calhoun, played for all the world like Tubb's steel guitarist Jerry Byrd. Gordon grew up listening to Tubb and Wills on the radio, as well as old records by Jimmie Rodgers and quickly developed his own aspirations as a singer, winning a local radio talent show. He left school as a teenager to front a band -- whose membership included a young Jimmy Bryant, then a fiddle-player using the moniker Ivy J. Bryant -- until his parents insisted he give it up. Being stuck in school didn't dampen Gordon's enthusiasm for music or a performing career, however, and he continued working with a Gulfport, MS, outfit called Pee Wee Mills & the Twilight Cowboys. At the age of 21, he put together his own Western swing band and worked the area around the Georgia-Florida border. The band was good enough to earn a living of sorts, and in June of 1952, they entered a contest in Atlanta and ended up catching the ear of a local RCA Victor executive, who brought them to the attention of Steve Sholes, the head of A&R for the label's country division. They were signed that summer and had their first recording session in the fall of 1952, which focused principally on ballads. By 1953, however, Gordon was recording a few swinging, harder numbers such as "Rompin' & Stompin'," interspersed between the ballads and novelty tunes. His sound was a unique amalgam of styles like honky tonk and Western swing -- equal parts Hank Thompson and Ernest Tubb -- all grafted to a freer, looser, more vibrant singing style, a decade more youthful than Tubb's style. Gordon got steady work touring the Grand Ole Opry, playing support to Ernest Tubb or Hank Snow, and he was making a living, if not setting the world on fire. His RCA sides sold just well enough to keep him with the label for two full years, generating new records every few months, but music was changing around Gordon and Sholes faster than either could keep up with it, and none of his country-style singles generated enough interest or sales to chart. Gordon's potential seemed solid enough, however, that immediately upon parting company with RCA Victor, he was signed up by Mercury Records. Gordon's Mercury recordings were very different from his RCA sides, principally because the label let him cut a large number of originals, and because his Mercury contract coincided with rock & roll's rise to national prominence -- the latter event was heralded, ironically enough, by a subsequent Steve Sholes signing to RCA, one Elvis Presley, with whom Gordon had shared the bill several times while playing shows in the south during 1954 and 1955. Gordon's March 1956 sessions showed just how much the excitement surrounding Presley in the South, even before he'd broken nationally, had opened the way for him. Those recording dates, and the ones that followed in December of that year and October of 1957, showed Gordon plunging into the new music with total abandon and astonishing results. His country ballads were good enough, well-written, and performed with passion, and in another reality he might've been a serious rival to Lefty Frizzell. But when he turned to what they used to call "rhythm numbers," Gordon was spellbinding -- his youthful, exciting and engaging singing style, and the tightness of his band's playing all combined to generate brilliant records that seemed to straddle the gap between rock & roll, Western swing, and country music, without treading on the essentials of any of them. He should have been huge, appealing across generational lines to country listeners and their children and to the Ernest Tubb crowd, and to the kids listening to Elvis Presley and Carl Perkins.
Alas, he never charted a record, despite a lot of tries working with producer Pappy Daily and some of the best session musicians in the business working behind him and his band. A stint in the Army (during which he crossed paths with a young would-be singer/songwriter named Roger Miller, whom he later helped get a contract) probably didn't help, but more broadly, Gordon never managed to be in the right place with the right record at the right moment. Gordon made a decent living playing locally in Mobile, where he had a solid and very loyal audience and where he also owned a very popular club. He also toured occasionally around the Southern and border states. His last long-term recording contract was with Dollie Records in the late '50s, but he never stopped performing and he made a good living, even if he didn't get rich doing it. Gordon saw some of his songs do well, particularly "I've Aged Twenty Years in Five," which was recorded by George Jones. He was concentrating mainly on running his successful dance club in Georgia, but resumed performing in the '80s largely as a result of his discovery of new demand out of Europe for his classic songs, where rockabilly music had acquired a large and fiercely devoted audience. He remains a revered figure in rockabilly as one of its great elder statesmen, and his music still appeals just as easily to fans of honky tonk and Western swing.
https://en.wikipedia.org/wiki/Curtis_Gordon
Talents : Vocals, Guitar
Style musical : Rockabilly, Rock 'n' Roll, Honky Tonk, Traditional Country

http://www.youtube.com/watch?v=Xgv2y9XMbxI&feature=share&list=PLD2783B92EF9E5EA7
Years in activity :
| | | | | | | | | | | | |
| --- | --- | --- | --- | --- | --- | --- | --- | --- | --- | --- | --- |
| 1910 | 20 | 30 | 40 | 50 | 60 | 70 | 80 | 90 | 2000 | 10 | 20 |
DISCOGRAPHY
78 t. & Singles
12/1952
78 t. RCA VICTOR 20-5062 (US)
You Ain't Seen Nothin' Yet / Greatest Sin
12/1952
SP RCA VICTOR 47-5062 (US)
You Ain't Seen Nothin' Yet / Greatest Sin
03/1953
78 t. RCA VICTOR 20-5182 (US)

If You Tell Me One More Lie /

What's A Little Pride

03/1953
SP RCA VICTOR 47-5182 (US)

If You Tell Me One More Lie /

What's A Little Pride

07/1953
78 t. RCA VICTOR 20-5356 (US)
Rompin' And Stompin' / Rocky Road Of Love
07/1953
SP RCA VICTOR 47-5356 (US)
Rompin' And Stompin' / Rocky Road Of Love
10/1953
78 t. RCA VICTOR 20-5461 (US)

I Just Don't Love You Anymore / Where'd You Get So Much Of

10/1953
SP RCA VICTOR 47-5461 (US)

I Just Don't Love You Anymore / Where'd You Get So Much Of

12/1953
78 t. RCA VICTOR 20-5550 (US)

Little Bo-Peep / Tell 'Em No

12/1953
SP RCA VICTOR 47-5550 (US)

Little Bo-Peep / Tell 'Em No

03/1954
78 t. RCA VICTOR 20-5639 (US)

I'd Do It For You /

You Crazy, Crazy Moon

03/1954
SP RCA VICTOR 47-5639 (US)

I'd Do It For You /

You Crazy, Crazy Moon

06/1954
78 t. RCA VICTOR 20-5760 (US)
Caffeine And Nicotine / Divided Heart
06/1954
SP RCA VICTOR 47-5760 (US)
Caffeine And Nicotine / Divided Heart
09/1954
78 t. RCA VICTOR 20-5818 (US)

Baby, Baby Me /

I'd Like To Tell You

09/1954
SP RCA VICTOR 47-5818 (US)

Baby, Baby Me /

I'd Like To Tell You

02/1955
78 t. MERCURY 70538 (US)
Curtis GORDON & His WESTERN BAND - Don't Trade / Chopsticks Mambo
02/1955
SP MERCURY 70538x45 (US)
Curtis GORDON & His WESTERN BAND - Don't Trade / Chopsticks Mambo
08/1955
78 t. MERCURY 70648 (US)
Baby, Please Come Home / Blue Lifetime
08/1955
SP MERCURY 70648x45 (US)
Baby, Please Come Home / Blue Lifetime
10/1955
78 t. MERCURY 70708 (US)
Curtis GORDON & His WESTERN BAND -

Our Secret Rendezvous

/

(You're A) Girl With A Future

10/1955
SP MERCURY 70708x45 (US)
Curtis GORDON & His WESTERN BAND -

Our Secret Rendezvous

/

(You're A) Girl With A Future

02/1956
78 t. MERCURY 70791 (US)
Too Young To Know / Hello, Old Broken Heart
02/1956
SP MERCURY 70791x45 (US)
Too Young To Know / Hello, Old Broken Heart
05/1956
78 t. MERCURY 70861 (US)
Draggin' / Mobile, Alabama
05/1956
SP MERCURY 70861x45 (US)
Draggin' / Mobile, Alabama
09/1956
78 t. MERCURY 70933 (US)
Play The Music Louder / Hey, Mr. Sorrow
09/1956
SP MERCURY 70933x45 (US)
Play The Music Louder / Hey, Mr. Sorrow
01/1957
SP MERCURY 71037x45 (US)
So Tired Of Crying / I Know My Baby's Gone
04/1957
SP MERCURY / STARDAY 71097x45 (US)
Sittin' On Top / Out To Win Your Heart
05/1957
SP MERCURY / STARDAY 71121x45 (US)
Cry, Cry / Sixteen
09/1957
SP MERCURY / STARDAY 71183x45 (US)
I Wouldn't / Please Baby Please
03/1961
SP DOLLIE 3267 (US)
Oh Lonely Heart / Each Time You Go
05/1962
SP DOLLIE 10050 (US)
From Memphis To New Orleans / For The Last Time
1978
SP DUKE OF COUNTRY 0001 (US)

Seperation Now Granted / Hide And Seek

1978
SP DUKE OF COUNTRY 0002 (US)

She's The Trip I've Been On / Hearts Of Stone

197?
SP DUKE OF COUNTRY DK 0005 (US)

I've Aged Twenty Years In Five / Tell 'Ol I Ain't Here

197?
SP DUKE OF COUNTRY DK 0006 (US)

Time For Letting Go / If I Could Make A Livin LovingYou

1986
SP COUNTRY ARTISTS CA-86-1 (US)

(Foreclose On My 4-Wheel Drive) Please Don't Take The Farm / Because I Love You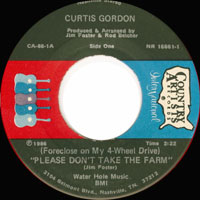 Unissued Tracks
| | | |
| --- | --- | --- |
| 195? | MERCURY unissued - (Bear Family LP 15181 (#14) / Bear Family CD 16253 (#12)) | One Blue Moon, One Broken Heart |
| 195? | MERCURY unissued - (Bear Family LP 15181 (#2) / Bear Family CD 16253 (#13) / Big Tone CD 6002 (#31) / Chief CD 1156509 (#24) / Club LP 001 (#6) / Mustang CD 3 (#6) / Presto CD 3 (#17) / Smith & Co. CD 1170 (#22)) | Rock Roll Jump And Jive |
Need Info
| | | |
| --- | --- | --- |
| 195? | Need info - (Gee Dee Music CD 270110-2 (#4)) | My Broken Heart Still Knows |
Albums
| | | | |
| --- | --- | --- | --- |
| 1985 | LP 12" BEAR FAMILY BFX 15181 (GER) | | ROCK, ROLL, JUMP AND JIVE - Draggin' / Rock, Roll, Jump And Jive / I'm Sittin' On Top / Mobile, Alabama / Cry, Cry / Sixteen / Please Baby Please / I Wouldn't / Play The Music Louder / Baby, Please Come Home / So Tired Of Crying / Too Young To Know / Out To Win Your Heart / One Blue Moon, One Broken Heart / Don't Trade / Hey Mister Sorrow |
| 1987 | LP 12" BEAR FAMILY BFX 15238 (GER) | | You Ain't Seen Nothin' Yet - Rompin' And Stompin' / Caffeine And Nicotine / Baby Baby Me / Tell 'Em No / Divided Heart / Little Bo Peep / I'd Like To Tell You / You Crazy Crazy Moon / I'd Do It For You / You Ain't Seen Nothin' Yet / If You Tell Me One More Lie / Greatest Sin / Rocky Road Of Love / What's A Little Pride / Where D'ja Get So Much Of / I Just Don't Love You Anymore |
| 1992 | CD Cat CAT 1032 (SWE) | | Curtis Gordon - Draggin' / Rock, Roll, Jump And Jive / I'm Sitting On Top Of The World / Mobile Alabama / Cry, Cry / Sixteen / Please Baby, Please / I Wouldn't / Play The Music Louder / Baby Please Come Home / So Tired Of Crying / Too Young To Know / Out To Win Your Heart / One Blue Moon, One Broken Heart / Don't Trade / Hey Mister Sorrow / Rompin' And Stompin' / Caffeine And Nicotine / Baby, Baby Me / Tell 'Em No' Divided Heart / Little Bo Beep / I'd Like To Tell You / You Crazy, Crazy Moon / I'd Do It For You / You Ain't Seen Nothing Yet / If You Tell Me One More Lie / The Greatest Sin / Rocky Road Of Love / What's A Little Pride / Where'd Ja Gets So Much Of / I Just Don't Love You Anymore |
| 05/1998 | CD BEAR FAMILY BCD 16253 (GER) | | PLAY THE MUSIC LOUDER - Rompin' And Stompin' / Play The Music Louder / Caffeine And Nicotine / Draggin' / Baby, Please Come Home / You Ain't Seen Nothin' Yet / Mobile, Alabama / So Tired Of Crying / Too Young To Know / I'm Sittin' On Top Of The World / I'd Do It For You / One Blue Moon, One Broken Heart / Rock, Roll, Jump And Jive / Out To Win Your Heart / Don't Trade / From Memphis To New Orleans / Tell 'Em No / Hey Mister Sorrow / Cry, Cry / Little Bo-Peep / I'd Like To Tell You / Sixteen / If You Tell Me One More Lie / Divided Heart / Baby Me / Please Baby Please / Rocky Road Of Love / I Just Don't Love You Anymore / I Wouldn't / Oh Lonely Heart / The Greatest Sin / What's A Little Pride / You Crazy, Crazy Moon / Where'd Ja Get So Much Of |
© Rocky Productions 13/02/2014