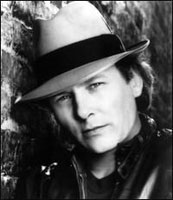 Chanteur Country US né le 24 Octobre 1952 à Vicksburg (Mississippi).

Over his career, singer/songwriter Mark Gray endured many ups and downs. He was born in Vicksburg, Mississippi, the youngest of seven children. His mother died when he was two, and he was raised on Lookout Mountain, Georgia by his aunt and uncle. It was there that he began singing gospel music and learned to play piano. He returned to his father's 250-acre Mississippi farm when he was 15 and later became a finalist on the Ted Mack Amateur Hour. He also began singing commercial jingles.
In 1972, Gray was selling spots for an R&B radio station while singing with the Revelations, a gospel group he founded, on weekends. The Revelations were performing in Meridian, Mississippi when they were spotted by the Oak Ridge Boys, who asked Gray to join their publishing company and appear on their tours. Gray moved to Nashville, but took a substantial cut in income and spent several impoverished years. He eventually left the Oaks to join another gospel group, the Downings. He became so popular that the group fired him, and returned to Vicksburg, where he performed in Jackson nightclubs.
In 1979, his luck began to change and he was invited to join Exile. Gray honed his songwriting skills when not performing with the group, and two songs co-written with J.P. Pennington, "Take Me Down" (1982) and "The Closer You Get" (1983), became major hits for Alabama. Gray recorded two albums with Exile and remained with them until 1981, when he left to pursue a solo career and sell songs. After Janie Fricke recorded his "Losing Ain't Nothing Like Losing a Friend," he signed to Columbia Records. His first solo single, "If It Ain't Real (It Ain't You)," made it to the Top 30 in early 1983; his second effort, "Wounded Hearts," made it to the Top 20. In addition, performers such as Engelbert Humperdinck and Melissa Manchester continued to record his songs. In 1984, Gray scored four Top Ten hits, including "Diamond in the Dust," from his second album, This Ol' Piano. In 1985, he had two more Top Ten hits, but within a year his solo career had ground to a halt. Gray asked Columbia to release him from his contract, and continued to record for independent labels.
Talents : Singer, Keyboards, Guitar, Songwriter
Style musical : Country-Pop, Urban Cowboy
Years in activity :
| | | | | | | | | | | |
| --- | --- | --- | --- | --- | --- | --- | --- | --- | --- | --- |
| 1910 | 20 | 30 | 40 | 50 | 60 | 70 | 80 | 90 | 2000 | 10 |
DISCOGRAPHY
Singles
| | | | |
| --- | --- | --- | --- |
| 05/1983 | SP COLUMBIA 38-03893 (US) | . | Whatever Happened / It Aint Real |
| 09/1983 | SP COLUMBIA 38-04137 (US) | . | Wounded Hearts / Til You and Your Lover Are Lovers Again |
| 01/1984 | SP COLUMBIA 38-04324 (US) | . | Left Side Of The Bed / Fire From A Friend |
| 05/1984 | SP COLUMBIA 38-04464 (US) | . | If All The Magic Is Gone / Til Her Heartache Is Over |
| 09/1984 | SP COLUMBIA 38-04610 (US) | | Diamond In The Dust / I Guess You Must Have Touched Me Just Right |
| 1984 | SP COLUMBIA 38-04669 (US) | . | Left Side Of The Bed / Lean On Me |
| 02/1985 | SP COLUMBIA 38-04782 (US) | . | Youre Gonna Be The Last / Sometimes When We Touch (with Tammy WYNETTE) |
| 06/1985 | SP COLUMBIA 38-05403 (US) | . | Smooth Sailing / Dixie Girl |
| 11/1985 | SP COLUMBIA 38-05695 (US) | . | I Need You Again / Please Be Love |
| 03/1986 | SP COLUMBIA 38-05857 (US) | . | Back When Love Was Enough / Dance With Me |
| 05/1988 | SP 615 88-S-1014 (US) | . | Mark GRAY & Bobbi LACE - Song In My Heart / ? |
| 11/1988 | SP 615 88-S-1016 (US) | . | Mark GRAY & Bobbi LACE - It's Gonna Be Love / ? |
Albums
| | | | |
| --- | --- | --- | --- |
| 04/1984 | LP 12" COLUMBIA B6C-39143 (US) | | MAGIC - It Ain't Real / Wounded Hearts / Whatever Happened To The Good Old Days / Lean On Me / Till The Heartache Is Over / Left Side Of The Bed / Sun Don't Shine On The Same Folks All The Time / If All The Magic Is Gone / Till You And Your Lover Are Lovers Again / Fire From A Friend |
| 11/1984 | LP 12" COLUMBIA FC-35918 (US) | | THIS OL' PIANO - Diamond In The Dust / Twenty Years Ago / You're Gonna Be The Last Love / This Ol' Piano / I Guess You Must Have Touched Me Just Right / Smooth Sailing / Dixie Girl / Lonely People / It's Got To Be You / Sometimes When We Touch (with Tammy WYNETTE) |
| 01/1986 | LP 12" COLUMBIA FC-40126 (US) | | THAT FEELING INSIDE - Please Be Love / She Will / You're The Reason / Born To Be A Music Man / Strong Heart / Dance With Me / Back When Love Was Enough / I Need You Again / Walking After Midnight / That Feeling Inside |
© Rocky Productions 25/02/2014