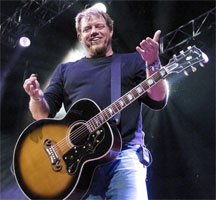 Chanteur Country US né le 5 Avril 1972 ŕ San Antonio (Texas).

Texas native Pat Green got his start in country music while still attending college in the mid-'90s. As a teenager, Green quickly took to the sounds of several Lone Star State performers like Robert Earl Keen, Waylon Jennings, Jerry Jeff Walker, and Willie Nelson. He started writing songs at age 18 while studying at Texas Tech, and Green was eager and earnest in making something happen. He convinced his parents to loan him some money to record an album.
The independently released Dancehall Dreamer appeared in 1998 just as Green was becoming a hot performer on the local bar scene. A year later, Green wowed an audience of 2,000 people at Willie Nelson's July 4th picnic, and that magnetic event was captured for his second album, Live at Billy Bob's Texas. Green continued to write and record as the decade came to a close. Songs We Wish We'd Written was issued in 2001, and in five years' time, Green had sold over 200,000 copies without major-label support. Republic was so impressed with Green's grassroots approach that they inked him a deal before Christmas. Three Days marked his first proper release. Two years later, Green joined producer Don Gehman (Hootie & the Blowfish, R.E.M., Nanci Griffith) for Wave on Wave, and in 2004 Lucky Ones came out. In 2006, after a move to RCA imprint BNA, Cannonball was issued, followed by What I'm For in 2009, which found Green working with producer Dann Huff. He revisited some of his favorite songs and songwriters for 2012's Songs We Wish We'd Written II, a sequel to his 2001 album.
https://en.wikipedia.org/wiki/Pat_Green
Talents : Vocals, Guitar
Style musical : Contemporary Country
Years in activity :
| | | | | | | | | | | | |
| --- | --- | --- | --- | --- | --- | --- | --- | --- | --- | --- | --- |
| 1910 | 20 | 30 | 40 | 50 | 60 | 70 | 80 | 90 | 2000 | 10 | 20 |
DISCOGRAPHY
Single & EP
| | | | |
| --- | --- | --- | --- |
| 2004 | CD UNIVERSAL / MERCURY ? (US) | | Don't Break My Heart Again |
| 10/2007 | CD SMITH ENTERTAINMENT 20032 (US) | | ULTIMATE LIVE - Cannonball / Cannonball -1 / Lucky Ones / Wave On Wave / Let Me |
Albums
| | | | |
| --- | --- | --- | --- |
| 12/1995 | CD Green Horse 9511 (US) | | Dancehall Dreamer - Here We Go / Down To The River / I Like Texas / Dance Hall Dreamer / The Bottle / Rain In Layfayette / West Texas Holiday / Goin' Down In Style / Family Man / Southbound 35 / One For The Road / Pat And Jack's Blues |
| 06/1997 | CD Green Horse 9705 (US) | | George's Bar - Songs About Texas / George's Bar / Snowing On Raton / Going Away / The Ballard Of Arkansas Dave Rudebaugh / 1-900 Lover / John Wayne And Jesus / Just Fine / Trailer Park Tune / Adios Days / If I Had A Million |
| 06/1998 | CD Crystal Clear / Green Horse 9808 (US) | | Here We Go - George's Bar / John Wayne And Jesus / Southbound 35 / Me And Billy The Kid / Dancehall Dreamer / Down To The River / I Like Texas / #2 / Nightmare / West Texas Holiday / If I Had A Million / Band Introductions / Songs About Texas / Here We Go |
| 04/1999 | CD SMITH MUSIC GROUP BTT-5003 (US) | | LIVE AT BILLY BOB'S TEXAS - Me And Billy The Kid / Take Me Out To A Dancehall / Southbound 35 / Going Away / Just Fine / Here We Go / Nightmare / #2 / The Bottle / Down To The River / Dancehall Dreamer / Songs About Texas / 1-900 Lover / If I Had A Million / George's Bar |
| 02/2001 | CD GREEN HORSE 2002 (US) | | CARRY ON - Whiskey / Carry On / Ruby's Two Sad Daughters / You Gotta Know / Rusty Old American Dream / Crazy / Galleywinter / Washington Avenue / Take Me Out To A Dancehall / When Winter Comes To Town / Holdin' On / Louisiana Song |
| 03/2001 | CD WRITE ON 2000 (US) | | SONGS WE WISH WE'D WRITTEN - Pat GREEN & Cory MORROW -Are You Sure Hank Done It This Way? / Texas On My Mind / It's A Great Day To Be Alive / Paradise / I'd Have To Be Crazy / Ain't Leavin' Your Love / Stuck In The Middle With You / Live Forever / Crazy Wind / Red Bandana / Delia's Gone / Can't Find My Way Home |
| 10/2001 | CD UPTOWN / UNIVERSAL 016018-2 (US) | | THREE DAYS - Carry On / Threadbare Gypsy Soul / Three Days / Who's To Say / Galleywinter / Wrong Side Of Town / We've All Got Our Reasons / Whiskey / Crazy / Take Me Out To A Dancehall / Count Your Blessings / Southbound / Texas On My Mind |
| 02/2002 | CD SMITH ENTERTAINMENT ? (US) | | LIVE AT BILLY BOB'S TEXAS - Me And Billy The Kid / Take Me Out To A Dancehall / Southbound 35 / Going Away / Just Fine / Here We Go / Nightmare / #2 / The Bottle / Down To The River / Dancehall Dreamer / Songs About Texas / 1-900 Lover / If I Had A Million / George's Bar |
| 07/2003 | CD UNIVERSAL B0000562-02 (US) | | WAVE ON WAVE - Guy Like Me / Poetry / Wrapped / Wave On Wave / California / Sing 'til I Stop Crying / All The Good Things Fade Away / Run / I'm Tired / Eden's Gate / Elvis / Barricades / If I Was The Devil |
| 10/2004 | CD UNIVERSAL B0003522-02 (US) | | LUCKY ONES - Baby Doll / Lucky Ones / Somewhere Between Texas And Mexico / Don't Break My Heart Again / My Little Heaven / College / One Thing / Over And Over / Long Way To Go (Headed Home) / Temporary Angel / It's Time / Sweet Revenge |
| 08/2006 | CD BNA 82876-84583-2 (US) | | CANNONBALL - Cannonball / Way Back Texas / Love Like That / Dixie Lullaby / Feels Just Like It Should / Missing Me / Virginia Belle / Finder's Keepers / Won't Let Love / Lost Without You / I'm Trying To Find It / Love Had Something To Say / Learn How To Live / Sleeping With The Lights On |
| 01/2009 | CD SONY / BMG 88697-26909-2 (US) | | WHAT I'M FOR - Footsteps Of Our Fathers / What I'm For / Feeling Pretty Good Tonight / Lucky / In This World / Country Star / Let Me / In It For The Money / Carry On / In The Middle Of The Night |
| 05/2012 | CD SUGAR HILL 140782 (US) | | SONGS WE WISH WE'D WRITTEN II - All Just To Get To You / Streets Of Galilee / Jesus On A Greyhound / Even The Losers / Austin / If It Weren't For You / Soulshine / The World I Know / If I Had A Boat / I Am Too |
© Rocky Productions 27/02/2014