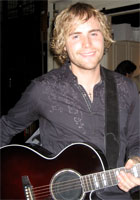 Chanteur Country US né le 12 Juillet 1985 à Edmonton (Alberta).

The marketing of youth acts that seemed to be rampant in the late '90s wasn't solely limited to pop acts with country singer Adam Gregory releasing his debut at the age of fifteen. However, the Edmonton-born Gregory had been focused on a career in music for years, first attracting attention before he was even in his teens and signing to Sony when he was fourteen. His debut, The Way I'm Made, was released in mid-2001 and received good notices and was a commercial success in his native Canada. The album notched four Top Ten singles there, including "Horseshoes," "Only Know I Do," "No Vacancy," and "Big Star" (all of which also proved to be equally as popular on country video outlets). Gregory also snagged two Juno Award nominations, four Canadian Country Music Awards, and spots on tours with The Wilkinsons, Paul Brandt, and Lonestar. His follow-up, Workin' On It, arrived a year later and included a duo with Billy Ray Cyrus, "When I Leave This House."
https://en.wikipedia.org/wiki/Adam_Gregory#:~:text=Adam%20Gregory%20(born%20July%2012,in%202006%20on%20Mensa%20Records.
Talents : Vocals, Guitar Songwriter, Actor
Style musical : Contemporary Country

http://youtu.be/nrdDZ3vQS54
Years in activity :
| | | | | | | | | | | | |
| --- | --- | --- | --- | --- | --- | --- | --- | --- | --- | --- | --- |
| 1910 | 20 | 30 | 40 | 50 | 60 | 70 | 80 | 90 | 2000 | 10 | 20 |
Albums
04/2001
CD SONY 480480 (CAN)
THE WAY I'M MADE - Only Know I Do / Horseshoes / No Vacancy / Big Star / City Boy's Dream / The Way I'm Made / Facts Of Life / Half Past Loving You / Too Young To Know / It Ain't Cool / The Ring / The Sky Is The Limit / Leavin' That Cowgirl With The Blues
06/2006
CD AQUARIUS 00625 (CAN)
ADAM GREGORY - Get It On / Really Love Someone / Just One Kiss / Feels Like Rain / Don't Wanna Love You Anymore / Boots On / She's So California / Twister Girl / One Breath / Don't Send The Invitation (If You Don'y Wanna Party) / Comin' Home To You / Walking With The Man
01/2007
CD EPIC 80744 (CAN)
WORKIN' ON IT - The World Could Use A Cowboy / Me Too / In The Country / Don't Think So / Could Have Fooled Me / Sweet Memories / Where It's At / Workin' On It / When I Leave This House / Walkin' / Don't Look The Other Way / Indian Summer / Memory Like That / End Of This Road
04/2009
CD PID 7309 (CAN)
CRAZY DAYS - Crazy Days / Could I Just Be Me / What It Takes / Fast Enough / Stronger / Down The Road / Get It While The Gettin's Good / If I'd Only / Then She Cried / Blue Corvette / What Would Jesus Do
02/2012
CD Calusa Entertainment / GMV CAL001 (US)

Different Places -

Can You Take It / Different Places / High On You / Just Say It / Loves You Right / Throwaway Day
© Rocky Productions 3/03/2013