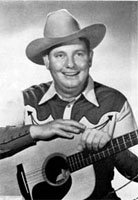 Chanteur Country US né en 1923, Buddy Griffin est le frère de Rex Griffin. Il fut un chanteur régulier au KRLD Big D Jamboree de Dallas (Texas).

The brother of Rex Griffin, Buddy Griffin spent a good part of his career in the shadow of his older sibling. The younger Griffin originally began performing without any encouragement from Rex, playing around Birmingham, Chattanooga, and Atlanta, often teamed up with fiddler Bobby Atchison, guitarist Doug Spivey, future Hee Haw regular Archie Campbell, and guitarist Pete Cassell. Buddy Griffin later joined his brother in Dallas at KRLD's Texas Round-Up in a combo with Rex, Georgia Slim, and Patty and Patsy Clary (Buddy's future wife). Buddy Griffin also played many recording sessions in the Dallas area, and made his recording debut in the late '40s on the Dude label with two songs, "Misery" and "The Same Tear Twice," credited to Otis West & His All-Star Cowboys, which showed the strong influence of his older brother.
During the mid-'50s, when Rex Griffin's performing career was in eclipse, Buddy Griffin was still leading a band and performing regularly, and also began recording for the tiny Ekko label. Those sides had the bad fortune to appear just as rock & roll was starting to hit in a big way, and never had much chance for success. When he wasn't playing with his own band in the Dallas area, much of Buddy Griffin's musical activity centered around recording demos of his brother's songs, including "Shuckin' Corn," "Don't Talk About Your Love Affairs to Me," and "The Gods of Love."
In the wake of Rex Griffin's death in 1958, Buddy Griffin became the principal guardian of his brother's legacy.
Talents : Singer, Guitar, Fiddle
Style musical : Traditional Country
Years in activity :
| | | | | | | | | | |
| --- | --- | --- | --- | --- | --- | --- | --- | --- | --- |
| 1910 | 20 | 30 | 40 | 50 | 60 | 70 | 80 | 90 | 2000 |
DISCOGRAPHY
Single
© Rocky Productions 6/03/2014