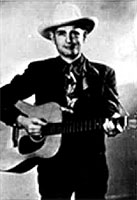 Chanteur Country US né Alsie Griffin, le 12 Août 1912 à Gadsden (Alabama). Rex Griffin est décédé le 11 Octobre 1959 à New Orleans (Louisiane).

As a songwriter, performer, and recording artist, Rex Griffin bridged the gap between Jimmie Rodgers and Hank Williams — indeed, it can be said that he bridged the gap between Rodgers and Buddy Holly, and between Rodgers and the Beatles. Griffin was among the first country music stars to record using his own material almost exclusively, and among the least of his accomplishments, one of his songs was covered (albeit without proper credit) by the Beatles. Griffin is the author of the original version of "Everybody's Tryin' to Be My Baby," which Carl Perkins later adapted into his own song, and the Beatles subsequently covered to the profit of all except Griffin, who'd been dead about six years when all of this happened.
Griffin is one of those pre-war figures in country music whose legacy has been unjustly overlooked. He had no hits of his own after 1939, although his biggest hit from that year — "The Last Letter" — continues to get recorded at the end of the century. He was also a direct inspiration to both Hank Williams (whose recording of "Lovesick Blues" was virtually a copy of Griffin's from ten years earlier) and Lefty Frizzell. One of country music's first singer/songwriters, Griffin was the model for figures including Floyd Tillman, Willie Nelson, and Merle Haggard (and one could even throw Buddy Holly in there). And, like Williams, his personal demons in love and substance abuse brought a premature end — albeit not as suddenly as Williams' — to Griffin's performing career and his life.
He was born Alsie Griffin, second of seven children of Marion Oliver Griffin and the former Selma Bradshaw. He grew up without much formal education and spent most of his early childhood on the farm that his family owned in Sand Valley. By the 1920s, Ollie Griffin was working in Gasden at the Agricola Foundry, and Alsie followed his father there. The family regarded music as a pastime to be pursued after finishing one's real work.
Alsie felt differently, however, wanting no part of farm life or the factory if there was any way of helping it. His first instrument was a harmonica, but it wasn't long before he picked up the guitar. Gasden didn't offer a big future in music, but Griffin took advantage of what was there, playing local parties and dances.
If the guitar was the first instrument that Griffin felt strongly about, his first love was the music of Jimmie Rodgers. He quickly adopted Rodgers' style as his own and never entirely abandoned elements of his music — especially the yodeling — even once he had his own style nailed down.
Griffin made his first professional appearance on a bill at the Gasden Theater in 1930, and not long after he moved to Birmingham, where better opportunities awaited. He joined the Smokey Mountaineers, and it was there that he got his new first name — the group's announcer had difficulty pronouncing Alsie, and simply renamed him Rex. The name stayed with him and he moved from city to city across the South, appearing on radio stations in Chattanooga, Atlanta, and New Orleans, among other cities.
His recording career began in 1935, when Griffin was signed to the newly formed Decca Record company, which already had the Sons of the Pioneers, Tex Ritter, Jimmie Davis, and Milton Brown in their roster of country artists. His first recording sessions were held in Chicago on March 25 and 26 of that year, during which he recorded ten songs, accompanied by his own guitar and Johnny Motlow on tenor banjo. All ten number were originals by Griffin, itself an astonishing achievement in those days. All of the material, both in its style and performance, recalled Rodgers — Griffin's yodeling never let one forget who his inspiration was, although the songs hold up well on their own terms. Also striking about the recordings is Motlow's banjo playing which, with its trilling, sounds almost like a mandolin.
Griffin's first releases were successful enough to justify another session for Decca nearly a year later in New Orleans. This time he provided the only accompaniment on ten of the songs and did two additional songs backed by an amplified steel guitar. Among the songs that came out of those sessions was "Everybody's Tryin' to Be My Baby," which in this context sounds almost like a blues composition, recalling works such as Tampa Red's "Tight Like That." The piece was also a dazzling guitar showcase for Griffin, whose prowess on the instrument was considerable. This blues influence was no fluke — "I'm Ready to Reform" from the same session is a superb piece of white blues that can fool listeners as to its origins as easily as Autry's or Rodgers' best blues sides.
Griffin's records continued to sell well, and in May of 1937, this time in New York, he cut two more sides, including his most famous number. "The Last Letter" became his biggest hit, a suicide note set to music. Stories vary as to its origins, the most commonly circulated one being that Griffin, who had a taste for alcohol that would later blight his life, was in a drunken depression over his failing first marriage when he wrote the note, and later set it to music as sobering up. Whatever the circumstances of its composition, the record caught on and became a hit throughout the South, and also brought Griffin the adulation of many of his colleagues, most notably Ernest Tubb, whose 20-year friendship with Griffin began over "The Last Letter."
The song was covered by other artists, including Jimmie Davis, soon after its release. Gene Sullivan also covered three Griffin songs, including "Everybody's Tryin' to Be My Baby," in the late '30s, and even bandleader Bob Crosby cut Griffin's "I Told You So." Griffin's own career kept moving forward, with concerts and radio performances throughout the South that made him one of the more popular performers of the era.
Griffin's next recording sessions in September of 1939 yielded a dozen songs, including the follow-up to his biggest hit, "Answer to the Last Letter," and his recording of "Lovesick Blues," which was to be the model for Williams' recording nearly a decade later that made Hank a star. Also recorded at the session was "Nobody Wants to Be My Baby," a fast, breezy honky tonk-style number and one of several songs on which Griffin was backed by guitarist Ted Brooks and bassist Smitty Smith. The latter is also a beautiful piece of bluesy honky tonk and deserves to be better known.
Despite the success of "The Last Letter," Griffin's record sales were too poor overall to justify the label keeping him, and he was dropped by Decca after 1939. In the mid-'30s, he had played with Billy Walker and Her Texas Cowboys in New Orleans, and in 1940 he rejoined her band in Memphis. He later moved back to Alabama to spend more time with his ailing mother and appeared locally for the next few years. Among the places he played often was the notorious crime-ridden Alabama town of Phenix City, which would later become the subject of two feature films. In Gasden, he performed with a group called the Melody Boys, which included two future members of Tubb's Texas Troubadours.
In 1941, following the death of his mother, Griffin moved to Dallas, where he had a regular spot on KRLD's Texas Round-Up. His popularity from these broadcasts made Griffin a natural to take over the Texas Round-Up. This was to be his best broadcast showcase, and had it not been for the war, Griffin might've become a major star from his work on KRLD. As it was, the show ended in 1943 as the available talent dwindled amid continued military call-ups.
Griffin moved to Chicago in 1944, and it was there that he made his next batch of recordings. These 16 sides — recorded with a band that may have included Red Foley on guitar — were not intended for commercial release. Rather, they were made for Decca Records' World Transcription Services, for broadcast over the air by radio stations that licensed them.
Despite these recordings for the company's transcription division, there was no interest at the time in trying to release new commercial sides by Griffin. To hear the material today is to glimpse some of the best honky tonk-style music of the era — by that time, Griffin had taken on a more modern style, and he had even cut his Rodgers-inspired yodeling to a minimum. In addition to capturing Griffin performing "live" in the studio, these are among the few sides he left that feature him working with a band and, thus, show something of the sound he must've had during that early-'40s Dallas period.
The oversight by the record company, in terms of offering him a new contract, is difficult to explain. It is possible, however, that the wartime rationing of shellac (a key ingredient in 78 rpm records) had so dampened interest in any risky new ventures (the record business at one point seemed doomed to shut down) that Griffin never had a chance with his old label.
He made his last recordings in 1946 for Cincinnati-based King Records, which had previously recorded Grandpa Jones, the Delmore Brothers, and Merle Travis, among others. Griffin cut eight sides for King, backed by Homer & Jethro on guitars and mandolin. The sides showed Griffin in decent form, an easygoing honky tonk singer with a smooth style and a good voice, but lacking the sharp edge to his singing and playing that sparked his earlier work, clearly on the decline by this time.
These proved to be his last recording sessions. His worsening diabetic condition, complicated by drinking and other dietary abuses, forced an end to Griffin's career, and the collapse of his second marriage late in the 1940s sent him into a personal tailspin. He moved to Dallas and still wrote songs, and when his health allowed (he was hospitalized several times), he pitched them actively to singers who had recording contracts, including Ray Price, who cut "Answer to the Last Letter," "Beyond the Last Mile," and "I Saw My Castles Fall Today."
His friendship with Tubb blossomed into a profitable professional relationship for both, as Tubb recorded many of Griffin's songs, and Griffin also became close to Tubb's nephew, Douglas Glenn Tubb. Their interest, coupled with the quality of his work, sustained Griffin during the 1950s, and in 1955 he wrote "Just Call Me Lonesome," his last hit, recorded by Eddy Arnold and Red Foley. His last years were blighted by further ill health, as Griffin was diagnosed with tuberculosis. He was confined to a New Orleans hospital for what proved to be the final months of his life, and died in October of 1959.
Griffin's death at the age of 46 was a great loss to country music. Moreover, his lack of any hit recordings of his own after 1939 resulted in there never being an LP release of his songs — there was no impetus on the part of Decca Records to explore his recording history, and he was left in limbo as a recording artist, a distant memory to older listeners. The possibility of Decca's successor, MCA Records, doing anything with Griffin's music in the 1990s or beyond seems even more remote.
The songs he wrote, however, have endured over the 40 years since. Hank Thompson recorded "An Old Faded Photograph" in 1960, and "The Last Letter" was re-recorded by Jack Greene in 1964 and became a hit once again. Soon after, Tubb cut an entire album of Griffin songs, and other artists who have covered "The Last Letter" include Willie Nelson, Asleep at the Wheel, Waylon Jennings, and Merle Haggard. At the time of his death, Griffin's quarterly royalty statement from the publisher of his newest songs was 18 dollars and change, a situation that had changed drastically by the 1960s. Additionally, his song "Everybody's Tryin' to Be My Baby," as appropriated by Carl Perkins — the inability of the family to protect the copyright probably cost his daughters millions in royalties — and later covered by the Beatles, has become a rock & roll standard only slightly less familiar than "Blue Suede Shoes" or "Maybelline." And then there was his version of "Lovesick Blues," which Williams freely admitted to having learned from Griffin, even though Hank was also familiar with the Emmett Miller original — Griffin did make changes in the lyrics and structure of the song that Williams kept in his version.
In 1970, in recognition of his achievements as a composer, Griffin was among the very first composers inducted into the newly founded National Songwriters' Hall of Fame in Nashville. In 1996, Bear Family Records of Germany released a long overdue triple-CD career retrospective on Griffin entitled The Last Letter.
https://en.wikipedia.org/wiki/Rex_Griffin
Talents : Vocals, Guitar, Songwriter
Style musical : Traditional Country, Honky Tonk
Years in activity :
| | | | | | | | | | | | |
| --- | --- | --- | --- | --- | --- | --- | --- | --- | --- | --- | --- |
| 1910 | 20 | 30 | 40 | 50 | 60 | 70 | 80 | 90 | 2000 | 10 | 20 |
DISCOGRAPHY
78 t. & Singles
| | | |
| --- | --- | --- |
| 04/1935 | 78 t. DECCA 5088 (US) | Love Call Yodel / Trail To Home Sweet Home |
| 04/1935 | 78 t. DECCA 5089 (US) | I Don't Love Anybody But You / Blue Eyes Lullaby |
| 07/1935 | 78 t. DECCA 5118 (US) | Why Should I Care If You're Lonely / Mean Woman Blues |
| 10/1935 | 78 t. DECCA 5147 (US) | Just For Old Times Sake / Let Me Call You Sweetheart Again |
| 04/1936 | 78 t. DECCA 5202 (US) | I'm Just Passing Through / Setting On The Old Settee |
| 06/1936 | 78 t. DECCA 5227 (US) | Walking Blues / Would You Leave Me Alone |
| 08/1936 | 78 t. DECCA 5250 (US) | I Love You Nellie / If You Call That Gone Good |
| 10/1936 | 78 t. DECCA 5269 (US) | Old Faded Photograph / Last Love Call Yodel |
| 11/1936 | 78 t. DECCA 5294 (US) | Everybody Tryin' To Be My Baby / I'm Ready To Reform |
| 06/1937 | 78 t. DECCA 5383 (US) | The Last Letter / Over The River |
| 07/1937 | 78 t. DECCA 5395 (US) | Yodeling Cowboy's Last Song / Sweet Mama Hurry Home |
| 11/1939 | 78 t. DECCA 5745 (US) | Answer To Last Letter / Just Partners |
| 12/1939 | 78 t. DECCA 5764 (US) | An Old Rose & A Curl / Beyond The Last Mile |
| 12/1939 | 78 t. DECCA 5770 (US) | Lovesick Blues / My Hill Billy Baby |
| 01/1940 | 78 t. DECCA 5786 (US) | I'll Never Tell You / Nobody Wants To Be My Baby |
| 02/1940 | 78 t. DECCA 5798 (US) | You Got To Go To Work / Maybe You'll Think Bout Me |
| 03/1940 | 78 t. DECCA 5814 (US) | I Think I'll Give Up / I Love You As Before |
| 1947 | 78 t. KING 584 (US) | How Can I Be Sure / I'm Free As The Breeze |
| 1947 | 78 t. KING 594 (US) | I Don't Mean To Be Mean / I Lost Again |
| 1949 | 78 t. & SP CORAL 64007 (US) | The Last Letter / The Lovesick Blues |
| 1949 | SP DELUXE 5061 (US) | I'm Crying Inside / A Thousand Times Or More |
| 1951 | SP FEDERAL 10009 (US) | Don't You Know Me Anymore / Heart To Heart |
| | |
| --- | --- |
| | |
Album
1996
CD BEAR FAMILY BCD 15911 (GER)
THE LAST LETTER :

CD 1 :

Why Should I Care If You're Blue :

Blue Eyes Lullaby / Just For Old Times Sake / Love Call Yodel / I Don't Love Anybody But You / The Trail To Home Sweet Home / Let Me Call You Sweetheart Again / Mean Woman Blues / Dixieland Sweetheart / Down In Old Alabama / Everybody's Tryin' To Be My Baby / If You Call That Gone Goodbye / The Yodeling Cowboy's Last Song / I Love You Nellie / I'm Just Passing Through / I'm Ready To Reform / The Walkin' Blues / An Old Faded Photograph / Sittin' On The Old Settee / Sweet Mama Hurry Home / Would You Leave Me Alone, Little Darling / The Last Love Call Yodel / The Last Letter / Over The River / Answer To `The Last Letter' / My Hillbilly Baby / I Think I'll Give Up (It's All Over Now) / Beyond The Last Mile
CD 2 :

Just Partners :

Lovesick Blues / I Love You As Before / I'll Never Tell You That I Love You / Nobody Wants To Be My Baby / Maybe You'll Think About Me / You Got To Go To Work / An Old Rose And A Curl / Everybody's Trying To Be My Baby / I Don't Love Anybody But You / I'm Just Passin' Through / Let Me Call You Sweetheart / I'm Ready To Reform / Just For Old Time's Sake / The Walkin' Blues / An Old Faded Photograph / The Trail To Home Sweet Home / Nobody Wants To Be My Baby / Mean Woman Blues / Why Should I Care If You're Blue / I Love You Nellie / Yum Yum Blues / Toodle-Oo Sweet Mama / Too Good To Be True / That Old Sweetheart Of Mine / Blue Eyes Lullaby / The Yodeling Cowboy's Last Song / Love Call Yodel
CD 3 :

How Can I Be Sure

: I'm Crying Inside / I Don't Mean To Be Mean / A Thousand Times Or More / I'm Free As The Breeze / I Lost Again / Misery (Buddy GRIFFIN) / The Same Tear Twice (Buddy GRIFFIN) / The Last Letter (Buddy GRIFFIN) / No Love, No Heartaches (Buddy GRIFFIN) / If You Call That Gone Goodbye (Buddy GRIFFIN) / You Got To Go To Work (Buddy GRIFFIN) / The Gods Of Love (Buddy GRIFFIN) / Shuckin' Corn (Buddy GRIFFIN) / High And Dry (Buddy GRIFFIN) / Don't Talk About You Love (Buddy GRIFFIN) / Don't Hold Your Breath (Buddy GRIFFIN) / My Carolina Mountain Home (Buddy GRIFFIN) / Let Me Walk Along Beside You (Buddy GRIFFIN) / Just Wait And See (Buddy GRIFFIN) / Bartender's Girl (Buddy GRIFFIN) / A Red Rose, A Bouquet Or A Roomful (Buddy GRIFFIN)
© Rocky Productions 18/07/2008