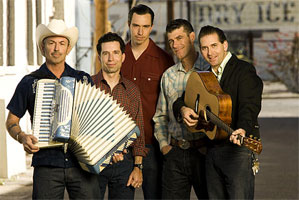 Groupe Country US formé en 2002, les Hacienda Brothers sont composés de Chris Gaffney, Dave Gonzalez, Dave Berzansky, Dale Daniel et Hank Maninger.

Playing classic-style country music with a strong undertow of vintage soul, the Hacienda Brothers are a collaboration between two gifted roots music artists. vocalist Chris Gaffney is a singer and songwriter who has released several albums with his band, the Cold Hard Facts, and recorded and toured as a member of Dave Alvin & the Guilty Men, while Dave Gonzalez is best known as the guitarist, singer, and songwriter with the veteran blues-rockabilly combo the Paladins. Longtime friends Gaffney and Gonzalez first performed together when they played an informal set for a mutual friend's birthday party in 2002; Gonzalez was impressed with the results, and as he was looking for an outlet for the country-style songs he was unable to perform with the Paladins, he proposed a more formal collaboration.
Teaming up with David Berzansky on pedal steel, Hank Maninger on bass, and Dale Daniel on drums, the duo adopted the name the Hacienda Brothers, and set up a base of operations in Tucson, AZ. Gonzalez, who has a passionate interest in vintage cars, struck up a friendship with fellow gearhead Dan Penn, the legendary producer and songwriter who was a key figure in the Muscle Shoals sound crew, and he persuaded Penn to produce the debut Hacienda Brothers album. Penn also contributed two songs to the sessions, which appeared on the group's self-titled 2005 release. What's Wrong with Right was released the following year.
http://www.haciendabrothers.com/
Talents : Chris Gaffney : Vocals, Accordion - Dave Gonzalez : Vocals, Guitar - Dave Berzansky : Pedal Steel Guitar - Dale Daniel : Drums - Hank Maninger : Bass Guitar
Style musical : Contemporary Country, New Traditionalist, Bakersfield Sound, Honky Tonk

http://youtu.be/-nt5BgMGJyI
Years in activity :
| | | | | | | | | | | |
| --- | --- | --- | --- | --- | --- | --- | --- | --- | --- | --- |
| 1910 | 20 | 30 | 40 | 50 | 60 | 70 | 80 | 90 | 2000 | 10 |
DISCOGRAPHY
Albums
02/2005
CD KOCH KOC-CD-9842 (US)

HACIENDA BROTHERS -

She's Gone / Mental Revenge / Leavin' On My Mind / Proud To Be Your Man / South Of Lonesome / Looking For Loneliness / Walkin' On My Dreams / Railed / No Time To Waste / Years That Got Away / Seven Little Numbers / I've Got A Secret / Turn To Grey / Saguaro
06/2006
CD PROPER SALES 700104 (US)

WHAT'S WRONG WITH RIGHT -

Midnight Dream / What's Wrong With Right / Keep It Together / Cry Like A Baby / It Tears Me Up / The Last Time / If Daddy Don't Sing Danny Boy / Rebound / Cowboys To Girls / Different Today / Life's Little Ups And Downs / The Warning / SonOof Saguaro
08/2007
CD HACIENDA BROTHERS ? (US)
MUSIC FOR RANCH & TOWN - LIVE - Intro / Railed / Mental Revenge / Turn To Grey / Leavin' On My Mind / Walkin' On My Dreams / Cry Like A Baby / Since I Met You Baby / Band Intro / Home Of The Blues / No Time To Waste / Seven Little Numbers / If I'm Gonna Sink / Brotherized / Cowboys To Girls / Gone
06/2008
CD PROPER AMERICAN

HB 002 (US)

ARIZONA MOTEL -

A Lot Of Days Are Gone / I'll Come Running / Uncle Sam's Jail / Big Town City / Use To The Pain / Ordinary Fool / Light It Again Charlie / Soul Mountain / When You're Tired Of Breaking Other Hearts / Look Into The Future / I Still Believe / Long Way To Town / Divorce Or Destroy / Break Free
© Rocky Productions 19/03/2012