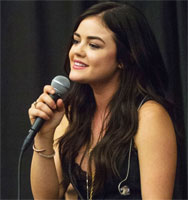 Actrice et chanteuse Country US née Karen Lucille Hale, le 14 Juin 1989 à Memphis (Tennessee).

Lucy Hale started her professional career early, appearing on American Juniors as part of a Vocals group that came close to winning the televised competition in 2003. Hale, a native of Memphis, Tennessee, was just 14 but this was the beginning of a career that truly took off in 2010 when she was cast as Aria Montgomery on Pretty Little Liars, an ABC Family mystery-drama that turned into a cult sensation not long afterward. This cult helped Hale establish her popularity outside of the show, and she seized the opportunity to pursue a career as a vocalist, releasing her debut album, The Road Between, in June 2014.
The Road Between was a country album, reflecting her Southern roots, but earlier she sang pop, both in her American Juniors group and in 2011, when she had a starring role in A Cinderella Story: Once Upon a Song, a direct-to-DVD sequel to the 2004 film. This role helped her land a recording contract with Hollywood Records in 2012 and she started working on her debut that year, but the popularity of Pretty Little Liars slowed down the process. The show kept her busy but she finally completed the album with producer Mike Daly in 2014. "You Sound Good to Me," the first single from the record, appeared in January of that year, reaching 21 on the Billboard Hot Country Songs chart and paving the way for the album's June release.
https://en.wikipedia.org/wiki/Lucy_Hale
Talents : Actress, Vocals, Songwriter
Style musical : Pop Idol, Contemporary Country, Country-Pop

https://youtu.be/nEO139KXB6s
Years in activity :
| | | | | | | | | | | | |
| --- | --- | --- | --- | --- | --- | --- | --- | --- | --- | --- | --- |
| 1910 | 20 | 30 | 40 | 50 | 60 | 70 | 80 | 90 | 2000 | 10 | 20 |
DISCOGRAPHY
Albums
09/2011
CD WaterTower WTM39259 (US)

A Cinderella Story - Once Upon a Song -

Run This Town / Bless Myself / Make You Believe / Knockin (Lucy

Hale

feat: Freddie

Stroma

) / Extra Ordinary / Oh Mere Dilruba (Lucy H

ale

feat: Manu N

arayan

) / Possibilities (Lucy H

ale

feat: Freddie

Stroma

) / Twisted Serenade (Lucy H

ale

feat:

Big Pain Ticket) /

Knockin (Lucy H

ale

feat: Oral

Majority

) / Crazy Girl (Lucy H

ale

feat: The

Co-Writes

)
06/2014
CD DMG / Universal D 002020792 (US)

Road Between -

You Sound Good To Me / From The Backseat / Nervous Girls / Red Dress (Lucy H

ale

feat: Joe

Nichols

) /

Goodbye Gone / Kiss Me / Road Between / Lie A Little Better / That's What I Call Crazy / Love Tonight / Just Another Song
© Rocky Productions 9/06/2014