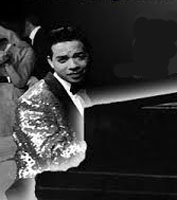 Chanteur Rhythm 'n' Blues US né le 5 janvier 1929 à Charlotte (Caroline du Nord). Wilbert Harrison accéda à la première place du Billboard en 1959 grâce à chanson "Kansas City". Ce titre fut écrit en 1951 et fut le premier issu de la collaboration entre Jerry Leiber et Mike Stoller. Harrison enregistra "Kansas City" pour le producteur Bobby Robinson qui fit scandale avec Herman Lubinsky et Savoy Records.
Les chansons d'Harrison étaient notables notamment grâce à la participation régulière du guitariste Wild Jimmy Spruill dont le solo de guitare sur "Kansas City" est l'un des plus mémorables de l'histoire du Rock'n Roll.
Après ce succès, Harrison continua à se produire et à enregistrer mais il se passe 10 années avant qu'il enregistrait "Let's Work Together" qui le propulsa dans le Billboard Hot 100 et qui fut repris par la suite par Canned Heat dans une version légèrement modifiée et coupée. A la suite de ceci, ce titre fut repris par Bryan Ferry en 1976. En 1970, il renoua avec le succès grâce à sa chanson "My Heart Is Yours". Par la suite, il se produisit durant des années avec un groupe appelé "Wilbert Harrison and The Roamers" ou encore en solo.
Wilbert Harrison est mort le 26 Octobre 1994 dans une maison de retraite à Spencer (Caroline du Nord) à l'âge de 65 ans. En 2001, il reçut un Grammy Hall of Fame Award pour son succès "Kansas City".

Perceived by casual oldies fans as a two-hit wonder (his 1959 chart-topper "Kansas City" and a heartwarming "Let's Work Together" a full decade later), Wilbert Harrison actually left behind a varied body of work that blended an intriguing melange of musical idioms into something quite distinctive.
Country and gospel strains filtered into Wilbert Harrison's consciousness as a youth in North Carolina. When he got out of the Navy in Miami around 1950, he began performing in a calypso-based style. Miami entrepreneur Henry Stone signed Harrison to his Rockin' logo in 1953; his debut single, "This Woman of Mine," utilized the very same melody as his later reading of "Kansas City" (the first rendition of the Jerry Leiber/Mike Stoller composition by pianist Little Willie Littlefield came out in 1952, doubtless making an impression). Its flip, a country-tinged "Letter Edged in Black," exhibited Harrison's eclectic mindset.
After moving to Newark, NJ, Harrison wandered by the headquarters of Savoy Records one fortuitous day and was snapped up by producer Fred Mendelsohn. Harrison recorded several sessions for Savoy, beginning with a catchy cover of Terry Fell's country tune "Don't Drop It." Top New York sessioneers — arranger Leroy Kirkland, saxist Buddy Lucas and guitarists Mickey Baker and Kenny Burrell — backed Harrison on his 1954-56 Savoy output, but hits weren't forthcoming.
That changed instantly when Harrison waxed his driving "Kansas City" for Harlem entrepreneur Bobby Robinson in 1959. With a barbed-wire guitar solo by Wild Jimmy Spruill igniting Harrison's no-frills piano and clenched vocal, "Kansas City" paced both the R&B and pop charts soon after its issue on Fury Records (not bad for a $40 session). Only one minor problem: Harrison was still technically under contract to Savoy (though label head Herman Lubinsky had literally run him out of his office some years earlier!), leading to all sorts of legal wrangles that finally went Robinson's way. Momentum for any Fury follow-ups had been fatally blunted in the interim, despite fine attempts with "Cheatin' Baby," the sequel "Goodbye Kansas City," and the original "Let's Stick Together."
Harrison bounced from Neptune to Doc to Constellation to Port to Vest with little in the way of tangible rewards before unexpectedly making a comeback in 1969 with his infectious "Let's Work Together" for Juggy Murray's Sue imprint. The two-part single proved a popular cover item — Canned Heat revived it shortly thereafter, and Bryan Ferry chimed in with his treatment later on. Alas, it was an isolated happenstance — apart from "My Heart Is Yours," a bottom-end chart entry on SSS International in 1971, no more hits were in Wilbert's future. But Harrison soldiered on, sometimes as a one-man band, for years to come.
Talents : Singer, Guitar, Piano
Style musical : Early Rhythm 'n' Blues, Rock 'n' Roll, Pop / Blues

http://www.youtube.com/watch?v=dAmDxxLV_vw
KANSAS CITY

LET'S WORK TOGETHER
Années en activité :
| | | | | | | | | | | |
| --- | --- | --- | --- | --- | --- | --- | --- | --- | --- | --- |
| 1910 | 20 | 30 | 40 | 50 | 60 | 70 | 80 | 90 | 2000 | 10 |
DISCOGRAPHY
78 t., Singles
| | | |
| --- | --- | --- |
| 01/1954 | SP NEPTUNE 123 (US) | Off To Work Again / After Graduation |
| 1954 | 78 t. SAVOY 1138 (US) | The Ways Of A Woman / Don't Drop It |
| 195? | 78 t. SAVOY 1149 (US) | Women And Whiskey / Da Dee Ya Du |
| 1955 | 78 t. SAVOY 1164 (US) | Florida Special / Darling Listen To This Song |
| 195? | 78 t. SAVOY 1198 (US) | Confessin' My Dream / ? |
| 195? | 78 t. SAVOY 1517 (US) | I Know My Baby Loves Me / My Love Is Ture |
| 1959 | 78 t. SAVOY 1571 (US) | Baby Don't You Know / Don't Drop It |
| 1959 | SP FURY 1023 (US) | Kansas City / Listen, My Darling |
| 1959 | SP FURY 1027 (US) | Cheating Baby / Don't Wreck My Life |
| 1960 | SP FURY 1028 (US) | Goodbye Kansas City / 1960 |
| 1960 | SP FURY 1031 (US) | C.C. Rider / Why Did You Leave? |
| 1960 | SP FURY 1037 (US) | Since I Fell For You / Little School Girl |
| 1961 | SP FURY 1041 (US) | The Horse / Da-De-Ya-Da (I'd Do Anything For You) |
| 1961 | SP FURY 1047 (US) | Happy In Love / Calypso Dance |
| 1961 | SP FURY 1055 (US) | Drafted / My Heart Is Yours |
| 1962 | SP FURY 1059 (US) | Let's Stick Together / Kansas City Twist |
| 1962 | SP FURY 1063 (US) | Let's Stick Together / My Heart Is Yours |
| 19?? | SP DOC 1001 (US) | Off To School Again / Broke |
| 19?? | SP DOC 1002 (US) | Broke / ? |
| 19?? | SP PORT 3003 (US) | Baby Move On / You're Still My Baby |
| 19?? | SP PORT 3009 (US) | Sugar Lump / Don't Take It So Hard |
| 19?? | SP GLADES 603 (US) | Gonna Tell You A Story / Letter Edged In Black |
| 1971 | SP WET SOUL 4 (US) | Pretty Little Women / My Heart Is Yours |
| 1972 | SP HOTLINE 101 (US) | Amen / Get It While You Can |
albums
1965
LP 12" SPHERE SOUND LP-7000 (US)
KANSAS CITY - Kansas City / Listen My Darling / Cheatin' Baby / Don't Wreck My Life / Messed Around (And Fell In Love) / Why Did You Leave / My Love / Since I Fell For You / C.C. Rider / Da-De-Ya-Da / The Horse / Good-Bye Kansas City
10/1969
LP 12" ? (US)
LET'S WORK TOGETHER - Louie Louie / Let's Work Together / Kansas City / Tropical Shakedown / Blue Monday / Forgive Me / Soul Rattler / What Am I Living For / Stagger Lee / Stand By Me
1970
LP 12" BELL 6044 (US)
THE BEST OF WILBERT HARRISON
1971
LP 12" BUDDAH BDS 5092 (US)
WILBERT HARRISON -

My Babe / Ain't That A Shame / Honest I Do / Going To The River / Girls On Parade / When The Saints Go Marching In / Blueberry Hill / You Can Make It If You Try / My Dream / Cold Cold Heart

1971
LP 12" WET SOUL WS-1001 (US)
ANYTHING YOU WANT
1971
LP 12" JUGGERNAUT 8803 (US)
SHOOT YOU FULL OF LOVE
1976
LP 12" CHELSEA 523 (?)
SOUL FOOD MAN
1985
LP 12" CHARLY CRB 1102 (UK)
LOVIN' OPERATOR - Kansas City / Blueberry Hill / On Top Of Old Smokey / Why Did You Leave / Da-De-Ya- Da / Pretty Little Woman / Lovin' Operator / My Dream / Let's Stick Together / Mary Ann / I Really Love You / Don't Wreck My Life / Sweet Baby (Cheatin' Woman) / Tell On Yourself / I Will Never Trust Another Woman
1986
LP 12" KRAZY KAT 7439 (UK)
SMALL LABELS
1987
LP 12" SAVOY SJL-1182 (US)
LISTEN TO MY SONG
1989
LP 12" GRUDGE 4510-2-F10 (US)
GREATEST CLASSIC R&B HITS - Stand By Me / Let's Work Together / Kansas City / CC Rider / Peepin' And Hidin' / Louie, Louie / Stager Lee / Tropical Shakedown / Lil' Liza Jane / Cheatin' Baby / What Am I Living For / Soul Rattler / Bring It On Home To Me / Nobody, Like My Baby
1992
CD RELIC 7035 (US)
KANSAS CITY - Kansas City / Cheatin' Baby / Let's Stick Together / A Woman In Trouble / My Love / C.C. Rider / Since I Fell For You / It's Been A Long Time / Don't Wreck My Life / Little School Girl / Messed Around And Fell In Love / Kansas City Twist / Listen My Darling / Pretty Little Women / The Horse / Goodbye Kansas City / Why Did You Leave / Da-De-Ya-Da / At The World's Fair / 1960 / Don't Drop It / Drafted
06/1994
CD COLLECTABLES 5294 (US)
KANSAS CITY - HIS LEGENDARY GOLDEN CLASSICS - Kansas City / Let's Work Together, Parts 1 & 2 / Don't Drop It / Stagger Lee / C.C. Rider / Cheatin' Baby / The Horse / Stand By Me / Since I Fell For You / Have Some Fun / My Love / 1960 / Blue Monday / Don't Wreck My Life / Why Did You Leave? / Walking By The River / Da-De-Ya-Da / Listen My Darling / Forgive Me / Pretty Little Woman / Poison Ivy / A Woman In Trouble / It Took A Long Time / Messed Around And Fell In Love / Goodbye Kansas City
08/2000
CD AIM 20 (AUS)
KANSAS CITY - THE BEST OF WILBERT HARRISON - Let's Work Together, Pt. 1 & 2 / Kansas City / What Am I Living For? / C.C. Rider / Stagger Lee / Going To The River / Honest I Do / I Don't Know / Just Because / He'll Have To Go / My Babe / I Got To Know / I'll Never Trust Another Woman / My Dream / Li'l Liza Jane / My Love / Clementine / New York World's Fair / Until The Real Thing Comes Along / Girls On Parade / When The Saints Go Marching In
08/2006
CD FUEL 2000 061599 (US)
AN INTRODUCTION TO WILBERT HARRISON - Kansas City / Let's Stick Together / I Will Never Trust Another Woman / Near To You / I Got To Know / My Heart Is Yours / (It Will Have To Do) Until The Real Thing Comes Along / Please Forgive Me / Baby Move On / You're Still My Baby / After Graduation / Off To Work Again / Clementine / Pretty Little Woman / Say It Again / Poison Ivy
08/2009
CD COLLECTABLES COL-CD-1418 (US)
WILBERT HARRISON MEETS LEE DORSEY - Kansas City / Lets Work Together, Pts. 1-2 ) / Don't Drop It / Stagger Lee / Goodbye Kansas City / Working In A Coal Mine (Lee DORSEY) / Ride Your Pony (Lee DORSEY) / Ya Ya (Lee DORSEY) / Mess Around (Lee DORSEY) / Do Re Mi (Lee DORSEY)
© Rocky Productions 19/01/2010