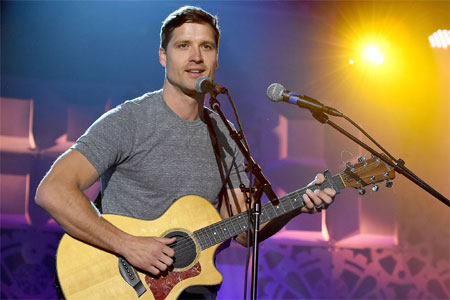 Chanteur Country US né Charles Edgar Walker Hayes, le 27 Décembre 1979 à Mobile (Alabama).

It took Walker Hayes over a decade to break into the country mainstream, but when he finally landed a Top Ten hit in 2017, "You Broke Up with Me" landed with the force of an explosion -- appropriate, since its parent album was called boom. This 2017 album came six years after his full-length debut, Reason to Rhyme, announced a promising talent in a bro-country vein, but boom. was fresh work that fused modern R&B, contemporary country, hip-hop, and rock, announcing a distinctive talent. Hayes consolidated this breakthrough with the clever "Fancy Like," which reached number one on Billboard's Country charts in 2021.
Hayes is a native of Mobile, Alabama, born in that city on December 27, 1979. He grew up in Mobile, dividing his time between music and sports as a child and teenager. He wound up earning a music degree from Alabama's Birmingham-Southern College, then attended the University of North Carolina at Chapel Hill. He and his wife moved to Nashville in 2005 with dreams that he would become a professional musician. He signed a song publishing deal and then, on the strength of a demo he recorded for Keith Urban, Hayes inked a deal with Mercury before quickly moving to Capitol Records. Hayes released his debut single, "Pants," in 2010, which wound up reaching 60 on the Hot Country Songs chart. The full-length Reason to Rhyme followed in 2011, but it didn't chart.
Over the next few years, Hayes worked as a songwriter, landing placements with Colt Ford and Rodney Atkins in 2014. Capitol dropped him, so he worked at Costco as he continued to write, releasing the single "Pimpin' Joy" to little attention in 2014. Shane McAnally signed him to SMACK/RareSpark in 2016, leading him to release two EPs -- 8Tracks, Vol. 1: Good Shit and 8Tracks, Vol. 2: Break the Internet -- that year. Hayes landed a contract with Monument in 2017, which released "You Broke Up with Me" that year. The song became a hit, earning gold certification and setting up the release of the full-length boom. in December 2017. The album debuted at number six on the Top Country Albums chart, and peaked at number 37 on the Billboard 200.
Boom didn't generate another big hit and took Hayes a little while to climb back up the charts. The nostalgic "90's Country" didn't crack the Top 40 in 2018, nor did the sentimental "Don't Let Her" -- pulled from 8Tracks (Vol. 3): Black Sheep, a belated sequel to his 2016 EPs -- in 2019; the 2020 single "Trash My Heart" also didn't chart. Hayes finally returned to the charts in 2021 when "Fancy Like" made it to number one on Billboard's Hot Country Songs Chart, setting the stage for the June release of his EP Country Stuff.
https://en.wikipedia.org/wiki/Walker_Hayes
Talents : Vocals, Guitar, Piano, Songwriter
Style musical : Contemporary Country, Country Pop

https://youtu.be/G_zuB-ogIBw
Years in activity :
| | | | | | | | | | | | |
| --- | --- | --- | --- | --- | --- | --- | --- | --- | --- | --- | --- |
| 1910 | 20 | 30 | 40 | 50 | 60 | 70 | 80 | 90 | 2000 | 10 | 20 |
Singles & EP
| | | | |
| --- | --- | --- | --- |
| 2010 | CD Capitol 509999 17307 2 5 (US) (promo) | | Pants / Track 1 Repeats / 1st Research Hook / 2nd Research Hook |
| 09/2010 | CD Capitol ? (US) | | Pants / Kitchen Table / Cherry Stem / Naked |
| 2011 | CD Capitol 509990 98440 2 5 (US) (promo) | | Why Wait For Summer / Track 1 Repeats / 1st Research Hook / 2nd Research Hook |
Albums
| | | | |
| --- | --- | --- | --- |
| 10/2013 | DI Capitol ? (US) | | Reason To Rhyme - Pants / Kitchen Table / Cherry Stem / Naked / Why Wait For Summer / Mama's Hot / Speechless / My Best Friend's Fiancee / Tulips / Wax Paper Cups / Reason To Rhyme |
| 05/2016 | CD NOT ON LABEL ? (US) | | 8Tracks - Vol. 1 - Good Shit - You Broke Up With Me / Beautiful / Dollar Store / Mind Candy / Say Sober / Shades / Beer In The Fridge / Bad Thing (Good Shit) |
| 08/2016 | CD NOT ON LABEL ? (US) | | 8Tracks - Vol. 2 - Break The Internet - Break The Internet / You're Happy / Halloween (featuring – Nicolle Galyon) / Face On My Money / Beckett / The Comedian / Lela's Stars / Your Girlfriend Does |
| 12/2017 | CD Monument 88985-48324-2 (US) | | boom. - Beautiful / Shut Up Kenny / You Broke Up With Me / Halloween / Dollar Store / Beer In The Fridge / Beckett / Mind Candy / Prescriptions / Craig / Thank You |
| 2019 | CD Monument ? (US) | | 8Tracks - Vol. 3 - Black Sheep - Black Sheep / Love Hate / Dad's Sailboat / Chapel / Goldest / Wish I Could Drink / Acceptance Speech / Don't Let Her |
| 01/2022 | CD Monument 194399835326 (US) | | Country Stuff The Album - Drinking Songs / AA / Life With You / U Gurl / Delorean / Fancy Like / Craig (featuring - MercyMe) / What You Don't Wish For / Country Stuff (featuring - Jake Owen) / I Hope You Miss Me / Briefcase (featuring - Lori McKenna) / Cry / What If We Did |
© Rocky Productions 22/01/2022