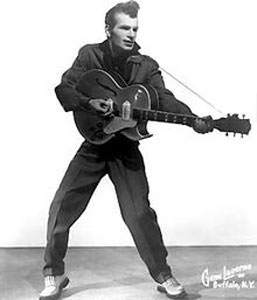 Chanteur Rockabilly US né le 27 Juin 1934 à Brighton (New York), Ersel Hickey est d'abord serrurier avant de trouver la clé du succès en 1957 chez Epic Records. Bien que peu connu, Ersel eût pourtant l'honneur de voir sa silhouette publiée dans de nombreux livres et magazines, une photo d'époque étant particulièrement caractéristique du Rocker-Guitariste du milieu des années cinquante. Ersel Hickey a tenté un retour en 1971 chez Janus Records, sans succès. Il avait depuis travaillé comme compositeur à Queens (New York). Ersel Hickey est décédé le 12 Juillet 2004.

Best remembered for the rockabilly classic "Bluebirds Over the Mountain," singer Ersel Hickey was born June 27, 1934, in Brighton, NY. After the 1938 death of his father, his mother suffered a nervous breakdown and, according to the www.rockabillyhall.com website, Hickey spent his formative years in a series of foster homes, ultimately hitting the road with his sister, an exotic dancer who performed under the name Chicky Evans. He also traveled the U.S. as a carny before settling in Columbus, OH, landing in a juvenile home and singing in a local gospel group. Inspired by Johnnie Ray, in 1951 Hickey entered a Columbus talent contest and took home top honors, winning $500 and committing himself to a career as a pop singer. After discovering Elvis Presley's landmark Sun recordings, Hickey switched his allegiance to rock & roll and in 1955 cut his debut single, the Fine label effort "Then I'll Be Happy."
While performing in Rochester, NY, Hickey stumbled upon Phil Everly and asked for his advice on launching a career. Told "Well, you got to have a song," he wrote "Bluebirds Over the Mountain" literally overnight and traveled to Buffalo the following morning, where he hired photographer Gene LaVerne to shoot a publicity still. The resulting photograph is arguably the zenith of Hickey's career. Rock scribe Peter Guralnick once wrote: "Take a look at the improbably sculpted helmet of hair, the tommy-gun guitar stance, the pleated pants, cocked leg, patent leather casual footwear and turned-up collar...guitar pick poised, background airbrushed out, every fold of clothing carefully arranged...what volumes it speaks of aspiration and style, fate and fantasy, revelation in artifice. It is in effect a self-portrait of rock & roll." LaVerne also put Hickey in touch with songwriter and manager Mike Corda, who immediately booked session time at New York's National Studio; "Bluebirds Over the Mountain" quickly caught the attention of Epic Records, who insisted on releasing the demo in its original mix, fearing re-recording might strip the material of its essence.
Epic issued "Bluebirds Over the Mountain" in January of 1958. Despite the label's enthusiasm, the record reached only number 75 on the Billboard pop charts, and would prove Hickey's biggest commercial hit. A series of Epic releases followed, among them 1958's "Lover's Land" and 1959's "You Threw a Dart" and "I Can't Love Another," before the label terminated his contract in the wake of 1960's "Stardust Brought Me You." Hickey then landed with Kapp, issuing "Teardrops at Dawn" and "Lips of Rose" in 1961 before landing with Apollo to release "The Millionaire" (later covered by Jackie Wilson) the following year. After Apollo went bankrupt, Hickey signed with Laurie long enough to release "Some Enchanted Evening," which would prove his last new recording for four years.
Making ends meet as a songwriter, in 1964 he did pen the Serendipity Singers' hit "Don't Let the Rain Come Down." The Toot label issued his 1967 comeback single, "Blue Skies," with "(Play On) Strings of Gitarro" appearing a year later. He recorded intermittently in the decades to follow, cutting "Oh Lord, Look What They've Done to Your Garden" for Black Circle in 1971, "Waitin' for Baby" for Rameses III in 1975, and "Let Me Be Your Radio" for Parkway in 1982. Later the subject of Bluebirds Over the Mountain, a typically excellent and comprehensive Bear Family retrospective, Hickey died following bladder removal surgery on July 12, 2004.
https://fromthevaults-boppinbob.blogspot.com/2015/06/ersel-hickey-born-27-june-1934.html
Talents : Vocals, Guitar
Style musical : Rockabilly, Rock 'n' Roll
Years in activity :
| | | | | | | | | | | | |
| --- | --- | --- | --- | --- | --- | --- | --- | --- | --- | --- | --- |
| 1910 | 20 | 30 | 40 | 50 | 60 | 70 | 80 | 90 | 2000 | 10 | 20 |
DISCOGRAPHY
Singles & EP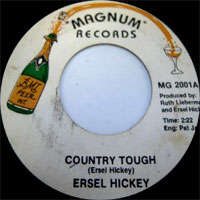 Unissued tracks
| | | |
| --- | --- | --- |
| 1958 | EPIC unissued - (Bear Family CD 15676 (#13)) | Due Time |
| 1958 | EPIC unissued - (Bear Family CD 15676 (#21)) | Roll On Little River |
| 1958 | EPIC unissued - (Back-Trac LP 18750 (#8) / Bear Family CD 15676 (#10) / Big Tone LP 18750 (#8) / Collectables CD 6479 (#15)) | Shame On Me |
| 1960 | EPIC unissued - (Bear Family CD 15676 (#20)) | Stardust Brought Me You [alt. vers.] |
| 1960 | KAPP unissued - (Bear Family CD 15676 (#16)) | Magical Love |
| 1960 | KAPP unissued - (Bear Family CD 15676 (#14)) | A Mighty Square Love Affair |
| 19?? | Unissued - (Hydra CD 27119 (#20)) | Heartbreak Hotel |
| 19?? | Unissued - (Hydra CD 27119 (#10)) | I'm Walkin' |
| 19?? | Unissued - (Hydra CD 27119 (#12)) | Juliet (instr.) |
| 19?? | Unissued - (Hydra CD 27119 (#29)) | Let Me Be Your Radio [alt. vers.] |
| 19?? | Unissued - (Hydra CD 27119 (#27)) | Music Man |
| 19?? | Unissued - (Hydra CD 27119 (#6)) | Pushin' (instr.) |
| 19?? | Unissued - (Hydra CD 27119 (#11)) | Street Car Of Desire |
| 19?? | Unissued - (Hydra CD 27119 (#28)) | Twice Times Down |
Need Info
| | | |
| --- | --- | --- |
| 19?? | Need info - (Hydra CD 27119 (#24)) | Rockabilly Dreams |
Albums
| | | | |
| --- | --- | --- | --- |
| 1975 ? | LP 12" KAPP 2601 (GER) | | BLUE BIRDS OVER THE MOUNTAIN - Going Down That Road / Love In Bloom / Wedding Day / You Threw A Dart / You Never Can Tell / Don't Be Afraid Of Love / I Guess You Could Call It Love / What Do You Want / Hanging Around / Another Wasted Day / Stardust Brought Me You / Blue Birds Over The Mountain / Lover's Land / Teardrops At Down / Self Made Man / Blue Birds Over The Mountain (AT) |
| 1985 | LP 12" BACK-TRAC P-18750 (US) | | THE ROCKIN' BLUEBIRD - Bluebirds Over The Mountain / Hangin' Around / You Never Can Tell / Lover's Land / Goin' Down That Road / Love In Bloom / Shame On Me / What Do You Want ? /Stardust Brought Me You / Don't Be Afraid Of Love |
| 01/1994 | CD BEAR FAMILY BCD 15676 (GER) | | ERSEL HICKEY BLUEBIRDS OVER THE MOUNTAIN - Bluebirds Over The Mountain (US version) / Hangin' Around / You Never Can Tell / The Wedding / Lover's Land / Goin' Down That Road / Love In Bloom / Another Wasted Day / You Threw A Dart / Shame On Me / What Do You Want? / Stardust Brought Me You / Due Time (incomplete)/A Mighty Square Love Affair / Teardrops At Dawn / Magical Love / I Guess You Could Call It Love / Lips Of Roses / What Have You Done To Me? / Stardust Brought Me You / Roll On Little River (nnknown) / Don't Be Afraid Of Love / People Gotta Talk / I Can't Love Another / Bluebirds Over The Mountain (CAN Version) |
| 01/2001 | CD COLLECTABLES COL-CD-6479 (US) | | THE ROCKIN' BLUEBIRD - Bluebirds Over The Mountain / Hangin' Around, Goin' Down That Road / Lover's Land / You Never Can Tell / Wedding Day / Don't Be Afraid Of Love / You Threw A Dart / People Gotta Talk / I Can't Love Another / What Do You Want? / Love In Bloom / Stardust Brought Me You / Another Wasted Day / Shame On Me / Some Enchanted Evening / Put Your Mind At Ease / Rockabilly Dream / In Spite Of The Fool That I Am / Kicks |
| 06/2006 | CD HYDRA 27119 (GER) | | HANGIN' AROUND AT HEARTBREAK HOTEL - Bluebirds Over The Mountains / Goin' Down That Road / Then I'll Be Happy / You're No Good / Hangin' Around / Pushin' [instr.] / You Threw A Dart / Upside Down Love / Millionaire / I'm Walkin' / Street Car Of Desire / Juliet [Instr.] / You Never Can Tell / (Play On) Strings Of Gitarro / Put Your Mind At Ease / Some Enchanted Evening / Trying To Get To You / Blue Skies / Stardust Brought Me You / Heartbreak Hotel / Slidin' Home / Bluebirds Over The Mountains II / Teardrops At Dawn / Rockabilly Dreams / In Spite Of The Fool I Am / Country Tough / Music Man / Twice Times Down / Let Me Be Your Radio |
© Rocky Productions 27/07/2013