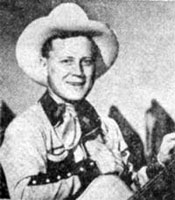 Chanteur Canadien né William Dixon Hilton, le 25 Octobre 1920 à Bjorkdale (Saskatchewan). "Dixie" Bill Hilton a débuté en 1940 et a enregistré pour Aragon et Apex Records. Il est décédé le 1er Février 1991.



Born William Dixon Hilton, 25 October 1920, Bjorkdale, Saskatchewan, Canada, d. 1 February 1991, Calgary, Alberta, Canada. Greatly impressed by the songs of Wilf Carter and Jimmie Rodgers, Hilton learned guitar in his early teens and was singing regularly on CKIB, Prince Albert in his late teens, and by 1940, he was appearing on the larger CJVI Victoria, British Columbia. His career was interrupted by service in the Royal Canadian Air Force, where he served as a wireless operator and air-gunner, during World War II. After his discharge he settled in Calgary where, in 1947, he formed his Calgary Range Riders band with whom he toured and played on various radio stations. In 1949, they were signed to Aragon Records and released several 78s and 45s on that label. (They were later released on the now rare The Calgary Range Riders).
Between 1951 and 1954, Hilton and his band toured extensively and appeared on various radio stations including a weekly programme on the prestigious coast to coast Dominion Barn Dance show. They regularly opened shows for touring American stars including working with Hank Williams and Hawkshaw Hawkins. During this time they made further recordings for the Apex label and also toured with the great Australian star Tex Morton. In 1954/5, Hilton acted as MC and assistant to Morton on tours throughout eastern USA and to Jamaica. Hilton retired in 1956 and lived in Calgary until his death in 1991. In 1986 the German Cattle label released an album of 50s recordings made for Apex or Aragon. Hilton himself composed nine of the 12 songs.
http://www.hillbilly-music.com/artists/story/index.php?id=14016
Talents : Vocals, Guitar
Style musical : Traditional Country
Years in activity :
| | | | | | | | | | | | |
| --- | --- | --- | --- | --- | --- | --- | --- | --- | --- | --- | --- |
| 1910 | 20 | 30 | 40 | 50 | 60 | 70 | 80 | 90 | 2000 | 10 | 20 |
DISCOGRAPHY
78 t. & Singles
Album
| | | | |
| --- | --- | --- | --- |
| 1986 | LP 12" CATTLE LP 89 (GER) | | RAMBLIN' MAN - Too Old To Be Young Anymore / Ramblin' Man / What A Waste / O-Ho-Ho-Ho Honey / Thousand Miles At Sea / Within' This Broken Heart Of Mine / Don't Be Blue, Linda Lou / Whispering Songs / Dear Dad / Reward / Midnight Waltz / Careless Ways |
© Rocky Productions 18/07/2014