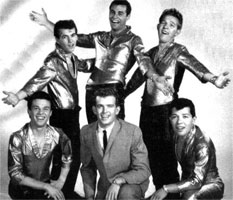 Groupe Doo Wop US, les Hollywood Argyles comprenaient Gary Paxton (Lead), Norm Davis, Kim Fowley et Sandy Nelson puis Ted Marsh, Derry Weaver, Marshall Leib, Gary "Spider" Webb, Bobby Rey et Ted Winters.

The Hollywood Argyles were a quickie act thrown together by producers Kim Fowley and Gary Paxton and featuring Sandy Nelson. Fowley made his first recordings with drummer Nelson during the late '50s and had already produced a number of short-lived groups -- including the Paradons and the Innocents -- and found his first taste of success by producing a handful of successful efforts by Arizona schoolmates Gary ("Flip") Paxton and Clyde ("Skip") Battin, who performed under the name Skip & Flip, and scored two Top 20 hits in 1959, "Cherry Pie," (number 11 Pop) and "It Was I" (number 11 Pop). Immediately after dissolving Skip & Flip, Paxton and Fowley created a novelty doo wop-inspired group -- a one-off collective of local musicians and vocalists -- and called them The Hollywood Argyles.
In 1960, this "group" actually topped the charts with the number one smash hit "Alley Oop," a flagrant Coasters ripoff that had been written and performed by future country artist Dallas Frazier a few years earlier in 1957. It was based on a popular newspaper comic strip character at the time. Fowley and Nelson, drunk as skunks, bashed empty bottles and wastepaper baskets. As the group weren't merely anything more than a collection of Fowley's music-making associates, they didn't have a follow-up, and Fowley and Paxton moved on.
In October of that same year, the two signed a production deal with Bob Keene's Del-Fi Records, recording a follow-up called "Alley Oop Cha Cha Cha," while Paxton drawled out the very same lyrics to the "Alley Oop" hit. It was credited to the Prehistorics.
Style musical : Doo Wop, Rock 'n' Roll
| | |
| --- | --- |
| Alley Oop (1960) | |
Years in activity :
| | | | | | | | | | | |
| --- | --- | --- | --- | --- | --- | --- | --- | --- | --- | --- |
| 1910 | 20 | 30 | 40 | 50 | 60 | 70 | 80 | 90 | 2000 | 10 |
DISCOGRAPHY
Singles
09/1959
SP BRENT 7004 (US)
.

THE ARGYLES - Vacation Days Are Over / It Take Time

05/1960
SP LITE L-5905 (US)
.

Alley Oop / Sho' Know A Lot About Love

08/1960
SP LUTE L-5908 (US)
.
Gun-Totin' Critter Called Jack / The Bug Eyed Man
11/1960
SP LUTE L-6002 (US)
.
12/1960
SP PAXLEY P-752 (US)
.

You Been Torturing Me / The Grubble

12/1961
SP FINER ARTS FA-1002 (US)
.

See You In The Morning / Morning After

04/1963
SP FELSTED 45-8674 (US)
.

Bossy Nover / Find Another Way

09/1965
SP ChatTahoochie CH-691 (US)
.

Long Hair, Unsquare Dude Called Jack / Ole

11/1965
SP Kammy K-105 (US)
.

New Hollywood Argyles -

Alley Oop '66 / Do The Funky-Foot
1974
SP GOLDIES 45 D-2628 (US)
.
Alley-Oop / Sho' Know A Lot About Me
1977
SP SURPRISE JTU 783 (GER)
Alley Oop (HOLLYWOOD ARGYLES) / You'll Come Back (Buddy BRENT)
1979
SP GOLDISC G 3075 (US)
.
Alley Oop (HOLLYWOOD ARGYLES) / Loop De Loop (Johnny THUNDER)
1986
SP ERIC 298 (US)
.
Alley Oop (HOLLYWOOD ARGYLES) / Mr. Custer (Larry VERNE)
????
SP ERA 011 (US)
.
Alley Oop / Hully Gully
????
SP WHAM 7037 (US)
Alley Oop (HOLLYWOOD ARGYLES) / C C Rider (Phil FLOWERS)
????
SP COLLECTABLES C 3118 (US)
.
Alley Oop (HOLLYWOOD ARGYLES) / Liar, Liar (The

Castaways

)
????
SP MCA MCA D-2628
.
Alley-Oop / Sho' Know A Lot About Love
Unissued Tracks
| | | |
| --- | --- | --- |
| 196? | Unissued | Honky Tonk |
| 196? | Unissued | Yakety Yak |
| 196? | Unissued | The Bug Eyed Man |
| 196? | Unissued | The Way I See It |
| 196? | Unissued | You're Runnin' My Gladness |
| 196? | Unissued | You'll Always Be My Darling |
| 196? | Unissued | Gun-Totin' Critter Called Jack |
| 196? | Unissued | The Lost Ranger |
| 196? | Unissued | Do The Funky Foot |
Album
2002
CD MAR Music 120 (?)

The Hollywood Argyles -

Alley Oop / Hully Gully / Honky Tonk / Yakety Yak / Sho' Know A Lot About Love / The Bug Eyed Man / The Way I See It / You're Runnin' My Gladness / So Fine / You'll Always Be My Darling / Gun-Totin' Critter Called Jack / The Lost Ranger / Every Time You Smile / Moonbeam / Long Hair, Unsquare Dude Called Jack / Find Another Way / Bossy Nover / Two Hump, Dual Bump Camel, Named R.E. Lee / Your Past Is Back Again / Teen Angel / Kansas City / Stop Twisting Baby / Alley-Oop Was A Two Dab Man / Teen Age Crush / Mother In Law / It Had To Be You / Do The Funky Foot / Alley-Oop / It's My Way (Of Loving You) / Goin' Through The Motions / It's So Funny I Could Cry / We're Going Back Together
© Rocky Productions 25/08/2014