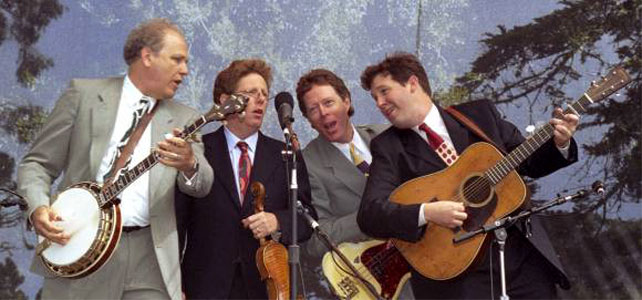 Groupe Bluegrass US formé en 1976 au Colorado.

Playing music that honors the roots of Bluegrass while blazing new trails for the genre, the eclectic Colorado band Hot Rize performs traditional Bluegrass, Jazz, and Rock as well as Progressive Bluegrass. Hot Rize came together in 1976 and were named after the secret ingredient in Martha White Self-Rising Flour, the product Flatt & Scruggs had promoted via radio early in their careers. The bandmembers were Tim O'Brien on lead and harmony vocals, mandolin, and fiddle; Pete Wernick on banjo and harmony vocals; Mike Scap on guitar and harmony vocals; and Charles Sawtelle on bass guitar, guitar, harmonies, and lead vocals. Mike Scap departed in 1976 and was replaced by bass player, guitarist, and vocalist Nick Forster, who also became the group's MC. Hot Rize made their official debut in 1978, and the group recorded their self-titled debut album, a blend of traditional and new material, in 1979. Their second LP, Radio Boogie, came out in 1981. A year later, their alter ego Red Knuckles & the Trailblazers, a loving parody of hardcore '50s country music, recorded their own album, Red Knuckles & the Trailblazers. In 1984 Hot Rize released a concert album largely comprising traditional hits, and in 1986 they released a studio effort, Traditional Ties. In 1988 another Red Knuckles album, Shades of the Past, followed. After Take It Home came out in 1990, Hot Rize broke up and O'Brien and Wernick went on to successful solo careers, while Forster went on to executive-produce the syndicated radio variety show Etown.
Despite the split, Hot Rize played annual reunion shows until Sawtelle passed away in March 1999 after a two-year fight with leukemia. Hot Rize regrouped in 2002, adding Bryan Sutton on guitar, and they began doing shows again, sometimes under the Red Knuckles & the Trailblazers moniker. They issued the live set So Long of a Journey (recorded in 1996), in 2002. After over a decade of silence -- and nearly a quarter century since their previous release -- Hot Rize issued their sixth album, When I'm Free, on Ten in Hands Records in 2014. Two years later, early member Mike Scap lost his life after a battle with cancer.
In 2018, to celebrate four decades of Hot Rize, the group issued 40th Anniversary Bash, a 26-song set commemorating their long and storied career. Recorded in Boulder, the concert also featured guests Sam Bush, Jerry Douglas, and Stuart Duncan.
https://en.wikipedia.org/wiki/Hot_Rize
Talents : Tim O'Brien : Lead, Harmony Vocals, Mandolin, Fiddle - Pete Wernick : Banjo, Harmony Vocals - Mike Scap : Guitar, Harmony Vocals - Charles Sawtelle : Bass Guitar, Guitar, Harmonies & Lead Vocals. Mike Scap departed in 1976 and was replaced by Nick Foster : Bass, Guitar, Hamony Vocals
Style musical : Bluegrass, Progressive Bluegrass

https://youtu.be/2G6LbJrYB4o
Years in activity :
| | | | | | | | | | | | |
| --- | --- | --- | --- | --- | --- | --- | --- | --- | --- | --- | --- |
| 1910 | 20 | 30 | 40 | 50 | 60 | 70 | 80 | 90 | 2000 | 10 | 20 |
DISCOGRAPHY
Albums
| | | | |
| --- | --- | --- | --- |
| 1979 | LP 12" Flying Fish FF 206 (US) | | HOT RIZE - Blue Night / Empty Pocket Blues / Nellie Kane / High On A Mountain / Ain't I Been Good To You / Powwow The Indian Boy / Prayer Bells Of Heaven / This Here Bottle / Ninety-Nine Years / Old Dan Tucker / Country Boy Rock 'n' Roll / Standing In The Need Of Prayer / Durham's Reel / Midnight On The Highway |
| 09/1981 | LP 12" Flying Fish FF 231 (US) | | Radio Boogie - Radio Boogie / Aint Gonna Work Tomorrow / Wild Bill Jones / Land Of Enchantment / The Man In The Middle / I Long For The Hills / Just Aint / No Brakes / Walkin' The Dog / The Sweetest Song I Sing / Tom And Jerry / Gone But Not Forgotten |
| 07/1982 | LP 12" Flying Fish FF 279 (US) | | Hot Rize Presents Red Knuckles & the Trailblazers - Travelin' Blues / Honky Tonk Man / Slade's Theme / Dixie Cannonball / I Know My Baby Loves Me / Trailblazer Theme / Always Late / Honky Tonk Song / Kansas City Star / Waldo's Discount Donuts / Boot Heel Drag / Window Up Above / You're Gonna Change And I'm Gonna Leave / Long Gone John From Bowling Green |
| 08/1984 | LP 12" Flying Fish FF 315 (US) | | Hot Rize Extra Added Attraction Red Knuckles & the Trailblazers - In Concert - Ray HICKS : Introduction / HOT RIZE : Let Me Love You One More Time / Goin' Across The Sea / My Little Darlin' / I've Been All Around This World / I'm Gonna Sleep With One Eye Open / Martha White Theme / Sally Goodin / Your Light Leads Me On / The Sugarfoot Rag / Pete WERNICK : Introduction Of Red Knuckles And The Trailblazers / Red Knuckles & The Trailblazers : Texas Hambone Blues / Wendell's Fly Swatters / Oh, Mona / HOT RIZE : Rank Rangers / Shady Grove |
| 05/1985 | LP 12" SUGAR HILL SH-3748 (US) | | Traditional Ties - Hard Pressed / If I Should Wander Back Tonight / Walk The Way The Wind Blows / Hear Jerusalem Moan / Frank's Blues / Lost John / Montana Cowboy / Footsteps So Near / Leather Britches / Working On A Building / John Henry / Keep Your Lamp Trimmed And Burning |
| 05/1987 | CD SUGAR HILL SH-CD-3756 (US) | | Untold Stories - Are You Tired Of Me, My Darlin' / Untold Stories / Just Like You / Country Blues / Bluegrass Part Three / Won't You Come & Sing For Me / Life's Too Short / You Don't Have To Move The Mountain / Shadows In My Room / Don't Make Me Believe / Wild Ride / Late In The Day |
| 1988 | CD Flying Fish SH-CD-3767 (US) | | Hot Rize Presents Red Knuckles & the Trailblazers - Shades Of The Past - Goin' Steady / On Monday / I Thought I Heard You Call My Name / Wigwam Wiggle / Blues Stay Away From Me / The Golden Rocket / If You Ain't Lovin', You Ain't Livin' / I'm A One Woman Man / The Girl Of My Dreams / Shades Of The Past / In The Jailhouse Now / Nowhere Man / Everybody's Rockin' But Me |
| 08/1990 | LP 12" SUGAR HILL SH-3784 (US) | | Take It Home - Colleen Malone / Rocky Road Blues / A Voice On The Wind / Bending Blades / Gone Fishing / Think Of What You've Done / Climb The Ladder / Money To Burn / The Bravest Cowboy / Lamplighting Time In The Valley / Where The Wild River Rolls / The Old Rounder / Tenderly Calling (Home, Come On Home) |
| 1996 | CD Flying Fish FF 70107 (US) | | Hot Rize Presents Red Knuckles & the Trailblazers / Hot Rize In Concert - Red Knuckles & The Trailblazers : Travelin' Blues / Honky Tonk Man / Slade's Theme / Dixie Cannonball / I Know My Baby Loves Me / Traiblazer Theme / Always Late / Honky Tonk Song / Kansas City Star / Waldo's Discount Donuts / Boot Heel Drag / The Window Up Above / You're Gonna Change Or I'm Gonna Leave / Long Gone John From Bowling Green / Ray HICKS ; Introduction / HOT RIZE : Let Me Love You One More Time / Goin' Across The Sea / My Little Darlin' / I've Been All Around This World / I'm Gonna Sleep With One Eye Open / Martha White Theme / Sally Goodin / Your Light Leads Me On / The Sugarfoot Rag / Pete WERNICK : Introduction Of Red Knuckles & The Trailblazers / Red Knuckles & The Trailblazers : Texas Hambone Blues / Wendell's Fly Swatters / Oh, Mona / HOT RIZE : Rank Strangers / Shady Grove |
| 03/2002 | CD SUGAR HILL SUG-CD-3943 (US) | | So Long Of A Journey - Live At The Boulder Theater - Blue Night / Keep Your Lamp Trimmed And Burning / Empty Pocket Blues / Introductions / Radio Boogie / Just Like You / Climbing Up A Mountain / Walkin' The Dog / Frank's Blues / A Voice On The Wind / Shadows In My Room / Nellie Kane / The Butcher's Dog / Working On A Building / Walk The Way The Wind Blows / Foggy Mt. Breakdown / High On A Mountain / Colleen Malone / Life's Too Short / Won't You Come And Sing For Me |
| 09/2014 | CD Ten In Hand THR9001 (US) | | When I'm Free - Western Skies / Blue Is Fallin' / Come Away / Sky Rider / You Were On My Mind This Morning / Doggone / A Cowboy's Life / I Never Met A One Like You / Burn It Down / Glory In The Meeting House / I Am The Road / Clary Mae |
| 08/2018 | CD Ten In Hand THR 9002, 3 (US) | | 40th Anniversary Bash - Blue Night / Western Skies / Intro : Colleen Malone / Colleen Malone / Huckling The Berries / Intro : Wichita Lineman / Wichita Lineman / You Were On My Mind This Morning / Intro : Out On The Ocean / Out On The Ocean / Just Like You / Burn It Down / Things In Life / The High Road / Intro : Radio Boogie / Radio Boogie / Intro : Walk The Way The Wind Blows / Walk The Way The Wind Blows / Your Light Leads Me On / Intro : I Am The Road / I Am The Road / Nellie Kane / Hard Pressed / Intro : High On A Mountain / High On A Mountain / Angelina Baker |
© Rocky Productions 11/05/2021