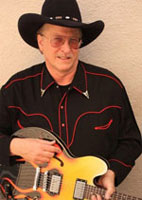 Chanteur Country US né en 1952 en Californie.

Cornell Hurd fronts the large Austin, TX, music collective known as the Cornell Hurd Band, which operates like a revue and offers a rousing, highly proficient blend of trad country, swing, and rockabilly. The group has played a longtime, weekly gig in south Austin and rarely (if ever) tours. Hurd writes humorous, often biting country tunes with titles such as "It Wouldn't Be Hell Without You" and "Your Ex-Husband Sent Me Flowers ('Cause He Feels Sorry for Me)" and shares lead Vocals duties with bandmembers such as Justin Trevino and Blackie White.
David Cornell Hurd was born in California in 1952. In 1972, he earned a sociology degree from Berkeley, a college he had chosen in part because he wanted to be closer to Commander Cody & His Lost Planet Airmen (a group whose revival of Western swing and honky tonk would have a profound influence on Hurd). Hurd played in bands throughout the '70s and early '80s, his group often opening for Commander Cody and for the similarly minded Asleep at the Wheel. In the mid-'80s, he hit a rough patch riddled with marital problems and drug and alcohol abuse. His house was foreclosed and in 1986, he moved to St. Petersburg, FL. In 1988, he ran into old friend and bandmate Frank Roeber and the Cornell Hurd Band, which moved to Austin shortly thereafter, was rekindled. The group started out as a five-piece, but soon grew far beyond that size. The Cornell Hurd Band has released numerous albums, including 2001's A Stagecoach Named Desire and 2002's Song of South Austin.
http://www.cornellhurdband.com/
Talents : Vocals, Guitar
Style musical : Contemporary Country, Traditional Country, Western Swing

http://youtu.be/xii0qozYzsM
Years in activity :
| | | | | | | | | | | |
| --- | --- | --- | --- | --- | --- | --- | --- | --- | --- | --- |
| 1910 | 20 | 30 | 40 | 50 | 60 | 70 | 80 | 90 | 2000 | 10 |
DISCOGRAPHY
Albums
1980
LP 12" BEHEMOTH 7001 (US)
DOING THAT UNHOLY THING - THE CORNELL HURD BAND -
1994
CD BEHEMOTH 1004 (US)
HONKY TONK MAYHEM - THE CORNELL HURD BAND - It's Just The Wisky Talkin' / My Window Faces The South / Home To Texas / My Boogie Woogie Country Girl / It's Dark All Over The World / Just Call Me "Steven" (I'm Leavin') / I Cry, Then I Drink, Then I Cry / A Little Travellin' Music, Please / I Don't Hurt Anymore / Honky-Tonk Has-Been / Put Your Make-Up On / Happy Hour In Hell / I Dreamed Of An Old Love Affair / Seven Nights To Rock
05/1996
CD BEHEMOTH 1006 (US)
COOL & UNUSUAL PUNISHMENT - THE CORNELL HURD BAND - I Don't Care What It Is ThatYou Did When You Lived In Ft. Worth / Seven Cups Of Coffee, Fourteen Cigarettes / The Cold Morning Light / Your Ex-Husband Sent Me Flowers ('Cause He Feels Sorry For Me) / Crazy 'Cause I Love You / Drivin' Nails In My Coffin / I'm Tired Of Wanting Something I Can't Have / I Start Out Dreaming, I Wakeup Screaming / Hank Williams Death Pact / It Was Either The Whiskey Orthe Wife / When I Close My Eyes I Feel You In His Arms / Here's Your Fruit / I'm Gonna Drive / The Devil's Disciple / Keep A Light In The Window For Me / Manhood / I'm Mad With You / Lalo / Do You Believe (In Reincarnation)? / She'll Always Love Me / The Weirdest Act You Ever Saw Contest / Big Ole Heartache / Well, Boys...
06/1999
CD BEHEMOTH 1008 (US)
AT LARGE - THE CORNELL HURD BAND - Dialogue / I Don't Care What It Is ThatYou Did When You Lived In Ft. Worth / Drivin' Nails In My Coffin / Seven Cups Of Coffee, Fourteen Cigarettes / Dialogue / The Jessie Polka / Two Dollar Toy / Dialogue / Vicious, Vicious Vodka / The Garbageman / Dialogue / Nine-Tenths Of Tennessee River / Bartender's Blues / Dialogue / The Living Dead / Dialogue / Caravan / Theme From "The Flintstones" / Dialogue / I'm Mad With You / The Red Dress She Wore / It's Dark All Over The World / Dialogue / Ten Gallon Boogie / Blue Bonnet Lane / Bummin' Around / Dialogue / Right Or Wrong / Dialogue / Tearin' Up A Yardbird / Dialogue / Don't Pretend You're Doing This For Me / Dialogue / California Blues / Dialogue / A White Sport Coat / Dialogue / Faded Love
09/1999
CD BEHEMOTH 1005 (US)
LIVE AT BROKEN SPOKE - THE CORNELL HURD BAND - Intro

[by James M. WHITE] /

Home To Texas / Bubbles In My Beer / You Played On My Piano / I Like 'em Fat Like That / I Bought The Shoes That JustWalked Out On Me / The Shadow You Left On My Life / Honky-Tonk Has-Been / I Got It From The Girl Next Door / Fools Like Me / Each Night At Nine / Problem Drinker / Time Changes Everything / South Of The Border / Motel Time Again / A Picture Of Me (Before I Loved You) / Paralyzed
06/2000
CD BEHEMOTH 1007 (US)
TEXAS FRUIT SHACK - THE CORNELL HURD BAND WITH JOHNNY BUSH - (Set 'Em Up) I'm Afraid To Go Home / Don't Ever Take My Picture Down / Heaven, Hell Or Houston / Texas Fruit Shack / I Only Think About You EveryDay / My Missing Years / I Don't Want To Love Anyone This Much Again / Those Mind-Breakin' Blues / I'm Not Crazy Yet / Five Dollar Beatle Wig / Just Like Two Drops Of Water / Jethro / Tearin' Up A Yardbird / It's Time To Fade Away, Wanda Jane / Talk About Me / Bomb Shelter / The End Of The Road / I'm A Linda-Holic / It Would Be Hell Without You / Along The Navajo Trail / Detour / Good Rockin' Tonight / I Got Your Stinkin' Beguine Right Here / [untitled track]
01/2001
CD BEHEMOTH 1009 (US)
A STAGECOACH NAMED DESIRE - I've Still Got My Mind / Morning, Noon And Night / 157 Linmore Drive / Texas Me / Rawhide / Ain't It Funny How Time Slips Away? / What Would Ernest Tubb Have Done? / I'm The Man / Tell Your Shrink I Said "Thanks For Nothin'" / A Death In The Family / The Gypsy / My Love Is Your Weapon / I'll Take Your Hat Right Off My Rack / Girls! Girls! Girls! / Angel's Serenade / Heartbreak, Tennessee / Cowboy Peyton Place / Our Way Of Life / Moonshine Lullaby / Slow Poke / The Genitalia Of A Fool / People Are Asleep, Dreaming Of Cheese
07/2002
CD BEHEMOTH 1010 (US)
SONG OF SOUTH AUSTIN - THE CORNELL HURD BAND WITH JOHNNY BUSH AND MARTI BROWN - Shiny And New / Rubboard Playin' Man / Texas Nite Train / I've Gotta Lotta Livin' To Do / Because It's You / Rock & Roll Honky Tonkin' Ramblin' Man / I'm Not Drinkin To Drown My Sorrows (I'm Just Takin' 'Em For A Swim) / Maybe I Do / The Heart Of A Clown / Don't Pretend You're Doing This For Me / Nyquil Blues / From The Land Of Sky Blue Waters / Cool Touch, Hot Night / Pass The Booze / Love Is No Excuse / The Garbageman / Only A Fool / Jealously Insane / Full Moon In Austin / The Ten Gallon Boogie / She Once Lived Here / Maypo / Don't Wipe Your Face On Your Shirt
05/2003
CD BEHEMOTH 1012 (US)
LIVE AT JOVITA'S - DON'T QUIT YOUR NIGHT JOB - THE CORNELL HURD BAND - I Don't Care What It Is ThatYou Did When You Lived In Ft. Worth / 157 Linmore Drive / Nyquil Blues / You Dont Care What Happens To Me / A Thing Called Sadness / Hoy, Hoy, Hoy / Rubboard Playing Man / I Don't Want To Love Anyone This Much Again / What Would Ernest Tubb Have Done? / (Set 'Em Up) I'm Afraid To Go Home / Moonshine Lullaby / Shiny And New / Artificial Flowers / The Genitalia Of A Fool / My Missing Years / I Cry, Then I Drink, Then I Cry / Last Date / Cool Touch, Hot Night / Income Tax Blues / Down And Out Blues / The Albatross / Tell Your Shrink I Said "Thanks For Nothin' / Our Way Of Life / Texas Nite Train
06/2004
CD BEHEMOTH 1016 (US)
CEN-TEX SERENADE - Smokey Shadows / Cold Kisses / I Play With Girls My Own Age / Barbwire / From A Jack To A King / Loving You Was Never Enough / Forever In The Texas Sky / It Gets Like This Every Christmas / I've Watched You Fall In Love Before / Big Damn State, Long Damn Road Boogie / Brother, It's All Lunchmeat To Me / Spanish Harlem / What You Threw Away / Let's Flirt / Slow Burn / Loose Diamond / Please Save A Little For Me / A Face In The Crowd / Tall Drink Of Water / The Raging Bull / Heartache For Heartache / Groovy Kind Of Love / Black Nylons / Subject To Change Without Notice / Buck Rogers Or The Good Old Days / The Corpus Christi Rock / The Pop-Up Blues / Swing Away The Blues
03/2005
CD BEHEMOTH 1017 (US)
FANMAIL : FROM THE LOST PLANET - THE CORNELL HURD BAND - (I've Got A Woman In) San Angelo / Party Time / I Drink Too Much / First Day On The Trail / Violent Love / The Seeds Of My Destruction / The Guns Of Navaronee, Texas / Learning To Live With The Blues / Just One More Time / Ram-Bunk-Shush / Love Rollercoaster / I Always Went Through / Incident In Juarez (Los Rubboardistas) / Waiting At The End Of The Road
06/2006
CD BEHEMOTH 1018 (US)
TEXAS BY NIGHT - THE CORNELL HURD BAND - Thanks For Tuning In / Texas By Night (Ride West) / You Only Kiss Me When We Say Goodbye / Viva Las Vegas / Adios To Mexico City / Black Smoke A Blowin' Over 18 Wheels / We're Not Married Anymore / I Don't Know Why I Love You (But I Do) / There Are Strange Things Happening Everyday / Dim Lights, Thick Smoke And Loud, Loud Music / The Rubboard Waltz / Date With Del (Part 1) / Party Of One / There's Still A Lot Of Love In San Antone / If You With Play My Mind (You're Gonna Get Your Hands Dirty) / Texas By Night (Ride West)
10/2007
CD BEHEMOTH 1019 (US)
BEYOND THE PURPLE HILLS - THE CORNELL HURD BAND - Come On Home To Houston / Texas Eyes / When The Whiskey Turns To Tears / I Can't Help Being Cool / The Big Lie / I Should Have Married Marie / Mom's Tattoo / Moon's Rock / Dedicated To You / Holding Hands / Never Going Back (To Nashville) / You've Gotta Take Care Of Yourself / Honky Tonk Lifestyle / It's Just The Whiskey Talkin' / Beyond The Purple Hills / Del's Metal Moment
03/2010
CD BEHEMOTH 1021 (US)
A BAD YEAR FOR LOVE - THE CORNELL HURD BAND - Respect For The Dead / I Got Wine On My Mind / White Sands (Home Of The Radar Men) / I Won't Apologize For LovingYou / It's All Down Hill From Here / Cold Rain / A Date With Her Memory / I've Had It / The Lights I The Distance / Invitation To The Blues / A Bad Year For Love / Thunderbird Highway / Little Jane Ann / The Color Of Dead Leaves / My Love Lives In South Austin / I'm Gonna Drive / My Very Last Dream
06/2011
CD BEHEMOTH 1022 (US)
BIG STATE, LONG ROAD - THE CORNELL HURD BAND -

Heavy Breathin' / I've Got A Woman In) San Angelo / Set 'Em Up (I'm Afraid To Go Home) / 4. It's All Downhill From Here / I Cry, Then I Drink, Then I Cry / Come On Home To Houston / Seven Cups Of Coffee, Fourteen Cigarettes (feat. Brad MOORE & Judy JULIAN) / Texas Eyes / I Don't Care What It Is That You Did When You Lived In Ft. Worth / It's Just The Whiskey Talking / Loving You Was Never Enough / You Only Kiss Me When We Say Goodbye / I Should Have Married Marie / We're Not Married Anymore / If You Play With My Mind / The Seeds Of My Destruction / Texas By Night (Twilight) (feat. Paul SKELTON)

09/2012
CD BEHEMOTH 1023 (US)

Drop In On My Dream

- THE CORNELL HURD BAND
© Rocky Productions 16/09/2014