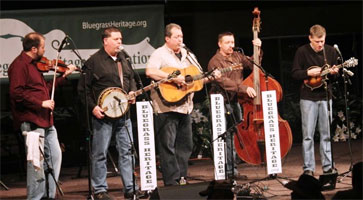 Groupe Bluegrass US formé en 1991 et composé de Russell Moore, Mike Hargrove, Ray Deaton, Alan Bibey et Terry Baucom. Plus tard, Way Benson a remplacé Alan Bibey et Barry Abernathy, Terry Baucom.

IIIrd Tyme Out is one of the leading bluegrass Vocals groups of the 1990s. Formed in 1991 by lead vocalist and guitarist Russell Moore, fiddler Mike Hargrove, and bass vocalist and electric bass player Ray Deaton, shortly after they left Doyle Lawson & Quicksilver, the Georgia-based quintet has received numerous Vocals Group of the Year awards from the International Bluegrass Music Association (IBMA) and the Society for the Preservation of Bluegrass Music in America (SPBGMA). While most of their repertoire centers around the bluegrass and country songs of Bill and Charlie Monroe, the Delmore Brothers, the Carter Family, Hank Williams, and Jimmie Rodgers, the group has been equally effective with gospel material. Their 1996 album, Living on the Other Side, was an all-gospel recording that included the Lester Flatt tune "I'm Working on a Road to Gloryland," with guest Earl Scruggs on guitar. The song became a Top Ten country hit and was named Song of the Year by the IBMA. In addition, IIIrd Tyme Out was named Best Contemporary Gospel Group by the SPBGMA in 1997 and 1998.
Strengthened by the soulful singing of Moore, a three-time winner of the SPBGMA's award for Best Contemporary Male vocalist and the recipient of the IBMA's award as Best Male vocalist in 1994 and 1997, and the deep Vocals tones of Deaton, IIIrd Tyme Out is the product of a group effort. Mandolin player and harmony vocalist Wayne Benson replaced Alan Bibey and banjo player Barry Abernathy replaced Terry Baucom shortly before the band recorded their third album, Grandpa's Mandolin in 1993. Abernathy was subsequently replaced by Steve Dilling. IIIrd Tyme Out continues to set the pact for bluegrass singing. The group was named Vocals Group of the Year by the IBMA in 1998, returning in 1999 with John & Mary. Plus, two live albums, 1998's Live at the MAC and 2001's Back to the MAC, were also popular items with both fans and critics. 2004 saw the release of The Best Durn Ride while 2006 brought yet a third live album, Round III at the Mac.
Talents : Russell Moore : Vocals, Guitar - Mike Hargrove : Fiddle - Ray Deaton : Bass, Vocals - Alan Bibey : Mandolin - Terry Baucom : Banjo - Way Benson : Mandolin, Vocals - Barry Abernathy : Banjo
Style musical : Gospel, Bluegrass, Folk

http://youtu.be/g5FcJLulKAk
Years in activity :
| | | | | | | | | | | |
| --- | --- | --- | --- | --- | --- | --- | --- | --- | --- | --- |
| 1910 | 20 | 30 | 40 | 50 | 60 | 70 | 80 | 90 | 2000 | 10 |
DISCOGRAPHY
Albums
1991
CD REBEL 1691 (US)
IIIRD TYME OUT - Moundsville Pen / Love Gone Cold / Miles Of Texas / When He Reached Down His Hand For Me / Phone Call Away / Woman Dressed In Scarlet / When My Time Comes To Go / Thanks A Lot / Blue Ridge Mountain Girl / Seperating Hearts / Candle In The Wind / Erase The Miles
1992
CD REBEL 1703 (US)
PUTTIN' NEW ROOTS DOWN - I'm Leaving Detroit / You Win Again / Lower On The Hog / Crazy Arms / Good Woman Blues / When I Cross Over Jordan / Whose Shoulder Will You Cry On / Gordon McGregor

[instr.]

/ Your Love For Me / Puttin' New Roots Down / No End To Heaven / Evening Sun Yodel

[Blue Yodel No. 3]

08/1994
CD REBEL 1713 (US)
GRANDPA'S MANDOLIN - I've Waited As Long As I Can / Count Every Tear Drop I Cry / Heaven Seemed So Near / Walkin', Runnin', Flyin' / My Heart Can't Stop Loving You / Steel Guitar Rag / Dixie Train / I Cant' Stay Here Anymore / Someday You'll Call My Name / Little Black Train / Silence And Pain / Grandpa's Mandolin
10/1995
CD ROUNDER 0333 (US)
LETTER TO HOME - Can't Say Goodbye / Letter To Home / Broken Hearted Lover / New Faces In The Field / Raining In L.A. / Only You (And You Alone) / My Little Home In Tennessee / Cabin Creek Stone Mill Dam / Tobacco Jack / Troubled Mind / Daydreams / You're Gonna Be Sorry You Let Me Down
09/1996
CD ROUNDER 0393 (US)
LIVING ON THE OTHER SIDE - He'll Take You In / I Want To Stroll Over Heaven / I'm Working On The Road To Gloryland / Everybody's Gonna Have A Wonderful Time Up There / Giving My Soul Back To Him / Across The Miles / When We're Living On The Other Side / Eternity Has Begun / Feed Me Jesus / I Feel Closer To Heaven / Swing Low, Sweet Chariot / Heading For That City
04/1998
CD ROUNDER 413 (US)
LIVE AT THE MAC - Introduction / White House Blues / Blue Moon Of Kentucky / Little Rabbit / What Was I Supposed To Do? / He Said If I Be Lifted Up / It's A Lonesome Road / Till The End / Someone Took My Place With You / Lord Protect My Soul / I Ain't Broke (But I'm Badly Bent) / Erase The Miles / Till The End Of The World Rolls Around / Tennessee Waltz / I'm Better Off Without You
10/1999
CD ROUNDER 610463 (US)
JOHN & MARY - John And Mary / Rose Of My Heart / Lovin' You, Goin' Blind / Cold Summer Day In Georgia / Milk Cow Blues / Snow Angel / Blue Ridge Mountain Memories / I Pray My Way Out Of Trouble / Out Of Sight, Out Of Mind / Another Evening Alone / Just Call On Him / Coal Mine Blues / Bobby And Millie / On The Lonely Side Of Town
10/2001
CD ROUNDER 610487 (US)
BACK TO THE MAC - Come Back To Me In My Dreams / Medals For Mothers / "Good To Be Back At The Mac..." / When My Time Comes To Go / "Back Home We Have A Little Music Barn..." / Drifting To Far from The Shore / "Y'all Wanna Hear A Little Fiddle Playing?" / Lost John / Please Search Your Heart / Dim Lights, Thick Smoke / The Old, Old House / "One Of The Greatest Mandolin Players In The Whole World Right Here..." / East Tennessee Blues / You Can Take Your Nine Pound Hammer / "I'll Introduce You To The Guitar Player Right Now..." / A Little Unfair / I Hung My Head And Cried / I'll Stay Around / Why Did You Wonder?
2002
CD CHATEAU MUSIC GROUP 0111 (US)
SINGING ON STREETS OF GOLD - My Lord's Gonna Be There / Can You Imagine / We'll Soon Be Done With Trouble And Trials / It's Not What You Know (It's Who You Know) / The Dream / Light At The River / A Song And A Prayer / How Great Thou Art / Just Over The Tide / Where No One Stands Alone / Rocked On The Deep / I Can Hear Them Singing Over There
01/2004
CD REBEL 7509 (US)
ERASE THE MILES - Moundsville Pen / Count Every Tear Drop I Cry / Erase The Miles / Little Black Train / Grandpa's Mandolin / No End To Heaven / I've Waited As Long As I Can / Woman Dressed In Scarlet / Your Love For Me / When He Reached Down His Hand For Me / Dixie Train / When I Cross Over Jordan / Thanks A Lot
06/2004
CD CHATEAU MUSIC GROUP 600000 (US)
THE BEST OF IIIRD TYME OUT - What True Love Is (You and I) / The Best Durn Ride / Blue Grass Special / Sarasee / I Won't Be Around / Rest My Weary Feet / Your Love Is Like A Rose / I Will See You On The Other Side Of Jordan / Tennessee Thunder / A Pretty Wreath For Mother's Grave / You Took My Sunshine / Wade In The Water
10/2006
CD CHATEAU MUSIC GROUP 0151 (US)
ROUND III AT THE MAC - Introduction / Think Of What You've Done / Swinging A Nine Pound Hammer / Feed Me Jesus / Crucial County Breakdown / Daydreams / They Called It A Church / The Dream / Travelin' This Lonesome Road / Shortnin' Bread - Fire On The Mountain / Little White Church / Bobby & Mille / Pages Of The Past / God Bless America / The Moonshiner / John Henry / John & Mary
01/2008
CD ROUNDER 10602 (US)
FOOTPRINTS: A IIIRD TYME OUT COLLECTION - Footprints In The Snow / One Kiss Away From Loneliness / One Kiss Away From Loneliness / Lovin' You Goin' Blind / John And Mary / Across The Miles / Raining In L.A. / I Pray My Way Out Of Trouble / Milk Cow Blues / Letter To Home / Swing Low, Sweet Chariot / Erase The Miles / Just Call On Him / New Faces In The Field / Only You (And You Alone) / Giving My Soul Back To Him
10/2011
CD Rural Rhythm 1085 (US)

RUSSELL MOORE & Prime Tyme - Old Kentucky Farmers / Goodbye Old Missoula / Pretty Little Girl From Galax / If Your Heart Should Ever Roll This Way Again / Moon Magic / Gonna Lay Down My Old Guitar / Whippoorwill / Dusty / Hooverville / Big Muddy / Carroll County Blues / Little Magnolia / Sugarfoot Rag / What's The World Coming To
© Rocky Productions 21/09/2014