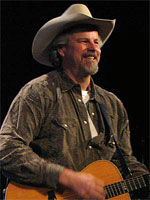 Chanteur Country né le 11 Janvier 1956 ŕ Houston (Texas).

US Country singer born January 11, 1956 in Houston (Texas). Among the large contingent of talented songwriters who emerged in Texas in the 1980s and '90s, Robert Earl Keen struck an unusual balance between sensitive story-portraits ("Corpus Christi Bay") and raucous barroom fun ("That Buckin' Song"). These two song types in Keen's output were unified by a mordant sense of humor that strongly influenced the early practitioners of what would become known as alternative country music. Keen, the son of an oil executive father and an attorney mother, was a native of Houston. His parents enjoyed both folk and country music, and his own style would land, like that of his close contemporary Nanci Griffith, between those genres. Keen wrote poetry while he was in high school, but it wasn't until he went to journalism school at musically fertile Texas A&M that he learned to play the guitar. He and Lyle Lovett became friends and co-wrote a song, "This Old Porch," which both later recorded.
Keen made a splash in Austin with his debut album, No Kinda Dancer, self-financed in 1984 to the tune of $4,500. He moved to Nashville during the heady experimentalism of the '80s that saw Lovett and k.d. Lang hit the country Top Ten, but he soon returned to Austin. Texas landscapes and residents provided Keen with creative inspiration, as his second album, West Textures, made clear; that album yielded one of Keen's signature numbers, an ambitious crime-spree song called "The Road Goes on Forever." Now recording for Sugar Hill, Keen recorded a live album shortly after West Textures but waited several years to release a studio follow-up, 1993's A Bigger Piece of Sky. After that album (which contained "Corpus Christi Bay") came Gringo Honeymoon (1994), which merged Keen's story-songs with the emerging sounds of alt-country: guitars were laid down by the influential Austin musician Gurf Morlix, who later produced albums for both Keen and Lucinda Williams, and a young Gillian Welch provided harmony Vocals.
Once again, after taking his career to a new stage, Keen recorded a live album (No. 2 Live Dinner, 1996) and took time to accumulate new material. The 1997 album Picnic, his first for the Arista Texas label, again moved in the direction of alternative country, featuring Keen in a duet with the Cowboy Junkies' Margo Timmins, while 1998's Walking Distance featured sparer textures. Whatever production style surrounded his songs, Keen's musical personality seemed consistent, and his live shows, widely known thanks to a touring schedule that often approached 200 dates a year in the '90s, grew organically in depth and control. In the early 2000s, Keen signed with the Lost Highway label and released the album Gravitational Forces (2001). He also devoted time to his influential annual concert series and talent festival, Texas Uprising, which took place at several venues around Texas and the Far West.
The year 2003 saw the release of his eighth studio album, the amiable Farm Fresh Onions, as well as The Party Never Ends: Songs You Know from the Times You Can't Remember, a compilation of Keen's Sugar Hill days. His next release was 2005's What I Really Mean for the Koch label. It was followed in 2006 by Live at the Ryman. Rose Hotel, his first recording with famed producer Lloyd Maines, appeared in 2009 on Lost Highway. Keen decided to experiment for his next album, and began writing on the road instead of in his small, solitary cabin in the hinterlands of Texas. Once again recruiting Maines as producer, he cut 11 new songs -- among them nine originals including a re-recording of "Paint the Town Beige" from 1993's Bigger Piece of Sky -- and a couple of covers. It was released as Ready for Confetti on Lost Highway in the summer of 2011. Three years later, Keen and Maines made their way back to the studio with a band of first-rate acoustic pickers (including Danny Barnes of the Bad Livers) and some high-profile duet partners (Lyle Lovett and Natalie Maines) to record a collection of classic bluegrass covers; the album, Happy Prisoner: The Bluegrass Sessions, was released by Dualtone in February 2015. That same year, Keen returned to John T. Floores Country Store in Helotes, Texas to play a concert celebrating the 20th Anniversary of the No. 2 Live Dinner album. The show was recorded for posterity, and was released in 2016 as Live Dinner Reunion. The album included a number of Keen's best-known tunes, as well as guest appearances from Joe Ely, Lyle Lovett, Cody Canada, and Bruce Robison.
http://www.robertearlkeen.com/
https://en.wikipedia.org/wiki/Robert_Earl_Keen
Talents : Vocals, Guitar, Mandolin, Songwriter
Style musical : Folk, Contemporary Country, Americana, pop Rock

https://youtu.be/qlbzZp08qRw
Years in activity :
| | | | | | | | | | | | |
| --- | --- | --- | --- | --- | --- | --- | --- | --- | --- | --- | --- |
| 1910 | 20 | 30 | 40 | 50 | 60 | 70 | 80 | 90 | 2000 | 10 | 20 |
DISCOGRAPHY
Singles
11/1995
CD Sugar Hill 2 (US)
Merry Christmas from the Family
1997
CD Arista ASCD-3074 (US) (promo)

Levelland [radio mix] / Levelland [acoustic version]

1997
CD Arista ASCD-3074 (US) (promo)
Robert Earl KEEN & Margo

Timmins

- Over The Waterfall [radio mix] / Over The Waterfall [album version]
1998
CD Arista ASCD-3120 (US) (promo)
Undone
1998
CD Arista ASCD-3146 (US) (promo)

Happy Holidays Y'All

1998
CD Arista ASCD-3160 (US) (promo)

Down That Dusty Trail

1999
CD Arista ASCD-3174 (US) (promo)

That Buckin' Song
Albums
1984
LP 12" Workshop SR-1007 (US)

No Kinda Dancer - Robert Earl KEEN Jr.- No Kinda Dancer / Front Porch Song / Between Hello And Goodbye / Swervin' In My Lane / Christabel / Willie / Young Lovers Waltz / Death Of Tail Fitzsimmons / Rolling By / Armadillo Jackal

1984
CD Philo ‎PH-1108 (US)

No Kinda Dancer

- Robert Earl KEEN Jr.- No Kinda Dancer / Front Porch Song / Between Hello And Goodbye / Swervin' In My Lane / Christabel / Willie / Young Lovers Waltz / Death Of Tail Fitzsimmons / Rolling By / Armadillo Jackal
01/1989
CD Sugar Hill SH-CD-1024 (US)

The Live Album - I Wanna Know / Front Porch Song / Goin' Down In Style / If I Were King / Copenhagen / I Would Change My Life / Stewball / I'll Go On Downtown / Bluegrass Widow / Who'll Be Looking Out For Me

02/1990
CD Sugar Hill SH-CD-1028 (US)

West Textures - Sing One For Sister / Road Goes / Maria / Sonora's Death Row / Mariano / Don't Turn Out The Light / Leavin' Tennessee / Jennifer Johnson And Me / Five Pound Bass / It's The Little Things / Love's A Word I Never Throw Around

02/1993
CD Sugar Hill SH-CD-1037 (US)

A Bigger Piece Of Sky - So I Can Take My Rest / Whenever Kindness Fall / Amarilo Highway / Night Ride For Love / Jesse With The Long Hair / Blow You Away / Here In Arkansas / Daddy Had A Buick / Corpus Christi Bay / Crazy Cowboy Dream / Paint The Town Beidge

08/1994
CD Sugar Hill SH-CD-1044 (US)

Gringo Honeymoon - Think It Over One Time / Tom Ames' Prayer / Gringo Honeymoon / Raven And The Coyote / Lonely Feeling / Merry Christmas For The Family / Barbeque / Lynville Train / I'm Coming Home / Dreadful Selfish Crime

1995
CD Sugar Hill SH-CD-1049 (US)

No Kinda Dancer -

No Kinda Dancer / The Front Porch Song / Between Hello And Goodbye / Swervin' In My Lane / Christabel / Willie / Young Lovers Waltz / Death Of Fitzsimmons / Rolling By / The Armadillo Jackal / Song For Kathy
03/1996
CD Sugar Hill SH-CD-1051 (US)

No. 2 Live Dinner - Intro / I'm Going To Town / Gringo Honeymoon / Merry Christmas From The Family / Five Pound Bass / Band Intro / Rolling By / Sonora's Death Row / When The Bluebonnets Bloom / Think It Over One Time / Amarillo Highway / Road Intro / Road Goes On Forever / Dreadful Selfish Crime / Mariono Intro / Mariano / I'm Comin' Home

04/1997
CD

Arista

HOUSTON 07822-18834-2 (US)

Picnic - Undone / Over The Waterfall / Levelland / I Wonder Where My Baby Is Tonight / Oh Rosie / Runnin' With The Night / The Coming Home Of The Son And Brother / Shades Of Gray / Fourth Of July / Then Came Lo Mein (And Mango Timmins)

10/1998
CD Arista 07822-18876-2 (US)

Walking Distance - Down That Dusty Trail / Travelin' Light / Feelin' Good Again / That Buckin' Song / I'll Be Here For You / Billy Gray / Theme : Road To No Return - Carolina / New Life In Old Mexico / Still Without You - Conclusions : Road To No Return / Happy Holiday's Y'all

09/2001
CD Lost Highway 088-170198-2 (US)

Gravitational Forces - My Home Ain't In The Hall Of Fame / Hello New Orleans / Wild Wind / Not A Drop Of Rain / I Still Miss Someone / Fallin' Out / High Plains Jamboree / Walkin' Cane / Goin' Nowhere Blues / Snowin' On Raton / Gravitational Forces / Road Goes On Forever

07/2003
CD Sugar Hill SH-CD-1080 (US)

The Party Never Ends - Songs You Know from the Times You Can't Remember - Songs You Know From The Times You Can't Remember / The Five Pound Bass / The Front Porch Song / I'm Comin' Home / Dreadful Selfish Crime / Think It Over One Time / It's The Little Things / Copenhagen / Barbeque / Gringo Honeymoon / Mariano / The Bluegrass Widow / The Road Goes On Forever / Merry Christmas From The Family

10/2003
CD Audium / Koch AUD-CD-8191 (US)

Farm Fresh Onions - Furnace Fan / All I Have Is Today / Out There In The Middle / Train Trek / Farm Fresh Onions / Floppy Shoes / Gone On / So Sorry Blues / Beats The Devil / These Years / Famous Words / Let The Music Play / Farm Fresh Extras

11/2004
CD BMG 82876-48961-2 (US)

THE Best Of Robert Earl Keen - Fourth Of July / Levelland / Over The Waterfall / Then Came Lo Mein / Undone / Travelin' Light / That Buckin' Song / Down That Dusty Trail / Feelin' Good Again / New Life In Old Mexico

11/2004
CD New West 6066 (US)

Live From Austin, TX - Dreadful Selfish Crime / Blow You Away / Shades Of Gray / I'm Goin' To Town / That Buckin' Song / I Still Miss Someone / The Coming Home Of The Son And Brother / The Road Goes On Forever / Merry Christmas From The Family / Snowin' On Raton / Not A Drop Of Rain / Wild Wind / Goin' Nowhere Blues / Down That Dusty Trail / Feelin' Good Again / Walkin' Cane / Travelin' Light

05/2005
CD Koch KOC-CD-9810-2 (US)

What I Really Mean - For Love / Mr. Wolf And Mamabear / What I Really Mean / The Great Hank / The Wild Ones / Long Chain / Broken End Of Love / The Dark Side Of The World / The Traveling Storm / A Border Tragedy / Ride

07/2006
CD Koch KOC-CD-9890-2 (US)

Live At The Ryman - Feelin' Good Again / Gringo Honeymoon / What I Really Mean / Shades Of Gray / Amarillo Highway / Merry Christmas From The Family / Corpus Christi Bay / Furnace Fan / Broken End Of Love / Long Chain / Train Trek / I'm Comin' Home / The Road Goes On Forever / Farm Fresh Onions

06/2007
CD Koch KOC-CD-4114 (US)

Best - No Kinda Dance / Willie / Armadillo Jackal / Paint The Town Beige / Whenever Kindness Fails / Corpus Christi Bay / Merry Christmas From The Family / The Road / The Road Goes On Forever / Furnace Fan / All I Have Is Today / Let The Music Play / For Love / Mr. Wolf And Mama Bear / Ride / Feeling Good Again / Gringo Honeymoon / I'm Comin' Home

2008
CD ? (US)

Marfa After Dark - Intro (Ms. Cloe Keen) / Jesse With His Long Hair Hanging Down / Willie / Marty And Bill Intro / Ride / Border Intro (talking) / A Border Tragedy / The Annux (talking) / Long Chain / Rich Intro (talking) / Lonely Feeling / Tom Intro (talking) / Mariano / A Joke (Talking That Is Funny) / The Great Hank / Panhandle Intro (talking) / Panhandle Rag

09/2009
CD Lost Highway B0013332-02 (US)

THE Rose Hotel - The Rose Hotel / Flyin' Shoes / Throwin' Rocks / 10,000 Chinese Walk Into A Bar / Something I Do / The Man Behind the Drums / Goodbye Cleveland / Laughing River / On And On / Village Inn / Wireless In Heaven

08/2011
CD Lost Highway B0015657-02 (US)

Ready For Confetti - Black Baldy Stallion / Ready For Confetti / I Gotta Go / Lay Down My Brother / Road Goes On And On / Show The World / Waves On The Ocean / Top Down / Play A Train Song / Who Do Man / Paint The Town Beige / Soul Of Man

02/2015
CD Dualtone 80302-01685-27 (US)

Happy Prisoner - THE Bluegrass Sessions - Hot Corn, Cold Corn / Vincent Black Lightning / Footprints In The Snow / Years For One Dark Day (with Peter Rowan) / East Virginia Blues / Poor Ellen Smith / Long Black Veil / This World Is Not My Home / T For Texas (with Lyle Lovett) / Peter Rowan intro / Walls Of Time / White Dove / Old Home Place / Twisted Laurel / Wayfaring Stranger (with Natalie Maines)

11/2016
2 CD Dualtone DUA 1787 (US)

Live Dinner Reunion :

CD 1 : Cody Canada Tell It Like It Is / Feelin' Good Again / Gringo Honeymoon / State Of Thanks Address / I Gotta Go / Lucky Weather / This Old Porch / T For Texas / Write A Drinking Song / Hot Corn, Cold Corn / Cory's Story / I'll Go On Downtown / Ding Dong Daddy From Dummas / Bruce Robison On The Money / No Kinda Dancer
CD 2 : Boys In The Band / Shades Of Gray / Deliverance Dry Cleaning / Ninety-Nine Years For One Dark Day / Amarillo Highway / Wild Wind / Merry Christmas From The Fam-O-Lee / Corpus Christi Bay / Lonely Feeling / Grateful Cred / The Road Goes On Forever
© Rocky Productions 19/11/2016