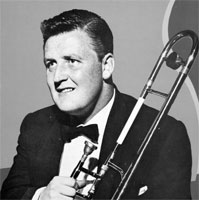 Chanteur, chef d'orchestre et tromboniste Britannique né le 19 Janvier 1925, originaire du Yorkshire. Don Lang a débuté à l'orée des années cinquante avec le "Vic Lewis Band". En Octobre 53, il forme le "Don Lang And His Frantic Five" et commence à enregistrer chez HMV Records. En 1957, Don Lang et son groupe deviennent l'orchestre permanent de l'émission de télévision "6-5 Special", qui passait tous les Samedi soir sur la BBC. Don est mort le 3 Août 1992.

The usual perception about the history of English rock & roll is that very few of the jazzmen who preceded it managed to find much success with the new music. Don Lang was the exception. Born Gordon Langhorn in Yorkshire, he was originally a trombone player specializing in dance music and played with bands led by Teddy Foster, Vic Lewis, and others, and he made his first records with Lewis' orchestra. It was as a member of a band led by Ken Mackintosh that he began making appearances on record as a singer, initially under his given name. Eventually, he took the name Don Lang and went solo in the mid-'50s, initially cutting records for English Decca. In 1955, he jumped to HMV Records, part of the EMI group of labels, and hit the Top 20 in England with a superb recording of "Cloudburst," which featured a dazzling scat Vocals performance by Lang. In 1956, as skiffle music and then rock & roll began making themselves felt in England, Lang and his band the Frantic Five began working with the new music. The group also became a regularly featured act on The 6.5 Special, the first British television variety series to acknowledge rock & roll and Lang also sang the theme song each week.
Despite his weekly exposure on television, Lang had trouble selling records until 1957, when he charted with a cover of "School Day," the Chuck Berry song. He subsequently reached the British Top 10 with his version of "Witch Doctor," a novelty tune by David Seville, the future creator of Alvin & the Chipmunks. Lang remained popular into the very early '60s and then he returned to his jazz-pop roots, leading a band that remained fully employed on England's dancehall circuit for many years. Lang wasn't forgotten by the British rock music world, however, and on June 21, 1968, he was one of four trombonists engaged to perform on the Beatles song "Revolution 1" from the group's White Album. Fondly remembered by British audiences from his days on The 6.5 Special, he occasionally turned up on the British oldies circuit and also could be found playing jazz again during the 1970s and early '80s. He retired late in the decade, even as his son Brad Lang became visible as a bassist with the groups ABC, Jade Warrior, Wham, and Wishbone Ash. Lang died of cancer during the summer of 1992, after a long illness. His music is best known in England, where Castle Communications has issued compilations of some of his vintage recordings.
Talents : Vocals, Trombone
Style musical : Rock 'n' Roll
https://en.wikipedia.org/wiki/Don_Lang_(musician)

http://youtu.be/kJe0jogT5M4
Years in activity :
| | | | | | | | | | | | |
| --- | --- | --- | --- | --- | --- | --- | --- | --- | --- | --- | --- |
| 1910 | 20 | 30 | 40 | 50 | 60 | 70 | 80 | 90 | 2000 | 10 | 20 |
DISCOGRAPHY
Singles & EP
01/1956
SP HMV 7M 354 (UK)
.
Four Brothers / I Want You To Be My Baby
04/1956
SP HMV 7M 381 (UK)
.
Rock Around The Island / Jumpin' To Conclusions
07/1956
SP HMV 7M 416 (UK)
.
Rock And Roll Blues / Stop The World I Wanna Get Off
10/1956
SP HMV POP 260 (UK)
.
Sweet Sue-Just You / Lazy Latin
01/1957
SP HMV POP 289 (UK)
.
Don

Lang

& His "Frantic Five" - Rock Around The Cookhouse / Rock Mister Piper
04/1957
SP HMV POP 335 (UK)
.
Rock-A-Billy (Don

Lang

& His "

Frantic Five

") / Come Go With Me (Don L

ang

& His

Skifflers

)
06/1957
SP HMV POP 350 (UK)
.
Don

Lang

& His "Frantic Five" - School Day / Six-Five Special
08/1957
SP HMV POP 382 (UK)
.
Don

Lang

& His "Frantic Five" - White Silver Sands / Again 'n' Again 'n' Again
10/1957
SP HMV POP 414 (UK)
.
Don

Lang

& His Frantic Five - Red Planet Rock / Texas Tambourine
1957
EP HMV 7EG 8208 (UK)

ROCK 'N' ROLL with Don LANG & His "FRANTIC FIVE"

- The Big Beat / Rock, Rock, Rock / Baby Baby / Rock Pretty Baby
01/1958
SP HMV POP 434 (UK)
.
Don

Lang

& His "Frantic Five" - Ram Shackle Daddy / 6.5 Hand Jive
03/1958
SP HMV POP 465 (UK)
.
Don

Lang

& His "Frantic Five" - Tequila / Junior Hand Jive
05/1958
SP HMV POP 488 (UK)
.
Don

Lang

& His "Frantic Five" - Witch Doctor / Cool Baby Cool
1958
EP LA VOIX DE SON MAÎTRE EMF 156 (F)
Witch Doctor / Cool Baby Cool / Red Planet Rock / Texas Tambourine
08/1958
SP HMV POP 510 (UK)
.
Don

Lang

& His "Frantic Five" - The Bird On My Head / Hey, Daddy
12/1958
SP HMV POP 547 (UK)
.
Queen Of The Hop / Lo-Do-Da-Da
1958
EP LA VOIX DE SON MAÎTRE EMF 201 (F)
A Hoot An 'A Holler / Ram Shackle Daddy / Wiggle Wiggle / The Bird On My Head
1958
EP HMV 7 EGS-79 (SWE)

Red Sputnik Rock -

Seventeen / Cloudburst / Red Sputnik Rock (Red Planet Rock) / Texas Tambourine
02/1959
SP HMV POP 585 (UK)
.
Wiggle Wiggle / Teasin'
06/1959
SP HMV POP 623 (UK)
.
Percy Green / Phineas Mc Coy
09/1959
SP HMV POP 649 (UK)
.
Don

Lang

& His Frantic Five - A Hoot An' A Holler / See You On Friday
12/1959
SP HMV POP 682 (UK)
.
Reveille Rock / Frankie And Johnny
03/1960
SP HMV POP 714 (UK)
.
Sink The Bismark / They Call Him Cliff
1960
SP HMV POP 805 (UK)
.
Don

Lang

& His Frantic Five - Time Machine / Don't Open That Door
07/1962
SP DECCA F 11483 (UK)
.
Don L

ang

& His

Boulder Rollers

- Wicked Woman / Play Money
11/1976
SP EMI EMI 2555 (UK)
.
Witch Doctor (Don

Lang

& His

Frantic Five

) / Cloud Burst / Six-Five Special (Don LANG with The

Mairants-Langhorn Big Six

)
Albums
1957
LP 10" HMV DLP 1151 (UK)
SKIFFLE SPECIAL - DON LAND & HIS SKIFFLE GROUP - Whiskey / New York Gals / Fightin' Men / The Cattle Train / This Train / By And By / A Rag, A Bone And A Lock Of Hair / Roll The Cotton Down / Poor Old Man / The Roving Gambler / Racoon And Possum / Sarah Kelly From Plum Nelly
1957
LP 10" HMV DLP 1179 (UK)
INTRODUCING THE HAND JIVE -

DON LANG & HIS FRANTIC FIVE -

Six Five Jive / Riverside Rock / Texas Tambourine / It's Time To Jive / School Day / Red Planet Rock / The Climb / Rock Around The Cookhouse / Hand Jive Boogie / Rock And Roll Blues
1962
LP 12" ACE OF CLUBS ACL 1111 (UK)
TWENTY TOP TWENTY TWISTS - DON LANG & THE TWISTERS - Whole Lotta Shakin' Goin' On / Great Balls Of Fire / Rock Around The Clock / I Go Ape / Move It / Jailhouse Rock / Way Down Yonder In New Orleans / Wiggle, Wiggle / What 'd I Say / Quater To Three / Hit The Road Jack / Sweet Little Sixteen / All Shook Up / Chantilly Lace / Shake, Rattle And Roll / Yakety Yak / Be Bop A Lula / Hound Dog / Splish Splash / New Orleans
1979
LP 12" Jam 649 (UK)

Don Lang Gets the Bug -

Saturday Night Fish Fry / Watermelon Man / Four Brothers / It Happened In Monterey / The Auctioner / Sidewinder / Sunday / Basin Street Blues / Cloudburst / Times A Wastin' / Ramshackle Daddy / Perdido
1983
LP 12" SEE FOR MILES CM 119 (UK)
ROCK ROCK ROCK - DON LANG AND HIS FRANTIC 5 - Queen Of The Hop / Ram Shackle Daddy / 6-5 Hand Jive / Red Planet Rock / Texas Tambourine / School Day / Rock Mister Piper / Rock Around The Cookhouse / Rock-A-Billy / Rock, Rock, Rock / Six Five Special / Four Brothers / Come Go With Me / Tequila / Hey Daddy / Rock And Roll Blues / Rock Around The Island / I Want You To Be My Baby / See You Friday / They Call Him Cliff / Time Machine / Witch Doctor
1984
LP 12" SEE FOR MILES SEE 35 (UK)
TOP TWENTY TWISTS - THE ORIGINAL DON LANG & THE TWISTERS - Whole Lotta Shakin' Goin' On / Great Balls Of Fire / Rock Around The Clock / I Go Ape / Move It / Jailhouse Rock / Way Down Yonder In New Orleans / Wiggle, Wiggle / What 'd I Say / Quarter To Three / Hit The Road Jack / Sweet Little Sixteen / All Shook Up / Chantilly Lace / Shake, Rattle And Roll / Yakety Yak / Be Bop A Lula / Hound Dog / Splish Splash / New Orleans
11/2005
2 CD VOCALION 2CDLK4301 (UK)

Introducing the Hand Jive & Singles Compilation 1955-61 - DON LANG & HIS FRANTIC FIVE :

CD 1 : Cloudburst / Seventeen / Four Brothers / I Want You To Be My Baby / Rock Around The Island / Jumpin' To Conclusions / Rock And Roll Blues / Stop The World I Wanna Get Off / Sweet Sue Just You / Lazy Latin / Rock Around The Cookhouse / Rock Mister Piper / Rock-A-Billy / Come Go With Me / Six-Five Special / School Day / White Silver Sands / Again 'n' Again 'n' Again / Red Planet Rock / Texas Tambourine / Six-Five Hand Jive / Ramshackle Daddy / Riverside Rock / Time To Jive / The Climb
CD 2 : The Big Beat / Rock Rock Rock / Baby Baby / Rock Pretty Baby / Tequila / Hand Jive Boogie / Witch Doctor / Cool Baby Cool / Hey Daddy / The Bird On My Head / Queen Of The Hop / La-Do-Da-Da / Teasin' / Wiggle Wiggle / Percy Green / Phineas McCoy / See You Friday / A Hoot And A Holler / Reveille Rock / Frankie And Johnnie / Sink The Bismarck / They Call Him Cliff / Time Machine / Don't Open The Door / The Auctioneer / The Hunch

12/2010
CD VOCALION CDLK 4427 (US)
Twenty Top Twenty Twists / Sixteen Hits for Your Dance Party - DON LANG &

Johnny Keating -

Don Lang - Twenty Top Twenty Twists

: Whole Lotta Shakin' Goin' On / Great Balls Of Fire / (We're Gonna) Rock Around The Clock / I Go Ape / Move It / Jailhouse Rock / Way Down Yonder In New Orleans / Wiggle, Wiggle / What'd I Say / Quarter To Three / Hit The Road Jack / Sweet Little Sixteen / All Shook Up / Chantilly Lace / Shake, Rattle And Roll / Yakety Yak / Be-Bop-A-Lula / Hound Dog / Splish Splash / New Orleans /

Johnny Keating - Sixteen Hits for Your Dance Party

: Medley Hully Gully : Bee-Bom - Knocking On Wood - Get Lost - Don't You Know It - Bee-Bom / Medley Cha-Cha : Well I Ask You - Ain't That Funny - What Do You Want - Who Am I - Well I Ask You / Medley Smooch : Baby Take A Bow - The Time Has Come - Forget Me Not - How About That - Baby Take A Bow / Medley Twist 'n' Shake : Some People - Don't That Beat All - As You Like It - Cupboard Love - Some
© Rocky Productions 7/03/2015