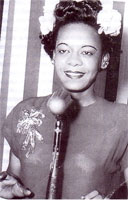 Chanteuse Rhythm 'n' Blues US, Annie Laurie a enregistré chez Savoy et Deluxe Records.

"The Bonny Banks of Loch Lomond" are not the only place to find an Annie Laurie. If the New Orleans' music scene and the early days of doo wop and rhythm and blues are more to a listener's taste than folk from the British Isles, then the Annie Laurie of choice would be the female vocalist who made her recording debut in the mid-'40s and later enjoyed a string of hits including a cover version of "Since I Fell for You," created with the Paul Gayten band. Laurie's influence on her fellow singers seems to run hot and cold, ranging from the often-repeated rumor that she was Dinah Washington's favorite to the following, much cooler appraisal from Irma Thomas: "Annie Laurie? She was okay."
Laurie first chimed in professionally within territory bands helmed by leaders such as Snookum Russell and Dallas Bartley. The singer established her knack for personable cover versions with her very first side, W.C. Handy's famed "St. Louis Blues," cut in 1945 with the Bartley outfit. Shortly after that she arrived in New Orleans and was hired by Gayten, whose activities in the music business included working as a bandleader, producer, and label owner. As a performer he had his own string of hit records for the Regal and DeLuxe outfits between 1947 and 1950, some of which featured Vocals performances by Laurie.
Gayten's knack may have been matching up available song material for cover versions with the various singers he was affiliated with. For Laurie, this included the previously mentioned "Since I Fell for You," which had been a blockbuster for Buddy Johnson and has endured dozens of powerhouse cover versions, as well as a less than liberating "I'll Never Be Free," originally associated with Lucky Millinder. Regal had done well with Laurie, but when the crown toppled off that label's head in 1951, the singer began working as a soloist on the newly reorganized Okeh imprint, moving over to Savoy by the middle of that decade. In the late '50s, she returned to the DeLuxe outfit, moaning through her biggest hit ever in 1957, "It Hurts to Be in Love." She was in the studios for the Ritz label in the early '60s, but began devoting herself entirely to church music just in time to miss the rock & roll invasion.
Talents : Vocals
Style musical : Rhythm 'n' Blues, Rock 'n' Roll, Blues
Years in activity :
| | | | | | | | | | | |
| --- | --- | --- | --- | --- | --- | --- | --- | --- | --- | --- |
| 1910 | 20 | 30 | 40 | 50 | 60 | 70 | 80 | 90 | 2000 | 10 |
DISCOGRAPHY
Singles
09/1956
SP SAVOY 45-1197 (US)
Rockin' And Rollin' Again / You Promised Love
01/1957
SP DELUXE 45-6107 (US)
It Hurts To Be In Love / Hand In Hand
05/1957
SP DELUXE 45-6135 (US)
It Must Be You / Please, Honey, Don't Go
1957
SP DELUXE 45-6140 (US)
Out Of My Mind / You're The Only One For Me
10/1957
SP DELUXE 45-6151 (US)
Love Is A Funny Thing / Nobody's Gonna Hurt You
1958
SP DELUXE 45-6173 (US)
Someday Someway / Hold On To What You Got
1959 ?
SP DELUXE 45-6182 (US)
Lost Love / Since I Fell For You
1960
SP DELUXE 45-6189 (US)
If You're Lonely / It's Gonna Come Out In The Wash Someday
10/1962
SP RITZ 45-17001 (US)
Trouble In Mind / Time Out For Tears
1989
SP COLLECTABLES COL 3654 (US)
The Train Kept A' Rollin' (Tiny

Bradshaw

) / It Hurts To Be In Love (Annie L

aurie

)
Albums
12/1958
LP 12" AUDIO LAB AL-1510 (US)
IT HURTS TO BE IN LOVE -

It Hurts to Be In Love / Hand in Hand / Nobody's Gonna Hurt You / We Found Love / You're the Only One For Me / Out Of My Mind / Please Honey Don't Go / I'm a Slave to You / Not Wanted / Love Is A Funny Thing

196?
LP 12" PALACE M-793 (US)

Nothing But The Blues SINGS WITH THE

Specs Williams Quartet

with OTHER ALL STAR PERFORMERS -

No Regrets Baby / Worried Blues / Booker T. Blues / Nothing But The Blues, Parts 1 & 2 / Highway Blues / It's Been Nice Baby / Goin' Away Blues / I've Been Long Gone / Salt Pork And Collard Greens / Mean And Evil Woman
1979
LP 12"

Route

66 ‎KIX-8 (SWE)

Creole Gal -

Paul Gayten -

Annie Laurie -

Your Hands Ain't Clean / True / Peter Blue And Jasper Too / I Still Love You / One Sweet Letter From You / Hey, Little Girl / Annie's Blues / Gayten's Nightmare / Creole Gal / My Rough And Ready Man / You Ought To Know / Cuttin' Out / I Ain't Gonna Let You In / Broadway's On Fire / Goodnight Irene / Cow Cow Blues / Nervous Boogie
1988
LP 12" SING 1155 (NW)

It Hurts To Be In Love! -

It Hurts To Be In Love / Hand In Hand / Nobody's Gonna Hurt You / We Found Love / You're The Only One For Me / It's Gonna Come Out In The Wash Someday / Out Of My Mind / Please Money Don't Go / I'm A Slave To You / Not Wanted / Love Is A Funny Thing / If You're Lonely
1991
CD Specialty ‎SPCD-2169-2 (US)

Regal Records In New Orleans -

Paul Gayten / Annie Laurie / Dave Bartholomew / Roy Brown - I'll Never Be Free (Paul GAYTEN & Annie LAURIE) / Yeah! Yeah! Yeah! (Paul GAYTEN) / You Ought To Know (Paul GAYTEN) / You Shouldn't (Paul GAYTEN) / Confused (Paul GAYTEN) / Bear Hug (Paul GAYTEN) / Oooh La La (Paul GAYTEN) / My Last Good-Bye (Paul GAYTEN) / I Ain't Gonna Let You In (Paul GAYTEN & Annie LAURIE) / Kickapoo Juice (Paul GAYTEN) / Each Time (Paul GAYTEN) / Fishtails (Paul GAYTEN) / Suzette (Paul GAYTEN) / Happy Birthday To You (Paul GAYTEN) / For You My Love (Paul GAYTEN) / Back Trackin' aka Dr. Daddy-O (Paul GAYTEN) / Gold Ain't Everything (Paul GAYTEN) / Baby, What's New? (Annie LAURIE) / My Rough And Ready Man (Annie LAURIE) / I Ain't Gonna Let You In (Annie LAURIE) / Low Down Feeling (Annie LAURIE) / 3 x 7 = 21 (Annie LAURIE) / Don't Marry Too Soon (Annie LAURIE) / Messy Bessy (Dave BARTHOLOMEW) / Nickel Wine (Dave BARTHOLOMEW) / Riding High (

R

oy

Brown

) / Brand New Baby (

R

oy

Brown

)
????
CD OFFICIAL CD 9138 (EUR)

It Hurts To Be In Love! -

It Hurts To Be In Love / Nobody's Gonna Hurt You / Hold On To What You Got / Since I Fell For You / Rockin' And Rollin' Again / You Promised Love / I Feel So Right Tonight / Cryin' Sighin' Dyin' / You Belong To Me / Stop Talkin' And Start Walkin' / Lonesome And Blue / Give Me Half A Chance / Love Is A Funny Thing / If You're Lonely / Lost Love / Hand In Hand / It Must Be You / Please, Honey, Don't Go / Get Me Some Money / Feeling The Need / In The Mood For It / It's Gonna Come Out In The Wash Someday / Out Of My Mind / Someday Someway / Trouble In Mind / Time Out For Tears
© Rocky Productions 19/03/2015