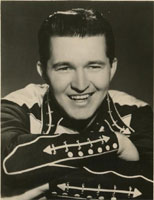 Chanteur Country US né le 4 Mars 1919 à Bartonville (Illinois). Mac McGuire est décédé le 2 Janvier 1963.

Born March 4, 1919 in Bartonville, Illinois, MacMcGuire became a multi-talented entertainer, seemingly about 1920. His first radio experience was with a station in Nebraska they wrote in a 1951 article. He did solo shows in Illinois and North Dakota. After those stints, he traveled extensively, with New Jersey and Michigan being popular on his itinerary.
He also wrote and produced several shows on the Mutual network, but no mention of these shows was found.
He moved to WCAU in Philadelphia in 1943, a stay which lasted three years. From there, he moved to radio staion WIP where he became a popular music disc jockey. But all the while, western music remained a hobby for him. In fact, he was part of the Harmony Rangers Quintet that was quite popular back East.
On WIP, his shows were on Monday through Saturday from 7:00 to 9:00 (they didn't say whether it was a morning or evening show) and also did a 3:00 to 4:30pm show Monday through Friday.
Mac also did some solo recording work for the Capitol label.
Mac McGuire died on January 2, 1963.
http://www.hillbilly-music.com/artists/story/index.php?id=14575
Talents : Vocals
Style musical : Traditional Country
Years in activity :
| | | | | | | | | | | | |
| --- | --- | --- | --- | --- | --- | --- | --- | --- | --- | --- | --- |
| 1910 | 20 | 30 | 40 | 50 | 60 | 70 | 80 | 90 | 2000 | 10 | 20 |
DISCOGRAPHY
78 t., Single & EP
08/1946
78 t. QUAKER S-101 (US)
Mac McGUIRE & His HARMONY RANGERS - Mother In Law Blues / I'll Never Say I'm Sorry
194?
78 t. QUAKER S-111 (US)
Mac McGUIRE & His HARMONY RANGERS - The Honey Song / Daytona
194?
78 t. QUAKER 1003 (US)
Mac McGUIRE & His HARMONY RANGERS - Happy Cowboy / Ragtime Annie / Swiss Yodelay / Tumbling Tumbleweeds
194?
78 t. QUAKER Q 1005 (US)
Mac McGUIRE & His HARMONY RANGERS - Ida Red / Rocky Mountain Yodel / Someday You'll Want Me To Want You
194?
78 t. QUAKER Q 1006 (US)
Mac McGUIRE & His HARMONY RANGERS - Arcadia Rag / Sioux City Sue / Sundown Lullaby
194?
78 t. QUAKER Q 1008 (US)
Mac McGUIRE & His HARMONY RANGERS - When

you and I were young

Maggie / San Antonio Rose / Driftwood On The River
194?
78 t. QUAKER Q 1011 (US)
Mac McGUIRE & His HARMONY RANGERS - Put On Your Old Gray Bonnet / Wave To Me My Lady / Old Shep
194?
78 t. QUAKER Q 1026 (US)
Mac McGUIRE & His HARMONY RANGERS - Honeymoon Song / Steel Guitar Rag / Pot O' Gold
12/1949
78 t. Rich-R-Tone 456 (US)
Mac McGUIRE & His HARMONY RANGERS - Mule Train / Ten Pretty Flowers (To My Gal In Tennessee)
194?
78 t. FLAME EP-78-101 (US)

Mac McGUIRE - In The Garden / The Lord Is My Shepherd / His Arms Are Open To Everyone / I Walked Into The Garden

195?
SP FLAME EP-78-101 (US)
Mac McGUIRE QUARTET - Beyond The Sunset / The Old Rugged Cross
1950
78 t. CAPITOL 1135 (US)

Mac McGUIRE QUINTET - Cakewalk / Hokey Pokey Polka

1950
SP CAPITOL F1135 (US)
Mac McGUIRE QUINTET - Cakewalk / Hokey Pokey Polka
1950
78 t. CAPITOL 1314 (US)
Mac McGUIRE QUINTET - The Place Where I Worship / I'm Gonna Dry Ev'ry Tear With A Kiss
1950
SP CAPITOL F1314 (US)
Mac McGUIRE QUINTET - The Place Where I Worship / I'm Gonna Dry Ev'ry Tear With A Kiss
04/1953
78 t. ASTOR 15075 (US)
Mac McGUIRE QUINTET - Wanted / Ooh, Honey How I Love You
04/1953
SP ASTOR 15075-X45 (US)
Mac McGUIRE QUINTET - Wanted / Ooh, Honey How I Love You
© Rocky Productions 8/03/2021