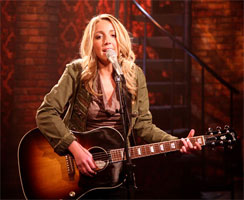 Chanteuse Country US née le 10 Septembre 1986 à Knoxville (Tennessee).

Country singer Ashley Monroe was already a seasoned show business veteran when she released her self-titled album in 2007 at the tender age of 19. Born in Knoxville, Tennessee, Monroe was born into a family with a great love for country music -- she's kin to Carl Smith and members of the Carter Family on her father's side -- and she developed a passion for music at an early age, taking her first piano lessons when she was only seven. At age 11, Monroe won a talent contest in Pigeon Forge, TN (home to Dolly Parton's resort Dollywood), singing Patsy Montana's western classic "I Want to Be a Cowboy's Sweetheart"; she brought home a $100 prize, and she was soon a regular performer at a theater in Pigeon Forge. However, Monroe's world was turned upside down when her father died in early 2000, and 13-year-old Ashley began writing songs to help her deal with the tragedy. A few years later, Monroe began making trips to Nashville to perform her music in clubs along the fabled Lower Broadway district, and before long she pulled up stakes and moved to Music City. While Monroe's youth led to a certain degree of resistance at record labels and publishing houses in Nashville, her music impressed manager Clarence Spalding, who signed her as a client and began shopping her talents around town. While an initial major-label development deal went sour, in 2006 Monroe's music found an appreciative ear at Columbia Records, and she teamed up with producer Mark Wright (whose clients include Clint Black, Gretchen Wilson, and Los Lonely Boys) to record her first album. An advance single from the album, "Satisfied," didn't perform well on country radio, nor did a second single. Monroe's album -- also called Satisfied -- appeared briefly as a digital release to little attention and all plans for a physical release were scrapped.
All the problems with Satisfied led to Monroe and Columbia separating in 2007. Over the next few years, Monroe worked behind the scenes as both a songwriter and singer, having tunes appear on albums by Jason Aldean and Miranda Lambert while often singing sessions at Jack White's Third Man Records. Lambert turned out to be a pivotal connection for Monroe. The two became friends and, along with Angaleena Presley, formed Pistol Annies, whose 2011 eponymous debut became a significant hit. The success of Pistol Annies revived Monroe's solo career. She signed with Warner, teamed with producer Vince Gill, and released the album Like a Rose in March of 2013. The single "Weed Instead of Roses" brushed the country Top 40. Monroe also featured prominently on Pistol Annies' second album Annie Up, released in May 2013; she had a hand in writing ten of the 12 songs.
Monroe kept the hits coming when her duet with Blake Shelton on Shelton's "Lonely Tonight" hit number two the following year. Her third album, The Blade, arrived in July 2015, with Vince Gill returning to produce; the album debuted at number two on Billboard's Country Albums chart. Monroe worked with producer Dave Cobb for her 2018 album, Sparrow, which appeared in April 2018.
http://www.myspace.com/ashleymonroemusic
Talents : Vocals, Guitar, Songwriter
Style musical : Country-Pop, Contemporary Country

https://www.youtube.com/watch?v=qdfqzuQ8j5I
Years in activity :
| | | | | | | | | | | |
| --- | --- | --- | --- | --- | --- | --- | --- | --- | --- | --- |
| 1910 | 20 | 30 | 40 | 50 | 60 | 70 | 80 | 90 | 2000 | 10 |
DISCOGRAPHY
Singles
Albums
02/2007
CD COLUMBIA 8279693872 (US)
SATISFIED -

I Don't Wanna Be / Pony / Satisfied / Used / Can't Let Go / That's Why We Call Each Other Baby / Make Room At The Bottom / Let Me Down Again / Pain Pain / Hank's Cadillac / He Ain't Coming Back

03/2013
CD WARNER BROS. CD 533994 (US)
LIKE A ROSE -

Like A Rose / Two Weeks Late / Used / Weed Instead Of Roses / You Got Me / The Morning After / Monroe Suede / She's Driving Me Out Of Your Mind / You Ain't Dolly (And You Ain't Porter)

07/2015
CD Warner Music CD 549777 (US)

The Blade -

On To Something Good / I Buried Your Love Alive / Bombshell / Weight Of The Load / The Blade / Winning Streak / From Time To Time / If Love Was Fair / Has Anybody Ever Told You / Dixie / If The Devil Don't Want Me / Mayflowers / I'm Good At Leavin'
02/2016
LP 12" Third Man TMR-318 (US)

Live at Third Man Records -

Like A Rose / Dixie / The Blade / Weed Instead Of Roses / Bombshell / On To Something Good / Satisfied / Has Anybody Ever Told You / I'm Good At Leaving / Hickory Wind (Gram Parsons)
04/2018
CD WARNER BROS. 565008 (US)

Sparrow - Orphan / Hard On A Heart / Hands On You / Mother's Daughter / Rita / Wild Love / This Heaven / I'm Trying To / She Wakes Me Up (Rescue Me) / Paying Attention / Daddy I Told You / Keys To The Kingdom
© Rocky Productions 21/04/2018