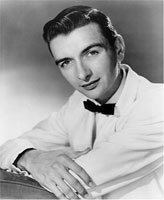 Chanteur US né Raymond August Peterson, le 23 avril 1935 à Denton (Texas). Ray Peterson a débuté en 1958 chez RCA Records avant de créer en 1961 son propre label Dune Records. Il disparaîtra des charts en 1963 avec l'explosion du Rock Anglais. Ray est décédé le 25 janvier 2005 chez lui à Smyrna (Tennessee).

Singer Ray Peterson enjoyed a handful of pop hits during the early 1960s, among them the Phil Spector-produced "Corrina Corrina" and the car-crash melodrama "Tell Laura I Love Her." Born April 23, 1939 in Denton, TX, he spent much of his childhood recovering from polio, and during an extended stay in a nearby treatment facility he began performing for his fellow patients. As Peterson's health returned he began singing professionally in local clubs, eventually relocating to Los Angeles; there he was discovered by manager Stan Shulman, signing to RCA in 1958. The owner of a four-octave voice, Peterson's early material ran the gamut from teen ballads like "Let's Try Romance" to covers including Little Willie John's "Fever," all to little success; he finally scored a hit in 1959 with "The Wonder of You," which reached the Top 30 in both the U.S. and the U.K.
Another minor hit, "Answer Me," followed before Peterson scored his greatest success with the 1960 epic "Tell Laura I Love Her." The record's popularity allowed the singer to fund his own label, Dunes, and he soon recruited producer Spector to helm a smash rendition of the traditional "Corrina Corrina." The Dunes roster also included singer Curtis Lee, for whom Spector produced the 1961 hits "Pretty Little Angel Eyes" and "Under the Moon of Love." Peterson himself went on to cut the Goffin/King-authored "Missing You" and "I Could Have Loved You So Well," but his stardom quickly faded, and after scoring a last minor chart entry with 1963's "Give Us Your Blessing" he signed to MGM in an attempt to cross over to country audiences, ultimately retiring from perfoming as the decade drew to a close.
http://www.rockabillyhall.com/RayPeterson.html
Talents : Singer
Style musical : Teen Idol, Rock 'n' Roll
CORRINA, CORRINA

MISSING YOU
Années en activité :
| | | | | | | | | | |
| --- | --- | --- | --- | --- | --- | --- | --- | --- | --- |
| 1910 | 20 | 30 | 40 | 50 | 60 | 70 | 80 | 90 | 2000 |
DISCOGRAPHY
Singles & EP
| | | | |
| --- | --- | --- | --- |
| 1958 | SP RCA VICTOR 47-7087 (US) | . | Fever / We're Old Enough To Cry |
| 1958 | SP RCA VICTOR 47-7165 (US) | . | Shirley Purley / Let's Try Romance |
| 1958 | SP RCA VICTOR 47-7255 (US) | . | Tail Light / Suddenly |
| 1958 | SP RCA VICTOR 47-7303 (US) | . | Patricia / My Blue Eyed Baby |
| 1958 | SP RCA VICTOR 47-7404 (US) | . | Love Is A Woman / Richer Than I |
| 04/1959 | SP RCA VICTOR 47-7513 (US) | . | The Wonder Of You / I'm Gone |
| 1959 | SP RCA VICTOR 47-7578 (US) | . | Come And Get It / My Blue Angel |
| 1959 | SP RCA VICTOR 47-7635 (US) | . | Goodnight My Love / Till Then |
| 1960 | SP RCA VICTOR 47-7703 (US) | . | Answer Me My Love / What Do You Want To Make |
| 1960 | SP RCA VICTOR 47-7745 (US) | . | Tell Laura I Love Her / Wedding Day |
| 1960 | SP RCA VICTOR 47-7779 (US) | . | Teenage Heartache / I'll Always Want You Near |
| 1960 | SP RCA VICTOR 47-7845 (US) | . | I'm Tired / My Blue Angel |
| 1960 | SP DUNES 45-2002 (US) | | Corrina, Corrina / Be My Girl |
| 1960 | SP DUNES 45-2004 (US) | . | You didn't Care / Sweet Little Kathy |
| 12/1960 | EP RCA VICTOR 75623 (F) | | Tell Laura I Love Her / Suddently / Fever / The Wonder Of You |
| 05/1961 | SP DUNES 45-2006 (US) | . | Missing You / You Thrill Me |
| 06/1961 | EP LONDON REX 10084 (F) | | Corrina, Corrina / Be My Girl / Sweet Little Kathy / You Didn't Care |
| 1961 | SP DUNES 45-2009 (US) | . | Why Don't You Write Me / I Could Have Loved You So Well |
| 1962 | SP DUNES 45-2018 (US) | . | You Didn't Care / If Only Tomorrow |
| 1962 | SP DUNES 45-2019 (US) | . | Slowly / Is It Wrong |
| 1963 | SP DUNES 45-2025 (US) | . | Without Love / Give Us Your Blessing |
| 1964 | SP RCA VICTOR 47-8333 (US) | . | Goodnight My Love / The Wonder Of You |
| 1964 | SP MGM K13269 (US) | . | If You Were Here / Oh No! |
| 1964 | SP MGM K13299 (US) | . | Across The Street Side / When I Stop Dreaming |
| 1965 | SP MGM K13336 (US) | . | House Without Windows / Wish I Could Say No To You |
| 1965 | SP MGM K13388 (US) | . | One Lonesome Rose / I'm Only Human |
| 1965 | SP MGM K13436 (US) | . | Everybody / Love Hurts |
| 1966 | SP MGM K13508 (US) | . | Amanda / I'm Gonna Change Everything |
| 1967 | SP RCA VICTOR 447-0738 (US) | . | Tell Laura I Love Her / Fever |
| 1969 | SP REPRISE 811 (US) | . | Love Rules the World / Together |
| 1970 | SP UNI 55268 (US) | . | To Wait For Love / Tell Laura I Love Her |
| 1971 | SP DECCA 32861 (US) | . | Stamp Out Loneliness / There's A Bette |
Albums
| | | | |
| --- | --- | --- | --- |
| 1960 | LP 12" RCA VICTOR SP-2296 (US) | | TELL LAURA I LOVE HER - Tell Laura I Love Her / The Wonder Of You / Come And Get It / Till Then / Suddenly / Goodnight My Love (Pleasant Dreams) / Fever / Answer Me, My Love / What Do You Want To Make Those Eyes At Me For? / Richer Than I / My Blue Angel / I'm Gone |
| 1964 | LP 12" MGM E 4250 (mono) / SE-4250 (stereo) (US) | | THE VERY BEST OF RAY PETERSON - Corrina Corrina / Missing You / I Could Have Loved You So Well / Give Us Your Blessing / You Thrill Me / Sweet Little Kathy / Promises (You Made Now Are Broken) / You Didn't Care / Is It Wrong / I Forgot What It Was Like / Be My Girl / I'm Not Jimmy |
| 1965 | LP 12" MGM E 4277 (mono) / SE-4277 (stereo) (US) | | THE OTHER SIDE OF RAY PETERSON - That's All / Hawaiian Wedding Song / Love Is A Many-Splendored Thing / Let There Be Love / If I Loved You/On The Street Where You Live / Unchained Melody / Fly Me To The Moon / You'll Never Walk Alone / Over The Rainbow / Canadian Sunset / I'll Get By |
| 1967 | LP 12" RCA CAMDEN 2119 (US) | | GOODNIGHT MY LOVE, PLEASANT DREAMS |
| 1969 | LP 12" UNI 73078 (US) | | MISSING YOU - THE BEST OF RAY PETERSON - Corinna Corinna / Hey Little One / Hooked On a Feeling / Tell Laura I Love Her / Love The Understanding Way / Goodnight My Love, Pleasant Dreams / The Wonder Of You / Me Myself And I / Funny How Time Slips Away / I Can't Help It (If I'm Still In Love With You) / Missing You |
| 1971 | LP 12" DECCA D-75307 (US) | | RAY PETERSON COUNTRY |
| 197? | LP 12" RPM RPM 435 (US) | | MY FATHER'S PLACE - My Father's Place / Highest Flight / Doesn't It Feel Good / I Found It / Call On Him / Top Of The Hill / Hello Down Below / When You Walk With Jesus / Free Indeed / You Gotta Be Tired |
| 1987 | LP 12" BEAR FAMILY BFX 15245 (D) | | ALL HIS HITS - Corrina, Corrina / I'm Gone / Doggonit / I'm Tired / Shirley Purley / Promise / Is It Wrong? / Patricia / Fever / Tell Laura I Love Her / Tell Tommy I Miss Him (original answer) by Skeeter DAVIS / Give Us Your Blessings / The Wonder Of You / Missing You / We're Old Enough To Cry / Teenage Heartache / Come And Get It / Be My Girl |
| 1994 | CD POINT ? (US) | | THE VERY BEST OF RAY PETERSON - Corrina, Corrina / Tell Laura , I Love Her / My Blue Angel / Goodnight My Love / Teenage Heartache / Come Aand Get It / What Do You Want To Make Those Eyes At Me For / I'm Tired / I Forget Was It Was Like / Answer Me My Love / Till Then / Richer Than I / Is It Wrong / Be My Girl / Promises / Sweet Little Kathy / You Thrill Me / Come What May / Give Us Your Blessing / Missing You / I'm Not Jimmy / I Couldn't Have Loved You So Well / You Didn't Care / The Wonder Of You / Fever / I'm Gone / Doggone It / Shirley Purley / Patricia / Where Are You / Why Don't You Write Me / My Blue Eyed Baby |
| 1998 | CD COLLECTABLES 5876 (US) | | TELL LAURA I LOVE HER - Tell Laura I Love Her / The Wonder Of You / Come And Get It / Till Then / Suddenly / Goodnight My Love (Pleasant Dreams) / Fever / Answer Me, My Love / What Do You Want To Make Those Eyes At Me For? / Richer Than I / My Blue Angel / I'm Gone / Corrina, Corrina / Missing You |
| 1998 | CD BEAR FAMILY BCD 15880 (D) | | TELL LAURA I LOVE HER - Corrina, Corrina / Fever / The Wonder Of You / Tell Laura I Love Her / I'm Tired / Shirley Purly / Is It Wrong / Come And Get It (remake) / Teenage Heartache / Promises / Goodnight My Love (Pleasant Dreams) / We're Old Enough To Cry / What Do You Want To Make Eyes At Me For / You Thrill Me / Doggonit / I Forgot What It Was Like / Wedding Day / Missing You / My Blue Angel / Give Us Your Blessings / I'm Gone / Sweet Little Kathy / Patricia / I'm Not Jimmy / You Didn't Care / Answer Me, My Love / I Could Have Loved You So Well / Be My Girl / Till Then / Suddenly / Richer Than I |
| ???? | CD TEEN AGER ? (US) | | RAY PETERSON SINGS HIS HITS - Tell Laura I Love Her / Corrina, Corrina / I Could Have Loved you So Well / The Wonder Of You / Be My Girl / I'm Not Jimmy / Shirley Purley / Why Don't You Write Me / My Blue Angel / Give Us Your Blessing / Till Then / Fever / You Thrill Me / If Only Tomorrow / Come What May / I'm Gone / Deep Are The Roots / A Love To Remember / You Don't Care / Missing You / Where Are You / Patricia / Doggone / Is It Wrong / Promises You Make Are Broken / You Know Me Too Well / Suddenly / Without Love (There Is Nothing) / I Forgot What It Was Like / Sweet Little Kathy / Goodnight My Love (Pleasant Dreams) |
© Rocky Productions 27/12/2007