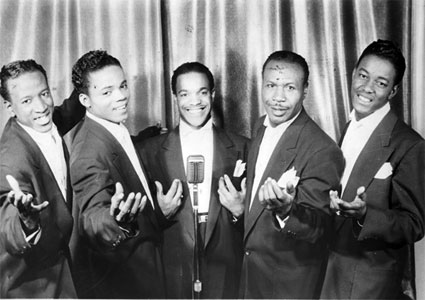 Groupe US originaire de Détroit (Michigan) formé en 1950 et composé de Charles Sutton, Henry Booth, Freddy Pride, Lawson Smith et Sonny Woods. Les Royals ont été découvert par Johnny Otis et accompagné Hank Ballard. Ils ont eu un succès en 1953 avec "Get It", avant de devenir les Midnighters en 1954.

The Royals were formed in Detroit in 1950 by singers Henry Booth, Charles Sutton, Lawson Smith, and Sonny Woods. Led by Sutton's smooth tenor, the group (with occasional vocal help from guitarist and arranger Alonzo Tucker) also reportedly featured Levi Stubbs (later of the Four Tops) and Jackie Wilson as members for a brief time. Johnny Otis, then a talent scout for Federal Records, spotted the group at a talent show in 1952, and brought them to the label. The Royals' first single, "Every Beat of My Heart" (written by Otis and later a big hit for Gladys Knight & the Pips in 1961), was released later that same year, and while it was a quality song and recording, it failed to generate much attention. Smith entered the U.S. Army in 1953, with his place in the group taken by Hank Ballard, then only 16 years old. But Ballard had a voice that belied his years, combining a gospel feel with a penchant for writing raw, sexual songs that made no pretense about their intent.
The Ballard-penned "Get It" was a minor R&B hit in 1953, and a year later, the Royals broke through with "Work With Me Annie," with Ballard providing the vocal heat. When it was obvious that the song was going to be a huge hit (it ended up hitting the top spot on the R&B charts), the Royals -- not wanting to be confused with the similarly named group the Five Royals -- changed their name to the Midnighters, and by the time "Work With Me Annie" hit the top spot, it was being attributed to the Midnighters, making it the renamed group's debut single. Eventually they became known as Hank Ballard & the Midnighters, becoming one of the most important groups in the history of early rock & roll.
http://www.uncamarvy.com/Royals/royals.html
Talents : Charles Sutton : Baritone Lead - Henry Booth : Tenor - Freddy Pride : Baritone - Sonny Woods : Bass
Style musical : Doo Wop, Rhythm 'n' Blues
Years in activity :
| | | | | | | | | | | |
| --- | --- | --- | --- | --- | --- | --- | --- | --- | --- | --- |
| 1910 | 20 | 30 | 40 | 50 | 60 | 70 | 80 | 90 | 2000 | 10 |
DISCOGRAPHY
78 t. & Singles
| | | |
| --- | --- | --- |
| 03/1952 | 78 t. & SP FEDERAL 12064 (US) | Every Beat Of My Heart / All Night Long |
| 06/1952 | 78 t. & SP FEDERAL 12077 (US) | Starting From Tonight / I Know I Love You So |
| 08/1952 | 78 t. & SP FEDERAL 12088 (US) | Moonrise / Fifth Street Blues |
| 09/1952 | 78 t. & SP FEDERAL 12098 (US) | A Love In My Heart / I'll Never Let Her Go |
| 11/1952 | 78 t. & SP FEDERAL 12113 (US) | Are You Forgetting / What Did I Do |
| 02/1953 | 78 t. & SP FEDERAL 12121 (US) | Shrine Of St Cecilia / I Feel So Blue |
| 06/1953 | 78 t. & SP FEDERAL 12133 (US) | Get It / No It Ain't |
| 12/1953 | 78 t. & SP FEDERAL 12150 (US) | Hey Miss Fine / I Feet That A Way |
| 01/1954 | 78 t. & SP FEDERAL 12160 (US) | That's It / Someone Like You |
| 03/1954 | 78 t. & SP FEDERAL 12169 (US) | Work With Me Annie / Until I Die |
| 1983 | SP GUSTO GT4-2170 (US) | All Night Long / Every Beat Of My Heart |
| 1989 | SP COLLECTABLES COL 036527 (US) | Moonrise / The Shrine Of St. Cecilia |
© Rocky Productions 2/08/2002