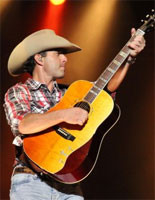 Chanteur Country US originaire de Amarillo (Texas).

A young singer and songwriter in the Texas honky tonk tradition, Aaron Watson plays country music with a traditional feel but a young man's energy and spunk, and has earned a loyal fan following in the Lone Star State. Born in Amarillo, TX, Watson's earliest musical influences were the gospel hymns he sang in church with his family and the classic country records by George Jones, Merle Haggard, and Willie Nelson his folks played around the house. Watson began writing and singing his own songs while he was a student at Abilene Christian University, and after graduating he became a regular fixture on the Texas honky tonk circuit. In 2002, Watson released his first album, Shutupanddance, which was a major success in Texas, spawning the hit singles "Off the Record," "I Don't Want You to Go (But I Need You to Leave)," and the title tune. The album also earned him airplay and media attention nationwide, and Watson followed up his debut in 2004 with The Honky Tonk Kid, which was produced by Ray Benson of Asleep at the Wheel and featured guest Vocalss from Watson's hero, Willie Nelson. Watson and his band the Orphans of the Brazos captured their energetic live set on tape with their 2005 release Live at the Texas Hall of Fame, and Watson returned to the studio in 2006 for his fourth album, San Angelo.
In 2008 Watson began transforming his sound -- albeit subtly and without leaving his Texas roots behind -- toward a more contemporary country radio-friendly one on the reflective Angels & Outlaws. In 2010 he released The Road & the Rodeo, returning to more uptempo material, while smoothing his edges further. The result was more airplay, higher-profile touring engagements, and charting inside Billboard's Top 200.
http://www.myspace.com/aaronwatson
Talents : Singer, Guitar
Style musical : Contemporary Country, Country-Pop
Years in activity :
| | | | | | | | | | | |
| --- | --- | --- | --- | --- | --- | --- | --- | --- | --- | --- |
| 1910 | 20 | 30 | 40 | 50 | 60 | 70 | 80 | 90 | 2000 | 10 |
DISCOGRAPHY
Albums
2001
CD ? (US)
A TEXAS CAFE - What's Her Name / Old Man Walker's Property / Just A Call / Not Just Another Pretty Face / Amarillo Fair / Strong Arm Of The Law / A Texas Cafe / Charlene Gene / Every Time I Hear Those Songs / When All Those Aggies Move To Austin / Thank God For Country Girls
07/2002
CD SONNET 623526 (US)

SHUTUPANDDANCE -

I Don't Want You To Go (But I Need You To Leave) / The Notel Motel / Heaven Help The Heart / Something With A Swing To It / Shut Up And Dance / Some Never Will / Stuck Between A Rock And A Heartache / Wish I Could Say I'd Been Drinking / Lonely Lubbock Lights / Wrangler Butts / Messing With A Man On A Mission / Kentucky Coal Miner's Prayer / Off The Record / Stuck Between A Rock And A Heartache

[acoustic]

03/2004
CD EMERGENT / 92E 170041 (US)
THE HONKY TONK KID - The Right Place / The Honky Tonk Kid (with Willie NELSON) / Reckless / What She Doesn't Know / If You're Not In Love / Let's Lose Some Sleep Tonight / Honky Tonkin' Around Texas (with ASLEEP AT THE WHEEL) / Mackenzie Park / Fool's Paradise / Diesel Driving Daddy (with Dale WATSON) / Diesel Driving Daddy / Next To Heaven / For What It's Worth / Will You Love Me In A Trailer?
04/2005
CD SONNET 573549 (US)
LIVE AT THE TEXAS HALL OF FAME - Intro / The Right Place / Songs About Saturday Night / Next To Heaven / What She Don't Know / Heaven Help The Heart / Silver Wings / Some Never Will / The Notel Motel / If You're Not In Love (Foggy Mountain Breakdown) / Honky Tonkin' Around Texas / Shut Up And Dance / Diesel Drivin' Daddy / Reckless / Off The Record / Thanks A Lot / I Don't Want You To Go (When All Those Aggies Move To Austin) / The Honky Tonk Kid / Something With A Swing To It
04/2006
CD EMERGENT / 92E 5737727 (US)
SAN ANGELO - Heyday Tonight / Good Thing Going / In Harm's Way / 3rd Gear & 17 / Unbelievably Beautiful / Haunted House / I'm A Memory / San Angelo / Except For Jessie / Blame It On Me / All American Country Girl / True Love Ways / Nobody's Crying But The Baby
04/2008
CD THIRTY TIGERS 5739544 (US)
ANGELS & OUTLAWS - Tulsa / Whiskey On The Fire / Wake Up And Smell The Coffee / Heart Of Life / Love Makin' Song / Breaker Breaker One Nine / Can't Be A Cowboy Forever / Rollercoaster Ride / Hearts Are Breaking Across Texas / Angels & Outlaws / Sweet Contradiction / Dancin' Shoes / Philippians 3:12-14 (with Billy Joe SHAVER) / Barbed Wire Halo / That's What I Like About A Country Song
09/2009
CD + DVD Big Label / Thirty Tigers 574067 (US)

Deep in the Heart of Texas - Aaron Watson Live :

CD 1 : Love Makin' Song / Heyday Tonight / Escept For Jessie / Hearts Are Breaking Across Texas / Rollercoaster Ride / Angels & Outlaws / San Angelo / All American Country Girl / Bob Willis Is Still The King / Grandad, Paw Paw, John Pop & Mr Pete / Barbed Wire Halo / 3rd Gear & 17 / Wake Up & Smell The Coffee / Unbelievably Beautiful / Thanks For Freedom / The Fighting Side Of Me / Lonely Lubbock Lights / East Bound And Down / Breaker Breaker One Nine / Off The Record / The Orphans Of The Brazos Band / Reckless
DVD : Love Makin' Song / Heyday Tonight / Escept For Jessie / Hearts Are Breaking Across Texas / Rollercoaster Ride / Angels & Outlaws / San Angelo / All American Country Girl / Bob Willis Is Still The King / Grandad, Paw Paw, John Pop & Mr Pete / Barbed Wire Halo / 3rd Gear & 17 / Wake Up & Smell The Coffee / Unbelievably Beautiful / Thanks For Freedom / The Fighting Side Of Me / Lonely Lubbock Lights / East Bound And Down / Breaker Breaker One Nine / Off The Record / The Orphans Of The Brazos Band / Reckless

10/2010
CD Big Label 74130 (US)

The Road & the Rodeo -

Road & The Rodeo / The Road / Walls / Best For Last / Fast Cars Slow Kisses / Bless Her Crazy Heart / Zero To Sixty / Sweetheart Of The Rodeo / Conflict / Houston / Hollywood / High Price Of Fame / The Things You'll Do / Drivin' All Night Long / After The Rodeo
10/2012
CD HTK 479103 (US)

Real Good Time -

Real Good Time / Summertime Girl / Lips / Turn Around / July In Cheyenne / Cadillac Cowboy (Aaron

Watson

feat: Justin Mc

Bride

) / Fish / Leather and Lace (Aaron

Watson

feat: Elizabeth

Cook

) / Raise Your Bottle / Texas Boys (feat: Josh

Abbott

/ Pat

Green

) / Nowhere Fast / Deer Blind (feat: John

Anderson

/ Kevin

Fowler

) / Hey Y'All / Barbed Wire Halo / Reckless / Off The Record (Aaron

Watson

feat: Charla

Corn

) / I Don't Want You To Go / Honky Tonk Kid (Aaron

Watson

feat: Willie

Nelson

)
02/2015
CD Big Label / Thirty Tigers 400237 (US)

The Underdog -

The Prayer / Wildfire / Freight Train / That Look / Getaway Truck / Bluebonnets (Julia's Song) / That's Why God Loves Cowboys / That's Gonna Leave A Mark / The Underdog / Blame It On Those Baby Blues / One Of Your Nights / Family Tree / Rodeo Queen / Fence Post
02/2017
CD Big Label / Big Ride 188769 (US)

Vaquero - Texas Lullaby / Take You Home Tonight / These Old Boots Have Roots / Be My Girl / They Don't Make 'em Like They Used To / Vaquero / Outta Style / Run Wild Horses / Mariano's Dream / Clear Isabel / Big Love In A Small Town / One Two Step At A Time / Amen Amigo / The Arrow / Rolling Stone / Diamonds And Daughters
© Rocky Productions 7/04/2017