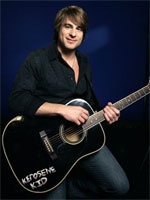 Chanteur Country US né le 23 Octobre 1972 à Kings Mountain (Caroline du Nord).



Despite the fact that he was signed during Nashville's most serious identity crisis, Jimmy Wayne may not be a "pure country artist" (whatever that phrase means anymore). But he does possess two things that the great singer/songwriters in any genre should: passion and honesty. Wayne writes edgy life-and-love songs that come from his own autobiography, much of it spent surviving a broken family and homelessness. His tunes are informed by influences ranging from Steve Earle to Daryl Hall to Don Henley. Wayne's darkness — and it is considerable — is tempered by the openness in the grain of his voice and his vulnerability. His youth is not ashamed to sing straight about the weight of his brokenness and yet his willingness to endure it, because love in any guise is better than its alternative. The album's first single, "Stay Gone," is an invitation for the rest of us to remember our own experiences, despite his protagonist's plea to remain apart, out of sight, because of the pain. "Paper Angel" talks about the forgotten, the lost, the taken; children whom Wayne knows well; in fact, as the power chords and mandolin entwine around his reaching Vocalss and cascading acoustic guitar, we come to understand that he can understand that he can sing this way because he's been one of these children. When he sings the refrain, with more yearning and determination to convince than in a thousand Steve Earle songs, it's because he knows the other side: "Paper Angels/You're in my thoughts and prayers/No matter where you are remember God's right there/he's asking all of us to help take care/of paper angels everywhere."
The production team of Chris Lindsey and James Stroud has added a lot to songs that are in essence very simple and powerful in and of themselves. It's obvious they want this kid to be a star, but he would have gotten there without all this. The music biz in Nash Vegas has dug its own cookie cutter grave by signing look-alikes who are pretty on TV, and giving those models songs by hacks to record. Then there are the creeps who run country radio and have consciously done everything to ruin country music and its rich heritage; they deserve their fate. However, as a result of folly and greed and arrogance, the entire biz there needs to look at virtually everything that comes their way since they don't know what it is people want, and that's definitely a positive. Programmers actually have to do their jobs, A&R men have to listen to tapes instead of looking at 8x10 glossies to debate whether they'll look good on CMT. Wayne's the real thing. He could make a hard country record, he could make a pop record, a solid rock album; he could even cut a solid soul record with his voice. As a result he could deliver the goods in a more chancy setting, but it's a small complaint. This album may be a tad slick but the substance far outweighs the polish. This is a young man for whom the sky is the limit. He can write, sing and yeah, for a guy who spent so much of his life living outdoors and in shelters, he's a handsome devil too. But the grain of truth that's in his voice outstrips any image or sonic trappings that may be placed upon him from outside. Keep your ears open; this young man is no flash in the pan.
Talents : Singer, Guitar
Style musical : Contemporary Country

http://www.youtube.com/watch?v=fRZ4zyuBpug
Years in activity :
| | | | | | | | | | | |
| --- | --- | --- | --- | --- | --- | --- | --- | --- | --- | --- |
| 1910 | 20 | 30 | 40 | 50 | 60 | 70 | 80 | 90 | 2000 | 10 |
DISCOGRAPHY
Singles
05/2003
CD DREAMWORKS 000034532 (US)
Stay Gone

[LP version]

/ Stay Gone

[piano Vocals]

/ Stay Gone

[multimedia track]

2006
CD BIG MACHINE 0101 (US)
That's All I'll Ever Need / That's All I'll Ever Need / That's All I'll Ever Need
2008
CD VALORY ? (US)
Do You Believe Me Now? / Do You Believe Me Now? / Do You Believe Me Now?
Albums
06/2003
CD DREAMWORKS 450355 (US)
JIMMY WAYNE - After You / Are You Ever Gonna Love Me? / Stay Gone / Trespassin' / Paper Angels / You Are / She Runs / Just A Dream / Blue And Brown / I Love You This Much / You're Not The One I'm Talking To / The Rabbit
08/2008
CD VALORY 129002 (US)
DO YOU BELIEVE ME NOW? - Do You Believe Me Now / I Will / I'll Be That / Brighter Days / One On One / Kerosene Kid / No Good For Me / True Believer / I Didn't Come Here To Lose / Where You're Going / Stay Gone / I Love You This Much / Do You Believe Me Now

[music video]

/ Cut X Cut

[Jimmy Wayne interview and behind the scenes]

11/2009
CD VALORY VMCAJW0200 (US)
SARA SMILE - Things I Believe / All The Time In The World / Sara Smile / Just Knowing You Love Me / Just Look At You / Counting The Days / There's A Memory / Belongs To You / I'll Never Leave You / Elephant Ears
© Rocky Productions 25/11/2009