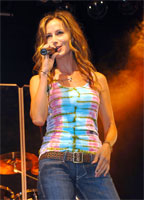 Chanteuse Country US née le 25 Octobre 1970 à Kansas City (Missouri).

After several years of hard touring, Chely Wright broke through to become a chart-topping star on the contemporary country scene. Born Richelle Renee Wright in Kansas City in 1970, she grew up in the small town of Wellsville, KS, and fell in love with country music before she'd even started school. She took piano lessons starting at age four and began singing in groups at 11, also playing trumpet in her school band. At 14 she started performing in local clubs with a backing band called County Line, which featured her father on bass. The summer after her junior year of high school she performed in the long-running Ozark Jubilee show, and as a senior she successfully auditioned for a job impersonating female country stars at Nashville's Opryland theme park. She moved there permanently in 1989 and spent the next three years working at Opryland and an assortment of day jobs. Eventually, she landed a publishing deal on the strength of her songwriting, and a record contract with Mercury/Polydor followed.
Wright's debut album, Woman in the Moon, was released in 1994 and attracted positive notice from some critics and the country music community, earning her a Top New Female Vocalsist award from the ACM. Unfortunately, neither it nor its follow-up, 1996's Right in the Middle of It, sold very well. Wright asked for her release from Polydor and moved over to MCA, where she had the opportunity to work with the commercially savvy producer Tony Brown. Though it wasn't a smash, Wright's 1997 label debut, Let Me In, did make the country Top 40 and gave the singer her first Top 20 hit in "Shut Up and Drive." Moreover, her constant touring was paying off in the form of a growing fan base, setting the stage for her breakthrough with 1999's Single White Female. The album's title track became Wright's first number one hit, and the following year she and Brad Paisley performed a duo on their co-composition "Hard to Be a Husband, Hard to Be a Wife."
Her next album, Never Love You Enough, became her first to break the country Top Ten, and she reached the Top 30 with the title track and "Jezebel." In 2004, after leaving MCA, she released Everything, a collection of leftover session material not included on her previous releases, on her own Painted Red imprint. In 2005 Wright moved over to Dualtone for The Metropolitan Hotel. After a long tour, Wright took an extended break from recording, and finally re-emerged in 2010 with Lifted Off the Ground on Vanguard, as well as the written memoir Like Me: Confessions of a Heartland Country Singer from Random House. In May of 2010, Ms. Wright came out as gay in a People Magazine profile on her album and autobiography. Over the next five years, Wright worked on various philanthropic causes -- and her coming out was chronicled in the 2011 film Wish Me Away -- but she stayed away from music. Wright finally returned to recording in 2016 with I Am the Rain.
Talents : Singer
Style musical : Contemporary Country, Traditional Country

https://youtu.be/KUl1YUy0iD4
Years in activity :
| | | | | | | | | | | |
| --- | --- | --- | --- | --- | --- | --- | --- | --- | --- | --- |
| 1910 | 20 | 30 | 40 | 50 | 60 | 70 | 80 | 90 | 2000 | 10 |
DISCOGRAPHY
Singles & EP
06/1994
SP POLYDOR 853056-7 (US)

.

He's A Good Ole Girl / Go On And Go
10/1994
SP POLYDOR 853810-7 (US)
.
Till I Was Loved By You / He Don't Do Bars Anymore
01/1995
SP POLYDOR 851430-7 (US)
.
Sea Of Cowboy Hats / Nobody But A Fool
10/1995
SP A & M 577282-7 (US)
.
Till All Her Tears Are Dry / Listen To The Radio
01/1996
SP A & M 577936-7 (US)
.
Love That We Lost / Gotta Get Good At Givin' Again
07/1997
SP MCA S772012 (US)
.
Shut Up And Drive / Emma Jean's Guitar
11/1997
SP MCA S772025 (US)
.
Just Another Heartache / Feelin' Single And Seein' Double
03/1998
SP MCA S772044 (US)
.
I Already Do / Is It Love Yet
03/1999
SP MCA S772092 (US)
.
Single White Female / Let Me In
09/1999
SP MCA 172113-7 (US)
.
It Was / Rubbin' It In
05/2000
SP MCA 172161-7 (US)
.
She Went Out For Cigarettes / Some Kind Of Somethin'
05/2001
SP MCA 172208-7 (US)
.
Never Love You Enough / Deep Down Low
12/2001
SP MCA 172227-7 (US)
.
Jezebel / Never Love You Enough
11/2004
CD PAINTED RED 002 (US)
The Bumper Of My S.U.V. / Letter From Chely

[spoken]

2005
CD CONNECT PROMOTIONS & PRODUCTIONS ? (US)
.
Shut Up And Drive / It Was / The River / The Bumper Of My Suv
Albums
08/1994
CD POLYDOR 523225 (US)
WOMAN IN THE MOON - Till I Was Loved By You / He's A Good Old Boy / Till All Her Tears Are Dry / Go On And Go / Woman In The Moon / Sea Of Cowboy Hats / I Love You Enough To Let You Go / Nobody But A Fool / He Don't Do Bars Anymore / Last Supper
02/1996
CD A & M 529553 (US)
RIGHT IN THE MIDDLE - Listenin' To The Radio / Love That We Lost / Heart Shaped World / Love He Left Behind / Right In The Middle Of It / What I Learned From Loving You / Alligator Purse / Other Woman / Day One / It's Not Too Late / Gotta Get Good At Givin' Again
09/1997
CD MCA 70003 (US)
LET ME IN - Your Woman Misses Her Man / Let Me In / Shut Up And Drive / Emma Jean's Guitar / I Already Do / Just Another Heartache / Is It Love Yet / Before You Lie / Feelin' Single And Seein' Double / Ten Pound Heart
05/1999
CD MCA 70052 (US)
SINGLE WHITE FEMALE - Single White Female / She Went Out For Cigarettes / It Was / Unknown / Love That We Lost / Fire / Picket Fences / Some Kind Of Somethin' / Rubbin' It In / Why Do I Still Want You
09/2001
CD MCA 170210 (US)
NEVER LOVE YOU ENOUGH - Never Love You Enough / Jezebel / One Night In Las Vegas / While I Was Waiting / What If We Fly / Wouldn't It Be Cool / Her / Love Didn't Listen / For The Long Run / Horoscope / Not As In Love / Deep Down Low
10/2004
CD + DVD PAINTED RED 5500 (US)
EVERYTHING :

CD : Back Of The Bottom Drawer / Everything / Love Lets Go

[home studio demo]

/ Sex, Drugs And Rock & Roll

[studio demo]

/ If I Were Jackie

[home studio demo]

/ Scars

[home studio demo]

DVD

09/2003
CD MCA 92402 (US)
THE MILLENNIUM COLLECTION - Till I Was Loved By You / Sea Of Cowboy Hats / Listenin' To The Radio / Shut Up And Drive / I Already Do / Just Another Heartache / Single White Female / She Went Out For Cigarettes / It Was / Love That We Lost / Never Love You Enough / Jezebel
02/2005
CD DUALTONE 1200 (US)
THE METROPOLITAN HOTEL - It's The Song / Back Of The Bottom Drawer / I Got Him Ready For You / The River / Just The Way We Do It / The Bumper Of My S.U.V. / Your Shirt / Between A Mother And A Child / Southside Of Lonesome / Wheels / You Can Never Tell / What If I Can't Say No Again
03/2007
CD MCA 0008134 (US)
THE DEFINITIVE COLLECTION - Shut Up And Drive / He's A Good Ole Boy / Till I Was Loved By You / I Love You Enough To Let You Go / Sea Of Cowboy Hats / Listenin' To The Radio / The Love That We Lost / Just Another Heartache / I Already Do / Feelin' Single And Seein' Double / Single White Female / It Was / Picket Fences / She Went Out For Cigarettes / Never Love You Enough / Jezebel / Back Of The Bottom Drawer / The Bumper Of My S.U.V.
10/2008
CD HUMPHEAD 042 (US)
THE ULTIMATE COLLECTION - Sea Of Cowboy Hats / Till I Was Loved By You / He's A Good Ole Boy / Till All Her Tears Are Dry / The Love That We Lost / Listenin' To The Radio / Alligator Purse / Just Another Heartache / I Already Do / Let Me In / Shut Up And Drive / Feelin' Single Seein' Double / Single White Female / It Was / The Fire / She Went Out For Cigarettes / One Night In Las Vegas / Deep Down Low / Never Love You Enough / Jezebel
05/2010
CD VANGUARD 78071 (US)
LIFTED OFF THE GROUND - Broken / Heavenly Days / Hang Out In Your Heart / Notes To The Coroner / Snow Globe / Like Me / That Train / Damn Liar / Wish Me Away / Object Of Your Rejection / Shadows Of Doubt
09/2016
CD Megaforce / MRI / Painted Heart

Music

PRMG 01 (US)

I Am the Rain -

Inside / Where Will You Be / At The Heart Of Me / You Are The River / Holy War / What About Your Heart / Pain / Tomorrow Is A Long Time / Blood And Bones And Skin / Mexico / Next To Me / Halona / See Me Home
© Rocky Productions 29/12/2016