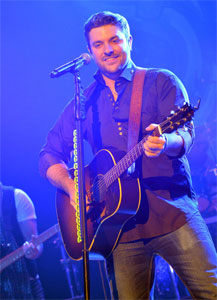 Chanteur Country US né Christopher Alan Young, le 12 Juin 1985 à Murfreesboro (Tennessee).

The grandson of onetime Louisiana Hayride performer Richard Yates, country singer/songwriter Chris Young hails from Murfreesboro, TN, and first drew the public's attention when he appeared on the Nashville Star television show in 2006. Young's singing abilities first surfaced in children's theater productions in grade school, and with his family's full support, he threw himself into learning all he could about music, and country music in particular. By the time he was a senior in high school he was already playing clubs in the Nashville area, and his self-released debut album was out before he even graduated from high school. Young attended college at Belmont University in Nashville and then Middle Tennessee State University in Murfreesboro, all while still managing to do some 150 live shows a year. He was offered and accepted a gig fronting the house band at Cowboy's in Arlington, TX, and it was there that a fan kept insisting that he audition for the Nashville Star TV show. Young eventually made the trip to Houston and passed the audition, and the whole affair paid off handsomely with a contract from RCA Records. Young's debut single, "Drinkin' Me Lonely," a song he wrote with Larry Wayne Clark, was released in 2006, followed later in the year by a Buddy Cannon-produced album called simply Chris Young. A second album, The Man I Want to Be, produced by James Stroud, appeared in 2009. Young's third album, 2011's Neon, may not have gone Gold -- The Man I Want to Be did -- but it did have "Tomorrow," a heart-wrenching ballad that was his biggest hit to date, reaching number one on the Billboard country charts and cracking the pop Top 40 on its way to going Platinum. "You," the second single from Neon, also went to number one on the country charts, and two other hits followed: "Neon" and "I Can Take It from There."
Young delivered his brighter, happier third album A.M. in the fall of 2013; it was preceded by the party anthem "Aw Naw," which peaked at 16 on the Billboard charts. A.M. produced two further Country Top 10 hits with the softer "Who I Am with You" and "Lonely Eyes," singles that appeared on the charts in 2014. Young returned in the fall of 2015 with "I'm Comin' Over," another Top 10 hit that was also the title track to his fifth album, which saw release in November of that year. "Think of You," a duet with Cassadee Pope, followed "I'm Comin' Over" to number two on Billboard's U.S. Hot Country chart, while the Vince Gill duet "Sober Saturday Night" went to number 31 later that year. In the holiday season of 2016, Young released It Must Be Christmas; it peaked at four on Billboard's Country Albums chart. Young released his sixth album of originals, Losing Sleep, in October 2017.
Young began releasing material from a new project in 2019, with "Raised on Country" reaching number five on Billboard Country Airplay while "Drowning" peaked at 25. Young bounced back to number one in 2021 with "Famous Friends," a duet with Kane Brown that reached the top of the charts prior to the August release of the album of the same name.
http://www.chrisyoungcountry.com/
https://en.wikipedia.org/wiki/Chris_Young_(musician)
Talents : Vocals, Guitar, Songwriter
Style musical : Traditional Country, Contemporary Country
Years in activity :
| | | | | | | | | | | | |
| --- | --- | --- | --- | --- | --- | --- | --- | --- | --- | --- | --- |
| 1910 | 20 | 30 | 40 | 50 | 60 | 70 | 80 | 90 | 2000 | 10 | 20 |
DISCOGRAPHY
Singles
| | | | |
| --- | --- | --- | --- |
| 2007 | CD SONY / BMG ? (US) (promo) | | You're Gonna Love Me |
| 2012 | CD RCA 88765-41186-2 (US) (promo) | | I Can Take It From There / I Can Take It From There / I Can Take It From There |
| 2013 | CD RCA ? (EUR) (promo) | . | Lonely Eyes |
Albums
10/2006
CD BMG 82876-87724-2 (US)
CHRIS YOUNG - Beer Or Gasoline / You're Gonna Love Me / Drinkin' Me Lonely / White Lightning Hit The Family Tree / Lay It On Me / Burn / Small Town Big Time / Flowers / Center Of My World / I'm Headed Your Way, Jose / Who's Gonna Take Me Home
09/2009
CD RCA 8869-7-22818-2 (US)
THE MAN I WANT TO BE - That Makes Me / Voices / The Dashboard / Gettin' You Home / It Takes A Man / The Shoebox / Rose In Paradise (with Willie NELSON) / Twenty-One Candles / The Man I Want To Be / Rainy Night In Georgia
07/2011
CD RCA 88697-85497-2 (US)
NEON - I Can Take It from There / Lost / Tomorrow / Save Water, Drink Beer / Neon / Old Love Feels New / You / Flashlight / When She's On / She's Got This Thing About Her
09/2013
CD RCA 8888-3-73264-2 (US)
A.M. - Aw Naw / Hold You To It / Lonely Eyes / Goodbye / A.M. / Nothin' But The Cooler Left / Who I Am With You / Text Me Texas / We're Gonna Find It Tonight / Forgiveness / Lighters In The Air
11/2015
CD RCA 8888-5-06963-2 (US)

I'm Comin' Over -

Heartbeat / I'm Comin' Over / Think Of You (Chris

Young

feat: Cassadee

Pope

) / You Do The Talkin' / I Know A Guy / Alone Tonight / Sunshine Overtime / Sober Saturday Night (Chris

Young

feat: Vince

Gill

) / Underdogs / Callin' My Name / What If I Stay
10/2016
CD RCA 8898-5-33286-2 (US)

it Must Be Christmas - The Christmas Song / Christmas (Baby Please Come Home) / Under The Weather / There's a New Kid In Town / Holly Jolly Christmas / Have Yourself A Merry Little Christmas / The First Noel / I'll Be Home For Christmas / Silent Night / It Must Be Christmas

10/2017
CD RCA 8898-5 44257-2 (US)

Losing Sleep - Losing Sleep / Hangin' On / Holiday / Radio And The Rain / Where I Go When I Drink / She's Got A Way / Leave Me Wanting More / Trouble Looking / Woke Up Like This / Blacked Out

08/2021
CD RCA 19075-93292-2 (US)

Famous Friends - Raised On Country / Famous Friends (featuring - Kane Brown) / Town Ain't Big Enough (featuring - Lauren Alaina) / Drowning / Rescue Me / Break Like You Do / At The End Of A Bar (featuring - Mitchell Tenpenny) / Love Looks Good On You / One Of Them Nights / When You're Drinking / Cross Every Line / Hold My Beer Watch This / Best Seat In The House / Tonight We're Dancing
© Rocky Productions 8/08/2021