| | |
| --- | --- |
| | |
| | |

Chanteur Country US né le 7 Septembre 1927 à Richmond (Kentucky). Nelson Young est décédé le 14 Juillet 2014.

Nelson Young was born September 7, 1927 in Richmond, KY, He came north to Cincinnati, OH and worked the bars, including the Old Chatter Box in Cincinnati and the Blacksmith Shop in McGonigle, OH. In the late 1950s and early 1960s Young performed with Don Boone & his Sandy Valley Boys, appearing on WCPO-TV and WKRC-TV in Cincinnati, WNOP radio in Newport, KY, and WPFB radio in Middletown, OH. Young played most of the bluegrass instruments but usually the fiddle or bass. In 1963 Young took the Sandy Valley Boys name and moved to Florida, eventually ending up at Walt Disney World as the Country Bears. In 1958 Nelson had a hit on the small Cincinnati label, Lucky, with "Rock Old Sputnick." He also recorded on area labels Ruby, Enola, Big 6, Madison, and Ark, and on the national label Starday. As the Sandy Valley Boys, a single for Grassroots Unlimited was cut, along with albums for Briar International, Vetco, Lamon and Eagle.
Nelson Young died on July 14, 2014.
Talents : Vocals, Guitar, Bass, Fiddle
Style musical : Traditional Country, Bluegrass, Rockabilly
Years in activity :
| | | | | | | | | | | |
| --- | --- | --- | --- | --- | --- | --- | --- | --- | --- | --- |
| 1910 | 20 | 30 | 40 | 50 | 60 | 70 | 80 | 90 | 2000 | 10 |
DISCOGRAPHY
Singles & EP
1957
SP RUBY RU-310 (US)
.
Hillbilly Rock And Roll / A Star From Heaven
01/1958
SP STARDAY 45-341 (US)
.

Nelson YOUNG & Trio - So Easy To Fall In Love / Sunrise

08/1958
SP LUCKY 0002 (US)
.
Rock Old Sputnick / I'm Falling In Love
05/1960
SP MADISON 300-2 (US)
.

The Divorce Court / No Love But Yours

05/1960
SP MADISON 300-3 (US)
.
The BIG WHOPPER - Is It A Wonderful Dream / Charlie Brown's Mule
1963
SP Tela-Star 105 (US)
.

Blessed Book Of Life / I Met A Man

1963
SP ARK 302 (US)
.

Home At Christmas / Christmas Time Is Near

1964
SP ARK 310 (US)
.

To Mom And Dad / Burning Bridges

1964
SP ENOLA 310 (US)
.

Love Is Coming Back To Me / Back Home In Memories

196?
EP Big 6 139 (US)
.

Lamp Lighting Time In The Valley (Jay JOHNSON) / Old Slew Foot (Nelson YOUNG) / Silver Haired Daddy Of Mine (Texas SLIM) / On The Banks Of The Old Ohio (Texas SLIM) / Driving Nails In My Coffin (Nelson YOUNG) / Red River Valley (Texas SLIM)

1971 ?
SP Grassroots Unlimited 71-11 (US)

N

elson

YOUNG & T

he

Sandy Valley Boys -

The Old Time Things Are Gone / Homespun Memories
06/1975
SP Vetco 750612 (US)
.

The Big Pipeline / Ode To An Unknown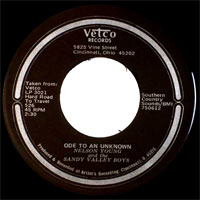 Albums
| | | | |
| --- | --- | --- | --- |
| 1963 | LP 12" Briar Intl. BRIAR-105 (US) | | The Most Requested Hymns - Sandy Valley Boys - Just Over In The Glory Land / Just A Closer Walk With Thee / Dust On The Bible / Angel Band / Matthew 24 / Beyond The Sunset / Someone Touched Me / Amazing Grace / Take My Hand, Precious Lord / Old Rugged Cross / One More Step / I'll Fly Away / Shall We Gather At The River / Jesus, Savior, Pilot Me / He Knows / I'm Using My Bible For A Roadmap / What A Friend We Have In Jesus / Glory Train |
| 196? | LP 12" Briar Intl. M-113 (US) | | The Most Requested Hymns - vol. 2 - SANDY VALLEY BOYS - In The Garden / Life's Railway To Heaven / Traveling On And On / Who At My Door Is Standing / Family Bible / If You Believe / Shake Hands With Mother Again / Will The Circle Be Unbroken / He Will Set Your Fields On Fire / I Need No Mansions Here Below / When The Saints Go Marching In / The Unclouded Day / Mountain Church / Glory Land March / I'll Be Listening / Precious Memories / I Saw The Light / Power In The Blood |
| 1975 | LP 12" Vetco LP-3021 (US) | | Hard Road To Travel - The SANDY VALLEY BOYS - Big Pipe Line / Fee's Fling / As I've Never Loved Before / Banjo John / Orange County Breakdown / Come Along Little Children / Hard Road To Travel / Ground Smoke / Ode To An Unknown / Working On A Fiddle / From My Window / Let It Snow |
| 1980 | LP 12" Eagle ERNY 603 (US) | | Pickin' For Pizza - Nelson Young & The Sandy Valley Boys - Pickin' For Pizza / Bob And Dan / To Mom And Dad / Last Night I Kicked Old Satan Out / Cotton Mouth / If I Was You (You, You) / All The Old Time Things Are Gone / Barley Corn / Ten More Miles To Birmingham / Love Is Coming Back To Me / Ground Hog On The Highway / Sunrise |
| 1982 | LP 12" Lamon LR-10050 (US) | | Old Home Place - Nelson Young & The Sandy Valley Boys - Old Home Place / Just Because / Rose For Mother / Don't Cry Because She's Gone / Stone Run / Strawberry Hill / Crying My Heart Out Over You / Sandy Ridge / Don't Give Up On Me / Burning Bridges |
© Rocky Productions 10/11/2020